Do you also hate the background noises in videos or audio clips? Many times while making a vlog, podcast, or any other audio clip, we often capture unwanted background noises. There are different kinds of background noises, such as reverb noise, wind noise, hiss noise, and click noise. These noises not only ruin the impression but also deviate the focus of the viewer.
Also, it may put questions about your professionalism. However, if you have a video or an audio clip with background noises, we have the best solution for you. By reading this article, you can learn how to remove noise from audio online as well as video clips. Thus, with a few clicks, you can easily remove background noise from either audio or video clips.
Part 1: What features should a good online noise remover have
Do you want to know what a good noise remover should include? Read this section to find out the features that must be considered while selecting the noise remover tool.
It should use AI-powered technology so that it can prevent you from manual efforts. By using such a tool, you can save time easily.
The noise remover should have an easy-to-use interface so that you can operate it without any difficulty.
It should offer different options for the selection of noise types. By choosing a noise type, you can remove the background noise with great precision.
The tool should support both audio and video files, so you don't have to search for a separate tool.
Part 2: How to remove background noise from video or audio with the best free online tool
Have you ever tried the online tool Media.io? It's an online tool that consists of various editing features to modify video and audio clips. If you want a permanent solution to get rid of any sort of background noise, Media.io provides an AI-powered noise reducer. The noise reducer uses advanced technology that eliminates the background noise from any imported file with great precision.
The AI noise reducer of Media.io only requires three simple steps. Thus, with a few clicks, you can remove noise from video online for free without hassle. To discover the key features of this tool, continue reading this section.
Key features
Unlike other online noise remover tools, you can easily upload audio as well as video files on Media.io without any restrictions.
On this platform, you can instantly import audio, and video file sizes up to 2GB.
Once you have uploaded the file on this noise remover tool, you can select the type of background noise from the given options, which is not available in other online tools.
It offers a speech enhancement option that can improvise the quality of speech in your video or audio clip.
Steps to use AI noise reducer of Media.io
Are you ready to use Media.io to remove background noise efficiently? Here are the simple steps that can help you in this regard.  
Step 1

Select the noise remover tool

Access the official website of Media.io and locate its "AI Noise Reducer" feature. Following this, click on the "Get Started For Free" option to access the tool page.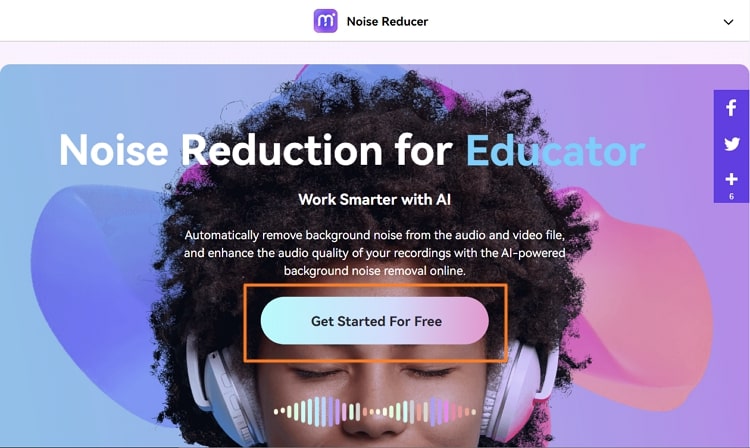 Step 2

Select the noise type

From the newly opened window, click on the "Upload" button to import your desired file. After importing it, choose the noise type and tap on the "Reduce noise now" option. By doing so, you can preview the result from the "Result Preview" section after some seconds. If you find the results satisfactory, hit the "Download" button.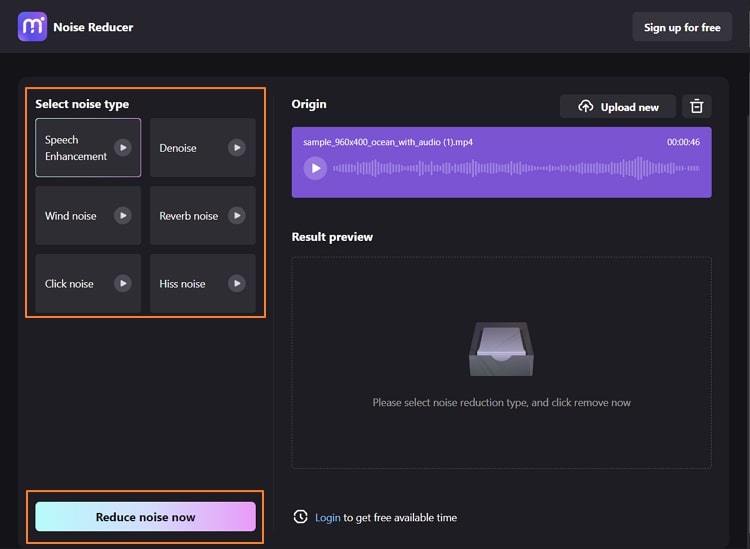 Part 3: Other free online tools to remove background noise
Do you want other online tools to remove background noise? In this section, we will shed light on some of the well-recognized noise removers that can offer you with best results.
Veed.io is a compatible online tool that you can access from any web browser easily. It functions as a powerful editor for both audio and video files. Among its various amazing features, background noise removal is also commonly used. You can upload both audio and video clips on this platform instantly.
With a single tap, you can remove background noise automatically from your imported clip on this online tool. To check how this tool works easily, here are the steps to remove noise from video online and audio:
Step 1

Navigate to Veed.io from your web browser and search for its background noise removal tool.

It has separate tools for removing background noises from audio and video clips. Once you have reached the main page, click Choose Audio/Video to proceed.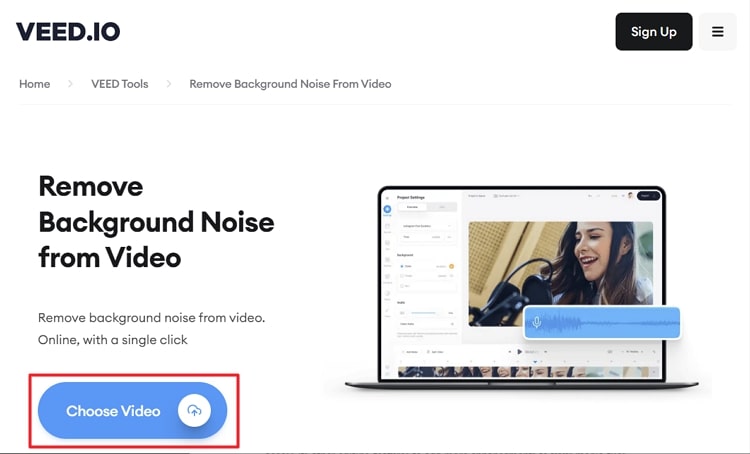 Step 2

Once you have reached the main window, tap Upload a File and upload your clip or audio.

Go to Settings and scroll down to find the Audio section. From there, you can tap on the Clean Audio option to complete your process.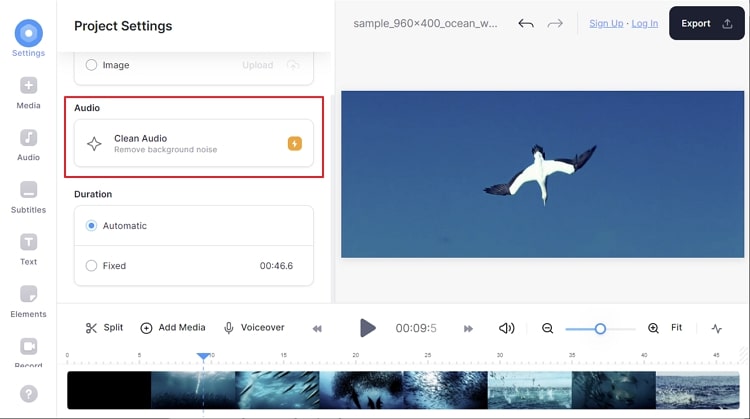 Kapwing is an easy-to-use tool that offers a delightful interface for its users. The background noise remover tool of this online platform automatically isolates your speech patterns to recognize the background noise. You can also target the humming background noise in your audio or video files.
Furthermore, you can also access its other editing features to add more enhancements to your media files. Here are the simple steps that you can follow to remove noise from video online for free.
Step 1

Once you have accessed the Kapwing tool, navigate to its "Remove Background Noise" feature.

Once done, click on the "Upload video or audio" option from the new page.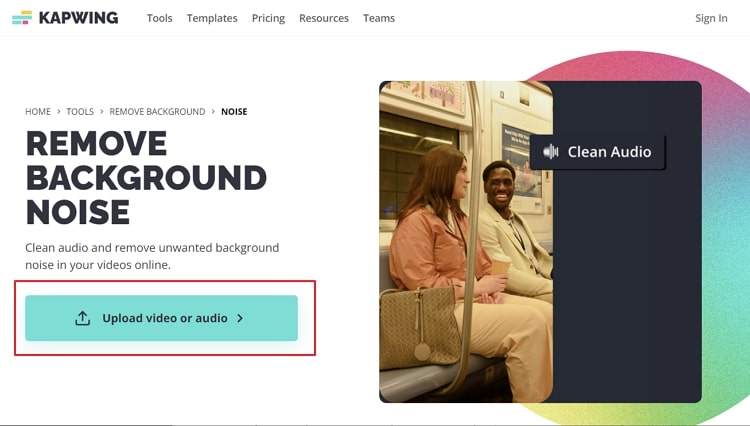 Step 2

Now tap on the "Click to Upload" button to import your desired file.

Once done uploading, tap on the Clean Audio option.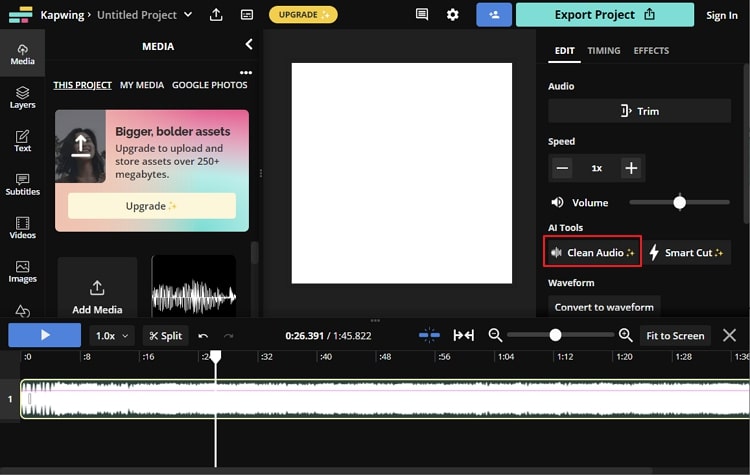 Podcastle.AI is a classic tool that can help modify your audio file. Apart from uploading your audio or video file, you can also directly record the audio on this tool. It utilizes a feature called "Magic Dust" that can instantly remove background noise from your media file.
Moreover, you can also execute other functions on this tool, such as trimming, cutting, and other modifications. To know how to use Podcastle.AI to remove noise from audio online efficiently, check the below steps:
Step 1

Open the official website of Podcastle.AI and click on "Tools" to locate the "Background Noise Removal" feature.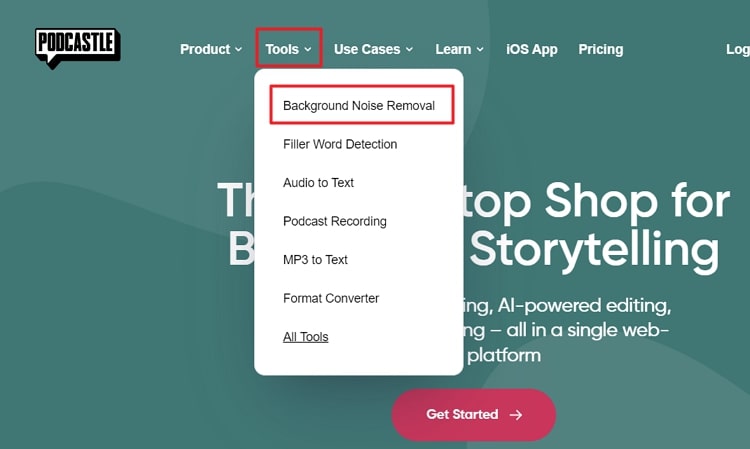 Step 2

Now click on "Get Started" and then select the "Create" button.

Afterward, choose the option called "Import Audio" to upload your desired media file. After uploading it, right-click on it and select the "Add Magic Dust" option. For confirmation, tap on the "Apply Magic Dust" option.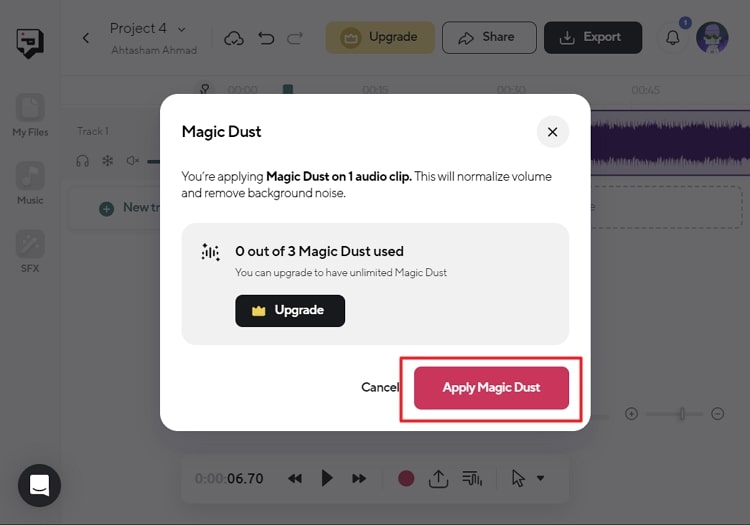 FAQs
1.
Does loudness normalization affect sound quality?
Normalization conceptually looks for the sample bit with the highest sound volume. It rises or reduces that sample bit to the defined dB level and changes the volume of every other sample bit under the relative percentage. There is no conversion involved in the process; hence, there is no effect on the sound quality.
2.
What happens if the gain is too high?
Audios that have a very high gain will reach a point of sound distortion or clipping. As it can have adverse effects, you should choose a clean tone for your digital audio. However, at times, you might need distorted audio in situations like the sounds of amplifiers.