Images have now become a vital part of our everyday lives. With a major part of branding or website designs depending upon digital images, it is necessary to maintain the content's quality. But what if you are suffering from low-resolution images?
Luckily, there are easy ways to enhance the quality of your Image without recapturing it. This is where online AI image upscaler tools come in handy. Keep reading to discover some top tools to upscale images online quickly and efficiently.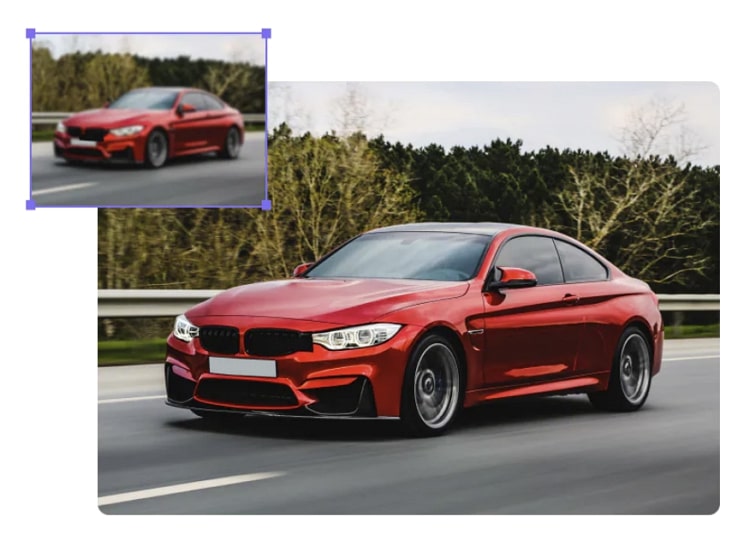 Part 1: What is image super-resolution reconstruction?
Are you wondering what it actually means to upscale an image? The process behind upscaling images is known as super-resolution image reconstruction. It is a resourceful technology that is widely used in digital image processing.
The process involves taking a low-resolution image of a scene and reconstructing it into a high-resolution image. Image super-resolution can significantly improve the visual effects and spatial resolutions of images.
Advantages of using AI image upscalers
Many online AI image upscaler tools use super-resolution image reconstruction to enhance the quality of images. Here are a few reasons why AI image upscalers are preferred over traditional image enlargement technology:
AI tools use automated technology, whereas traditional tools may require manual processing, which can negatively impact image quality.
Manual processing requires experienced labor on traditional tools. On the other hand, AI upscalers are entirely automatic and can thus reduce the costs of hiring professionals.
Traditional image enhancement requires focusing on one Image at a time, whereas AI tools can process multiple images simultaneously.
Part 2: The best 10 free online AI image upscalers
Although various image upscaler tools are available these days, online tools are much preferred. Here are a few reasons why online tools are beneficial over offline software:
Web-based image upscalers are easy to access on almost all devices, including computers and mobile phones, via web browsers.
As no lengthy installation is required for online tools, they can save your time, money, and storage space on your device.
Online tools are also updated automatically and are constantly maintained and developed without any effort on your part.
Now that you know what online upscaler tools do, let's move on to the top tools that can complete the task. Here are our top 10 picks for free online image upscalers that can prove resourceful:
Fotor is a free online image upscaler tool that uses AI technology to enhance images. This tool can provide you with high-resolution and better-quality pictures in a single click. Owing to its AI algorithm, Fotor provides instant Image upscaling with minimum effort.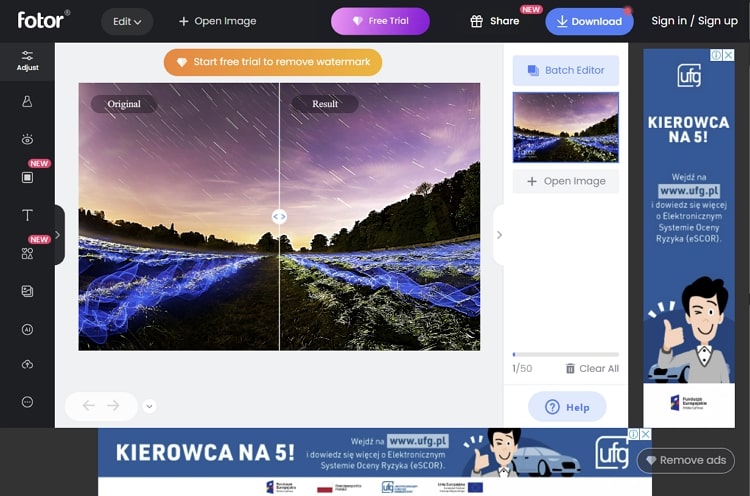 Key features
Fotor offers a batch editing function for image enhancement.
You can compare results with the original file for better evaluation.
Media.io is one of the best web-based image upscaler, as you can use this tool to enlarge, enhance, and upscale photos without much trouble. This AI-powered tool can also upscale photos up to 4K resolution. With multi-format support and a user-friendly interface, Media.io is the go-to online AI image upscaler.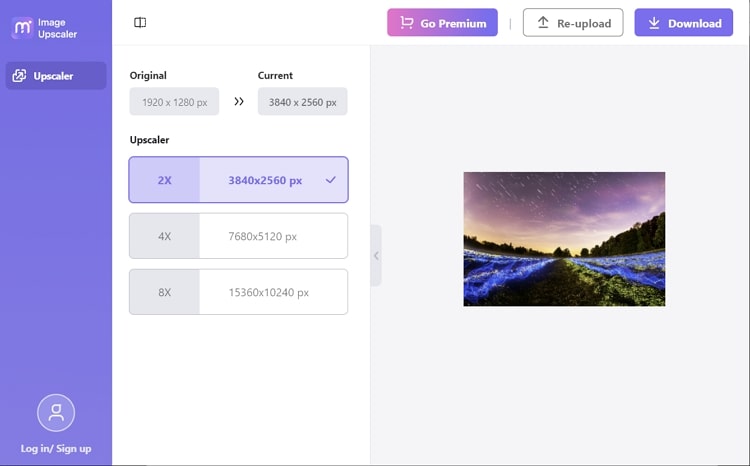 Key features
You can upscale your Image from a range of options up to 2x, 4x, or 8x.
io can also enlarge an image's dimensions without affecting its quality.
Aiseesoft image upscaler is a powerful AI-based tool that can enhance your images. You can use the tool to fix blurred images, lost pixels, colors, and other textures and details quickly. Aiseesoft can upscale your images for both print and web use.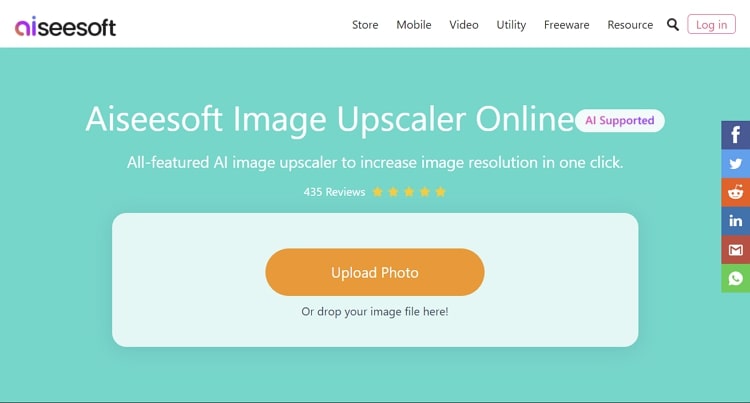 Key features
You can upscale images up to 200%, 400%, 600%, or 800% on Aiseesoft image upscaler.
The tool supports various image file formats, including JPG, PNG, BMP, etc.
Img2go provides a competent AI tool to upscale images online for free. This tool features a simple and easy-to-use interface. You can upload your photos on the website, and the program automatically processes the Image.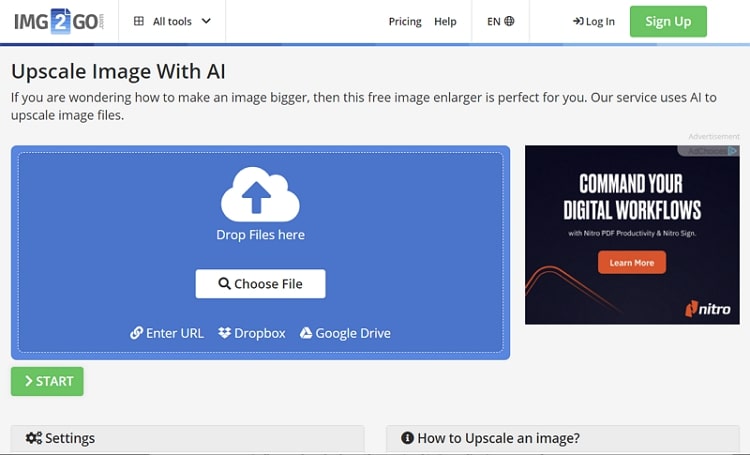 Key features
Images can be uploaded from local storage, URLs, Dropbox, and Google Drive.
You can customize the size of the resultant Image by specifying the width and height on Img2go.
Zyro is a state-of-the-art image enhancer and upscaler that offers its services across the web. Using this AI image upscaler, you can refine your low-resolution images to premium quality. In a single click, you can automatically upscale and enlarge photos using this free online image upscaler.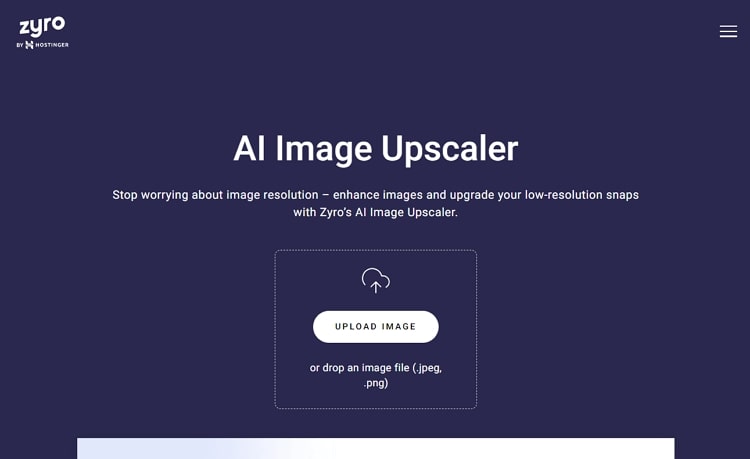 Key features
Zyro can sharpen or enlarge your photos without affecting their quality.
The tool is completely free of cost, and you can use it repeatedly without any limit.
Another powerful online upscaler that you can use for your images is provided by Icons8. It is an AI-based tool that uses super-resolution reconstruction to enhance or enlarge images digitally. You can now get sharp images with high-resolution colors and clear textures in a few clicks.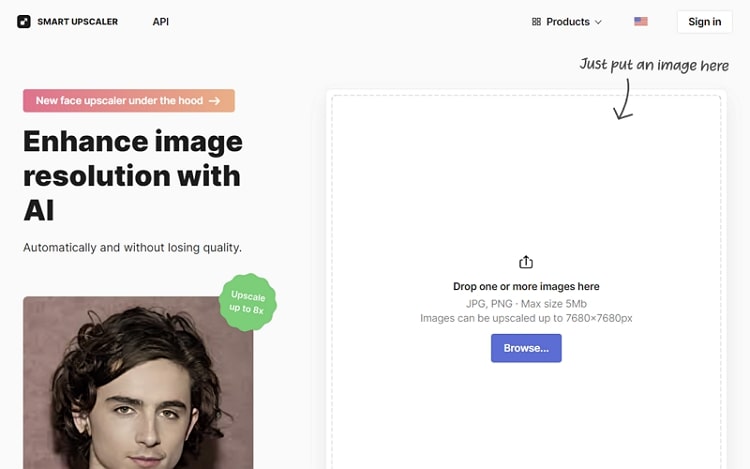 Key features
The tool can process multiple image files at once.
You can also remove the background or swap faces from photos on Icons8
The online image upscaler of bigjpg.com uses artificial intelligence to reduce noise and serration in digital images. You can thus enlarge images without losing their quality. Even the resolution of digital art and animations can be significantly improved using this web-based tool.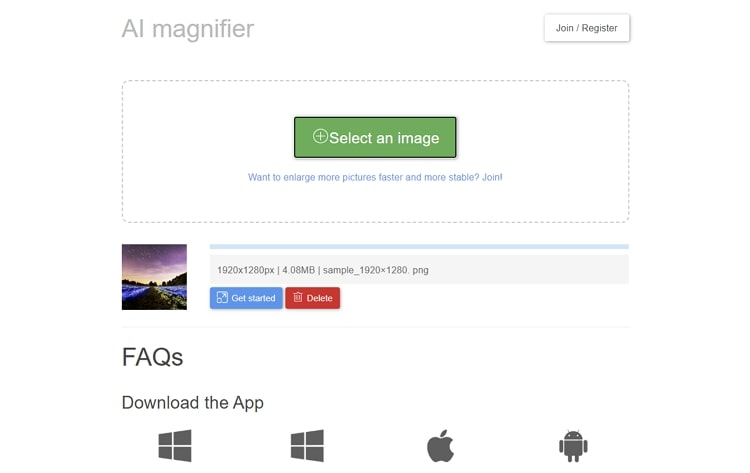 Key features
You can upload up to 50 MB of images on bigjpg.com if you buy the paid version.
The site also offers upscaling history so you can get back to your previous work.
Img.Upscaler is an intelligent web-based tool that uses the latest AI technology to enhance the resolution of images. The upscaling process on the site is fast and much more convenient. From portraits to anime and landscapes, you can improve it all using this tool.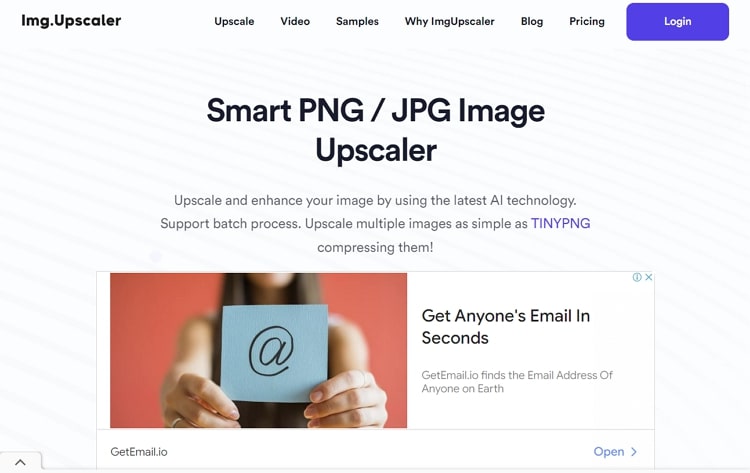 Key features
You can enhance images by up to 400% using Img.Upscaler.
The batch processing feature of the tool can help you process multiple images at once.
If you are looking for a user-friendly tool with a wide range of options for image enhancement, you can choose MindOnMap.com. Without any manual effort, you can now upscale an image free online up to 800% using this tool.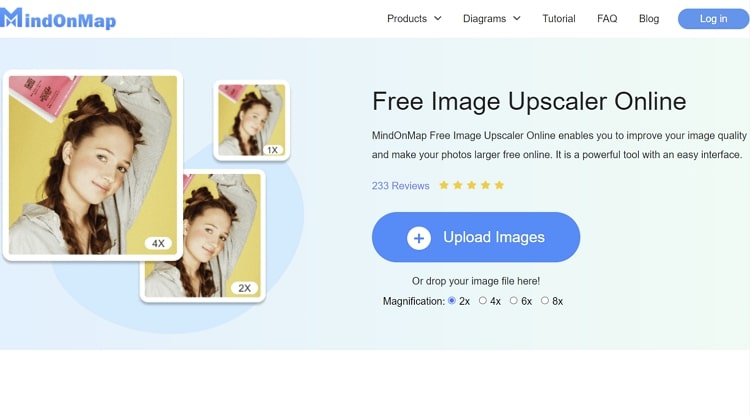 Key features
The tool is easy to operate and provides quick and efficient results.
You can get the output images on MindOnMap.com without any watermark.
ClipDrop is a small yet powerful AI tool that can be used to enhance your photos. It can remove compression and noise from your images and sharpen them without compromising quality. ClipDrop provides easy operation and instant results in a few clicks.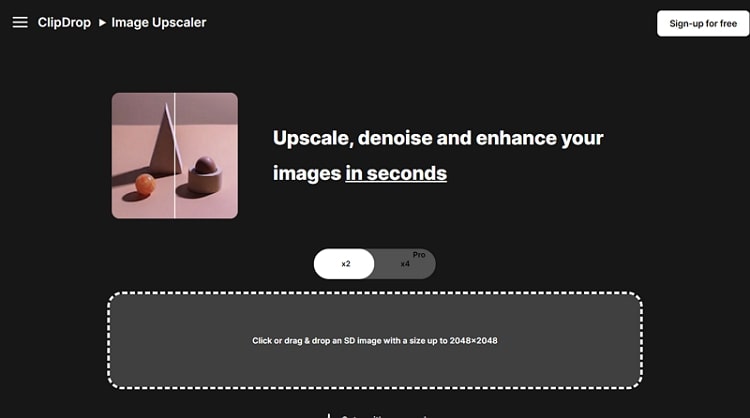 Key features
co can provide sharper and crispier images without harsh pixels or noise.
You can also remove objects, text, or other defects in an image using ClipDrop.co.
Now that you have an insight into the top online upscaler tools, it is time for a detailed comparison. The following table illustrates further information about the tools at a glance:
Tools name

Format

Stability

Upload speed

Image quality
(after processing)

Rating

Fotor

JPG, PNG
Great
Medium
Excellent
4.5/5

Media.io

JPG, PNG, JPEG, BMP
Excellent
Fast
Excellent
4.8/5

Aiseesoft

JPG, PNG, JPEG, BMP
Satisfactory
Low
Great
4.3/5

Img2go

JPG, PNG
Great
Medium
Great
4.1/5

Zyro

JPEG, PNG
Satisfactory
Medium
Satisfactory
3.8/5

Icons8

JPG, PNG
Great
Fast
Great
4.2/5

Bigjpg

JPG, PNG
Satisfactory
Medium
Great
4.1/5

Img.Upscaler

JPG, PNG
Satisfactory
Low
Great
3.9/5

MindOnMap

JPG, PNG
Great
Medium
Great
4.4/5

ClipDrop

JPG, PNG
Great
Fast
Excellent
4.6/5
Part 3: How to upscale Image with the best online image upscaler
Do you want to learn how you can upscale an image online? Media.io is the best online AI image upscaler that can help you enhance the quality of your images. There are multiple reasons that make Media.io stand apart from other image upscalers. It offers a cost-effective option with premium-quality outputs regarding image enhancement.
The tool supports various file formats, including JPG and PNG. It can enhance your images up to 8x resolution and also lets you choose the level of upscaling required. You can upload up to 5MB of file size on Media.io. The resultant files can be previewed easily, and the quality is immaculate. Here is a step-by-step guide on how to upscale a picture online using Media.io:
Step 1

Upload the Image

Start by launching the Image Upscaler of Media.io on your browser. Click on the "Upload Image" button or drag and drop your Image into the program's interface.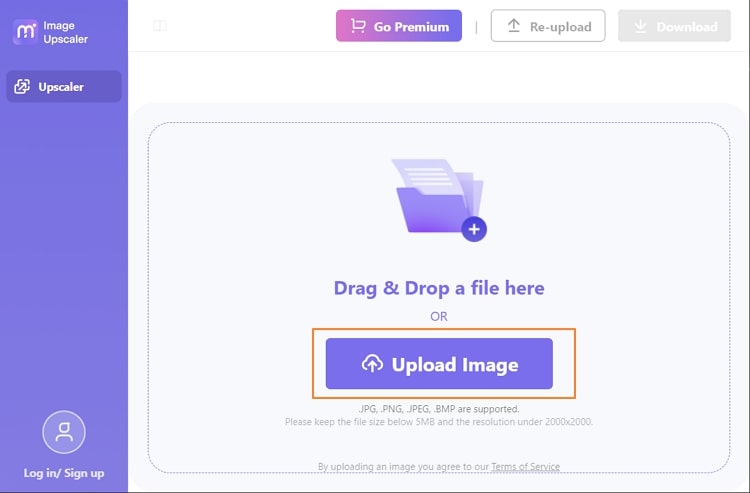 Step 2

Choose an upscaling option

Once your file is uploaded, you can choose to upscale your Image up to 2x, 4x, or 8x. After you select an option, the program will automatically begin upscaling your Image.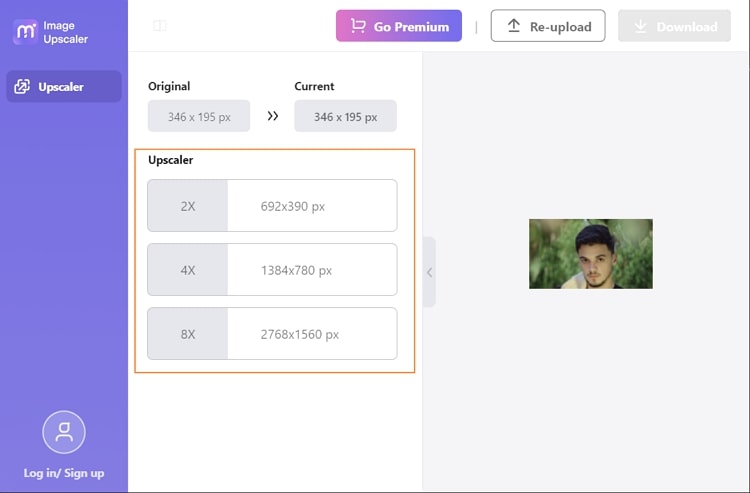 Step 3

Preview and save enlarged Image

You can preview the resultant Image when the program finishes processing your file. Next, click the "Download" button to save the enhanced Image to your device.