If you want to resize images on Windows 10/8/7, several tools in this article are available. You can choose from desktop, online, and other programs. Resizing images makes them fit for online sites, blogs, social media, and others. To ensure that your images are resized without cropping and in high quality the right tool must be used, and for your reference, we have shortlisted the top resizer for Windows.
Part 1. Free Online Image Resizer to Resize Photos in Batch
Online tools work as great programs as they are simple, quick, and require no installation. So if you are looking for Windows resize image program, we recommend Online UniConverter. The program can work from your Windows and Mac browsers and supports batch processing where up to 5 images of 5MB each can be added at a time. The formats that are supported by the tool include JPG, PNG, GIF, and BMP. You can resize the added images in pixels or by the percentage. The aspect ratio can be kept as the original file or can be changed with options like Fill, Fit, and Crop. Online UniConverter allows saving the resized images to the computer or Dropbox. Multiple files are saved as a zip file.
[没有发现file]
Steps to use Online UniConverter image resizer for Windows
Step 1: Run https://www.media.io/resize-image.html and click on the + sign to browse and add the images.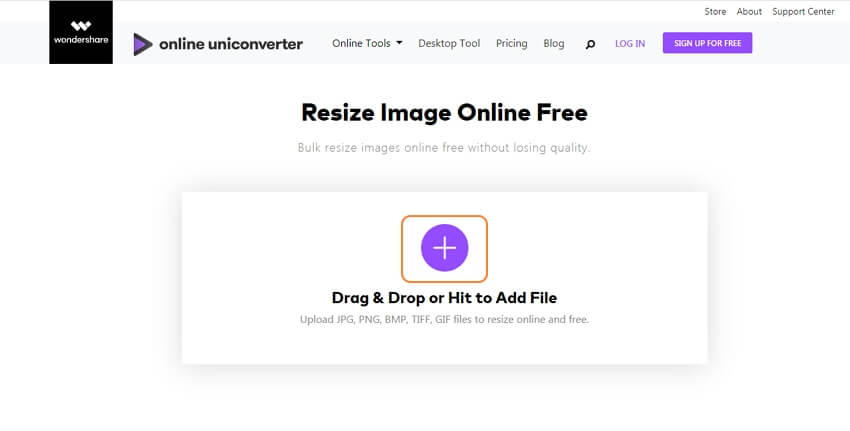 Step 2: Choose to resize by pixels or percentage. If you select pixels then enter the height and the width required and if you select the percentage, enter the percentage of width and height. The lock sign can be used for selecting the aspect ratio.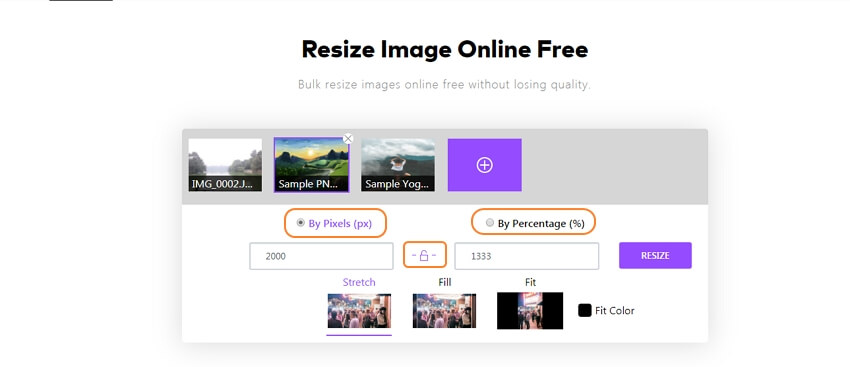 Step 3: Click on the START button to process the files.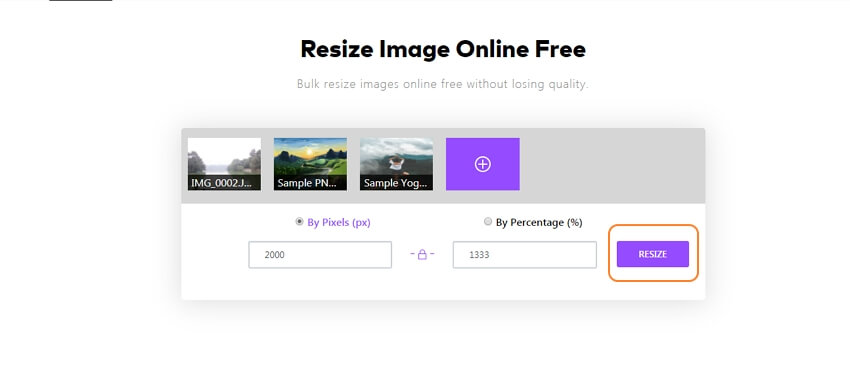 Part 2. Top 7 Photo Resizer for Windows 10/8/7
Image Resizer for Windows
https://www.microsoft.com/en-us/p/image-resizer-for-windows-10/9nwwmh081ddb?activetab=pivot:overviewtab
This is a simple app that lets you resize single or multiple images quickly. The interface of the app is user-friendly and responsive that makes the entire task of image editing hassle-free. This is a Windows native app that in addition to resizing supports other functions like convert formats, rotate, rename, and others. Pre-set configurations are also available at the app and there is an option for fine-tuning the position. You simply need to add the image to the program and enter the width required (you can even drag the slider for selecting the width). Free to use, this image resizer for Windows 10 supports all popular formats like JPG, JPEG, BMP, PNG, and others.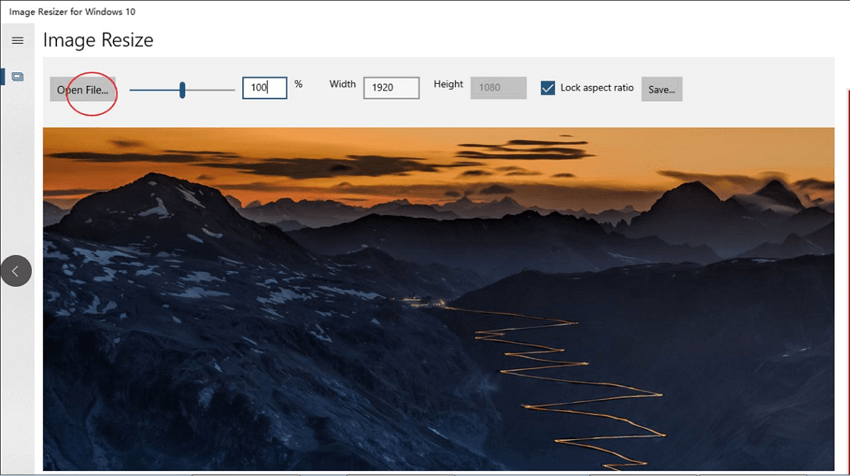 Key features:
Free app with a simple interface
Supports all popular image formats like JPG, JPEG, BMP, ICO, TIFF, GIF, PNG, and others
Single or multiple images can be resized
Small-sized app
Option for locking and unlocking the aspect ratio
https://www.faststone.org/FSResizerDetail.htm
This is a powerful program for the Windows system that works as a complete image editing tool. The program allows you to resize, rename, crop, rotate, add text, add watermark, and perform several other functions. Using the batch mode, multiple files can be processed at a time. Folder and non-folder structure are also supported by the program that facilitates load settings, multi-threading, and other options.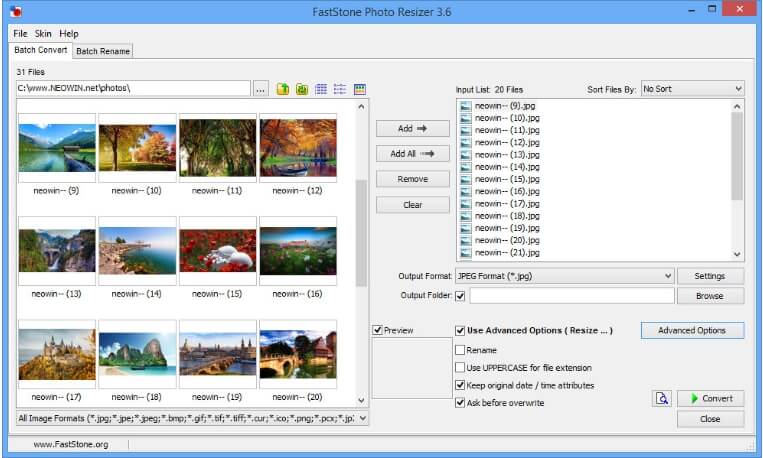 Key features:
Support multiple image formats including JPEG, PNG, TIFF, BMP, GIF, and others
Batch mode supported
Support multiple functions like resize, crop, add text, border effects, and others
Option for renaming images with the sequential number
Multithreading support
Drag and drop feature supported
No adware or spyware
Free for home users
To resize photos in Windows 10, this is one of the popularly used tools. The app is available in a free as well as a paid version and supports batch processing, In addition to resizing; you can edit your images using other functions like rotating, renaming, enhancing, and others. You can even add effects, text, and watermark to your images, and the option for adding rounded corners is also there. To check if resizing and other editing is done as required, live preview is available.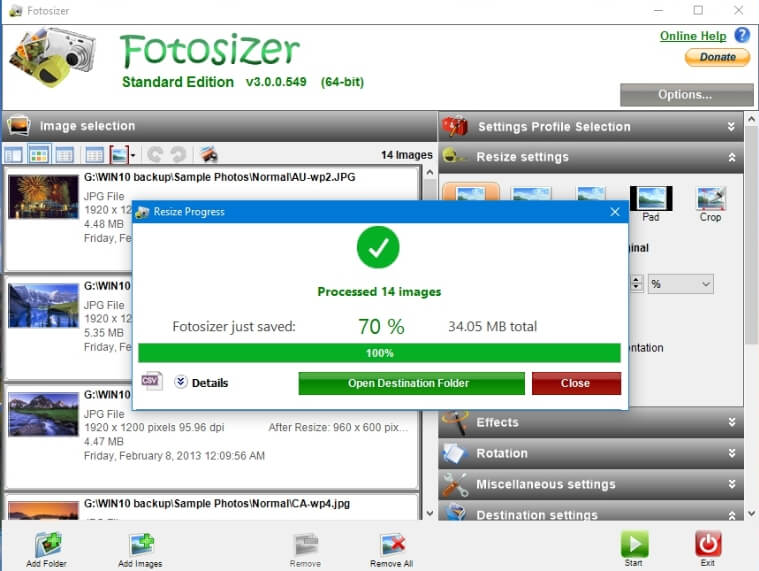 Key features:
Supports a wide range of functions like resizing, cropping, adding ext, watermark, rounded corners, enhancing images, and others
Supports almost all major formats like JPG, PNG, TIFF, EMF, BMP, and others
Batch resizing can be done
Images can be resized using custom width and height in terms of pixels, print, and percentage
http://converseen.fasterland.net/download-for-windows/
This is a free to use program that facilitates resizing images in over 100 formats. With cross-platform support, the app can work on Windows, Mac, Linux, and other systems. The program can be used for resizing, flipping, rotating, and other functions. The interface is user-friendly and the process of image resizing is quick.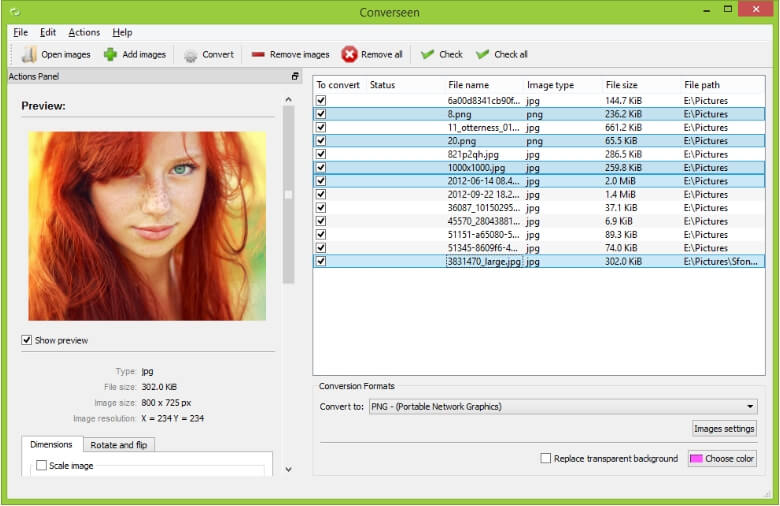 Key Features:
Supports over 100 formats including JPEG, PNG, DPX, GIF, TIFF, SVG, and others
Option to convert PDF files into images
Multiple images at a time can be resized
https://www.plastiliq.com/image-resizer
To resize multiple images in one click, this works as a great tool for your Windows system. The images can be resized using different modes like width and height, percentage, fit, and others. Free to use popular formats are supported by the program along with features like drag and drop, preview, and others.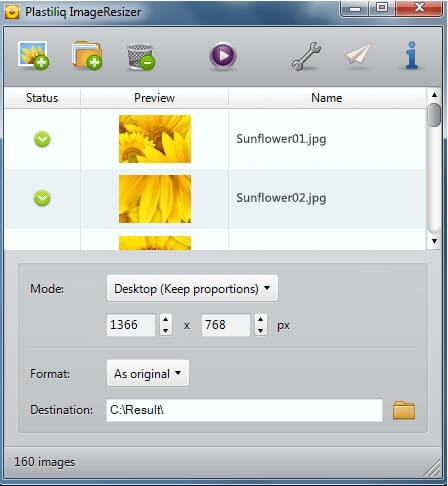 Key Features:
Simple and quick user-friendly program
Support 7 modes for resizing images
Image formats supported include JPEG, PNG, JPG, BMP and TIFF
Drag and drop option available
https://saerasoft.com/caesium/
This is a popular program that is known for image compression and editing without losing quality. Multiple images at a time can be processed using the tool and for the professional users, advanced features like folder structure, metadata storing, and others are also supported. The Mac and the Linux users can also go for the command line tools.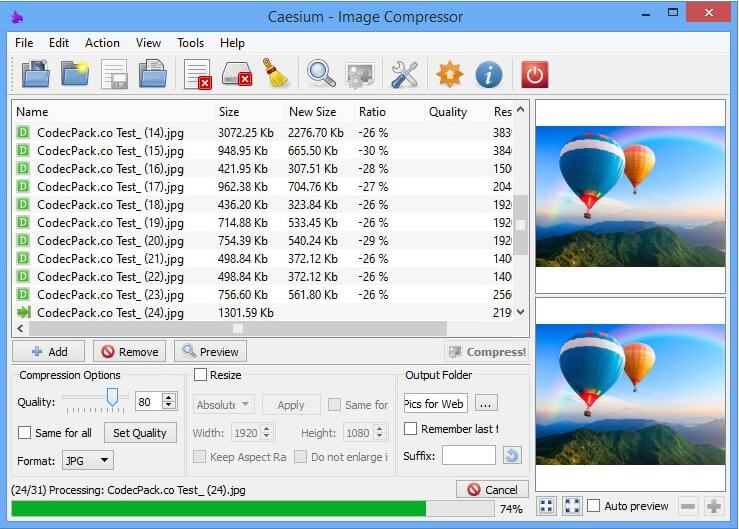 Key Features:
Reduces image size without any quality loss
Option to preview images in real-time
A free tool with the user-friendly interface
Multiple image processing
High-Quality Photo Resizer
https://high-quality-photo-resizer.soft112.com/
As the name suggests, this is a popular tool for resizing images in high quality. This freeware is apt if you require small-sized high-quality images for blogs, social media, and other requirements. Almost all image formats are supported by the tool and batch processing is also supported.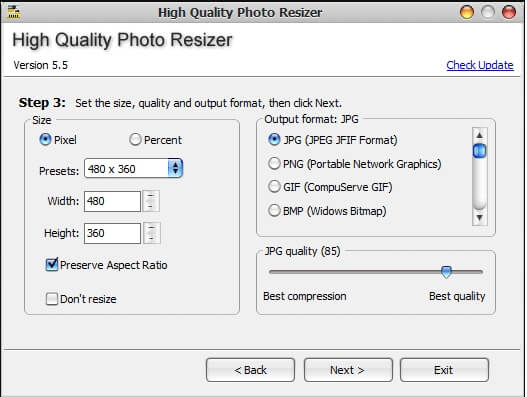 Key Features:
Supports almost all image formats including BMP, JPEG, PSD, SGI, RLE, TGA, WMF, and others
The output format can be selected from JPG, PNG, BMP, GIF, TGA, WMF, EMF, and TIF.
The program allows adding up to 37 different effects to our images
Option for rotating images 90 degrees left or right
To create a visual impact on your blogs, social media, sites, and other platforms, get the right sized image using any one of the above tools. Each of these Windows photos resizer tools has its own set of functions. Depending on your files and features required, you can choose the best.