Online applications are known to have file size limitations and this prevents users from uploading big size images. In such a scenario people tend to crop the images and this results in quality loss. If you have thinking about the best ways of resizing images without making any sacrifice in terms of quality, then you have come to the right place. Today we are going to discuss the best ways to resize image in pixels for uploading the images over the internet and sharing it over email.
Part 1. Easy Steps to Resize Pictures in Pixels Without Losing Quality
Wondershare Online UniConverter can serve as your perfect companion while trying to undertake any form of video, audio, image, and PDF editing work without downloading any desktop tool. This online utility can be availed absolutely for free provided you have a stable internet connection. Apart from image resize, it also helps out with video conversion, video compression, video editing, muting video, audio compression, audio conversion, image compression, image conversion, etc. Let us now take a look at the steps you need to follow while you resize pixel art using Online UniConverter:
[没有发现file]
Part 2. Other Recommended Online Pixel Resizer in 2020
Images have to be properly resized while being displayed or shared online. This is done with the main motive of fitting the viewer's screen in a seamless manner. It also becomes necessary while sending image files as an email attachment or posting the same on a website. Popular social platforms such as Instagram and Facebook have their own limitations in terms of image size. Keeping such things in mind, we have come up with a list of some online picture pixel resizers which you can try out for free.
You can resize image pixels online for free using this versatile tool which presents users with a highly intuitive interface. Once you upload the file, you can optionally crop or rotate the image. The file can be resized by typing in its specific size or simply choosing a percentage. Here users are presented with the option of maintaining the aspect ratio and filling in the background using solid color if the image proportion gets altered. On completion of resizing, the image can be saved in either GIF, JPG, BMP, and PNG formats. The image file can also be optimized amongst the three available options of normal compression, best image quality, and progressive compression.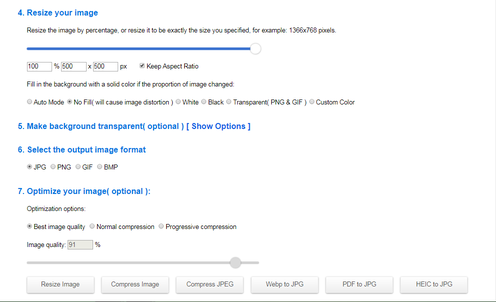 You can flip, rotate, crop, resize, convert, and compress images easily using this online utility which can be used absolutely free of cost. It becomes super easy to resize pixel size with this powerful tool which is compatible with JPG, WEBP, PNG, BMP, and TIFF files. Users are even presented with an option of maintaining the aspect ratio so that the quality doesn't degrade post-processing. This image resizer in pixels and kb can reduce your PNG and JPG files to 100KB, 1MB, or any other size preferred by you within minutes time. It doesn't save or distribute user's data which further enhances the level of safety.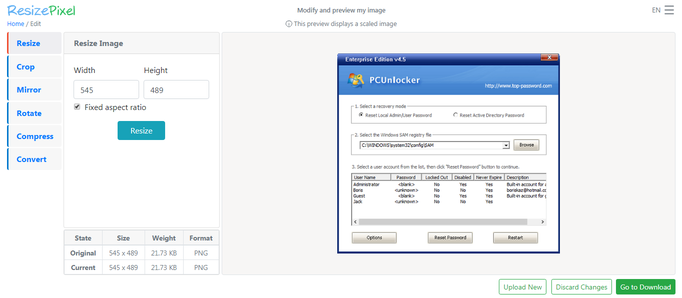 This easy to use online utility is well suited for amateur users on the lookout for a fast yet effective solution. All you need to do is upload the picture and specify its size in terms of pixels before proceeding with the image resize. It also allows users to enlarge small images qualitatively and change its size in terms of centimeters, inches, megapixels, megabytes, or percentage.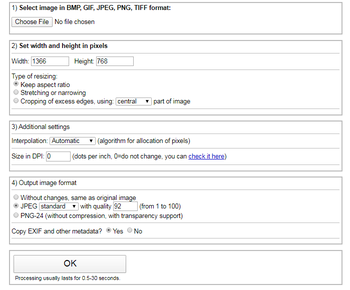 This online utility is compatible with all the leading picture formats which add up to its versatility. Once you upload the picture you wish to resize, you can either select the new size from the Small (640 pixels), Medium (800 pixels), Large (1024 pixels), Facebook page cover options or customize the same as per requirement. Users can also opt for advanced level settings such as determining the output quality, sharpening the image or adding greyscale before hitting the Resize button.

You can undertake pic resize in pixels using this online utility which can be availed completely for free. This fast and easy to use image resizing tool allows to resize images in pixels, cm, mm, and inch. The images can either be uploaded manually or by simply pasting the URL. Apart from simple resize, this online utility also allows users to crop and rotate the file in seconds time.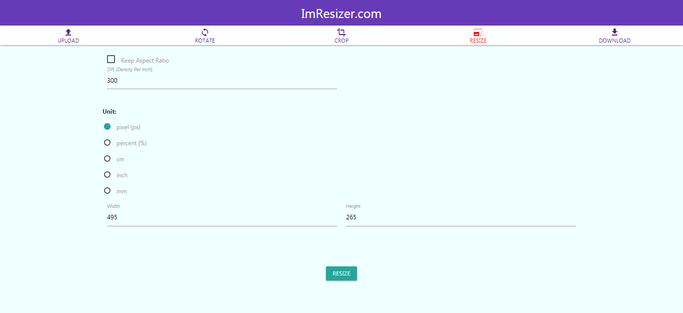 Resizing images tend to change their underlying pixel information. Thus, unnecessary pixel information gets removed when the height and width of a picture get smaller. An image resizer adds new pixels based on the original set while enlarging pictures and this leads to blurry looking results. The main essence of picture resizing remains to retain the picture quality post-processing. The tools we have mentioned above can serve you well while trying to resize image pixels online without imposing a steep learning curve. However, Online UniConverter stands out from its peers by offering users a variety of editing options apart from plain resize which can help them deliver professional-grade results time and again. It even supports batch processing to save your precious time and effort along the way.