When it comes to social media posting using pictures, nothing can rival the popularity of Instagram. Several times when you try posting pictures on your Instagram account as a post or a story, you found them to be cropped and this happens because there is a fixed size and aspect ratio accepted by the site. So if your pictures are not in accordance with the allowed size, you can resize photo for Instagram rather than get them cropped by the site. There are several Instagram photo resizer tools available to get the perfect sized picture for your social media posts.
Part 1. What is the best Instagram photo size in 2021
Instagram allows posting pictures as posts, story, profiles, IGTV covert photos, and Instagram ads. Aspect ratio and picture size are two important factors to be considered while posting pictures on the site. The recommended size for posting pictures is as follows:
1. Instagram Story Size
The dimensions are as follows:
Aspect Ratio: The stories on Instagram can support anything between 1.91:1 to 9:16 but the recommended aspect ratio is 4:5 and 9:16.
Maximum File size: 30MB for a photo and by default they are shown for 5 seconds
Resolution: Min- 600 X 1067
2. IGTV Cover Photo Size
The recommended size for the IGTV cover photo is as below and once uploaded, the cover photo cannot be edited.
Size: 430 pixels X 654 pixels
Aspect Ratio: 1: 1.55
3. Instagram Profile Picture Size
Size: 180 pixels X 180 pixels (cannot be less than 110 X 110 pixels)
Aspect ratio: 1:1
4. Instagram AD size
Maximum file size: 30MB
Square: 600 X 600 pixels (minimum) and 1936 X 1936 pixels (maximum)
Landscape: 600 X 315 pixels (minimum) and 1936 X 1936 pixels (maximum)
Portrait: 600 X 750 pixels (minimum) and 1936 X 1936 pixels (maximum)
Aspect Ratio:
Square: 1:1
Landscape: 1.91: 1
Portrait: 4:5
Part 2. How to resize images for Instagram without cropping?
So now when you know the recommended sizes for Instagram pictures you can resize them without cropping using different image resizer tools and one such simple yet effective program is Wondershare Online UniConverter. This online tool that needs no download or installation and can work from the browser. At a time unlimited number for images of up to 100MB each can be added to the site for resizing purposes. You can resize photos for Instagram online using the tool by specifying the desired size. Option for resizing percentage is also available at the site. The resized images can be saved to the local system or Dropbox.
[没有发现file]
Steps on how to resize photos for Instagram using Online UniConverter
Step 1: Launch Image Resize on your browser and click on the + sign to add the images.
Step 2: Select the Instagram recommended photo size by mentioning its width and height.
Step 3: Click on the Start button to start the file resizing process.
Part 3. 3 Other excellent tools to resize image for Instagram online free
A host of other online Instagram resizer is available as well with support to varied functions. Popular ones are enlisted below.
This is an apt tool if you are looking forward to resize your images for Instagram as well as other social media sites. Simple yet powerful this free online program allows you to upload a local image and then convert it to a size that is suitable for Instagram. There is also an option for custom size where you can specify your size for the image. The processed image can be downloaded from the interface.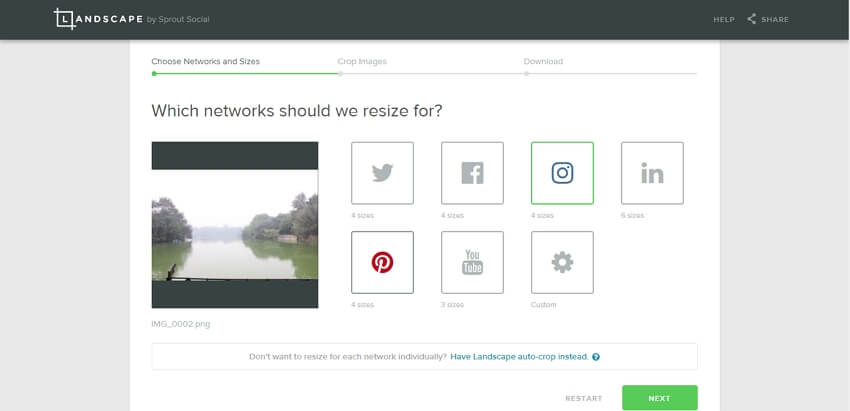 Steps to resize picture for Instagram using Landscape:
Step 1: Launch https://sproutsocial.com/landscape on your system and click on the upload button to browse and add the image from your system. You can also drag and drop the image.
Step 2: Once the image is added and uploaded, select the Instagram tab and click on the Next button.
Step 3: The available size options for Instagram will be shown from which select the required one and again click on the Next button.
Step 4: If needed, you can crop and scale the image and then finally, click on the DOWNLOAD button.
This online tool supports resizing your photos to predefined formats and specifications for Instagram, Facebook, and other sites. Using the program you can even crop and perform other basic editing functions like adding text, rotating flipping, free drawing, and drawing rectangles. There is an option to custom resize the image based on aspect ratio, size, and percentage.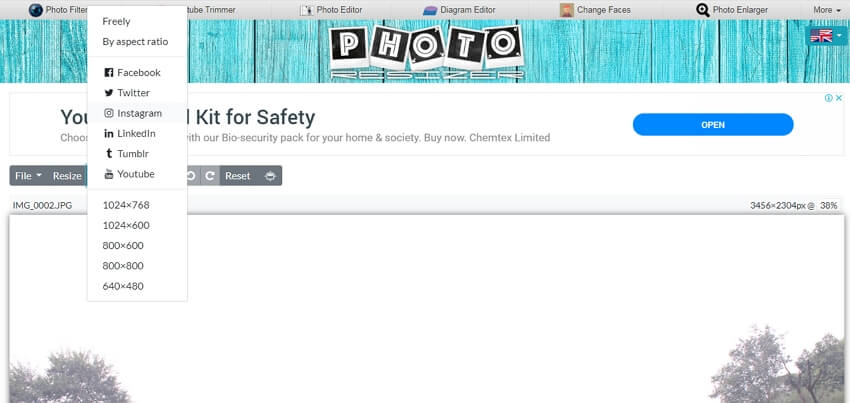 Steps to use Instagram Photo resizer online tool
Step 1: Run https://www.photoresizer.com/ on your system. Click File > Open to browse and load the image to be resized.
Step 2: Expand the drop-down menu at Crop and select Instagram. A pop-up window showing different size specifications for Instagram photos will appear. Select the desired option.
Step 3: You can choose the area as needed and then click on the Apply button. The preview of the selected photo will appear on the interface
Step 4: To save and download the file as JPG format on y9our system select Save image (JPG) from the File drop-down menu. Selecting Save image as.. option will let you select the file name and the format from the supported list.
This is one of the simplest tools available to resize photo for Instagram online. You simply need to browse and add the picture or drag and drop it to the interface. After it is uploaded you can crop and choose the area to be used for Instagram and it is ready to be downloaded. The program is apt for very basic resizing as it does not give you the freedom to select the file size or any other specifications.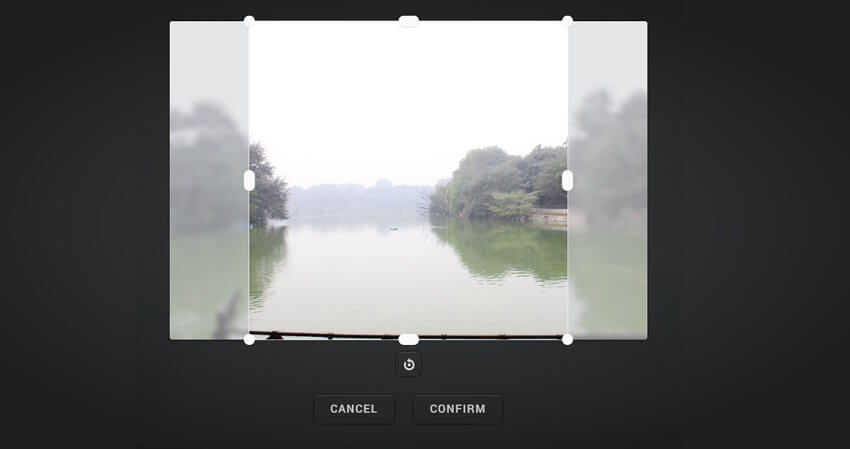 Steps on how to resize pictures for Instagram online
Step 1: Open https://www.onlineresizeimage.com/make-photo-square-for-Instagram-online/ on your system and simply drag or drop the file or click to browse and upload
Step 2: Click on the edit icon and a new pop-up window will open from where select the part of the picture to be used. Click on the CONFIRM button when done
Step 3: Finally, hit on the download icon and the resized image will be downloaded to your system.
The task of photo resize to fit instagram can be done using any one of the above or other tools available. You can either choose these programs to select the pre-defined size and aspect ratio for Instagram or can choose the custom one as recommended by the site.