Icons refer to the pictorial representations of various applications and software loaded in your smart devices or computer. But did you know, that you can also resize icons as per your preference! Yes, you heard that right and today we are going to show you how. So, read on to know more about the top icon resizer which can help you with the same.
Part 1. 3 Online APP Icon Resizer for iPhone 11/Android/Watch
You can easily resize image to icon size using this intuitive tool which helps developers in seamlessly creating icon images. It is extremely compact with everything arranged neatly for easy accessibility. You can upload PNG, JPG, and GIF images. But for the best results, it is advisable to proceed with the high-resolution ones. Once the images have been uploaded, you will have to choose the systems for which you require to resize the icon. Here you can take your pick amongst a Windows Phone, iOS, Android, or Windows Desktop. Users can also choose a background color for platforms that are incompatible with transparent images.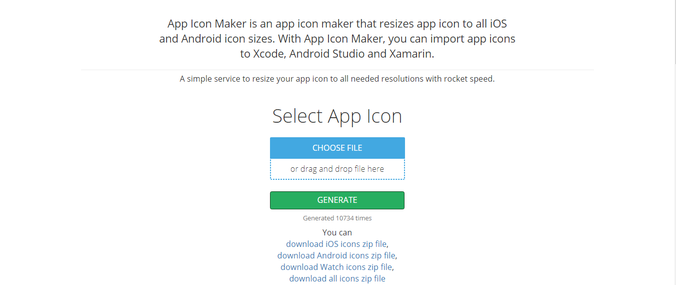 Pros:
This icon resize app allows users to save all the app icons in the cloud once they get themselves registered with an account.
Supports both manual selections, as well as, drag and drop functionality.
All the icons can be downloaded directly by activating the instant download option.
Cons:
Supports only PNG export format
If you are thinking about how to change an image to an icon file, then this free online utility can come to your direct rescue. It is extremely easy to use and can be operated without any requirement of signing up. The straightforward operation of this tool makes it well suited for beginner users who wish to deliver professional-grade results. But for making the most out of this tool, you need to upload high-resolution images like 512x512 or 1024x1024 pixels. After uploading the image file, you can choose its resulting resolution of click on the Icon Sizes button to view various icon sizes of different devices.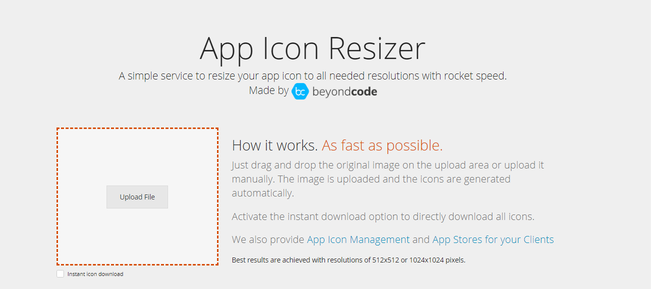 Pros:
Icons get generated automatically once the image is uploaded.
It offers a variety of choices to make image icon file for Android, iOS Watch, iPad, and iPhone.
All the app icons can be stored at a centralized directory and even shared with teams after registering with this free portal.
Cons:
It can only resize icons from square images.
Generating various app icon sizes for different platforms become super easy with this icon resize app. It presents users with an extremely intuitive interface that can suffice even first-timers. Once you upload the image, you just need to select the corresponding platform. By default, all the platforms along with various sizes are selected. You need to uncheck the ones you do not require. Ultimately, you will have to give a file name and click on Generate.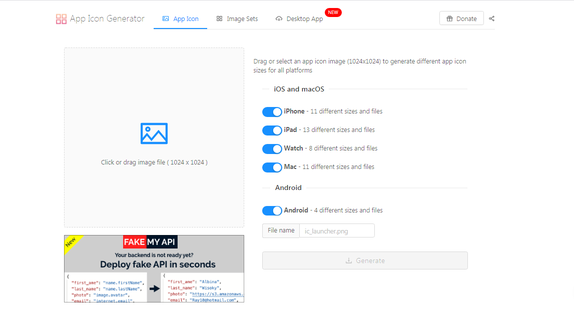 Pros:
Compatible with both drag and drop operation, as well as, manual selection of files.
Can generate app icons within seconds.
Helps in creating 4 android icons, 11 Mac icons, 8 watch icons, 13 iPad icons, and 11 iPhone icons.
Cons:
Uploading images that do not belong to the size category of 1024x1024 pixels leaves a white border all around the file and the same can also be seen in the icon created.
Part 2. How to Change An Image to An Icon File
This free online icon maker accepts jpg and png images as input to deliver professional-grade icons. You can even convert it to your preferred shape and add shadows by following the below-mentioned steps:
Firstly, you need to upload an image having a maximum size of 50 MB.
You can now optionally crop the same by dragging the cursor.
In this optional step, you can apply various styles such as rectangle, circle, and even heart-shaped.
Now you will have to determine the resultant icon format.
Ultimately, you will have to hit the Resize Image button.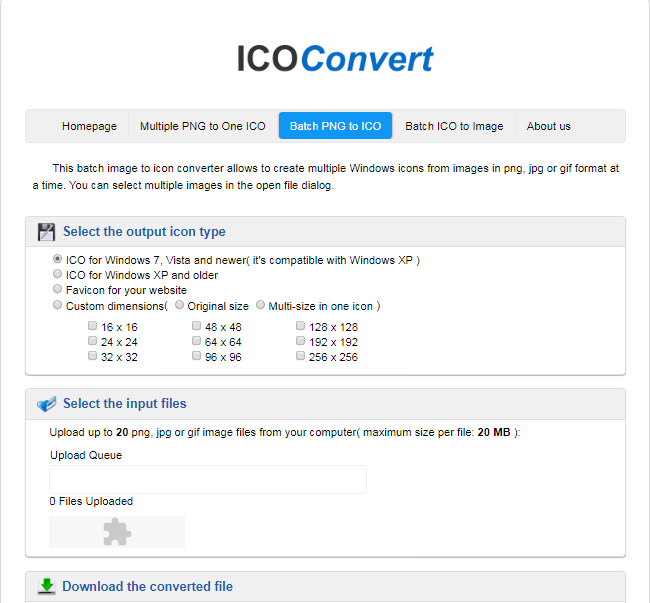 Most of the computer icons in Microsoft Windows have ICO file format. A unique thing about this format is that this can hold multiple color depths and sizes of images that can be scaled as per requirement. ACConvert can help users convert PNG, GIF, JPG, SVG, BMP, and WEBP files to ICO format in an easy way. Let us now take a look at the steps to make image icon file with this icon resizer: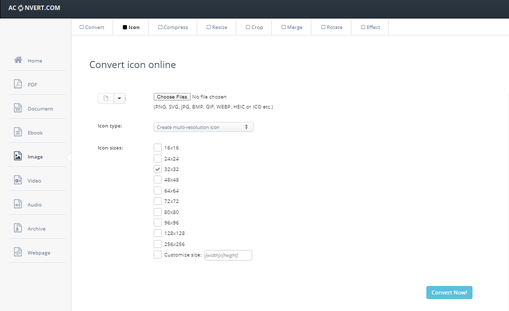 After launching this platform to resize icon online, you will have to upload the files by clicking the Choose Files button. Alternatively, you can choose an online file from DropBox, Google Drive, or simply paste the file URL.
In the next step, you will have to take your pick amongst creating a multi-resolution icon or creating one icon for each site.
Now you can decide amongst the available icon sizes or customize the same by typing in its width and height.
Ultimately, you have to click on the Convert Now button.
Part 3. Bulk Online Image Resizer/Compressor/Converter Recommended
Most of the online utilities mentioned above suffer from various operational loopholes. While some can export the resized icon in just a particular format, others are filled with advertisements and malware. Thus, if you want an app icon resizer which can offer you with all the functionalities in a fast and reliable manner, then you need to proceed with Wondershare Online UniConverter which was previously known as Medio.io. It allows users to compress and convert video, image, audio, and PDF files without any bulky software downloads. Let us now take a look at the steps which have to be followed to resize icon online using this intuitive platform.
Try Free Online Image Resizer Now
[没有发现file]
If you are someone who has to juggle with multiple workloads, then Online UniConverter can serve you well with its batch processing functions. You can thus resize 20 files at one go to optimally utilize your precious time.