Auto Transcription
Transcribe all kinds of recordings such as interviews, phone calls, lectures, speeches, podcasts, or meetings with accuracy and get the TXT transcription file via Media.io in no time!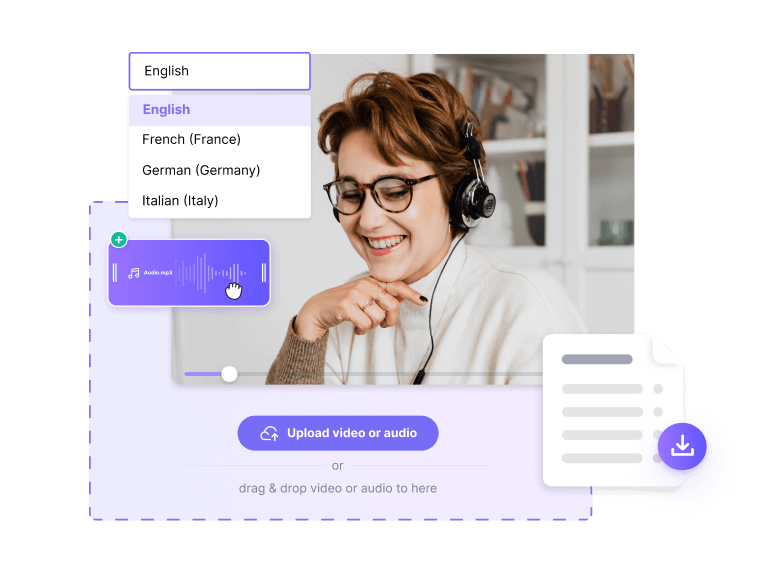 Transcribe Audio and Video to Text Online
What can be a motivation factor for a content creator to transcribe the audio and videos to text? There are several reasons behind this struggle of transcription, such as increasing the accessibility of content even to the deaf and non-native English speakers, getting noticed by the crawlers of search engines, and achieving better UX overall. However, transcribing the audio and video to text is not easy as it seems! Even professionals are tired of manually listening to each dialogue and writing it to prepare a transcript. Media.io has changed the way of transcribing content— whether you want to do it for translation purposes or improve SEO. You can transcribe the content in dozens of languages and have the .txt file as output.
How to Transcribe Audio and Video Files Automatically?
Unlike other transcription online services, the Media.io Transcription app has an intuitive and user-friendly interface to transcribe the audio/video seamlessly. Here's a step-by-step guide to follow:
Step 1: Import your audio/video file

Go to the Media.io Transcription app and then click the Upload video or audio button to import the audio/video files you wish to transcribe. Note: Note: Media.io supports almost all popular video and audio formats in Transcription app.

Step 2: Transcribe Audio/Video and Edit

Once the file is selected, choose the language spoken in that particular audio/video file and click on the Transcribe Now button. Once the transcription is generated, you can preview and edit the text to make changes accordingly via the Transcription Editor.

Step 3: Export the Transcripts

Click the Download Text button to save and download the generated transcription in .txt format. Want to transcribe more files? Click on Transcribe More button to start another transcription.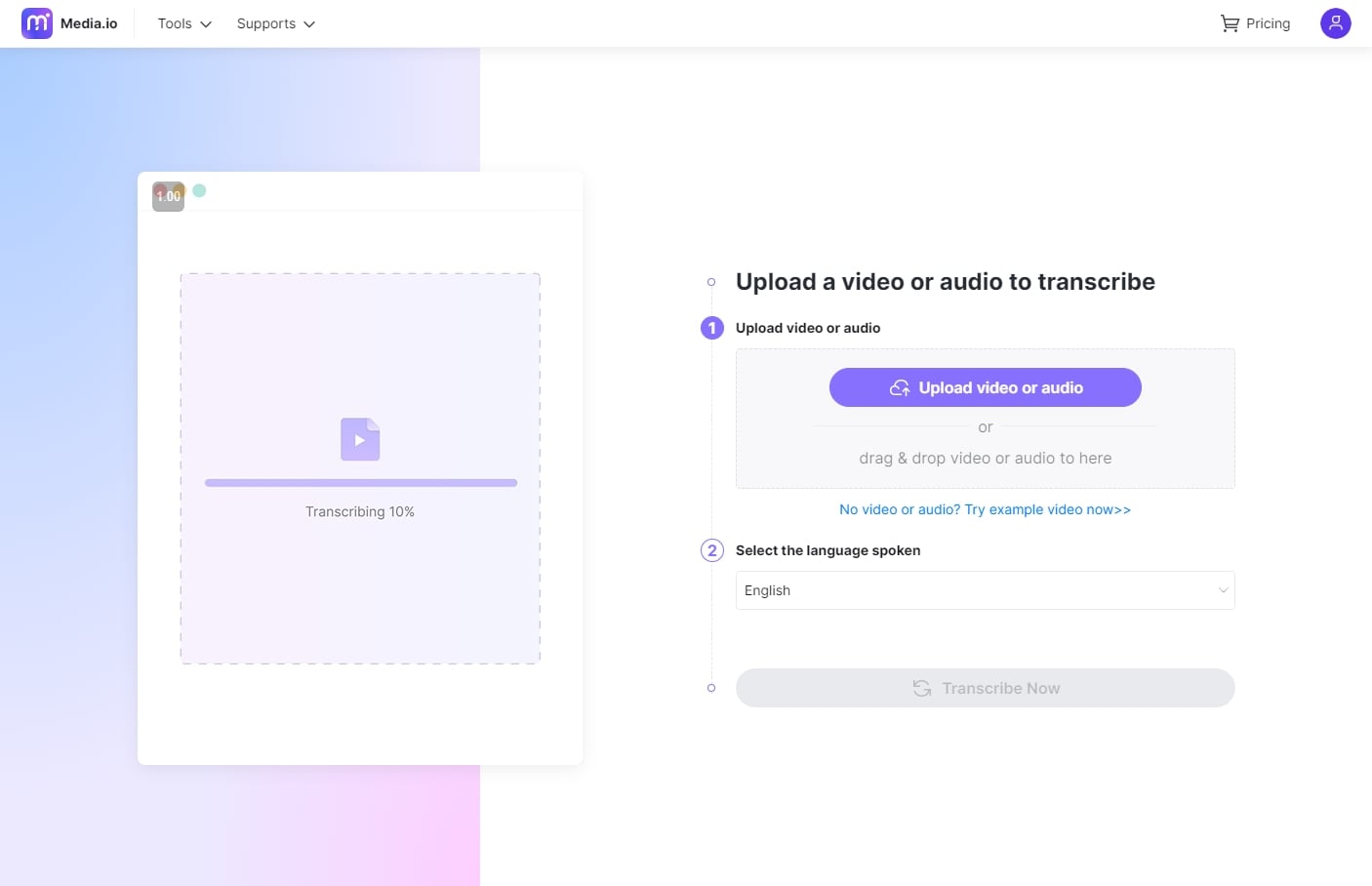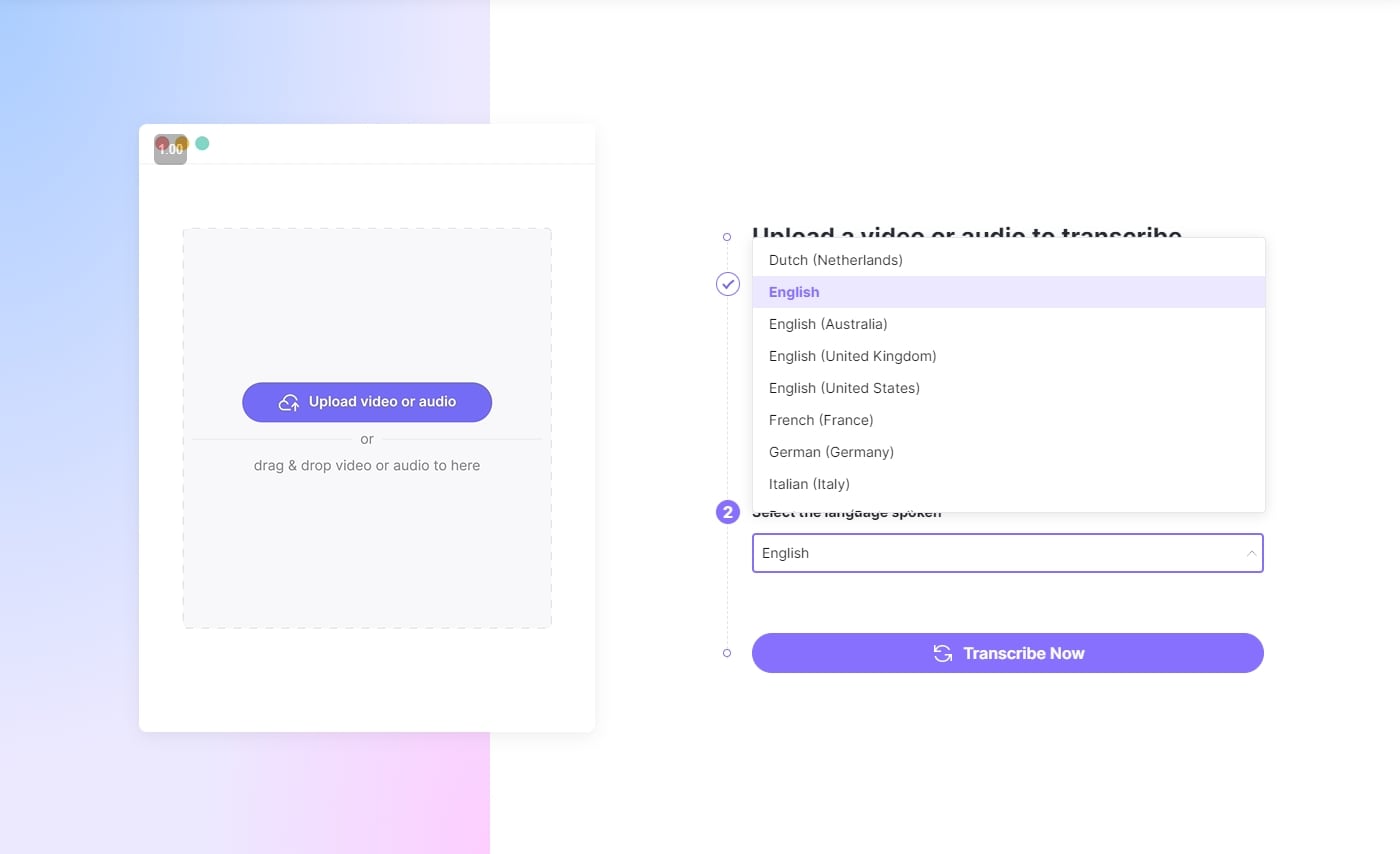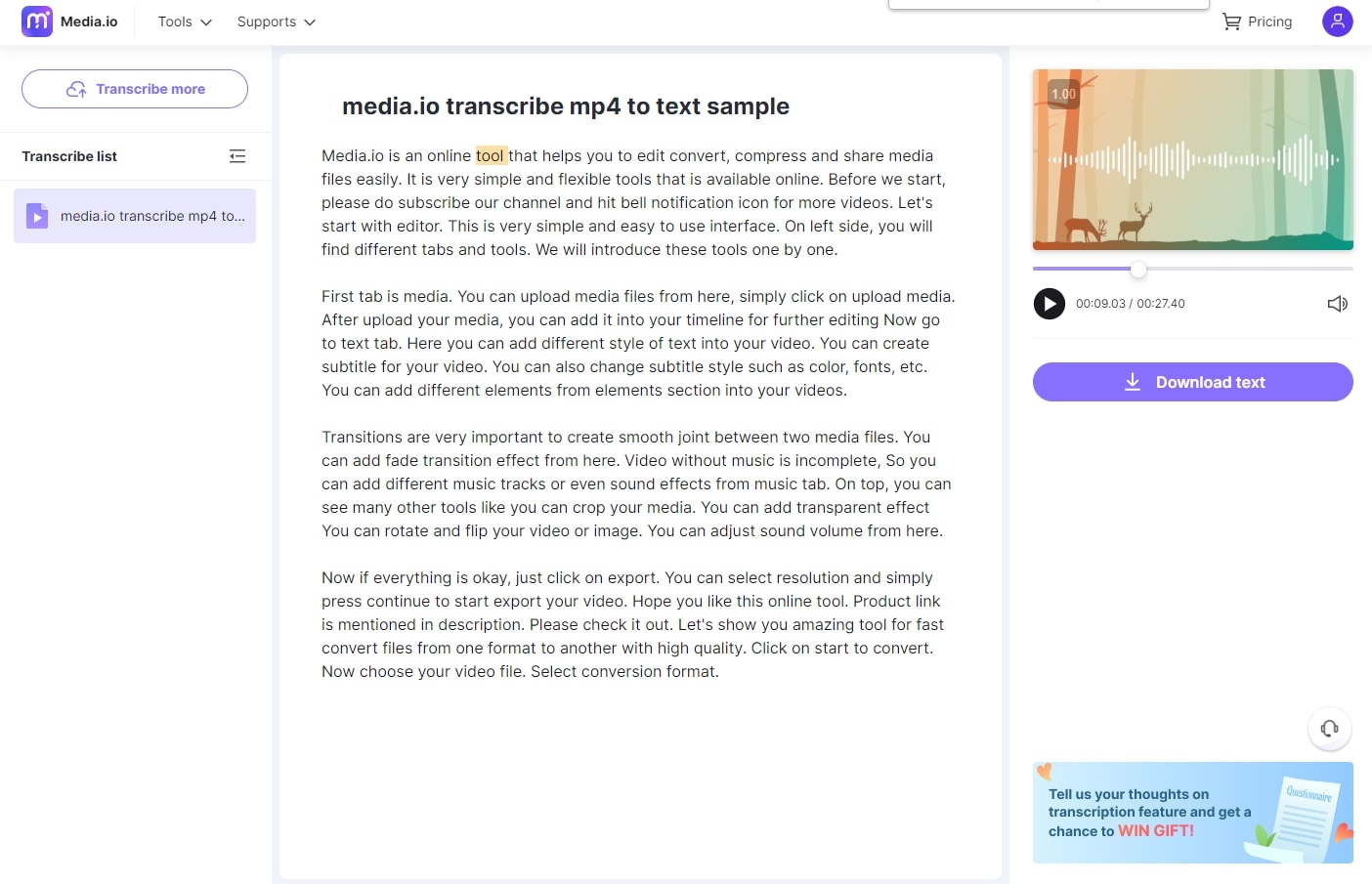 Why Use Media.io Online Transcribe Service?
Transcribe Automatically in No Time
Manually transcribing an audio/video file will take a lot of time. Media.io can automatically analyze the sound via speech recognition and generate the transcription in a few seconds or minutes— depending on the length.
Reliable and Accurate
Media.io has AI speech recognition technology which ensures 90%+ accuracy in the transcriptions and generate the text file accepted globally. You can also edit the generated text via the transcription editor to be more precise.
Multilingual Transcriptions
Media.io Transcription app supports multilingual transcriptions where you can transcribe audio/video files to Spanish, German, English, Italian, French, Portuguese, Dutch, and many more.
Convert Audio/Video to Text Online
Transcribe anywhere anytime via the Media.io transcription app online! No need to download any tool offline or run the compatibility check as all you need is a browser and an internet connection for Media.io.
Multiple Formats Supported
Media.io Transcription app supports almost all standard formats for input, such as MP4, MOV, AVI, WMV, MKV, 3GP, FLV MP3, M4A, FLAC, WAV, WMA, and AC3. You can download the text file in .txt format.
Safe and Secure
Media.io never lets anyone intrude on your privacy and expose your valuable content. We have multiple layers of protection to secure your transcriptions.
Making Content More Accessible
Being a brand, all you need is to make your audio and video content accessible to all types of audiences as a social responsibility. Therefore, transcribing your content can be the first step toward this. Convert your recordings to a text file, and repurpose it as a blog or show notes for the podcast, making your content more accessible to all audiences.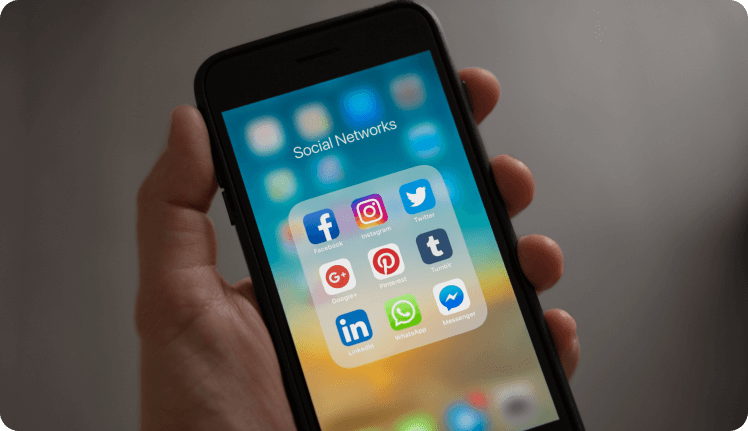 Improve Your SEO Ranking
Another reason why you should transcribe your audio or video files is the improved SEO. Crawlers of search engines cannot access the audio or video content but can analyze and process the text. Therefore, it has been observed that the video with transcriptions catches 6% more unique viewers from search engines.  
Comprehension and Distribution
Regarding distribution, the audio or video file distribution channels are very limited compared to text. You can generate texts or transcriptions and distribute them over social media networks via emails, eBooks, or manuals. Not only are the texts easy to comprehend, but they consume less bandwidth.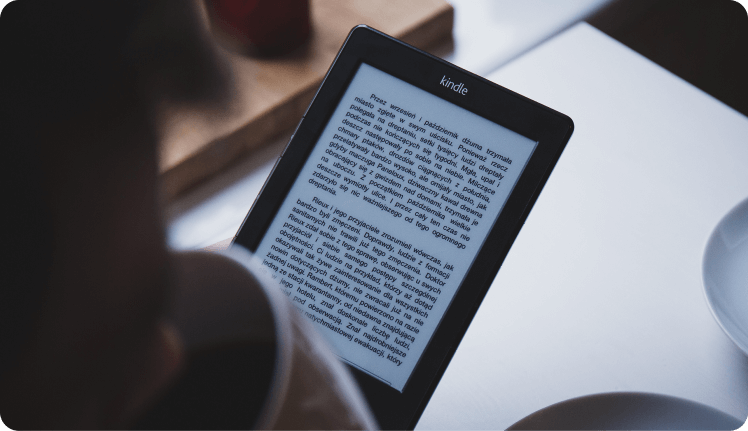 Built for Everyone
Whether you belong to a marketing, educational, distribution, law, or literature firm, you'll need the transcription services or tools to expand your viewership and engagement.
Journalists
Don't have enough time to convert the recorded interviews or press conference into text? Use Media.io AI Transcription app to transcribe the audio and video file to texts and save it in a TXT document.
Podcasters
Convert your raw or polished podcast to text automatically with AI speech-to-text recognition. Add the transcripts alongside the podcast episode to drive more traffic.
Marketers
Adding text transcripts to audio and video files improved the SEO and let the marketers enjoy more traffic. You can also re-use the video content on blogs and social media posts to engage more audiences.
Researchers
Transform the recorded phone or video conference calls into a searchable text file. Research more rather than transcribing the files to text manually.
Coaches
Automatically convert your coaching sessions to text, so you don't have to spend hours typing or taking notes. Be the best professional coach you can be.
Students
Take notes by transcribing the lectures, webinars, or seminars into texts. The transcripts are generated automatically after recording, so you can derive more insights.
FAQs About Transcription
Converting audio or video files to text for better comprehension and sharing the generated text over social media is known as transcription.

How can you transcribe a video for free?

You can use Media.io to Transcription Tool to transcribe the audio/video files for free. However, you can enjoy 30-minutes of free transcription, and it'll cost you $2.95 for additional 3 hours.

How can I transcribe audio recordings to text?

We recommend using an online tool rather than downloading any large-sized software. The Media.io Transcription app lets you transcribe audio recordings to text in dozens of languages with 90%+ accuracy.

What are the file limitations when using the Media.io Transcription tool?

You can upload a media file with a length min of 10 seconds to a max of 3 hours when using the Media.io Transcription app.

Can I use the Media.io Transcription tool for free?

You can enjoy a 30-minutes of free transcription for free. You can get 3 hours of additional speech-to-text conversion time for $2.95 only.
I am a student, and I find it difficult to take notes in class. With the Media.io transcription app, I can now record lectures and transcribe them later to use as notes.
Kate

What I love most about Media.io audio to text is that you don't need to edit and manually type anything— upload the file and let the tool do the rest.
Jordan

I bet no tool can offer such versatility and dedication transcription editor. With Media.io, I can now transcribe the files in 89 languages; how cool is that!
Lora

I have some videos in the Estonian language, the least priority language offered by transcribing tools. But guess what? Media.io has this language in the arsenal!
Luke

I love how we don't need to download any software and still get the transcriptions ready in less than five minutes online with high accuracy!
Zee

Convert, compress and edit files online
in minutes.
Make video editing easy like never before!