Everyone came across a scenario where they captured unwanted objects like a pile of rubbish or a stray cat and dog in a photo. This factor compromises the quality and aesthetic side of any type of photo. That is why users mainly look for a tool to remove unwanted objects from the pictures. Snapseed is a top-rated and highly recommended tool for removing unwanted objects from photos.
Removing objects from photo Snapseed is straightforward, and anyone can do this perfectly. Moreover, it also helps in several types of photo modifications. By the end of this article, you will know all about Snapseed and its best alternative.
Part 1: What is Snapseed?
Snapseed is one of the best tools for removing irritating and distracting objects from photos. It not only helps maximize photo productivity, but you can also make pictures more alluring with it. From adding new layers to photos to enhancing styles with precision, this tool never ceases to amaze its users.
Moreover, you can perform several types of photo modifications, like tuning images and adjusting exposure with it. Snapseed object removal tool is the talk of the town nowadays. Users prefer to use it to accomplish a task like removing objects.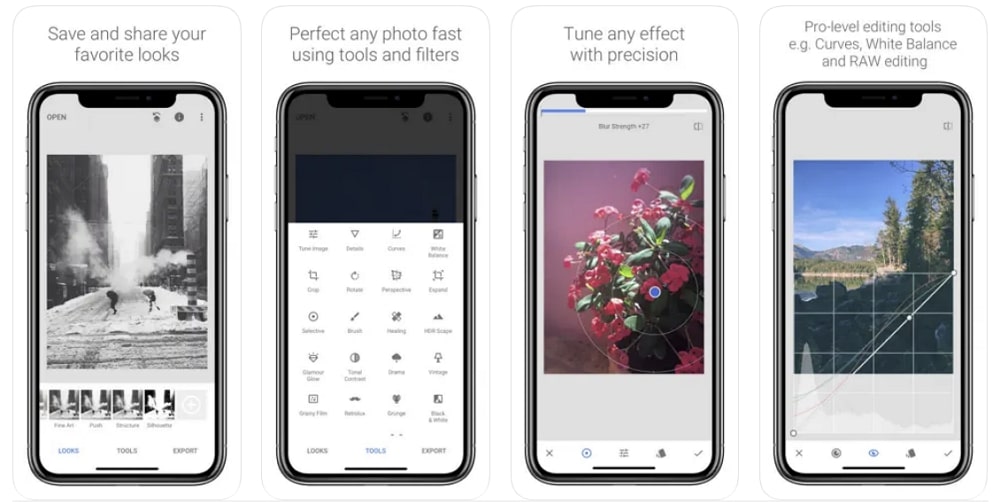 Price
Supported Devices
Reviews
"This is a great app. I'm a newbie when it comes to editing photos, so keep that in mind. This has a lot of tools and filters to muck about your pics. Free. Ads? Maybe I've been using it for so long, and they're just the non-disruptive ones down at the bottom of the screen. If so, they're not there all the time." - By Thomas St. Marie
"This has been my go-to app for mobile photo editing. Recently there seem to be a few bugs, one of which is my favorite tool which is double exposure which I use for cloning. It just will not load any additional images anymore." - By Youngstown Local
Part 2: Step-By-Step Guide on Removing Objects From Photos with Snapseed
Now that you know the prevalent side of this highly intuitive tool, you must be wondering about its usage. Worry no more because this easy-to-use tool has some simple steps by which you can remove unwanted objects from any photo. To remove the object Snapseed, follow the steps listed below:
Step 1

Access Snapseed and Import Photo

Initially, download Snapseed on your device and launch it. From the main interface of this app, tap on the "+" icon and select the photo from which you wish to remove objects.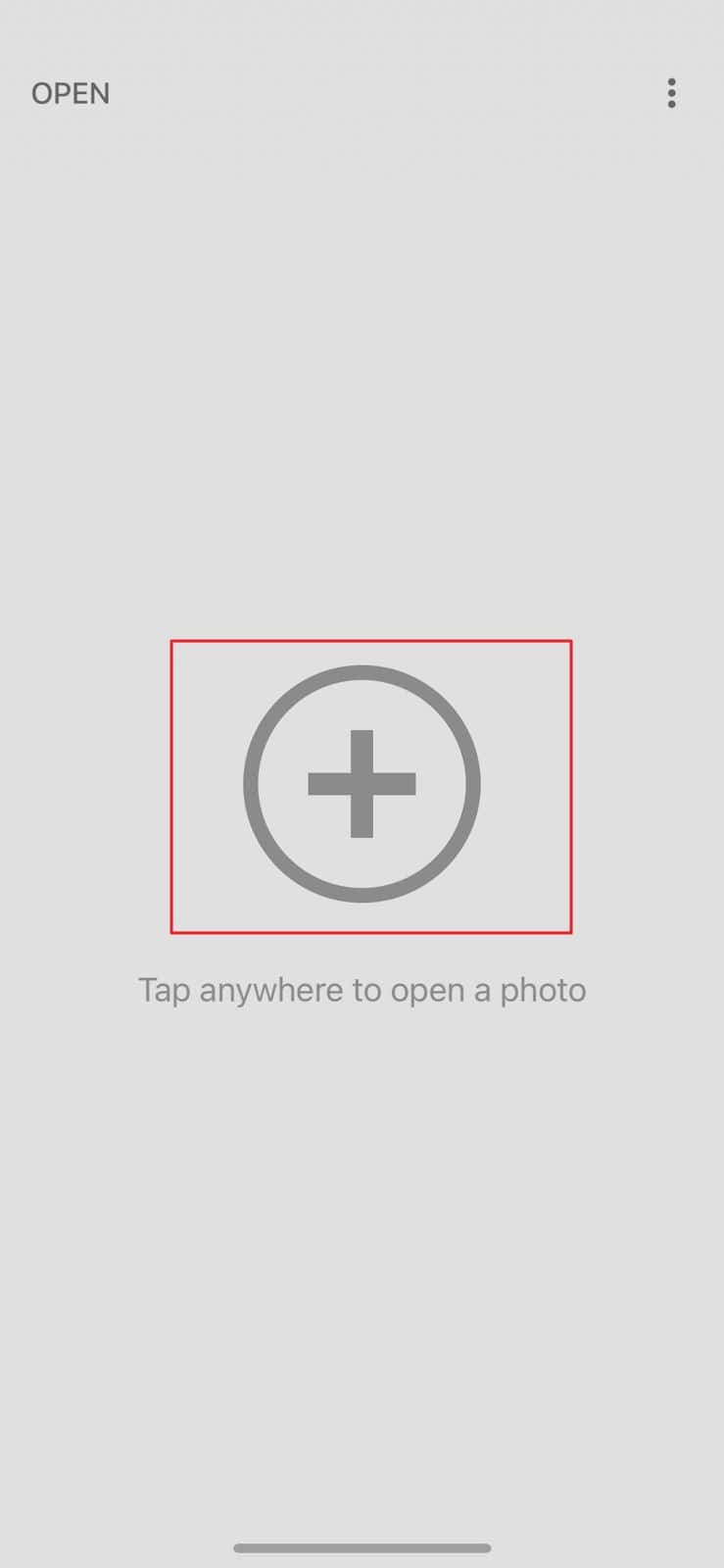 Step 2

Remove Unwanted Objects From Photos

Once the photo is imported, select the "Tools" option from the bottom center of the screen and then tap on the "Healing" tool. Now, highlight the area or object you want to remove and choose the "Tick" icon.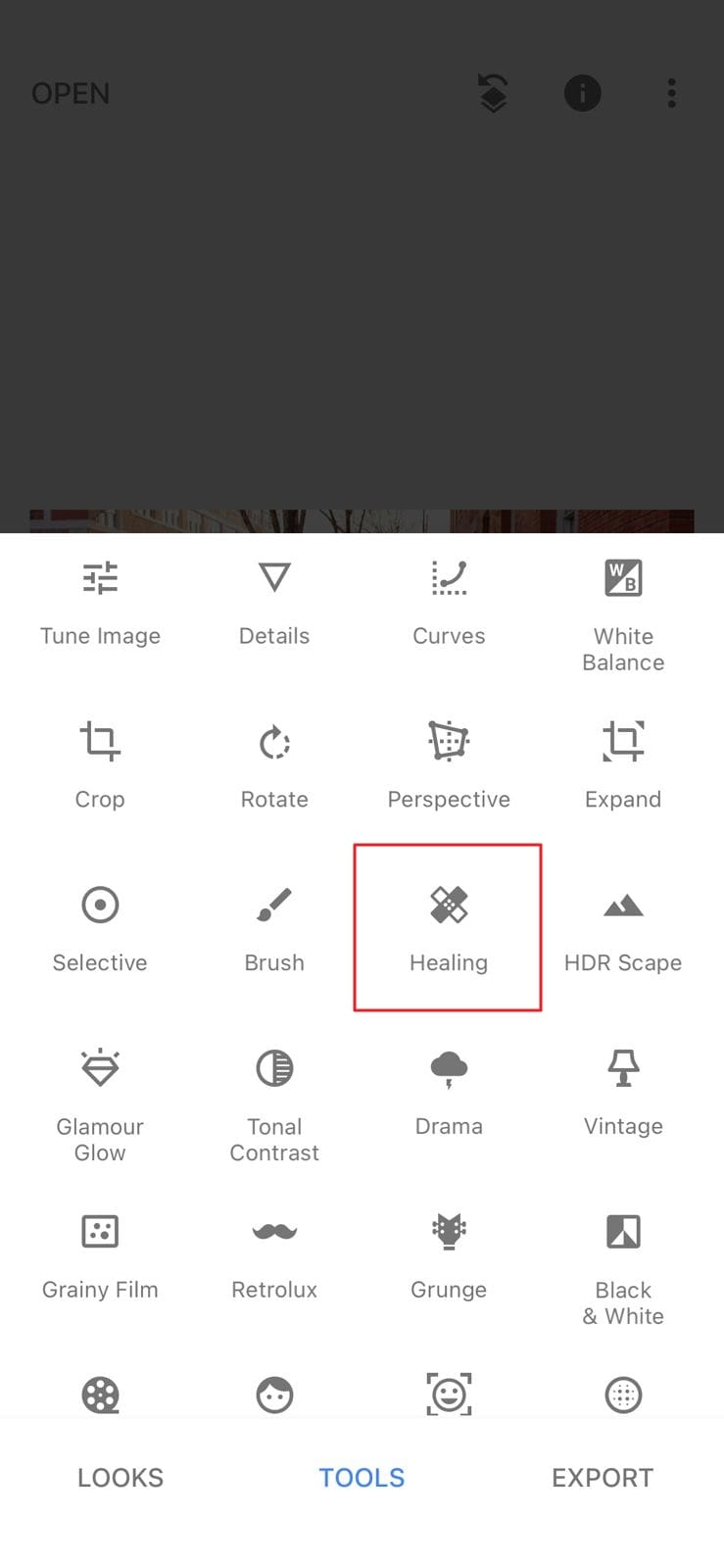 Step 3

Save the Photo Without Unwanted Objects

Afterward, tap on the "Export" button and select the "Save" option. You can also hit the "Share" button to share your photo on social media platforms like Snapchat and Instagram.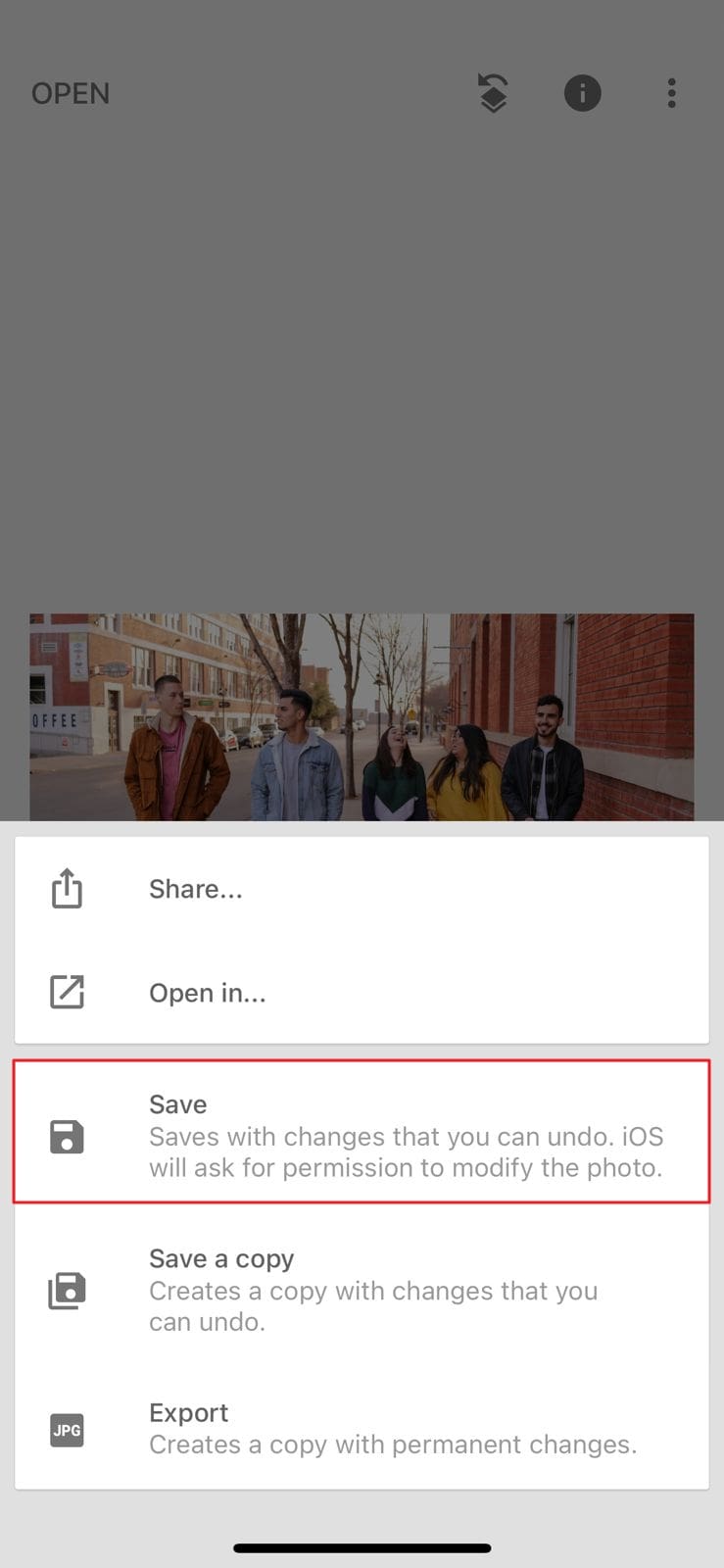 Part 3: Creative Tools in Snapseed You Can Try Out
Implementing imagination in a creative way on photos is the specialty of this application. In addition, to remove objects in Snapseed, you can also customize your photo to a further extent. There are plentiful key features in this tool, and some of them are listed here:
1. Brush
There are several assistive tools in the brush feature that can convert raw images into interactive ones. Its Dodge & Bun tool helps add light brushing effects anywhere in the photo. You can also increase and decrease the exposure of brushing colors as per your choice. It also allows you to manage the visibility of brushing effects.
2. Head Pose
Some people have a habit of tilting their heads in photos. No matter how hard they try, somehow, their head is still tilted in the pictures. If you are one of them and looking for a solution to this problem, consider using Snapseed. Its Head Pose feature allows you to tilt the head in the perfect position. Moreover, it's in 3D, so it will not look fake in photos.
3. Multiple Attractive Filters
Snapseed comprehends plentiful filters that can make any simple image a mesmerizing one. With it, you can add filters like portrait, pop, morning, push, and more. Above all, if you don't like the filter after setting it on the photo, this app lets you remove it without complications. Thus, you can now make your photos more visually appealing by using a wide array of built-in filters in Snapseed.
4. Lens Blur
With Lens Blur, you can blur all the unwanted parts of a photo and focus on the required one. This app lets you place the lens on the focused area to make it more notable. Moreover, you can also manage blurring metrics like blurring strength, transition, and vintage strength. Selecting shapes for blurring masks is also fun with this tool.
Bonus Tip - Remove Objects From Photos with the Alternative to Snapseed
No doubt that Snapseed is a good tool for removing unwanted objects from photos. However, with the passage of the requirement for modernized tools that can perform all the functions innovatively is drastically increasing. So, knowing a tool with the best user interface and highly advanced features is a must.
AniEraser is an object removal tool that can eliminate all the distracting and dangling objects from photos. This tool has all the capabilities that make them the best tool in this domain. Thus, you can not only remove objects in Snapseed, but you can also remove unwanted objects and people from photos with AniEraser.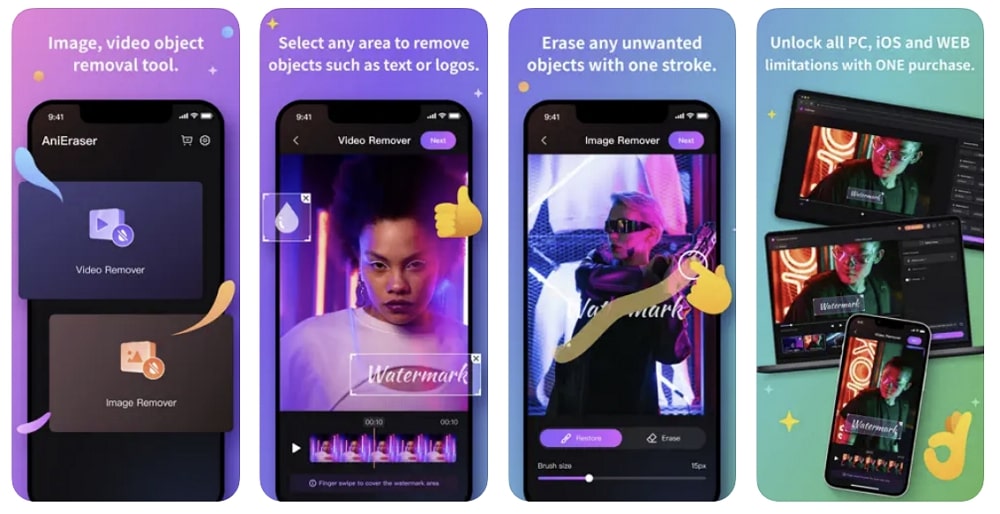 Complimentary Key Features of AniEraser
This tool is specifically powered by artificial intelligence; thus, it also drives satisfactory outcomes.
Like no other app, you can use AniEraser on several digitalized devices like Mac, Windows, and iPhone with just one license.
It helps in removing text from photos and adding an aesthetically pleasing retouch to make images more captivating.
Not only one, but you can remove multiple unwanted objects from the photo at once by using this tool.
Steps to Remove Unwanted Objects from Photos with AniEraser
The steps instructed here will significantly help you in removing unwanted objects from photos without any complication:
Step 1

Open AniEraser and Add Photo

To get started, download AniEraser on your iOS device and launch it. From the tool's interface, select the "Image Object Remover" option.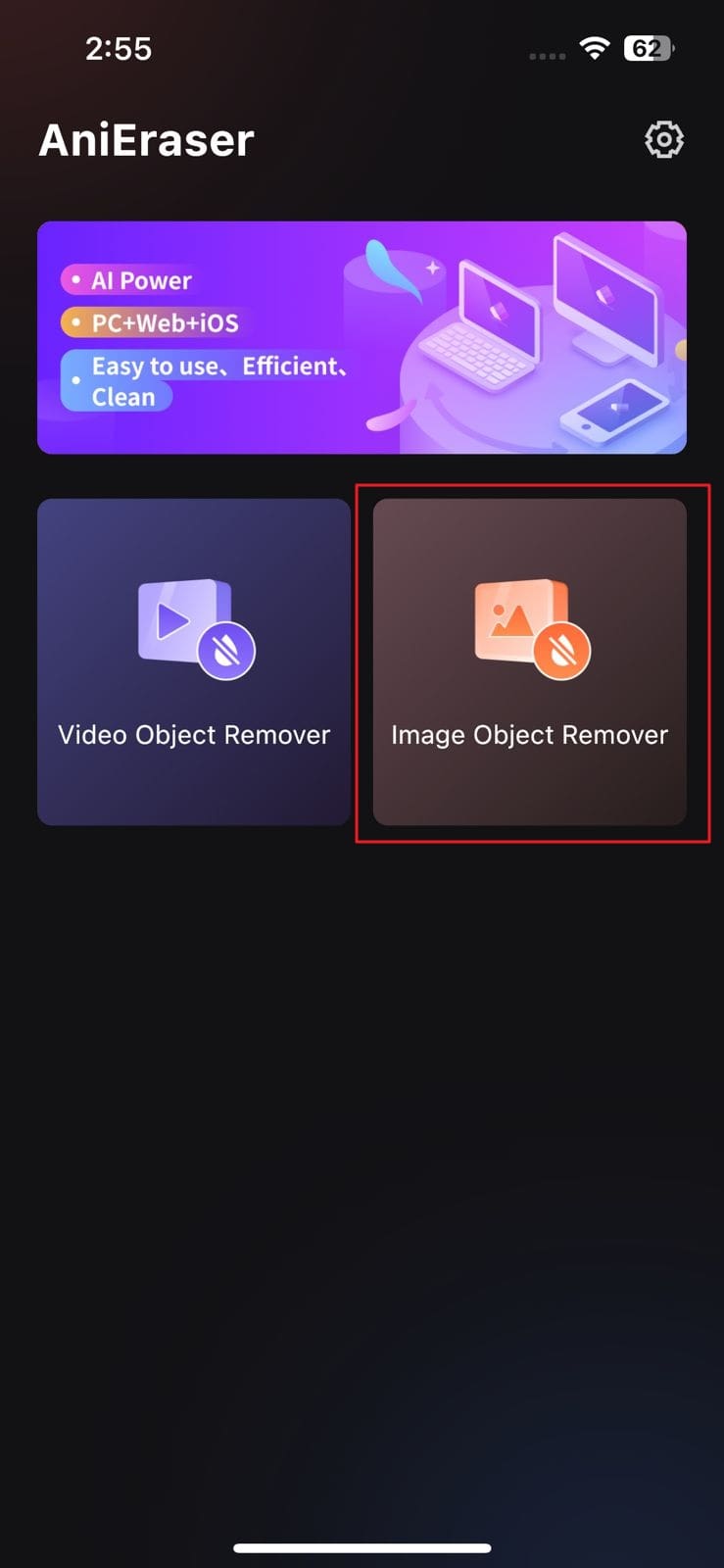 Step 2

Get Rid of All the Unwanted Objects in a Photo

Afterward, select a photo from which you want to remove objects and import it. Following this, highlight the area you want to remove using the "Restore" brush.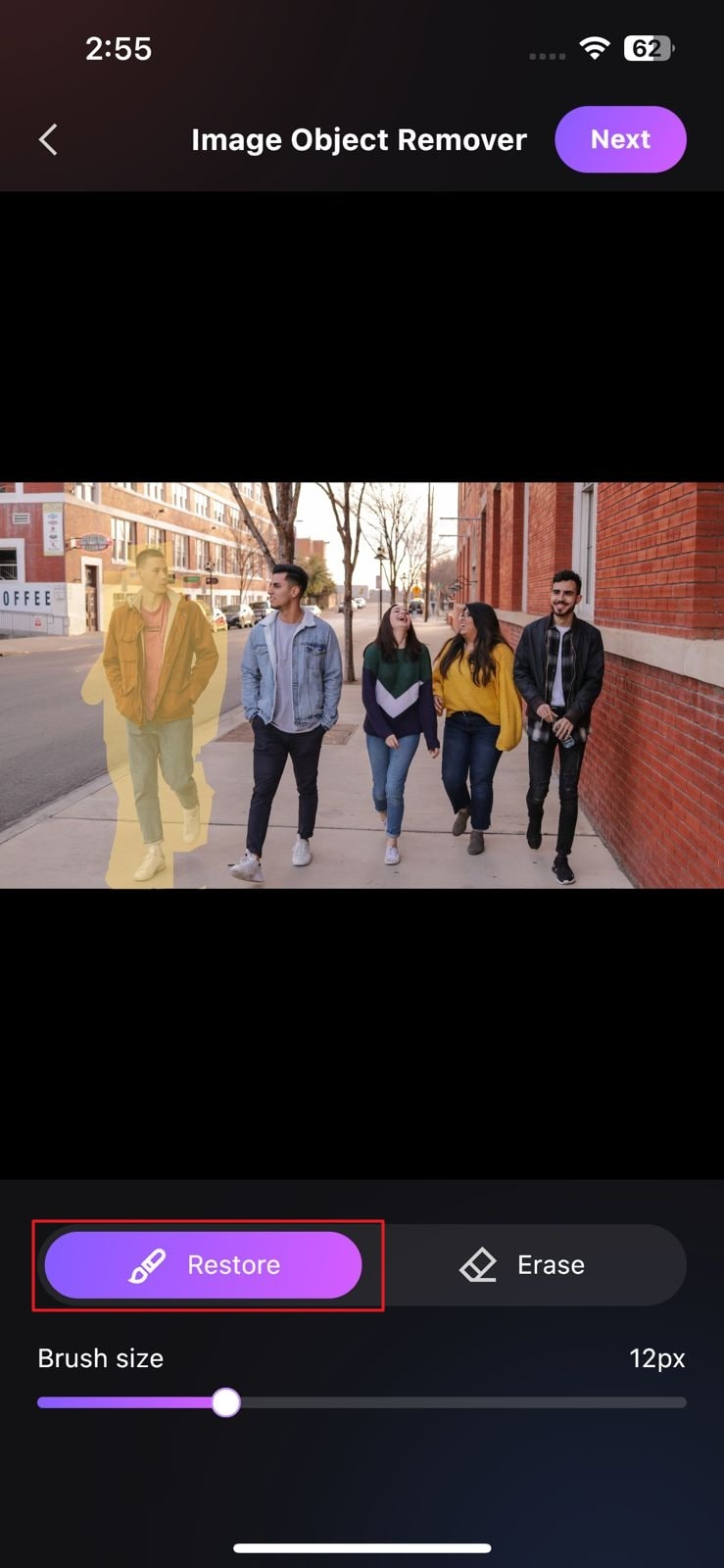 Step 3

Save the Photo Without Any Distracting Object

Next, tap on the "Next" option and select "Save Image to Camera Roll" to save your modified image to your device.