There is a time when we have a picture with poor quality which was taken by an old phone. Also, you might want to upload your old picture on social media. However, the picture is too ugly and looks like an old picture. Fortunately, there is an online tool called Remini photo enhancer to keep you away from those nightmares.
Hence, this article will give you information about how to use Remini to increase the quality of your picture. This article also provides another great tool you can use as a Remini alternative.
Part 1: A brief review of Remini application
Remini photo enhancer is a free and effective way to transform low-resolution, blurry, or less vibrant images into HD. Particularly, Remini strives to recreate photographs with a strong and distinct facial focus. In this instance, you can snap images without worrying about camera shakes and then improve them with the Remini.
Indeed, Remini is also available on mobile, and you can use it to make your pictures look significantly better. The photo enhancer Remini app download is available on Android as well as iOS devices and is also free. Using advanced AI algorithms, it can make results that are real and of high quality. These algorithms are very good at making sense of the image they are given.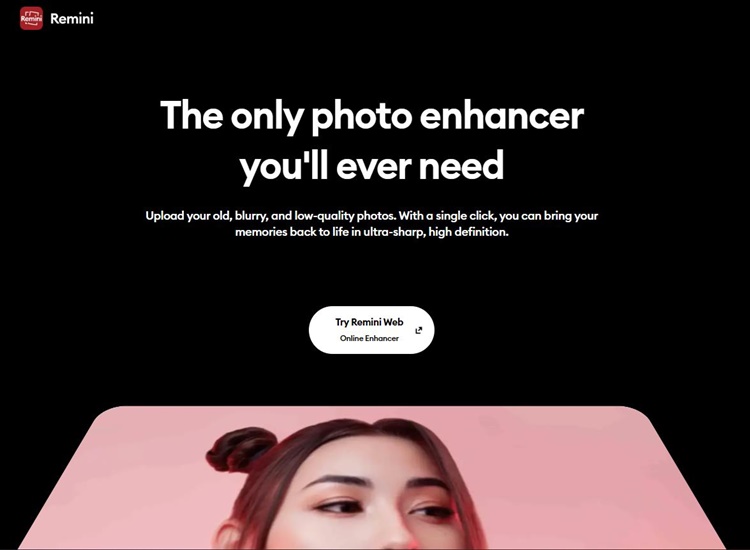 OS: Windows, Mac, Android, iOS, and Online Web.
Price: $4.99 / month
Release time: 2019
What's new compared to other tools
When enhancing an image, Remini replicates the parts that are likely damaged or fuzzy and recreates the image as something new. Thus, Remini is able to transform old, hazy, damaged, and low-quality photographs into HD images with clear face focus.
Features
Remini enhances the quality of images taken with an older phone or camera, making them appear to have been taken with a modern device.
Remini can improve outdated pictures and degraded photos to high-definition.
Remini can fix blurry videos, so you can watch videos you took before on a bigger screen with clearer vision.
Pros
It's simple to make low-quality images look better.
Making pictures larger and better.
The app's paid version is not too expensive.
It's easier and takes less time.
You can also improve videos with this app.
Cons
You must watch ads if you use the free plan for the app.
The largest file you can export is 2080x2080 pixels, which is unsuitable for pros.
Part 2: How to use Remini photo enhancer to increase image quality
Using Remini photo enhancer online to increase your image quality is so easy. Even if you're not the kind of person who keeps up with technology. Follow the steps below to learn how to use Remini to improve the quality of your images
Step 1

First, you must open your browser and go to Remini enhancer online.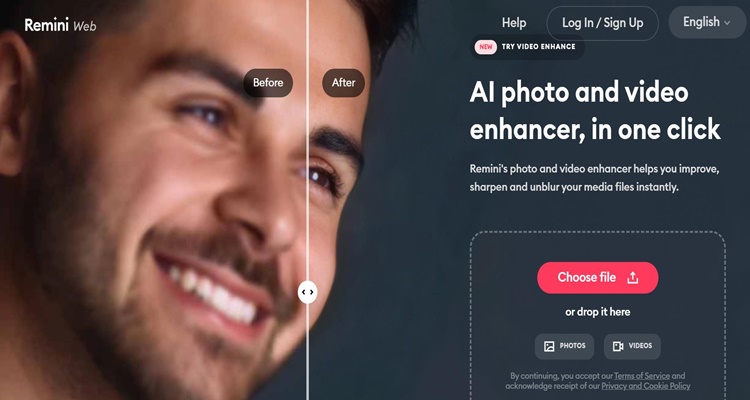 Step 2

Import your image

Simply, drag and drop your image here. Afterwards, Remini will automatically process your image.
Step 3

Download the enhanced photo.

It is easy to distinguish between the Before and After versions on your screen. The After section is noticeably clearer and smoother than the Before part. Click the Download option to save the enhanced image if you are satisfied with it.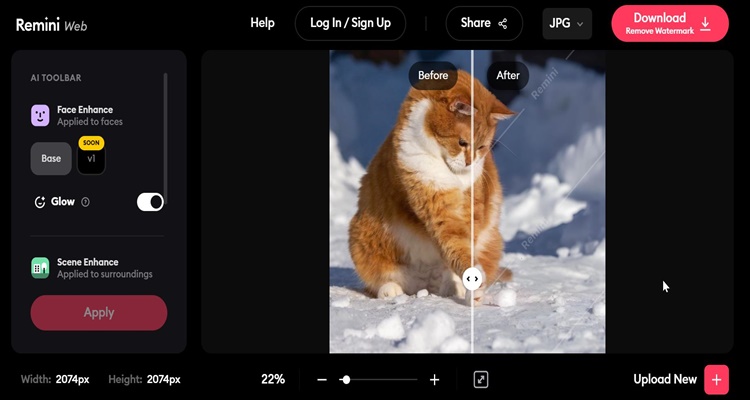 Part 3: What's the best photo enhancer online free like remini
You may notice how powerful Remini is in enhancing image quality. Remini can even edit old-school photographs that appear to have been taken with the most advanced camera technology. You might think there is no other tool that is superior to Remini. Indeed, you are totally wrong since there is a photo enhancer online free like Remini, and the name of the tool is Media.io.
Media.io is another powerful tool to enhance image quality. The intelligent AI Image Upscaler from Media.io enables automatic photo enhancement. You can enhance the resolution of your pictures by 200, 400, or 800 times without degrading their quality. For instance, a 4X upscaling will result in a picture that is four times the size of the original, and the resolution will go from 200*200 to 800*800.
Additionally, you can improve the dimensions and clarity of a product shot, a landscape image, a group photo, a selfie, or even an old photograph, just like Remini.
Features
Enhance image quality and texture on any device with a poor Internet connection and browser.
Instantly upscale photos up to 4k resolution online.
Using AI technology, images can be upscaled or enlarged quickly and without manual work.
Within 24 hours of being uploaded, compressed files are deleted automatically from the servers.
How to increase the quality of images with Media.io
Afterwards, you can drag or upload your image to Media.io.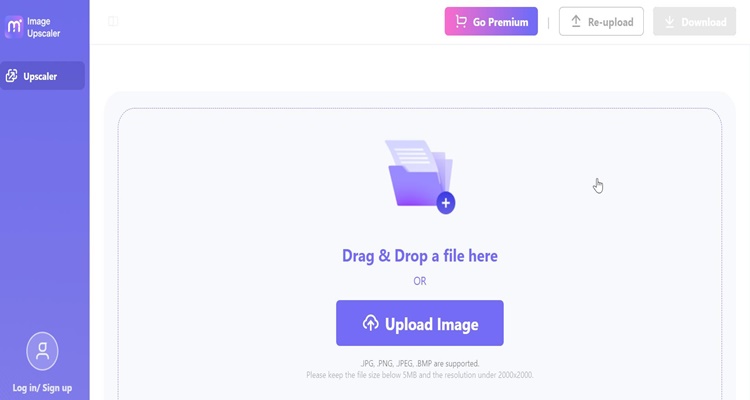 Step 2

On the next screen, you can choose to increase the size of your picture by up to 8 times, depending on what you need.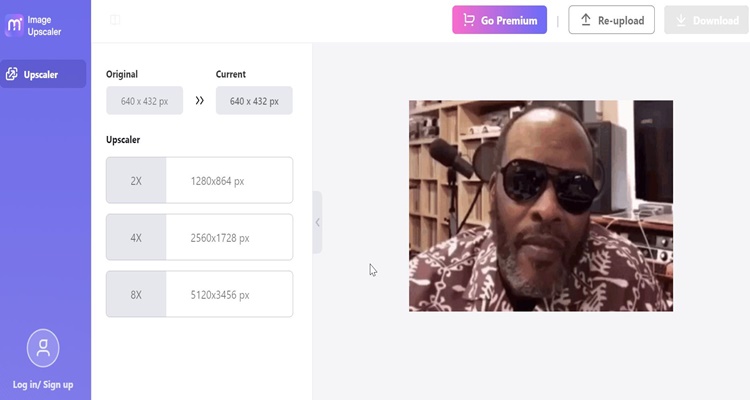 Step 3

After you click the 2X, 4X, or 8X button, you must wait for Media.io's AI technology to automatically improve the quality of your photo.

It takes only 5–10 seconds. Lastly, click the Download button to get your enhanced photo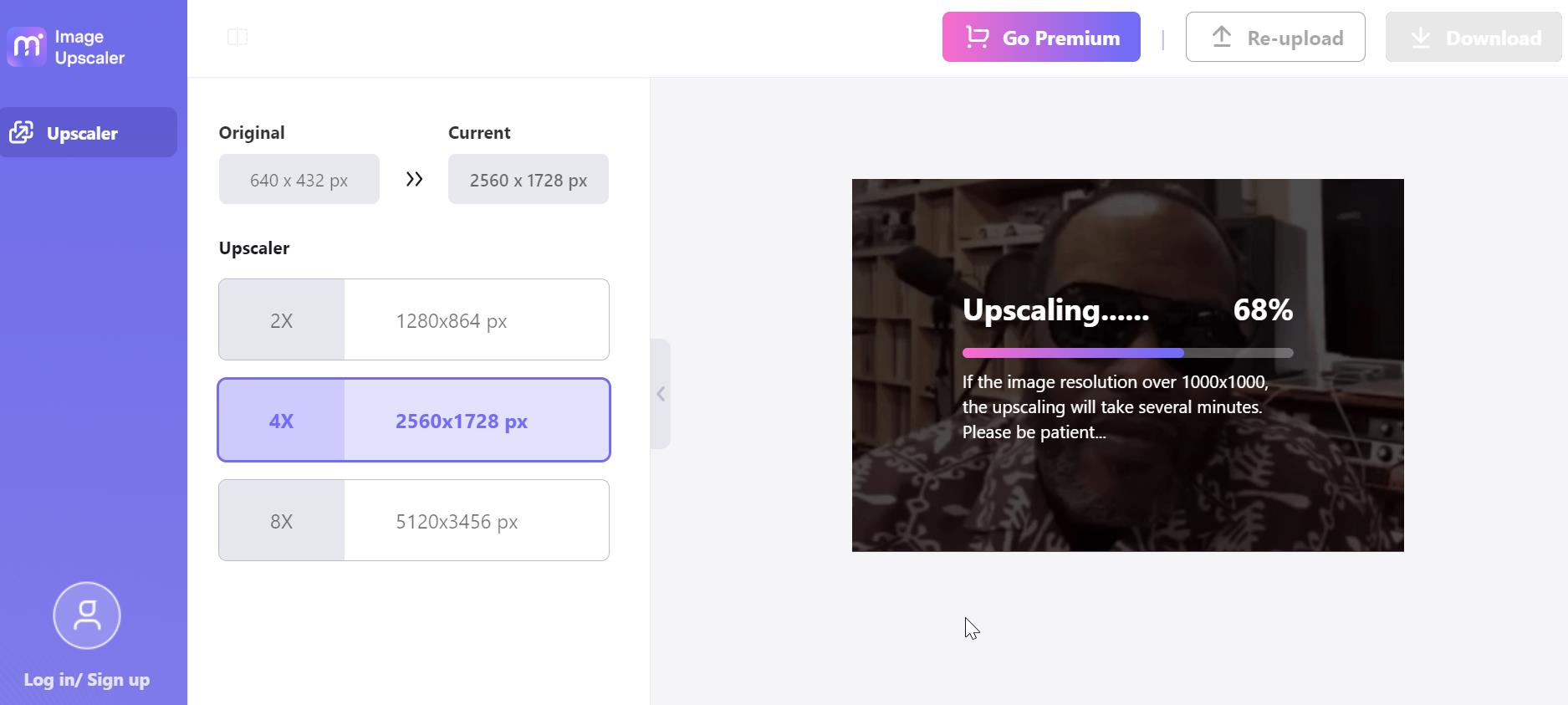 People also ask:
1.
Which app is the best to store old photos?
One great app for saving old photos is Google Photos. You can automatically add your pictures. It is a huge benefit when it comes to storing photos. You can even hook it up to your computer and do the same thing. But some things can't be done. You can only upload pictures that are up to 16 MP in size and resolution. If they're too big, they'll be shrunk.
2.
How to get the sharpest photos?
One of the ways to get the sharpest photo is to lower your ISO. As the ISO speed increases, more digital noise will appear in your photo. It makes sharp details look fuzzy, which affects the image's overall sharpness.
3.
Can blurry photos be sharpened?
The Smart Sharpen tool in Photoshop is an excellent way to fix blurry images. If you're looking for a quick solution to fix a blurry photo without turning on a computer or using an editing tool, you may do so with the default photo app on your smartphone.