PNG file extensions provide you lots of advantages over GIF files as they offer better compression rate and variable transparency. Moreover. If you want to make a collage of your recent party event and present it to your loved ones over social media, then you get to combine PNG files into one. This you can do by using several free online platforms, which give you a chance to provide a new look to a set of PNG extension files and can bring happiness to your loved ones.
Part 1. Online Free PNG File Mergers
URL: https://www.filesmerge.com/
You can use filesmerge through several platforms viz. Mac, Linux, or windows to combine PNG files. When you use this online software, then there is nothing to download on your system as the entire process of conversion gets completed at the cloud service. Furthermore, you don't even have to install any essential software for the proper conversion process. This site allows you to select files up to 50 MB and provides several types of merging facilities viz. horizontal, vertical, fixed columns, etc.
Pros:
You get to consult frequently asked questions regarding the conversion process or can contact through an email.
It is effortless to use this site because of its impeccable GUI features.
This site comes in various languages, and it is SSL secured; thus, there is nothing to fret about.
Con:
You are supposed to download your files within an hour or so as after this your files will get removed.
If your uploaded images aren't up to the mark, then they are liable for rejection.
During the merging process, you also have to reveal personal information like phone number, address, etc.
Conversion Steps in Files Merge
Step 1. Initially, you are supposed to use drag and drop option or click on the select button to choose local PNG files. You can either choose the URL option and can upload images from a website.
Step 2. In the next step choose vivid options by clicking on merge horizontally, vertically or through fix column. Then choose PNG option as an output.
Step 3. You will then be directed to the output file which you can download straight on your personal computer.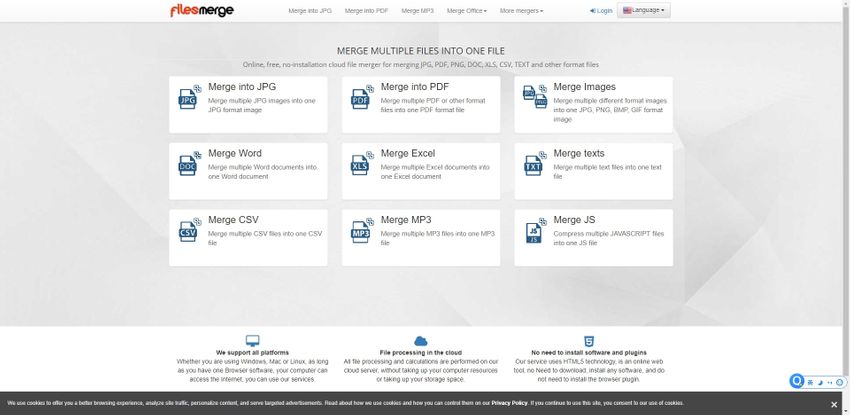 URL: https://www.aconvert.com/image/merge/
Aconvert is an online platform which provides you a great deal of facility to merge PNG files into one without downloading any pre-requisites on your personal computer. The site is elementary to navigate. Thus, you don't have to be a connoisseur to handle any project. The website strictly follows confidentiality norms; therefore, your uploaded files will not be shared with a third party. Here you get a chance for automated re-submission if in case the processing fails on one platform.
Pros:
You can upload files from various sources viz. Google Drive, DropBox, or from URL.
The site also provides information about the project in a sequential manner, which will give you excellent means for reference.
Here you don't have to pay for everything, and there is no daily upload restriction.
Con:
You won't be able to convert e-books as well as documents side by side.
The site also has a time restriction, i.e., if within that allotted time conversion doesn't take place, then the online software will automatically terminate it.
It doesn't support few file formats, for starters WLMP.
How to Merge Multiple PNG Images in Aconvert
Step 1. Initially you need to click on the choose files menu bar and upload several images at a time.
Step 2. You then have to click on vertical or horizontal merging option which will make your image fall either in the top to bottom or right to left.
Step 3. When you click on the submit button, then the process will start automatically. Then you have to download the merged image.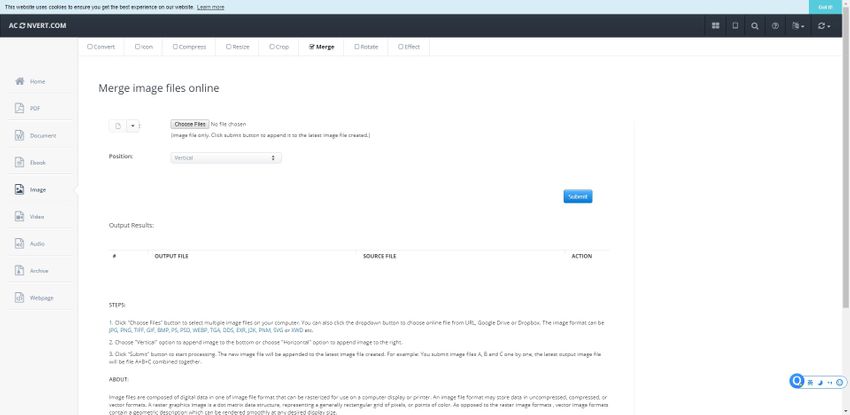 URL: https://icoconvert.com/Multi_Image_to_one_icon/
Through this online software, you get to create free of cost icon from merging several PNG images. Thus, you can easily create memorable photos of you and your loved ones. Through this software, you get to make several editions in the primary images viz. shape conversion, shadow, and border application, etc. Moreover, icoconvert.com also provides you an opportunity to crop your pictures.
Pros:
The site is easy to navigate as the site has impeccable GUIs which make it easy for you to undertake the merging process.
The site also offers batch processing and you can easily upload files up to 50 MB at a single time.
The site follows confidentiality norms thus your files will be in safe hands.
Cons:
You can't merge images more than 50 MB daily. Thus, it is tough to undertake large projects.
The site doesn't provide informative videos to resolve queries, thus you have to study the directions written infrequently asked questions.
The Conversion Steps of ICO Convert
Step 1. click on the upload and convert the option to upload the files for converting.
Step 2. the files will automatically be converted and will be available for download.
Step 3. Click on the download button to download the files to your device.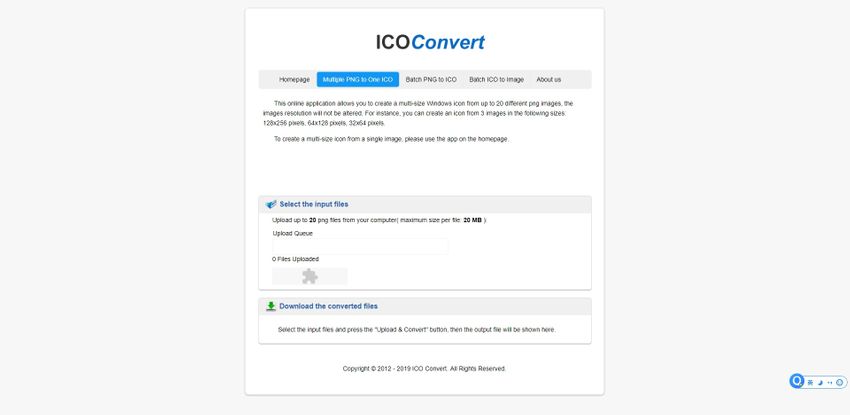 URL: https://png2pdf.com/
Png2pdf offers a great deal of security over the internet. Thus you get to save your personal computer from virus and illegal activities which takes place over the net. You get to share converted files straight from several social platforms. The layout of the site is straightforward to refer; thus, it would be straightforward for you to acquire a conversion facility.
Pros:
You don't have to download any essential program on your computer system.
The speed of conversion is breakneck. Thus, the project will complete in a short period.
You can select up to 20 different images in a single setting.
Cons:
You have to download the image within 1 hour of conversion, or it can get deleted.
The site lacks UX and UI. Thus you have to work harder for the conversion process.
You don't even find frequently asked questions section, and thus it would be tough to find a right solution for a problem.
Step by Step to Merge PNG Formats
Step 1. In this step you just have to click on the upload files button or can choose drag and drop option to add files in the platform.
Step 2. During the concluding step, you have to click on the thumbnails so that you can download PDF for every image. You may even click on the combined button and get them in one PDF document.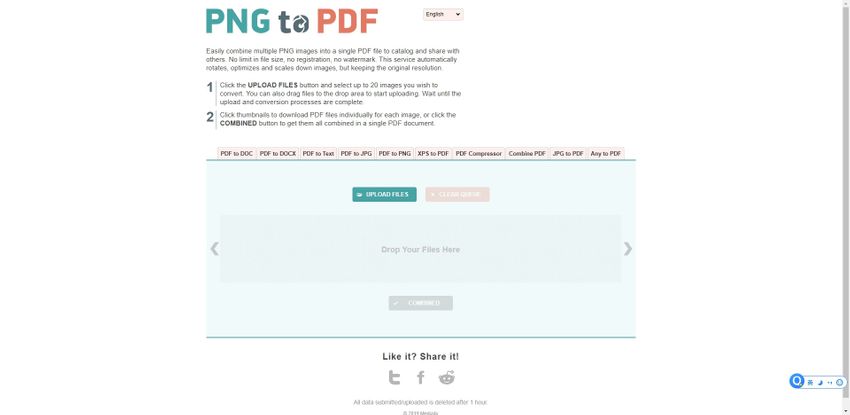 Part 2. How to Easily Merge PNG to PDF on a Mac
Conversion Steps to combine PNG to PDF for Mac
Step 1. To merge 2 PNG files, you need to get offline convertor-creator and open the program in initial phase. You get to drag and drop images on the platform.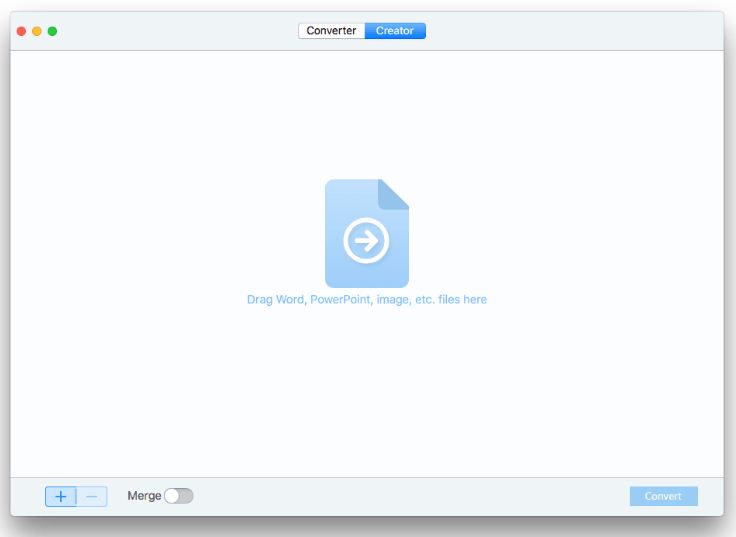 Step 2. After uploading the image, you get to turn the Merge button on, this will combine PNG into one PDF. You can also select password and the type of PDF output which you want.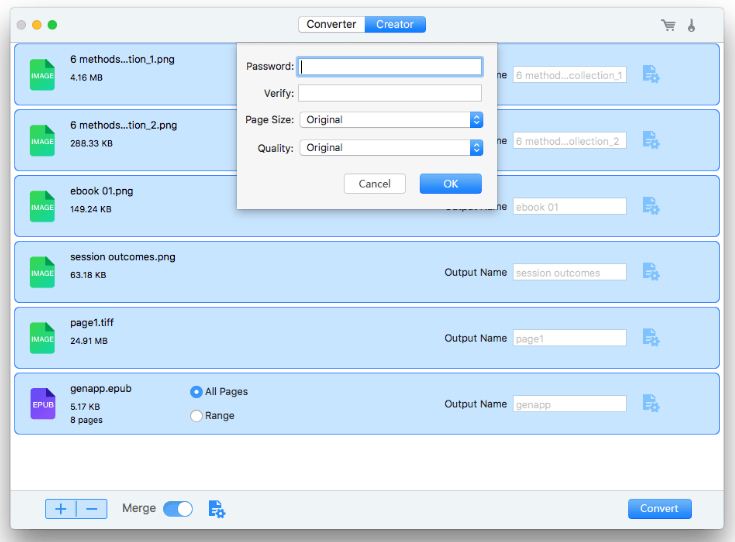 Step 3. At last, you have to click on the Convert button, and the process will take place automatically.
Summary
You can quickly merge PNG files into PDF with the help of several online tools which are very easy to use and strictly follow confidentiality norms. The online converting sites are elementary to use since they have impeccable GUI features. Moreover, you also get to provide your email through which you will get merged images directly to your ID.
If you want to combine PNG files to PDF, then it is essential to use offline software which you can easily use on your Mac. Here you get a chance to choose the size of the PDF, and you can also set passwords. Moreover, the merging speed is very high, and thus you can easily conclude various projects in small time duration.
Free to download and register now! Try it on your Windows and Mac.
Wondershare UniConverter
· Support batch photo conversion.
· Merge multiple images of JPG/JPEG, PNG, BMP, TIFF, GIF, and others into one within seconds.
· Convert image to JPG or specific devices formats without any trouble.
· Transfer converted files from PC/Mac to external devices easily via a USB cable.
· Versatile toolbox combines Image Converter, GIF maker, video compressor and screen recorder, and others.