Cropping the images is an effortless task which can be done using the pre-installed programs of windows and Mac computers, but talks about how to crop GIFs, then this is slightly hard. Crop animated GIF is not like the cropping of images because GIF files are moving pictures, so it is somewhat hard to crop them. For cropping GIF, you can use special online tools such as online websites and third-party software. There are so many programs available for GIF cut over the internet. Here we are going to share some of the best cut out GIF programs and online websites which can help you a lot in cropping GIF files.
Part 1. How to Crop a GIF by Online Tools
EZGIF is an online cut GIF length website where you can browse the GIF files in the browser and then cut GIF length in your needed size. This is an online website, so you don't need to install any plugin or software on your computer to use it. Instead of cut GIF, it also allows you to do other operations related to the GIF files such as resize, create video from GIF, add text, etc. These all services are offered free of cost from the website so you don't need to spend anything to use this website.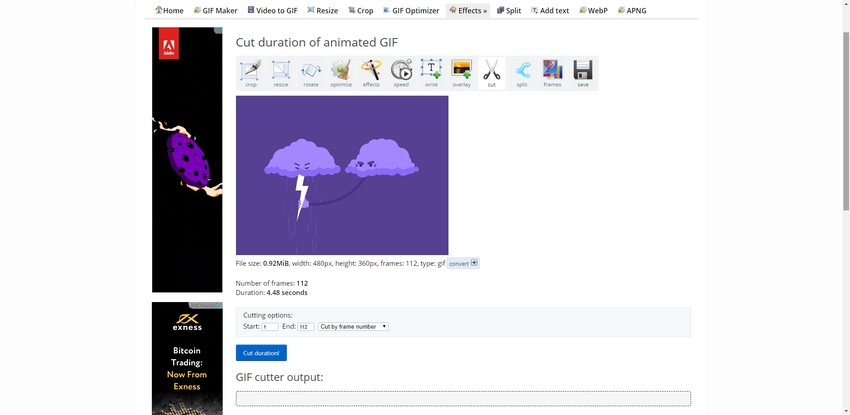 GifGifs website is also cropped GIF online website, which is mainly developed to do operations related to GIF. This website allows users to browse the files directly in the browser, and then you can adjust the size of GIF according to width and height or pixels. It also supports cropping the GIF by entering the URL of GIF, so you don't need to upload it from your computer. This is an online website, so you always need a good internet connection to crop a GIF online.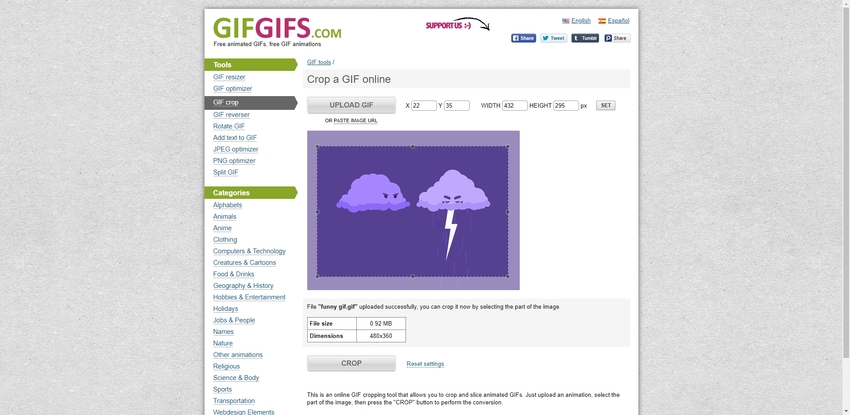 URL: https://www.iloveimg.com/crop-image/crop-gif
iloveimg website is another crop animated GIF site which enables users to quickly crop the files without making much effort. Including the crop GIF, it also allows you to compress images, resize images, and edit photos and some other options. While using this crop GIF online website, you can browse images or GIF from the system hard drive using upload images, or you can also directly drag & drop images from the system carefully drive to the website function area.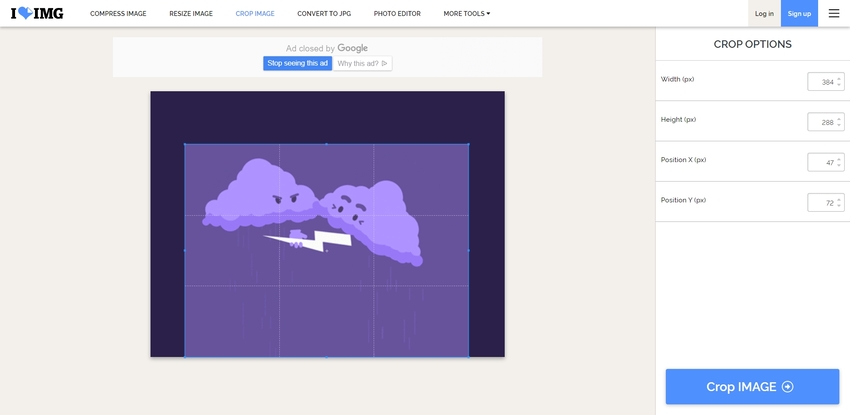 URL: https://freetoolonline.com/gif-maker.html
Free tool online website is another popular website for cropping a GIF with using your browser. This website offers several types of utilities related to the different types of files. You can use this website to zip or unzip files, convert audio, video, images and other files, etc. This crop GIF online website offers you mainly two types of options for uploading the files for conversion. You can select the files from computer using browse option or drag & drop the GIF from the system directly.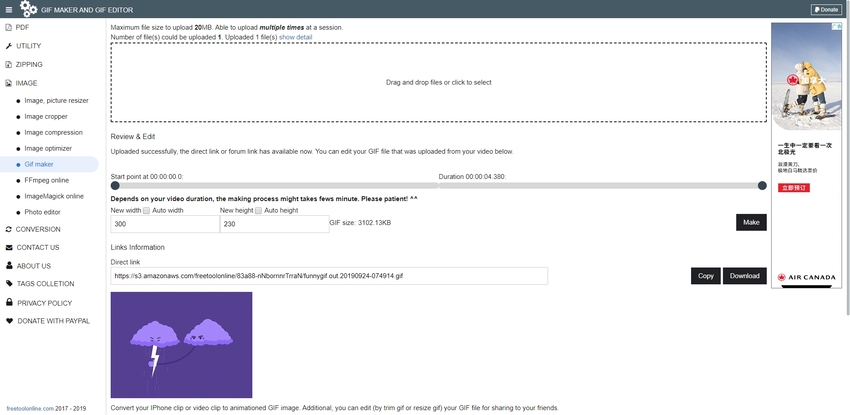 Part 2. Cropping a GIF in Wondershare UniConverter
If you are looking for the desktop software for cropping GIFs, then the Wondershare UniConverter is the best program for you. This program is elementary to use, and there is no need to have any technical skills to use this software for cropping your GIF files. With the software, you can also convert, edit, download, record and transfer audio, video, and images. Wondershare UniConverter program is developed for the Mac and windows both types of the operating system. Let's have a look at some of the best feature about Wondershare UniConverter.
Wondershare UniConverter
· Wondershare UniConverter is able to download videos from over 10000 online video websites.
· This software is easiest to use and convert the files in over 1000 formats with just few clicks of your mouse.
· You can also record the online videos, GIFs and system screen with the help of this software.
· It supports transferring the videos from the computer to iOS and Android devices.
· You can easily rebuild iTunes library with just one click using this software.
· It is also able to create GIF using the video and images from your computer.
How to Crop GIF using Wondershare UniConverter
Step 1. Download the Wondershare UniConverter Software and Run It
Download the windows or Mac version of Wondershare UniConverter on the computer and then start the software by double clicking on the software icon.
Step 2. Add GIF for Cropping
Once you are at the main interface of the program, simply click on the Toolbox > Image Converter. Now a popup will open on your screen. From this popup click on the + Add Images button and then select images from the system.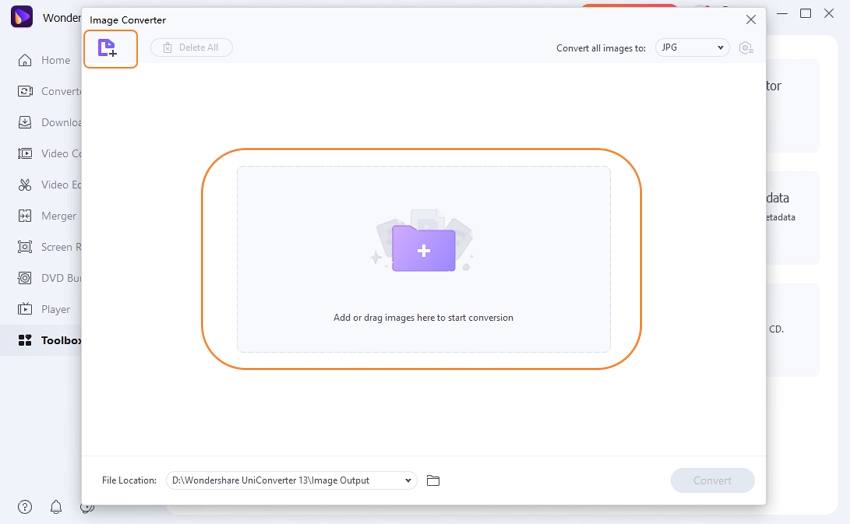 Step 3. Crop GIF in Crop Option
After adding images move cursor on the added image and then click on Crop button.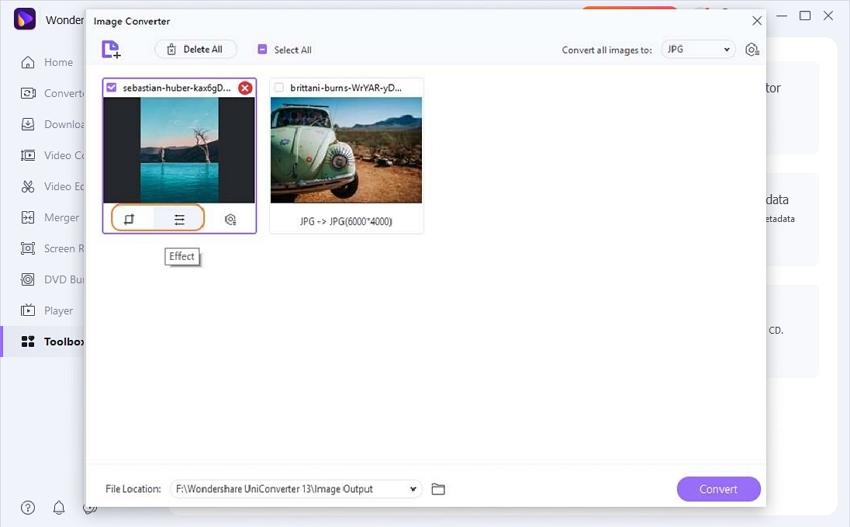 Step 4. Save the Changed GIF
After clicking on the Crop button, a new popup will open on your screen. In this popup adjust the purple color frame according to your need, and you can see a live preview of adjustment under the original show. You can also crop the GIF by entering the pixels. Once you are done click on the Ok button and then your image will be saved on your computer. This is how to crop GIFs using Wondershare UniConverter program.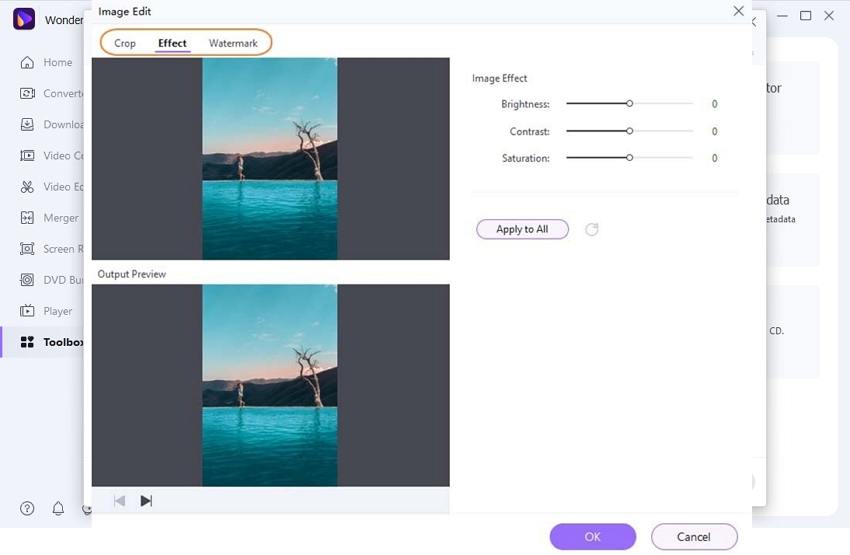 Summary
Well, this is all for the best cropping of GIF files without losing the originality. It is on you which cut out the GIF website or software you want to use but here we would like you to recommend the Wondershare UniConverter program. This program can quickly fulfill all your conversion needs without making much effort. Another thing is that there is no need to have any technical knowledge to use the software as it is straightforward to use.