Audio is being shared a lot worldwide, from online classes, podcasts, interviews, and long lectures to big business meetings and product information. However, accessing information from a long audio file can be difficult and time-consuming. For this reason, you need to convert audio to text.
Converting an audio file into a text file is the process of audio transcription. To convert audio files into text, you can use some audio to text converters. Some of them are offline, and some are online-based.
This article introduces 10 of the best audio to text converters that you can use on your Windows, Mac, Linux, or Chromebook.
Top 10 Best Online Audio to Text Converters for Desktop:
Media.io is an online toolkit that allows you to edit, convert and compress videos, audio files, and images easily. The audio to text converter from Media.io supports almost all standard video and audio formats such as MP3, WAV, FLAC, MOV, MP4, OGG, and MTS. It also supports 89 languages, including English, Turkish, French, Russian, and Swedish.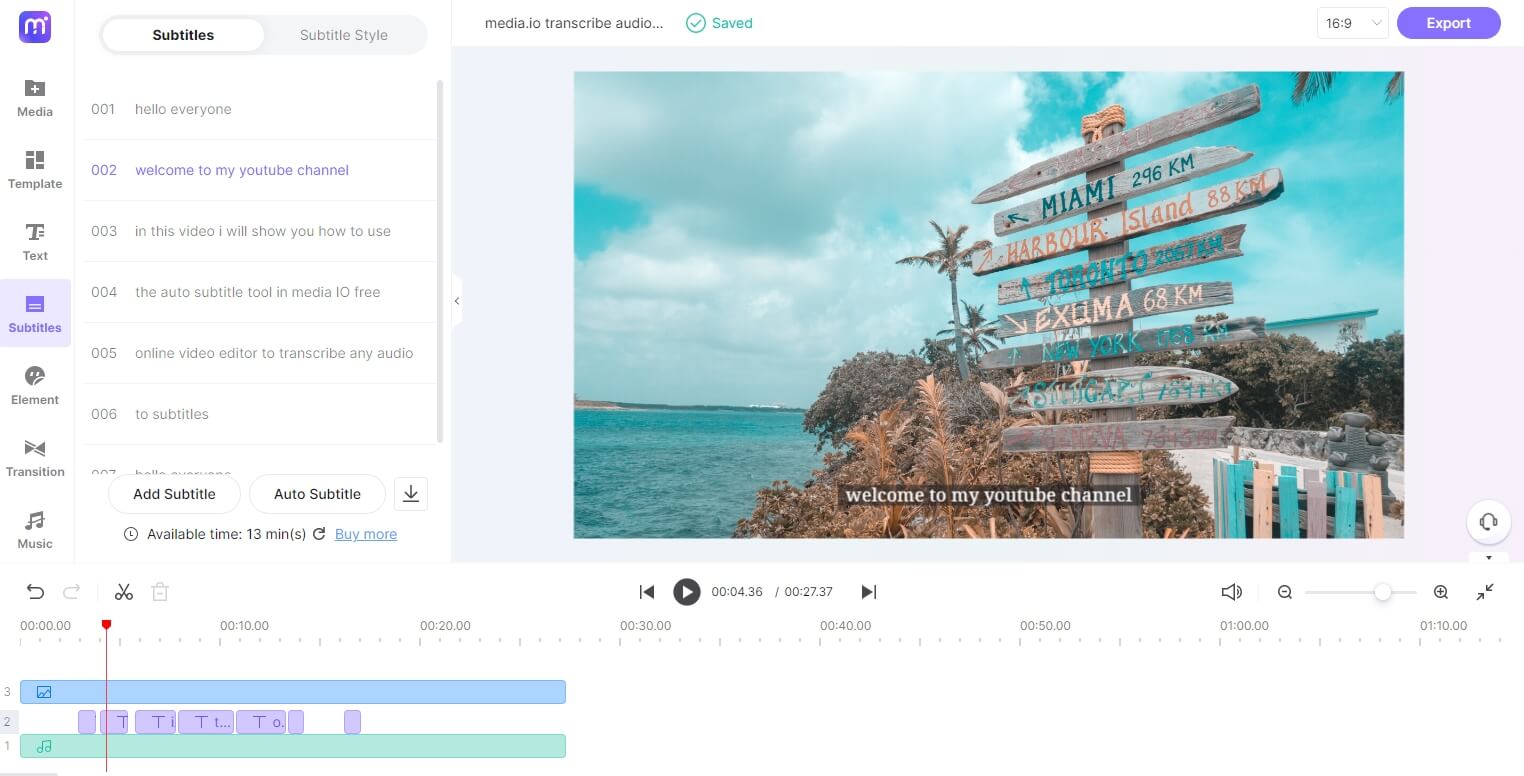 Media.io use an Al text generator to transcribe audio and video automatically. The transcription will be fast, easy, and accurate. You can then use the generated texts as a subtitle or caption for your video.
For podcasters who can upload the text to enable listeners to follow the inspirational message being passed across, this audio to text converter is helpful for them.
If you want to use it free, you will get 30 minutes of transcription service. But if that's not enough for you, you can get 3 hours of transcription service for only $9.99.
To use this tool, you don't have to install any software on your desktop or phone. It allows you to convert your audio files to texts in just a few steps.
Pros:
Media.io uses Al tech and quickly detects the speech in an audio message and converts it to subtitles
Eighty-nine different languages are supported by this tool, including English, French, Russian, Turkish, etc.
Various file formats such as MP3, MP4, MOV, FLAC, OGG, MTS, etc., are supported.
You can edit the text after converting voice to subtitles
The service of this tool is most affordable compared to other tools.
Cons:
Exporting the transcribed texts in srt format only.
Sonix is a very famous automated transcription service provider. It uses an advanced machine-learning speech-to-text engine. A 30-minute free transcription is offered by this online tool.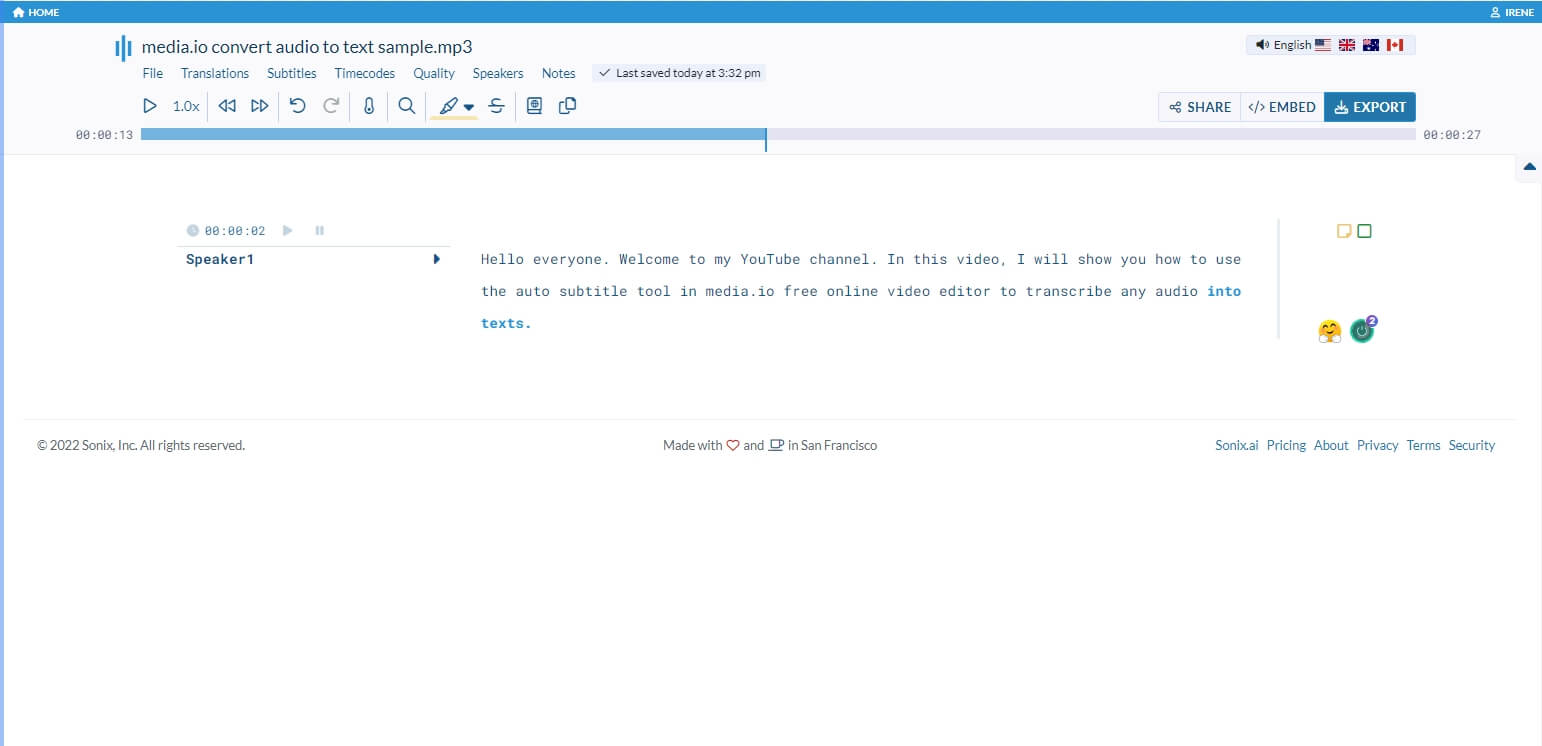 This application allows you to transcribe your audio and video files into 35+ languages. With no human intervention, the process of Sonix is very fast and secure.
Sonix allows its customers to create custom vocabularies that enhance accuracy. It offers features like Sonix Custom Dictionary. This program will convert your uploaded audio or video file into text in less time. It has three subscription systems such as Standard ($10/HOUR), Premium ($5/HOUR and $22/MONTH), and Enterprise (Contact with the Sonix Support).
Pros:
Every word in your transcript can be automatically time-stamped.
It is possible to add your notes or comment to your transcript directly.
To easily label who said what, Sonix supports speaker labeling.
Transcriptions can be converted into 35 plus languages.
Provide you with a free 30-minute transcription.
Cons:
This program crashes occasionally.
The pricing structure is confusing.
Basic and simple interface to work.
Audext is free audio to text converter online and one of the fastest audio transcription tools. It allows you to convert audio notes, lectures, interviews, meetings, and more into text or other formats. The interface of this tool is quite easy-to-use. In just 21 minutes, it can transcribe an hour of video.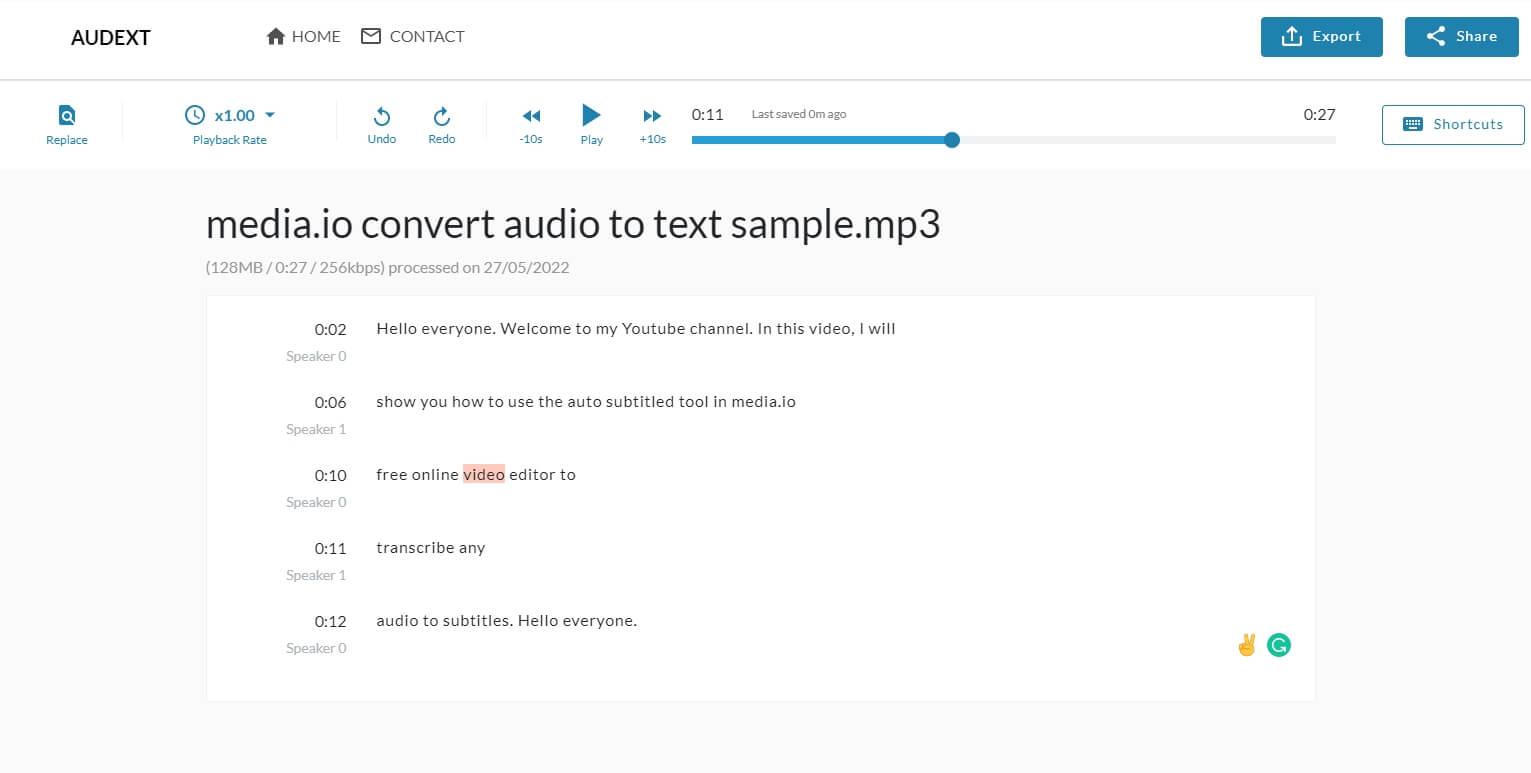 With the use of an advanced Al, the transcription of the text is done. People from different sectors such as education, marketing, media, consulting, health care, etc. use Audext for their work purposes. It has three price plans - Classic ($12/HOUR), Subscription ($5/HOUR and $30/MONTH), and Enterprise (To get it, contact the Audext support).
Pros:
The speakers are easily identified.
With the help of Al, you can convert audio to text in minutes.
Different audio and video formats like M4A, MP3, WAV, and others are supported.
Up to 10 languages are supported for audio transcription.
Online based for which you don't need to install any software.
Cons:
Slow working with large-sized files or videos.
This online tool doesn't work well on Ubuntu Budgie.
Happy Scribe is a transcription and subtitle provider which was launched in 2017. It helps people to transcribe their audio and video contents into text. One million users have used it and transcribed millions of minutes of audio and video content.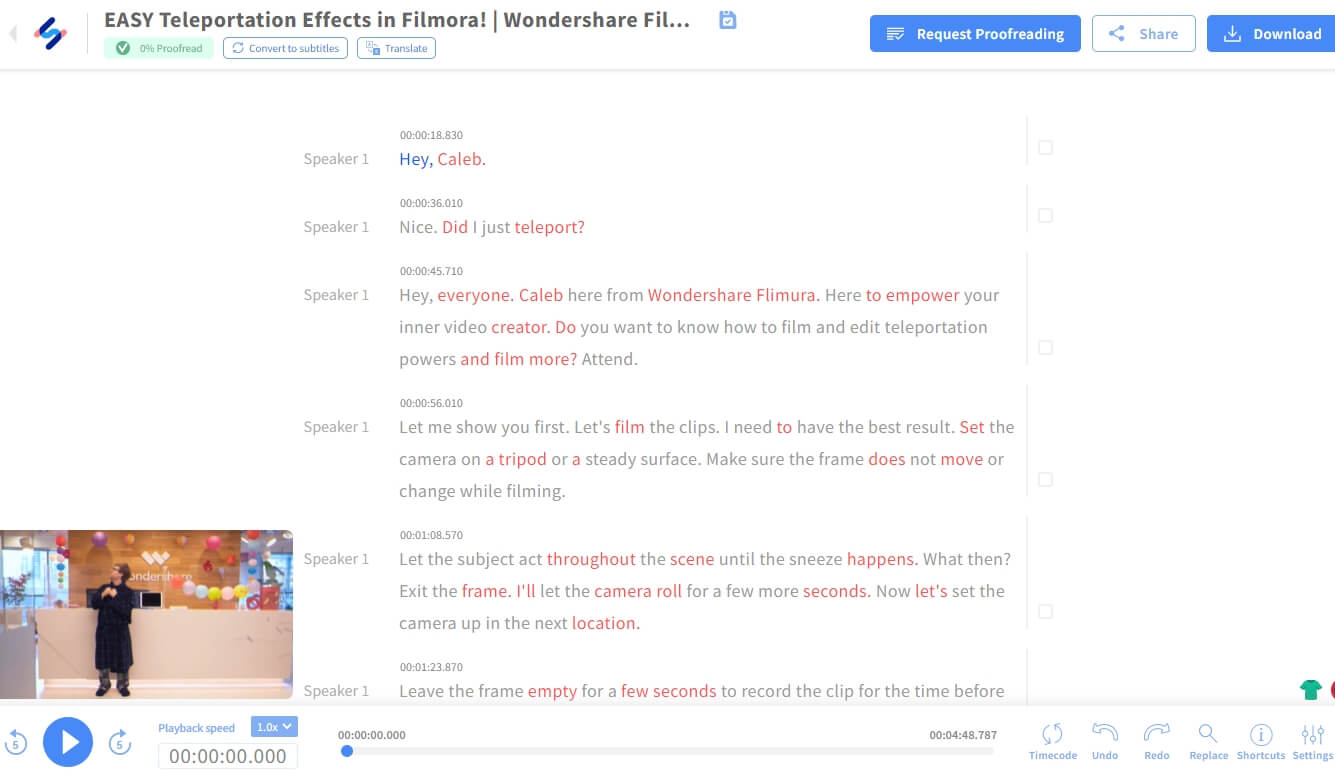 You can convert your audio to text in 60 different languages. This software allows you to experience a seamless collaboration workflow. To make the process smoother, you can assign speaker names, create vocabulary and utilize their API to sync third-party tools.
Along with the proper punctuation, your transcript will be of great quality. It has both free and paid versions. The paid version has three price planes - Automatic (€0.20/minute), Human-made (€2.00/minute), and Human Translation (€20.85/minute). You can upload files of any size and length.
Pros:
Supports importing audio and video content from other platforms.
To transcribe audio manually, it has a free transcription editor.
For you to share files with team members, it supports workspace collaboration.
It allows you to seamlessly integrate with your favourite applications: Zapier, YouTube, and more.
This program protects all your files and keeps them private.
Cons:
For some words, the vocabulary feature misfires.
The service is expensive for regular users because there is no subscription model pricing.
Otter.ai is a famous artificial intelligence-powered transcription service. This tool helps you to automatically convert speech to text, enable people to create transcripts of audio recordings, or convert any spoken language into a written form. It can be accessed from anywhere and on any device with internet access because it is a cloud-based service.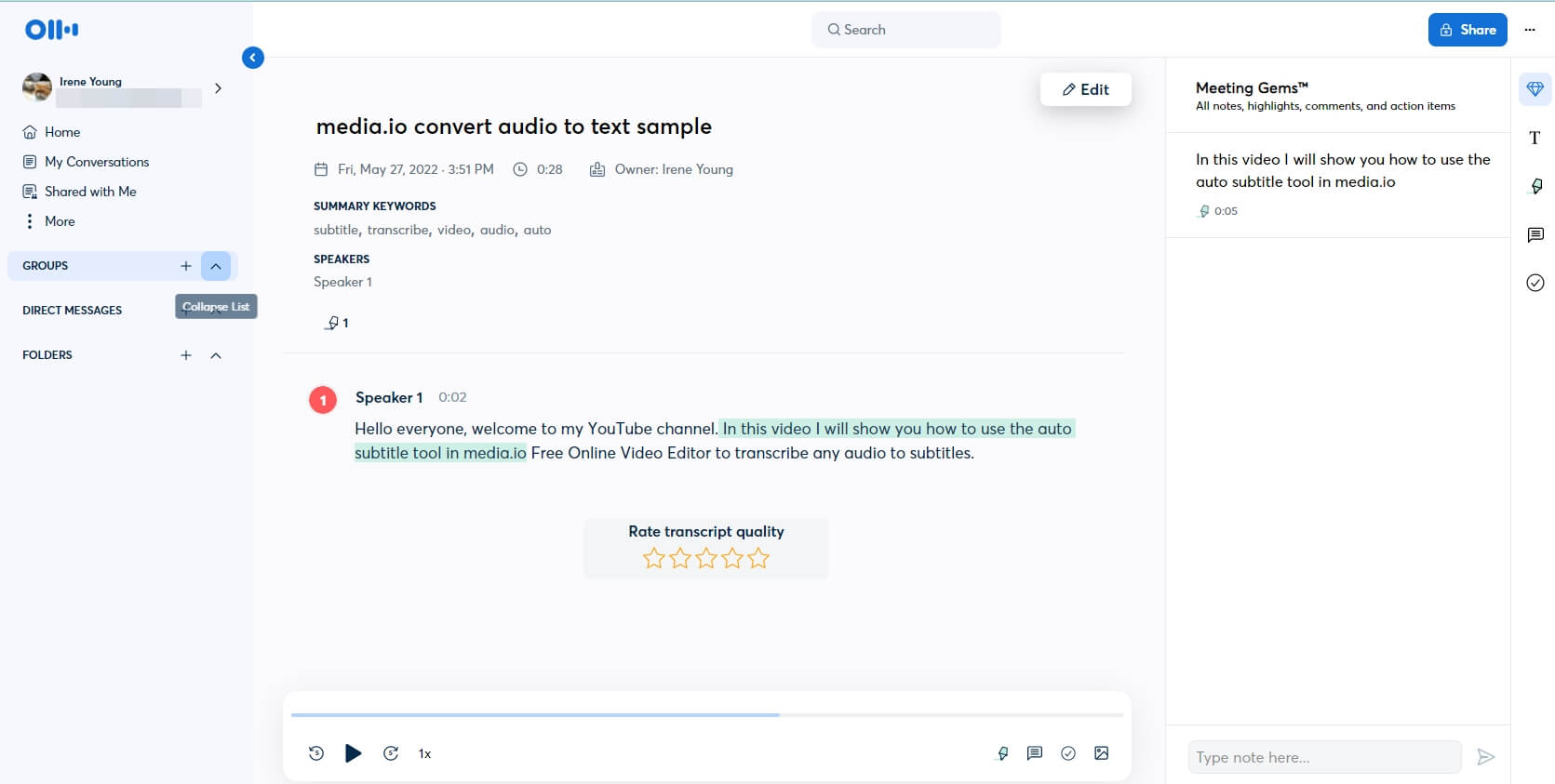 Otter.ai can help you do all the conversions with great accuracy if you ever need to transcribe interviews, events, meetings, and more. It has both free and paid versions.
The paid version has three price plans - Pro ($8.33/per month), Business ($20/per month), and Enterprise (Contact sales). This tool supports both iOS 11 or above and Android 5.0 or above. You can produce rich notes from your meetings, interviews, lectures, and other viral conversations with the Al-powered Otter engine.
Pros:
Transcribe your audio like recordings of meetings, and notes into text automatically.
Free transcription for 600 minutes per month.
During Zoom meetings, this program takes notes and shares them with other participants.
To recognize voices and special terms, you can train the system.
Export your transcribed files into PDF, DOCX or SRT format easily.
Cons:
Compared to other transcription software, Otter.ai is expensive.
It falls short of the high standards set by human-based services, while live transcription is great.
Rev is an exceptional service that houses a lot of talented transcriptionists. It is one of the best human-based service providers around and is trusted by 170k customers across all industries. You don't have to do anything apart from uploading the audio file, which saves you a lot of time.
It is a super-fast, cheap, accurate, easy-to-use solution and also does top-notch subtitles. You can edit your transcript if you wish to share it with anyone you'd like once your transcript is delivered. For faster workflow, it also integrates with Google Drive and Dropbox.
Some great companies like Spotify, Forbes, and CNBC have praised Rev. This software has five price plans - Human Transcription ($1.50/per minute), Automated Transcription ($0.25/per minute), English Captions ($1.50/per minute), Global Subtitles ($3-$7/per minute) and Zoom Live Caption ($20/per host). This program supports iOS and Android devices.
Pros:
To Zoom meetings and webinars, Rev automatically adds real-time captions.
Have a simple, upfront pricing system.
Able to handle diverse accents and background noise.
From audio files, they deliver transcripts in under 30 minutes in only 12 hours.
Your info is saved because Rev is FCC and ADA compliant.
Cons:
There is a free version of Rev.
Polishing up is needed by formatting transcripts.
Transcribe is a well-known artificial intelligence-driven software. It allows you to transcribe audio and video files into text. This software lets you convert phone calls, videos, lectures, interviews, meetings, podcasts, or recorded speech into text and also supports 60 different languages to transcribe.
It won't take very long to transcribe the entire thing if the file that you're importing has minimal background noise. You can play the audio and dictate it with your voice to have the tool turn it into the text as the duration progresses by utilizing a feature if it's not audible.
Without much effort, you can still fall back on their manual transcription mode and get the job done if nothing is producing crisp results. To slow down the audio and auto-loop it, their manual mode has workflow tools. You can save a massive amount of time because it also integrates with a foot pedal. It keeps your entire transcribed data private. You will get two price planes in this program, such as Self Transcription ($20/year) and Automatic Transcription ($20/year and $6 hour). It supports both Windows and Mac.
Pros:
Without any internet connection, their audio player and editor work.
The subtitles can be generated in multiple formats.
This program keeps your audio and video files secure on your computer.
As you edit your transcript, you can stop and restart your audio automatically.
To slow down your audio to get every word, use manual transcription.
Cons:
With thick regional accents, it struggles.
There can be a grammar issue.
Trint is an Al audio transcription software. It can turn your audio into 31 different languages of text. Trint transcription has got your back if you're a podcaster who wants to turn your episodes into blog posts or a freelance journalist rushing to meet a deadline. To transcribe, you only have to import the file, and you'll get each word turned into text.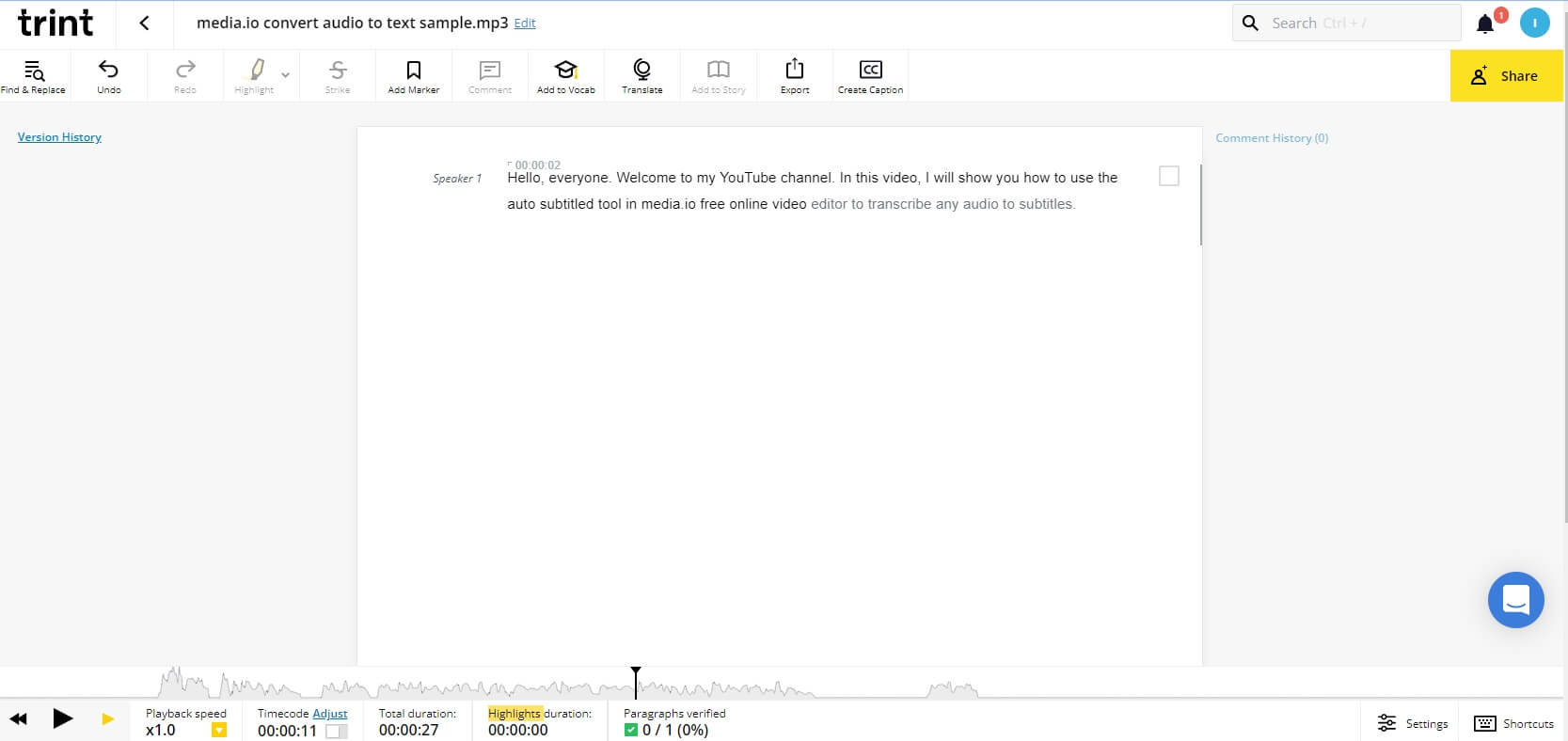 To make it 100% accurate, you can quickly edit it. In specific sections, you can add markers, assign speaker names, search for certain words and even leave reminders via comments. You can export it in various formats, including Word Doc and CSV, once the final result is processed. For easy collaboration, it also allows sharing with your team members.
Trint has four pricing plans such as Starter ($48/month), Advanced ($60/month), Pro Team ($68/per user month) and Enterprise (To know the price, contact support). This program allows both Windows and macOS users to use it.
Pros:
For the iPhone app, you can capture content on the go with the Trint.
This software offers a quick search function using specific words or key quotas.
As a Word Doc, CSV or other formats, you can export and share your transcript.
Full video and podcast production is included in the service.
From the Al voice recognition software, you will get laser-accurate transcripts.
Cons:
For complex transcription tasks, this software is unstable.
Trint is an expensive tool.
Temi is a transcription service that uses advanced automatic speech recognition software to provide swift speech-to-text transcription in five minutes. You can transcribe audio, video, and podcasts with pinpoint accuracy. It is specialized in machine learning and speech recognition. To polish the transcripts, this tool has speaker identification, custom timestamps, and a simple editing tool.

Temi supports iOS and Android devices to record audio and order transcripts on the go. To get one transcript of 45 minutes at no cost and access to all their features, you can try Temi for free and get a taste of what the tool is capable of. It has only one price plan, which cuts $0.25 per minute.
Pros:
Free audio transcription software is rich with features.
The pricing system is straightforward because there is no subscription, no minimum, and no hidden charges.
It allows you to work with any audio and video type.
For excellent audio quality, they have a short turnaround time to get your completed transcript in minutes.
You can save and export your transcripts as PDF, Word, VVT, SRT and more.
Cons:
Limited customization options in their transcription services.
The automated transcription process produces incorrect transcriptions.
Need to submit your email address to get the transcript.
The last one on our list is oTranscribe, which takes the pain out of transcribing an audio file. If you are not interested in investing any money, then this tool is a great audio to text converter free online. The tool allows you transcribe the audio to text easiler by providing speed controls and hotkeys for inserting timestamps.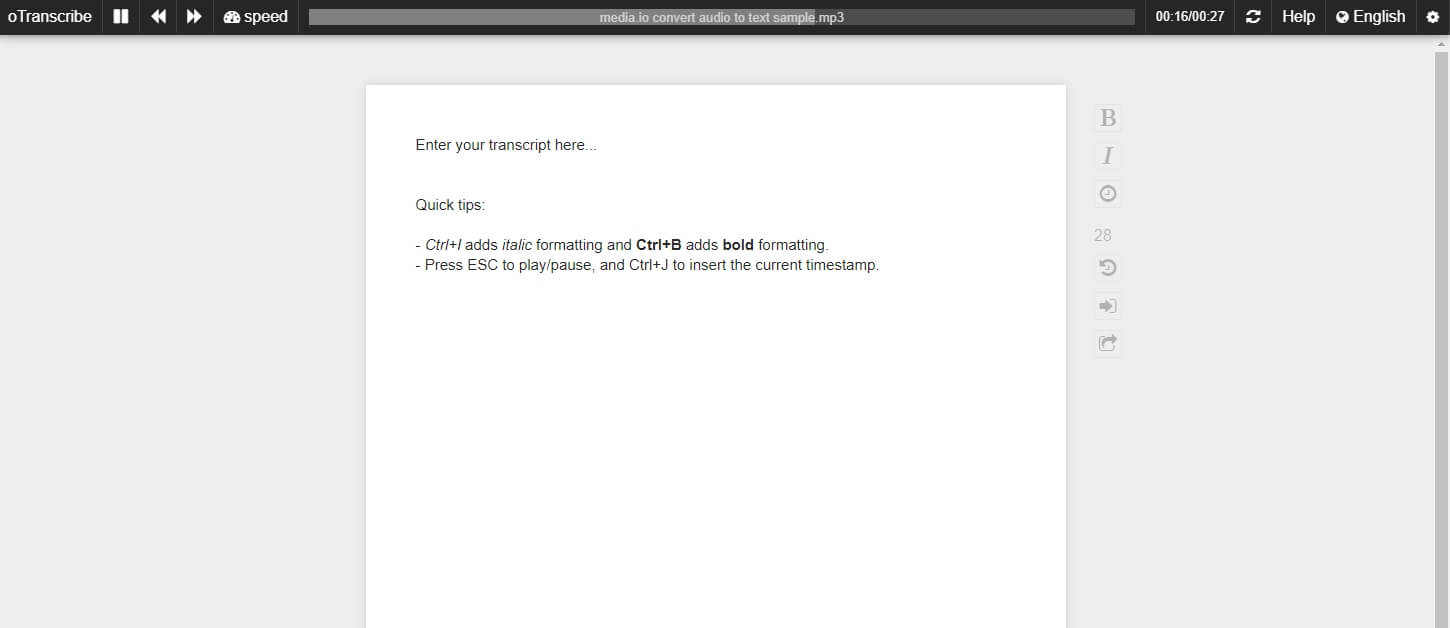 Despite having no price tag attached, it gets the work done quickly and has some impressive features. If your internet connection gets interrupted, you don't lose the transcript because oTranscribe automatically saves each change.
In this tool, you can easily export Google Docs, Markdown, or plain text. There is no pricing for this program, and it is free. You can easily navigate your transcript with dynamic timestamps.
Pros:
You can export files to Google Docs and Markdown with their export feature.
From your keyboard, you can pause, rewind and fast forward.
A built-in player supports the video file.
Cons:
You have to do everything manually because there is no automatic transcription.
You cannot access your saved transcripts from another computer because they use local driver storage.
Conclusion
To convert audio to text on any device, we have suggested the best online audio to text converters on the market. You can easily access the required information, edit it and share it fully or partially with anyone you want by converting audio to text.
The tools we have suggested to you are both free and paid. Among all the products, we would highly recommend you to use Media.io because it is free and secure. Again you don't have to install any software but still use it freely.