So, can you YouTube merge videos directly on the video-sharing channel? Well, the simple answer is no! Typically, YouTube comes with its own video editor (YouTube Studio) to trim, blur, and insert background audio into videos. But sadly, this video editing tool lacks the all-important video merge tool to join multiple clips into one. Fortunately, you can still YouTube combine videos easily using some third-party help. Let's discuss!
Part 1. How to combine two YouTube videos with Online UniConverter
Let's begin by learning how to merge YouTube videos with the best online YouTube video combiner - Online UniConverter. With this simple program, you can YouTube merge videos on any platform, including iPhone, iPad, Android, and desktops. All that's needed is a fast internet network and start connecting your videos with lossless quality. It's also vital to remember that Online UniConverter allows users to combine video formats like WebM, MP4, FLV, VOB, MTS, and more. And lest I forget, you can edit the video further by trimming, cropping, compressing, and more.
Key features:
Uploads all video formats, like MP4, MTS, MOV, FLV, etc.
YouTube merge videos for Instagram Stories, Facebook, and YouTube.
Apply local or online background audio to YouTube videos.
An excellent slideshow maker for creating photo and video slideshows quickly.
Intuitive editing tools for trimming, splitting, compressing, rotating, cropping, etc.
Absolutely free to use with 2GB cloud storage.
Now follow these steps to combine two YouTube videos on iPhone, iPad, Android, or desktop with Online UniConverter:
Step 1. Launch the video joiner tool and upload your videos.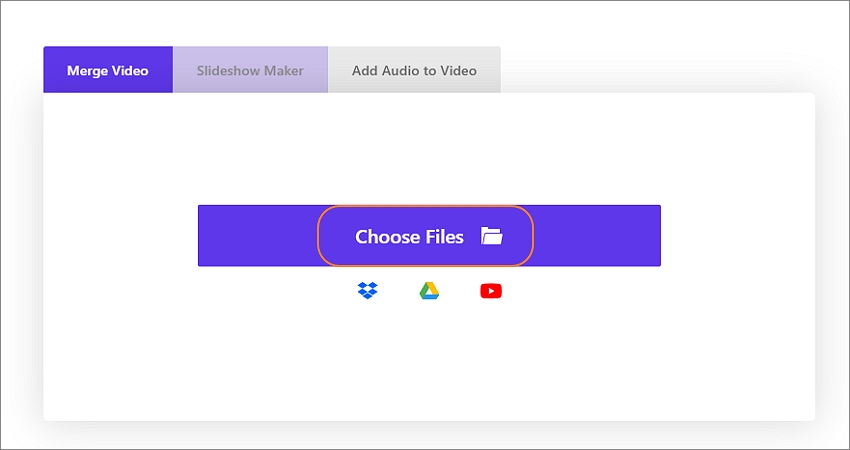 Use your updated web browser to launch Online UniConverter and click Online Tools. Then, choose the Merge Videos tool before clicking Choose Files to add videos from your local folders. You'll also see icons for adding videos from the cloud or directly from YouTube. And, of course, you can merely drag and drop your videos or the app.
Step 2. Customize your videos (optional).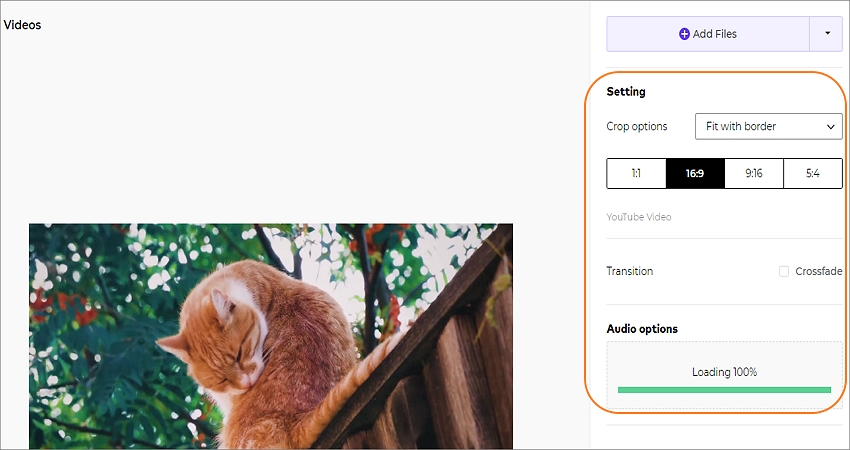 As said earlier, Online UniConverter allows you to edit your videos professionally before merging. With that in mind, start by setting the aspect ratio as 16:9 for the perfect YouTube playback experience. You'll also see the presets for Instagram Video, Instagram Stories, and Facebook Videos. Additionally, click the Crossfade checkbox to apply visible fading transitions to your videos.
Next, click the Add audio button to launch your local storage and choose a music file to use in the video background. Again, Online UniConverter supports all common audio formats. Also, users can trim the background audio to erase unwanted sections and adjust the volume level.
Step 3. Choose an output format and merge YouTube videos.
Are you ready to export the merged videos? First, click the Output Format drop-down menu, then choose a target format. After that, tap the Merge button to YouTube join videos with lossless quality. It's that easy!
Part 2. How to merge videos in YouTube with popular offline platforms
The unfortunate thing about online video editing software is that users need a fast and stable internet connection to generate videos. Also, online tools may not allow you enough freedom to edit videos professionally. So, use these two offline tools to YouTube combine videos: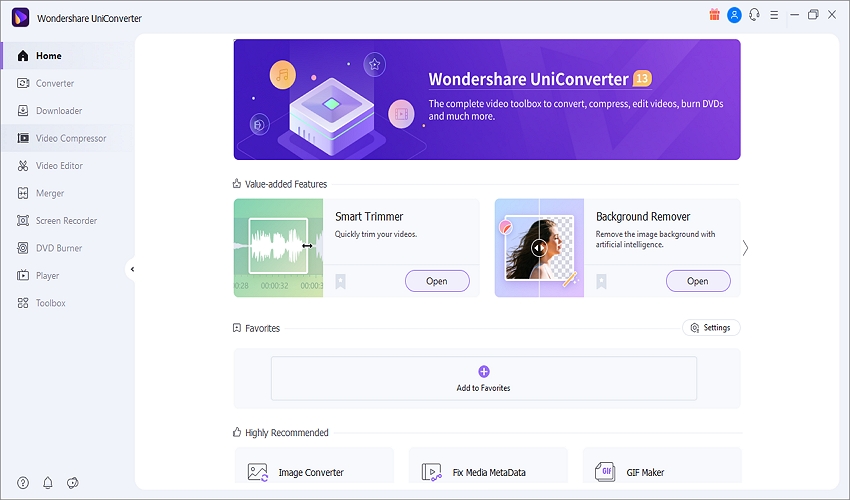 If you know a better video editing program for beginners and advanced users alike, please let me know in the comments part below. That said, Wondershare UniConverter 13 is undoubtedly the most straightforward desktop video editing program you can come across. The user interface is self-explanatory and devoid of any confusing steps. With UniConverter, you can join video formats like MP4, MOV, 3GP, DV, and others. In addition to joining, it can also trim, split, add subtitles, apply effects, and so on. And yes, you can extract videos directly from YouTube.
Key features:
It supports 1,000+ formats, including MP4, MOV, FLV, DV, etc.
Merge an unlimited number of YouTube videos.
Split and trim videos with precision before merging.
Edit videos further by converting, compressing, cropping, adding subtitles, and more.
The best program to merge two YouTube videos on macOS 10.9+ and Win 10/8/7.
Follow these easy steps to merge YouTube videos on Mac/Win with Wondershare UniConverter:
Step 1. Launch the video merger tool and add videos.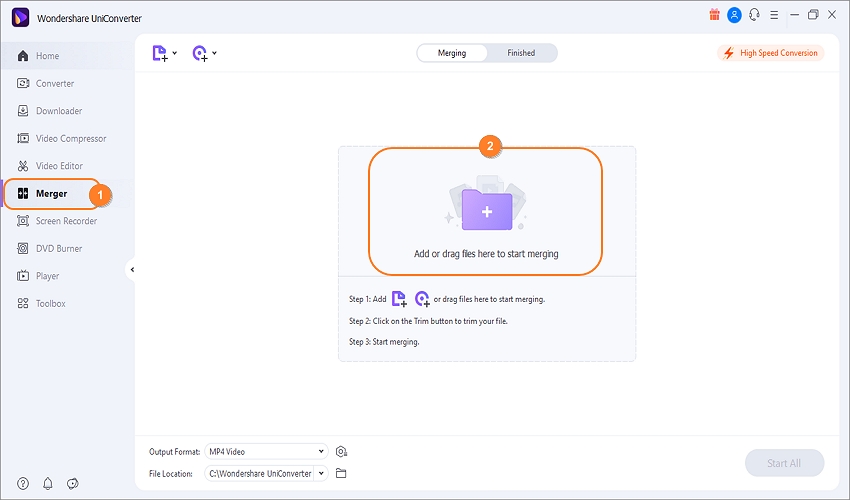 Download, install, and run Wondershare UniConverter 13 on your computer and then tap the Merger tab on the left side. After launching this function, drag and drop your clips on the workspace. Or, click the Add Files button, choose your videos, and upload them. Whichever the case, the video upload speed is exceptionally fast.
Step 2. Trim the video to erase video sections (optional).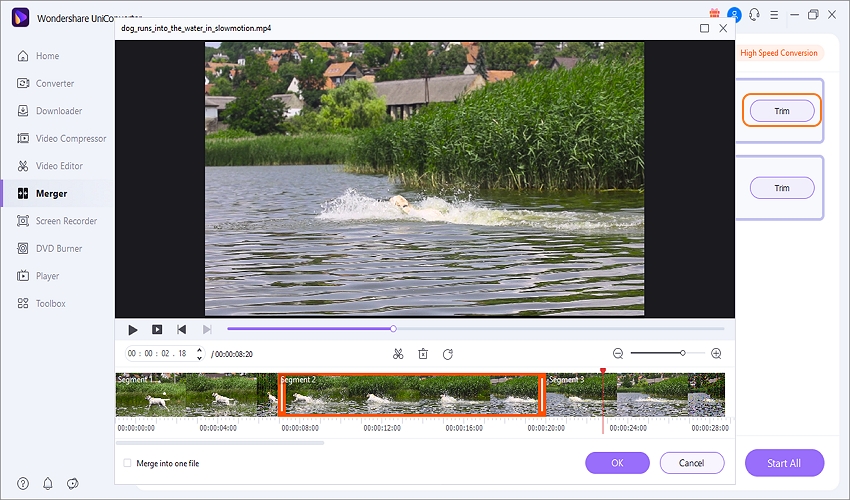 Next, it's time to retouch your videos to remove blurry or unwanted sections. To do that, click Trim and then start cutting the video by dragging the handles inwards. A more precise way is to set a start time and click Cut. Now do the same on the stop time before selecting the trimmed video sections and deleting them.
Step 3. Choose a video format and merge videos.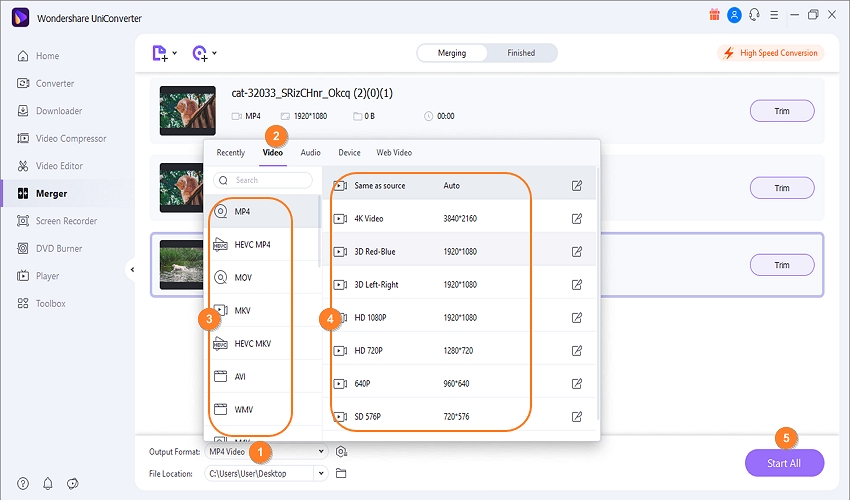 Last but not least, tap Output Format, click Video, and then choose a target format for your merged videos. You can also select a folder path for accessing the joined video quickly and easily. Lastly, press Start All to start combining your video files. There you go!
In addition to Wondershare UniConverter, you can also combine YouTube videos into one using VideoProc. This program runs smoothly on Mac and Windows PCs and can combine more than 400 digital formats. Like UniConverter, users can also combine raw videos recorded on iPhone, iPad, camcorders, and Android. On top of merging, VideoProc users can also edit clips by trimming, cropping, applying effects, adding subtitles, and so on. Moreover, VideoProc can directly download videos from YouTube.
Apply these steps to merge YouTube videos on Mac/Windows with VideoProc:
Step 1. Launch VideoProc and upload videos.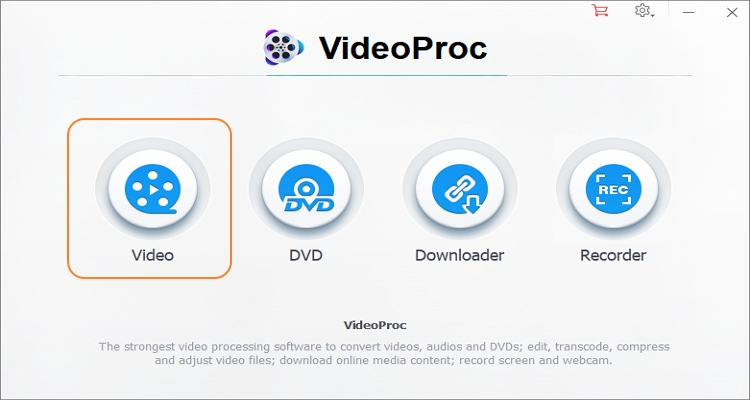 Install and run VideoProc on your PC and then tap the Video tab. Then, drag and drop your video files on the workspace or click the Video button to open your local storage and add videos. As expected, the upload speed is quick enough.
Step 2. Edit the videos further (optional).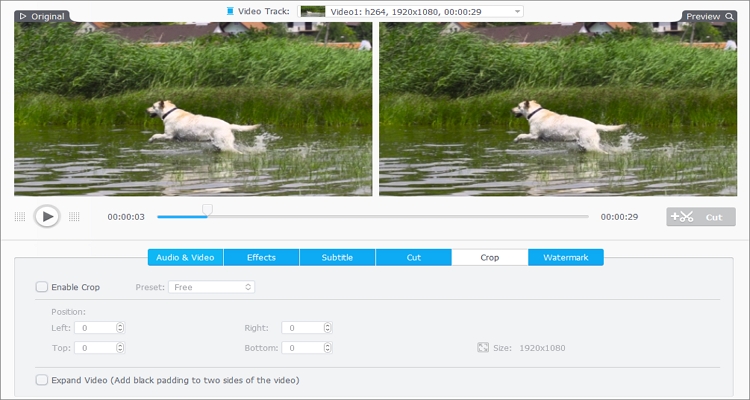 After importing your video clips successfully, select a video track and then use the editing tools to retouch it. You can trim, crop, rotate, apply watermarks, add effects, and insert subtitles. You can even change the video's meta tags like artist, comment, title, and so on. Now move to the last step.
Step 3. Choose a video format and merge videos.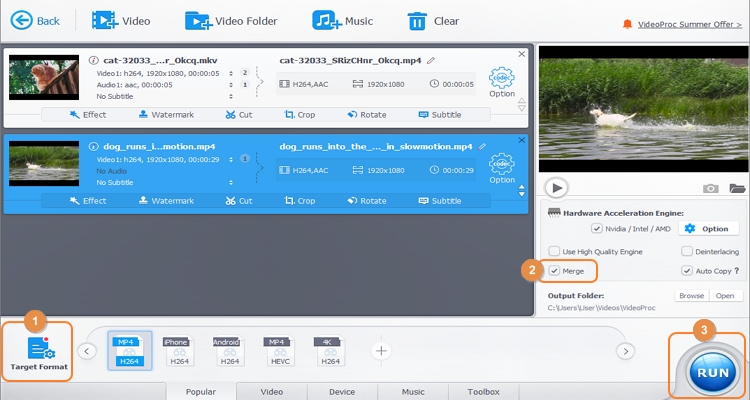 Click the Target Format button and then select the output format for your video. After that, locate the Merge checkbox and click it to combine your video clips. Lastly, click Run at the bottom-right corner to begin combining videos on YouTube using VideoProc.
Conclusion
These are the best methods to merge two videos for YouTube without compromising quality. You can do that easily on your computer or mobile device using Online UniConverter, although you'll need a reliable internet connection. On the other hand, Wondershare UniConverter and VideoProc will do an excellent offline job on your PC. So, it's a matter of selecting what works best for you.