Buying a personal voice recorder has never been more critical. For example, lawyers might need a voice recorder to keep records of meaningful conversations with their clients instead of jotting down every detail. Also, those who like writing reviews like me can use one to think out loud. So, regardless of your intended use, I want to show you the best voice recorders on the market currently. Let's dive in!
Sony ICD-PX370 Mono Digital Voice Recorder
The Sony ICD-PX370 should take care of your MP3 voice recording tasks with ease. It can record sounds in MP3 format on its 4GB memory that can save up to 60 hours of 128kbps stereo. It compresses MP3 audios quickly, so you'll need minimal storage space for each recording session. Also, the ICD-PX370 has a USB connector for file-sharing to your computer or any other USB-supported audio source. Moreover, you can expand the memory size, thanks to the Micro-SD slot that supports up to 32GB.
Pros:
Direct USB connection.
Long battery life.
32GB Micro-SD slot.
Cons: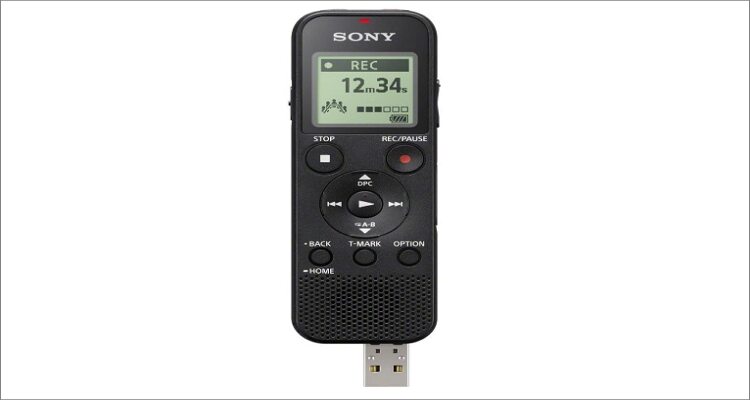 Sony ICDUX560BLK Digital Voice Recorder
For only $90 on most online stores, this Sony voice recorder is an excellent steal. With this little intelligent device, you can capture your lectures or meetings in a high-quality MP3 stereo. The internal memory can hold up to 4GB of data and is backed up by the expandable 32GB Micro-SD slot. Further, it has an FM radio that you can listen to and record all your favorite podcasts. Plus, the Quick Charge function gives you up to 60 minutes of recording time with only a 3-minute charge.
Pros:
Up to 32GB of Micro-SD support.
Quick Charge technology.
4GB internal memory.
Cons:
Low-quality USB connector.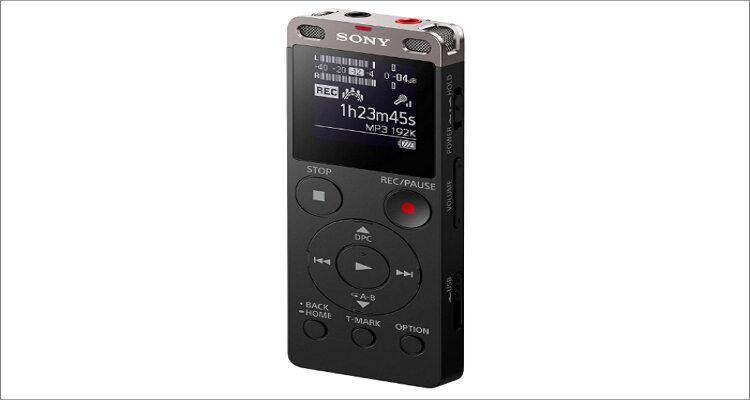 Zoom H2n Stereo/Surround-Sound Portable Recorder
The H2n features everything that you need to start recording straight away. It comes with up to five inbuilt mics and four recording modes, including Mid-Side Stereo, 2-channel and 4-channel surround, and X/Y stereo. It records audios in either WAV or MP3 formats via its flexible inputs. Additionally, the H2n has a sturdy USB port for transferring files to your computer or any other editing tool.
Pros:
Four recording modes.
More than 20 hours of battery life.
Supports WAV and MP3 formats.
Cons: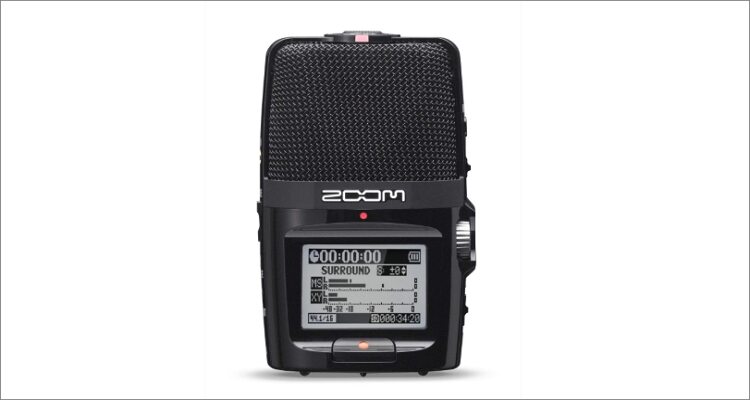 Olympus VN-541PC Voice Recorder
The Olympus VN-541PC is one of the most flexible voice recorders on this list. It can capture high-quality recording in its four varying modes, including Music, Memo, LP (Long Play), and Talk. You can easily switch between modes using the "folder" button. Also, it has an active noise cancellation function for eliminating ambient noise during your recording sessions. Additionally, the VN-541PC package comes with a Micro USB cable for more effortless file transfer and viewing on your computer.
Pros:
Four recording modes.
Noise cancellation technique.
Micro US connection.
Cons: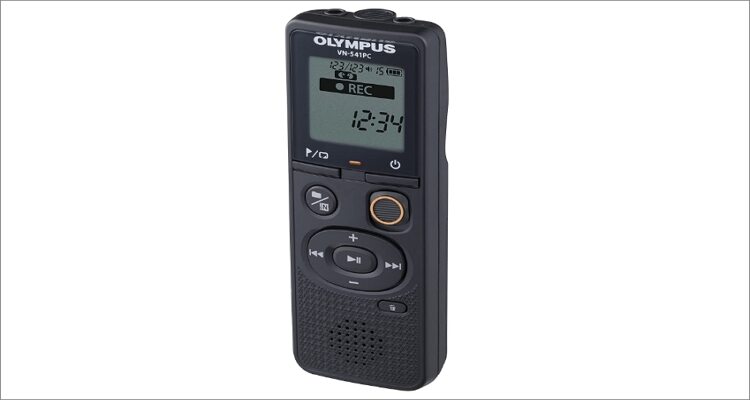 Olympus WS-853 Voice Recorder
The legendary Olympus is at it again with the WS-853 model. This model offers a massive 8GB internal memory size that can be expanded by 32GB using a Micro-SD. It also comes with dual AAA rechargeable batteries that hold up to 110 hours of recording time. Meanwhile, you can go ahead and connect it directly to your computer using the inbuilt USB connector and share as many audio files as possible. And yes, it features an ANC function.
Pros:
Active Noise Cancellation function.
Strategic buttons.
8GB internal memory.
Cons:
Low-quality playback speaker.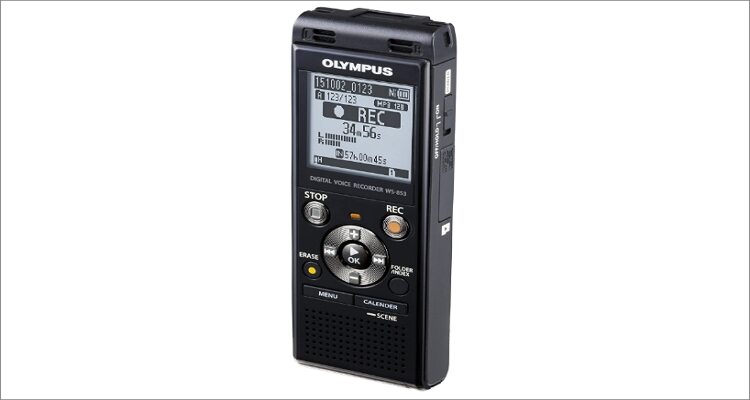 Don't be quick to dismiss this ultra-small sound recorder because it packs enough high-end features at a pocket-friendly price. For starters, it offers up to 176 hours of recording time on its 16GB internal memory size. Also, it comes in a beautiful waterproof construction that should withstand any recording condition. And, the 250mAh battery is rechargeable via a USB cable that can also transfer files to your Windows PC.
Pros:
Beautiful waterproof construction.
Inbuilt 16GB memory size.
Rechargeable battery.
Cons:
TENSAFEE Dictaphone Sound Activated Recorder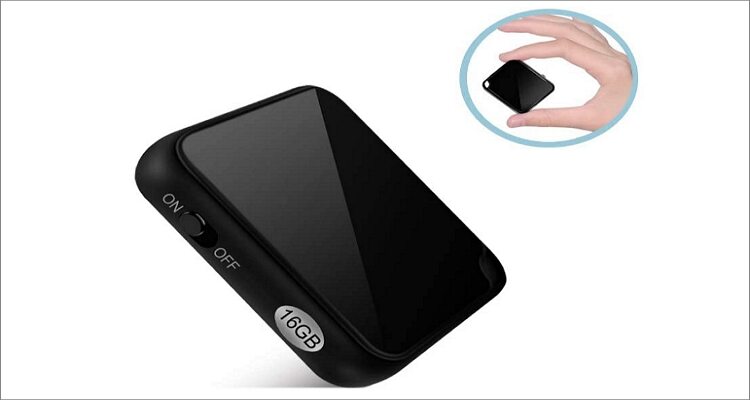 IK Multimedia iRig Mic Studio USB Condenser Microphone
For only $30, users will enjoy up to 32GB of free internal memory with the TENSAFEE Dictaphone. It offers superior sound recording quality, thanks to its three microphones, 360-degree recording, and noise cancellation function. Also, it will take you a maximum of 3 hours to recharge it fully via a USB cable on your computer or wall charger. Not to mention the loud MP3 player and speaker for smoother playback.
Pros:
32GB internal memory size.
2240 hours of recording time.
Rechargeable lithium-ion battery.
Cons:
Confusing instructional manual.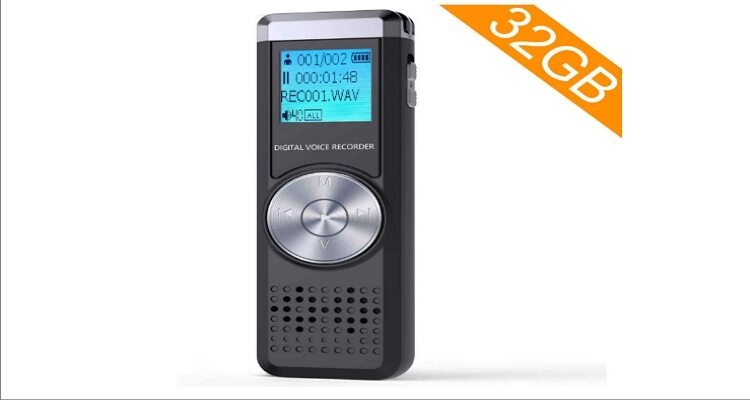 Olympus WS-852 Voice Recorder
The Olympus WS-852 will offer you high-quality voice recording when placed at a 90-degree layout. When recording, you can adjust your microphone sensitivity using the smart Auto Mode function to capture sound, depending on the environment. Also, beginners can use the Simple Mode, which displays only vital info in large fonts, whereas pros can use the Normal Mode that offers full functionality. And more importantly, you don't need a USB cable to connect it to your PC because of the inbuilt USB connector.
Pros:
100+ hours of battery life.
Simple to operate.
Direct USB connectivity.
Cons:
Small internal memory size.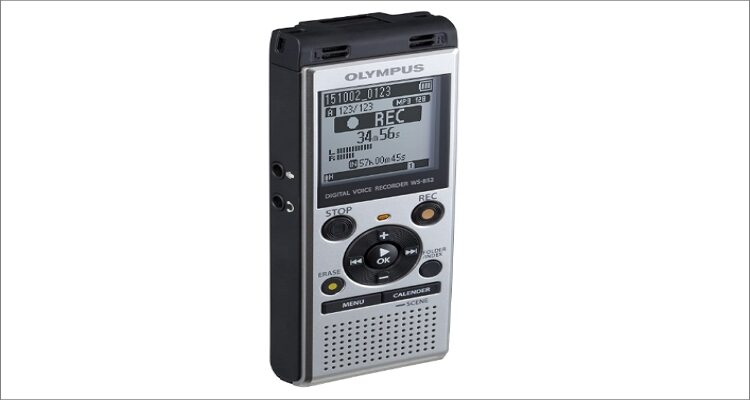 SpyCentre Security Micro Voice Recorder
Last but not least, you can use the SpyCenter Security Micro Voice Recorder to capture sounds on its 8GB internal memory. Here, you can continuously record for up to 25 hours, which is no mean feat. To add on the great battery life, you can plug it to your computer or wall charger using a USB cable to charge for a maximum of 2 hours. Also, you'll enjoy an industry-standard 1-year warranty.
Pros:
Long-lasting battery.
Quick to charge fully.
1-year warranty.
Cons: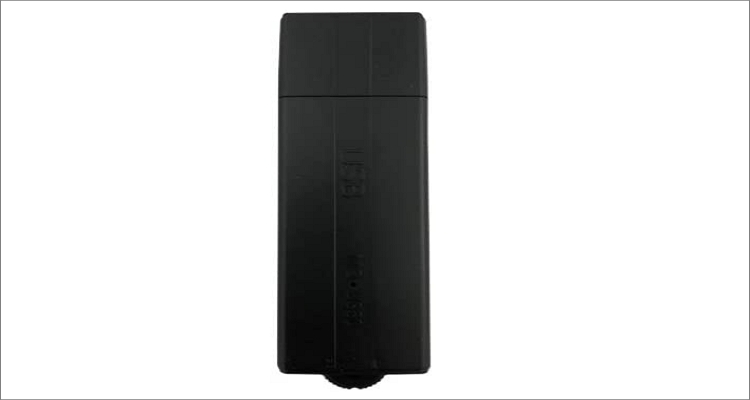 SOTA Surveillance MQ-U350 Small Mini Voice Activated Audio Recorder
Closing the best ten voice recorders is this SOTA Surveillance's USB stick-like sound recorder. It offers a storage capacity of 8GB that can provide up to 288 hours of playtime. Surprisingly, users will also get an impressive 25-day standby time when in voice activation mode. Not only that, but it also doubles up as a typical flash drive because you can also save your images, videos, or documents in it. Don't forget that there's also free live technical support, which is priceless.
Pros:
8GB internal storage.
Free live customer support.
Acts as a typical flash disc.
Cons:
No ambient noise cancellation.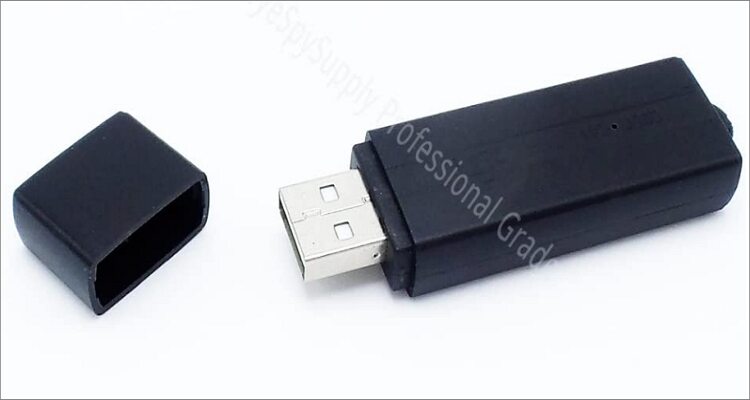 Final Advice
There's certainly no shortage of voice recorders today. But since most of us live busy and complicated lives, you can simply make a pick and order one that suits your needs here. And if you have any recommendations or suggestions, feel free to leave us a comment.