Videos now hold a significant part in our lives. Their role is enormous for communications. But can you remember those hazy videos where neither the sound nor the images were clear? Well, you can bid farewell to the junk videos with the video enhancer tools. The software is specially created to improve video quality to offer you the perfect watching experience. They get built with different advanced technologies to bring that perfect professional touch to videos.
In this article, we will talk about the top 9 video enhancer tools to help you enhance your video quality sitting at home.
Part 1. Best Video Enhancer in 2023---Wondershare UniConverter
Wondershare UniConverter is one of the most appreciated video enhancers in the market. The UniConverter is an all-in-one tool for videos - be it converting them, compressing, or editing them - this software has it all. You can be a semi-professional or an amateur - this software is the apt choice for all your requirements.
Wondershare UniConverter
· Wondershare UniConverter works on any platform - be it Windows or Mac.
· The software also has a metadata feature that helps you to optimize the videos.
· It works in ultra-speed - 30X faster than any other tools alike, and that too, without losing even a bit of the video's quality.
· You can convert videos into DVDs with this tool. Additionally, it allows you to merge multiple videos into one file.
Pros:
Transferring videos from external devices has never been so smooth and intelligent before UniConverter. Its built-in technology recognizes the formats unsupported to your device and converts them to make the videos compatible.
You can download videos from online streaming sites with this software in MP3 format, as well. Downloading an entire video playlist can also be done in a single go. But UniConverter does not support any illegal usage. So you can download videos with authorized copyrights only.
Editing your videos with UniCoverter is fun, easy, and straightforward. You can trim the videos, crop the videos, apply different effects and filters, add subtitles, and even add watermark to make your video stand out from the crowd.
If you are thinking about how to enhance video quality with UniConverter, then follow the step-by-step guide below:
Step 1. Upload a Video File
Open Wondershare UniConverter on your device, and either click on Add Files or select one option from the drop-down list beside Add Files.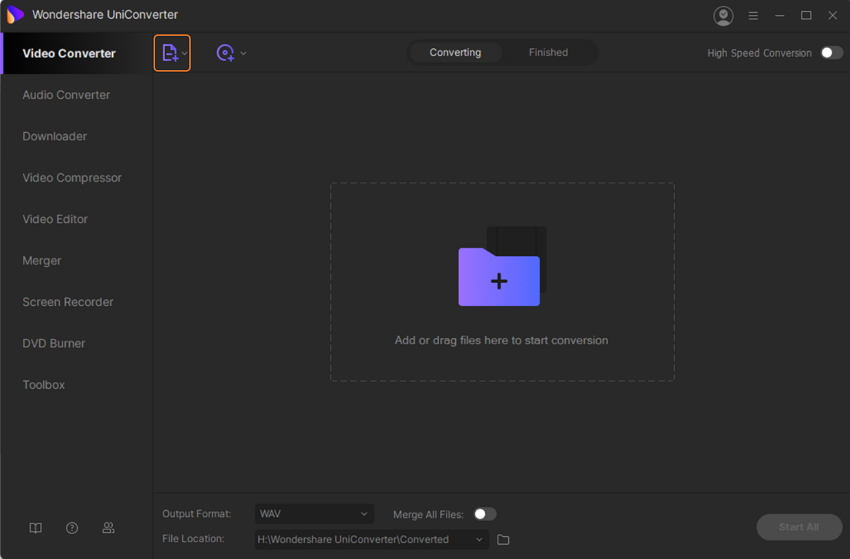 Step 2. Adjust the Video Resolution
Click on the Setting button and a settting window will pop up. Then click on the Resolution option to select the pixels you want.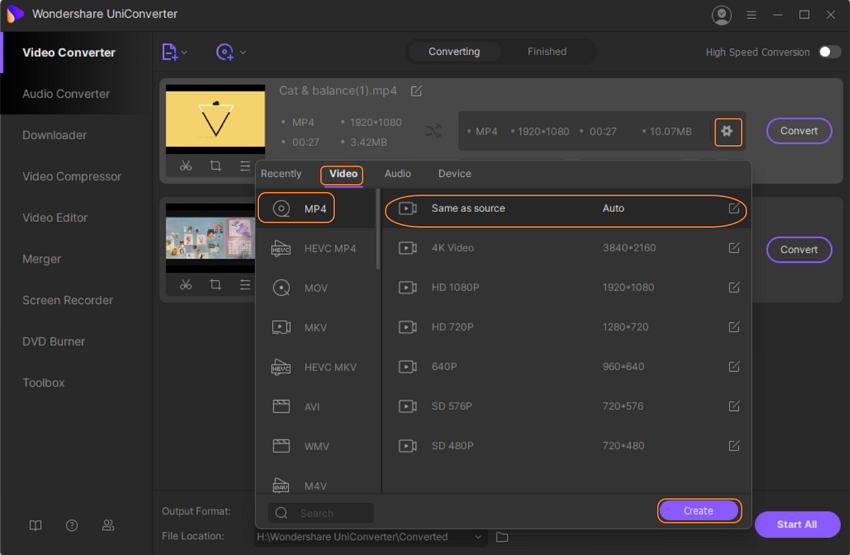 Step 3. Apply the Effects
For effects, click on the third option under the uploaded video (see image below). You can adjust brightness, contrast, saturation level, and also choose the deinterlace according to your needs. Additionally, there are 19 different filters for you and also the Auto Enhance box to enhance the video quality automatically. Click OK to save the changes.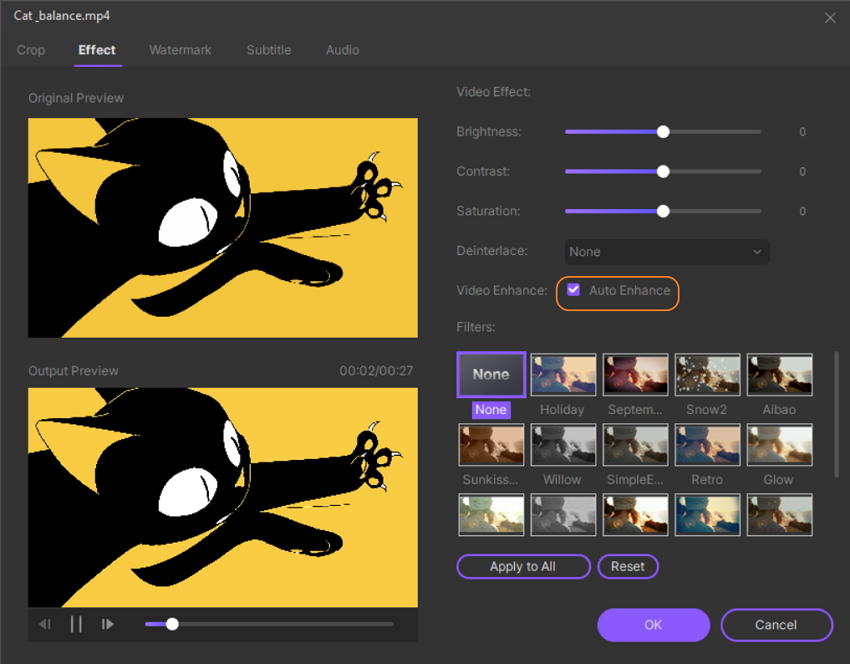 Step 4. Save the Adjustments
Besides the option of Output Format, there is a drop-down icon. Choose the one you want to save the video in and then click on Start All. You will find the final video under the Finished tab.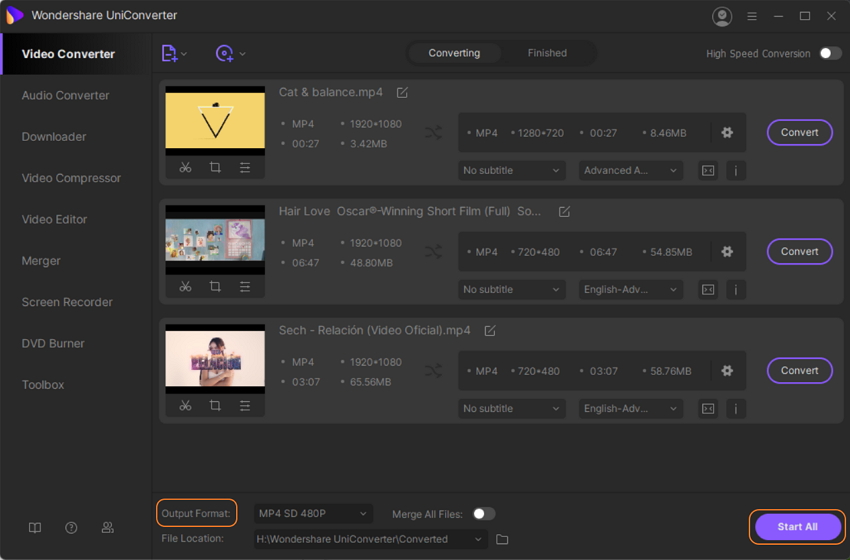 Part 2. 9 Best Video Quality Improver to Fix Poor Quality Movie
To make it easier for you to select software, now, we will discuss the top nine video quality fixers available on the Internet.
URL: https://www.aiseesoft.com/video-enhancer/
Supported Platform: Windows 7/8/10; Mac OS X 10.7 or higher.
Key Features:
It is a powerhouse to improve video resolution when you want to watch an HD movie or convert low-quality videos into 4K ones.
Aiseesoft lets you remove noise in old videos.
It has a video stabilization feature that allows you to increase the video quality a lot making them comforting to watch.
Con:
This tool mostly has basic editing features.
The difference between the video before and after the editing is not much visible.
Its user interface lags.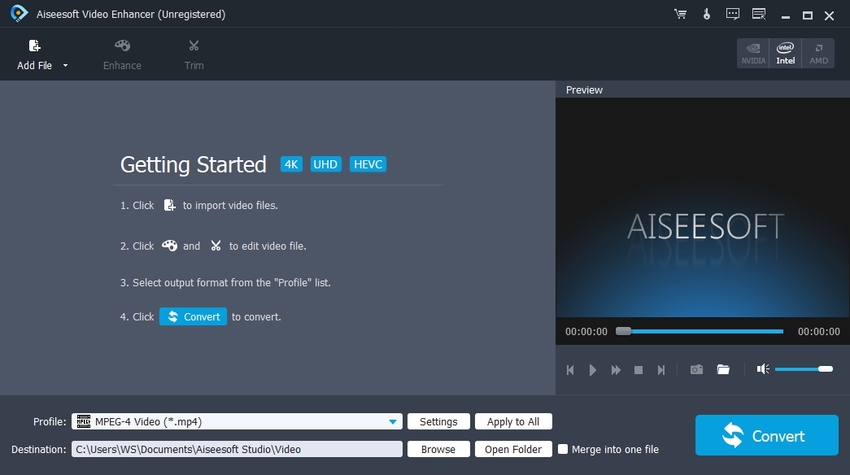 URL: https://www.videoproc.com/video-process/video-quality-enhancer.htm
Supported Platform: Windows & Mac
Key Features:
Enhancing video quality is easy with this software. All you need to do is move the quality slider to get your desired result.
No matter what resolution you want your videos to be, it can abide by your requirements.
Its unique GPU accelerated feature lets you edit the videos smoothly.
Con:
It is not suitable for professional use.
The downloading speed is quite slow.
It does not have any specific audio tool and a media library.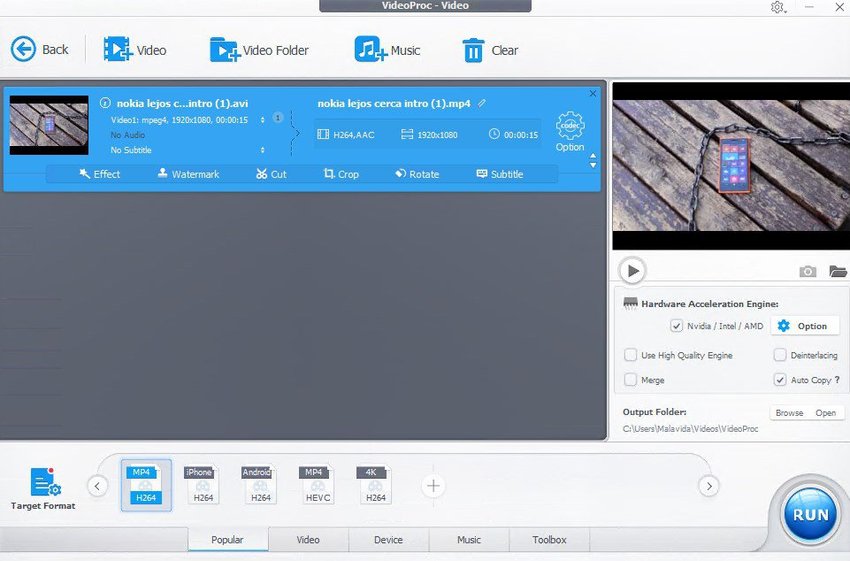 URL: https://filmora.wondershare.com/video-editor/
Supported Platform: Windows 7 & above; Mac OS X 10.11 & above.
Key Features:
Filmora has more than 100 media layers to edit your videos. It layers your clips and lets your imagination fly high with its unlimited editing functionalities.
The video enhancer uploads videos on any social media platform you want, giving wings to your skills.
Its new update lets you preview the rendering and auto-ripple to faster the editing process.
Con:
The tool is not the perfect choice if you want to edit a 360-degree video.
Exporting videos from Filmora takes a little more time than expected.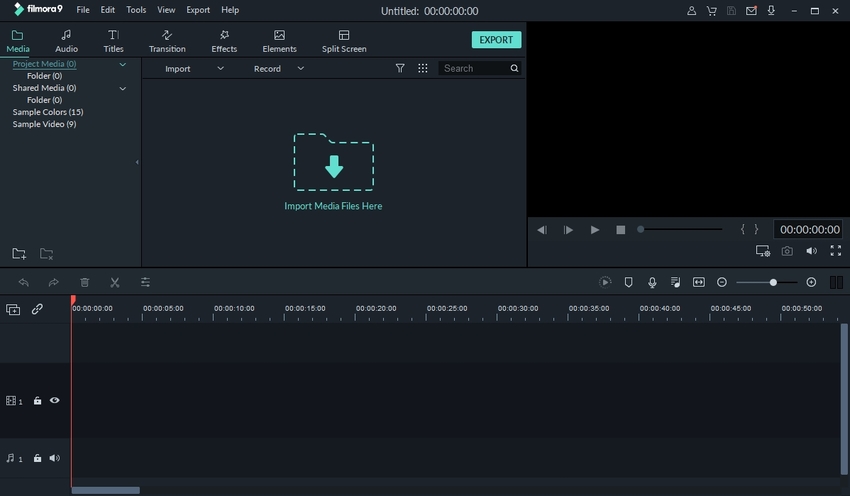 Supported Platform: Windows, Linux, & Mac OS X
Key Features:
It is excellent for professional usage, especially with a wide range of I/O support.
It has ready-made audio and video FX offering real-time advancement to your videos.
It enables you to export 4K videos from any social platform you like - be it YouTube, Vimeo, or any other.
Con:
Its user-interface is pretty complicated. Novice video makers will not be able to handle the software.
The free version of Lightworks limits itself with the exporting options.
It does not provide you with a full-version guide.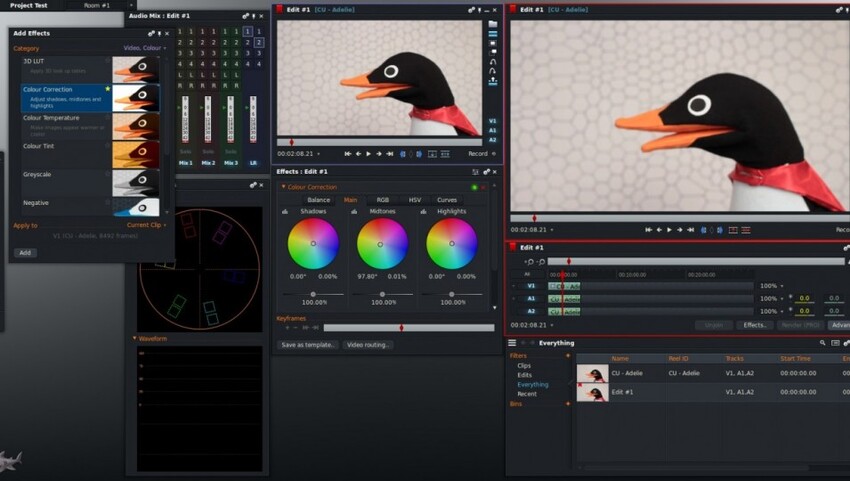 URL: https://www.apple.com/final-cut-pro/
Supported Platform: Mac OS 10.14.6 & above.
Key Features:
If you want to edit your videos in lightning-fast speed on your Apple device, then look no further than this one.
You can edit all forms of videos - be it in 4K, HDR, or 360-degree.
It offers you with a massive array of effects for editing video, audio, making transitions, and even for editing titles.
Con:
If you update the software, it won't be able to import your previous project on its own. You have to take the help of a third-party tool to get back your work.
It is not a go-to solution for casual users.
Final Cut Pro X does not have a stabilizer or motion tracking feature.
URL: https://www.adobe.com/products/premiere.html
Supported Platform: Windows & Mac
Key Features:
This video quality fixer has all the complex editing functions, including VR.
You can simultaneously edit multiple videos making the workflow faster than ever before.
It has the unique feature of motion graphic templates to give a more professional look to your videos.
Con:
The software is highly professional and not at all meant for casual use.
Collaborating with different OSs is difficult. You will find it tough to export your projects from Windows to Mac or vice versa.
While updating the software, you might receive several bugs popping up.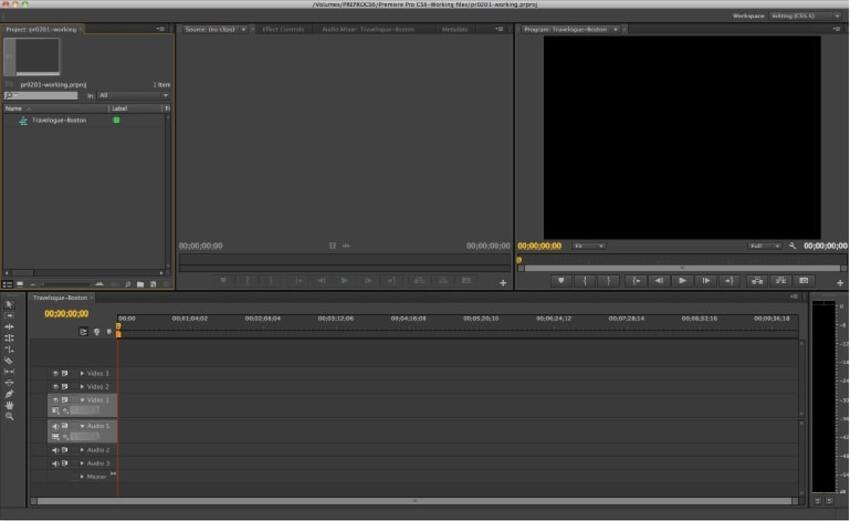 URL: http://avidemux.sourceforge.net/
Supported Platform: Windows, Mac OS X, BSD, & Linux
Key Features:
Video encoding is a distinctive feature of this video quality enhancer.
It lets you convert videos in a suitable format for archiving or publishing them.
Different video filters are a part & parcel of this tool.
Con:
With very fewer features, this tool is developed only for beginners. It serves no professional editing purpose.
It supports only a few popular video formats such as MP4, DVD, MPEG, and AVI.
You cannot edit long videos with this software.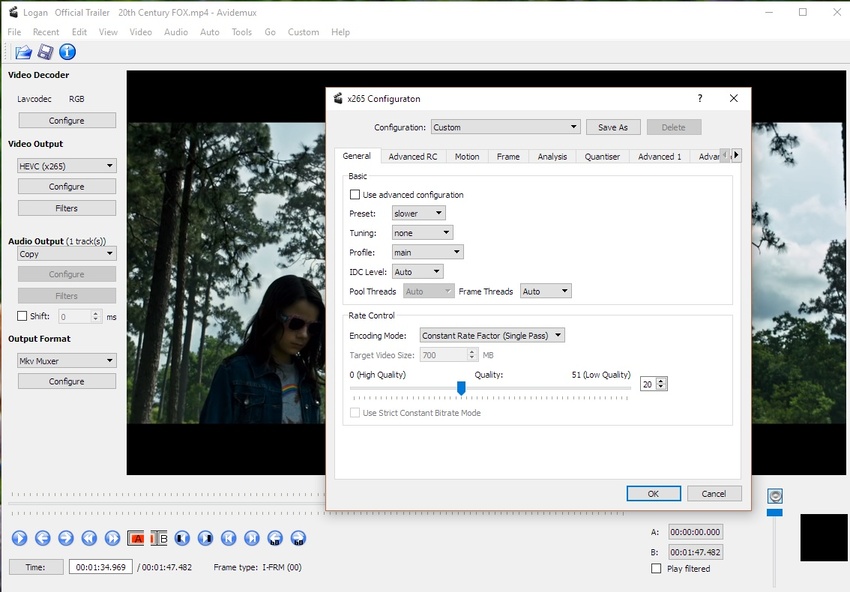 URL: https://www.fonepaw.com/paweditor/
Supported Platform: Windows
Key Features:
The timeline of this software is well-built to let you work without much headache.
Be it changing the opacity, blurring the shots, removing unnecessary spots, or correcting the lens - with a variety of effects; you can successfully do it all with PawEditor.
This tool lets you control the resolution, aspect ratio, and many other aspects of videos.
Con:
PawEditor lacks some of the basic editing features that beginners might even need.
Parts of the software is way too complicated.
The software does not have a good tutorial from where you can grasp its basics.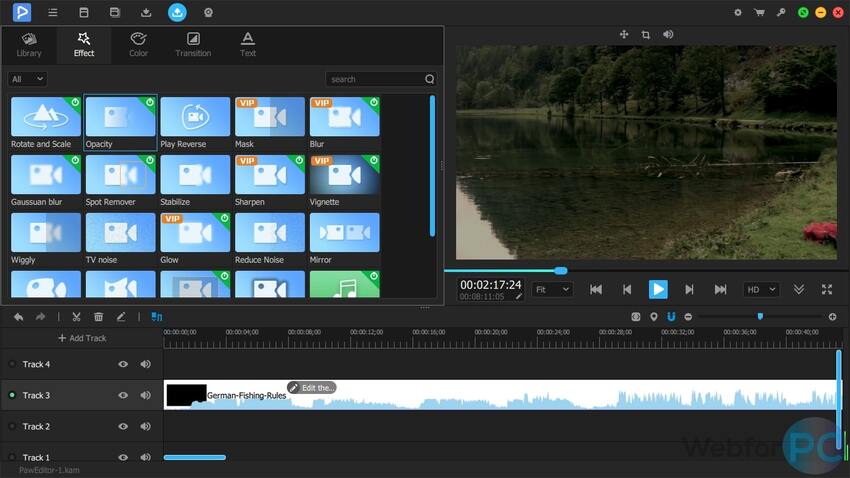 Summary
Thus, be it a video resolution enhancer or a video quality enhancer, this article has given you the best overall idea of how the online video enhancer tools work. Besides, it will immensely help you in the selection of video editing tools. We would recommend you to choose Wondershare UniConverter to get an all-purpose video editor and to be worry-free about the quality of your videos. So, think about how you want your videos to look like, how you want to combine the colors, adjust the saturation level, etc., sit in front of your device and start editing with the most suitable software.