Why Remove Audio?
To enjoy and for better understanding of a video clip you are watching, you have to get rid of any sound if the clip has:
1. Distracting background noises.
2. Inaudible or poor quality audio you wish to replace with high-quality recording.
3. You would like to sync with a different song.
This feature is mostly utilized by meme-makers and comedians to remix the audio of a video. They have to remove the sound to replace it. Even I have used it to create a unique music video of my own, video clip from a movie I enjoyed, and a favorite audio record.
Thanks to the ever-developing technological advancement, there are thousands of software to help you remove audio from video easily and quickly. Here, we shall look at the best-paid programs, online tools, and some free audio removers.
Part 1. Use Uniconverter to Remove the Audio Track from a Video
Wondershare UniConverter
· It maintains the quality of media files during conversion. It has incredible burning and conversion speeds, 30 times faster than other programs. It supports conversion to over 1000 file formats.
· This software is simple, and its video editing features will help make your videos unique and professional. You can crop, apply effects, trim, and add a watermark and subtitles to your video.
· It has a powerful DVD toolkit that assists in creating and editing DVD files. You can burn CDs, convert any format to DVD and check out its free DVD templates for ideas.
· The program enables you to transfer videos to other devices and external hard drives with no hustle.
· It has an updated, beautiful interface that accommodates new users.
· It can save media files from more than 10,000 websites. You can download or record HD movie/series episodes to watch later without an internet connection. Plus, you can convert the video files into compatible formats for playback on your television or smartphone.
How to Remove Audio from Video using Uniconverter?
Wondershare Uniconverter can be used to perform pretty much any task on a video. Let us look at how to remove an audio track from a video with the following steps:
Step 1. Launch Wondershare Uniconverter and Select Effect
a After you have installed and launched the software on your computer, add the particular video file under the Convert tab. Below the video thumbnail, you will see three editing icons. Tap on the Effect button that is on the right to draw up the effect window.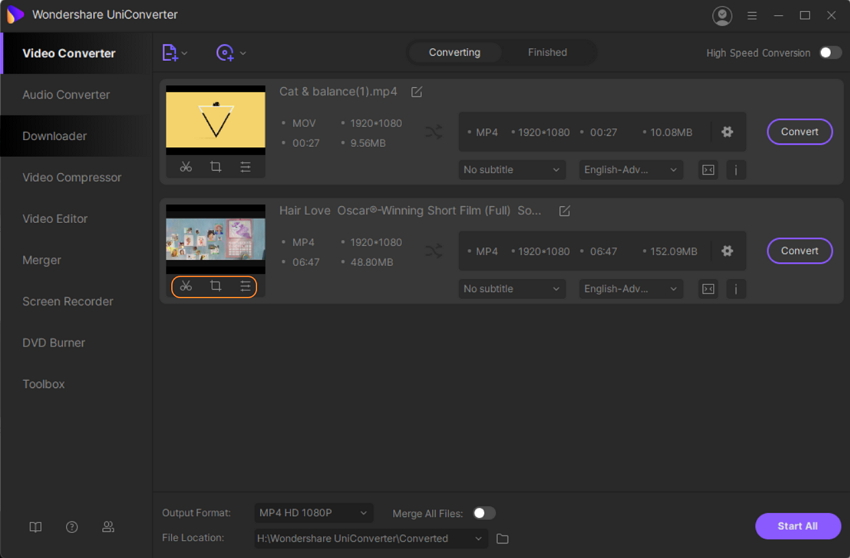 Step 2. Adjusting Audio
Next, select the Audio tab and reduce the volume to zero. You can also make adjustments to the video's brightness, contrast, and saturation as you wish.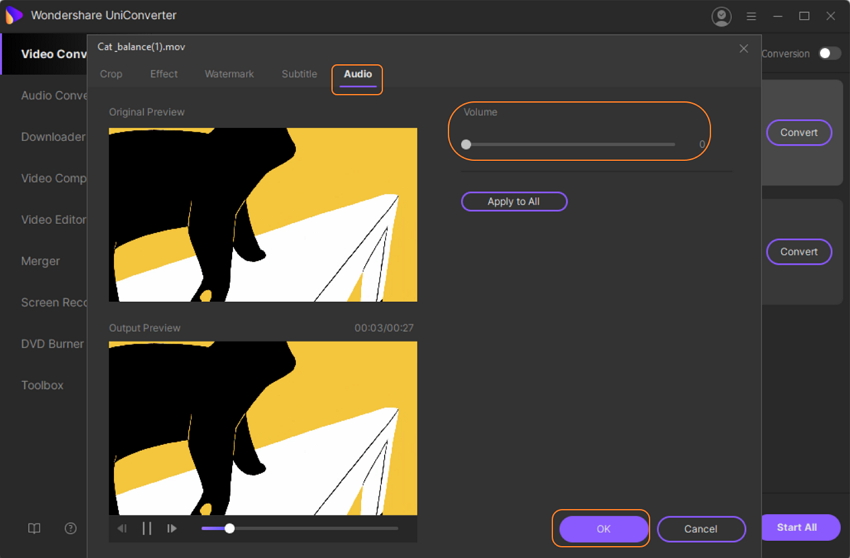 Besides, you could unclick Audio Coding to remove audio from a video.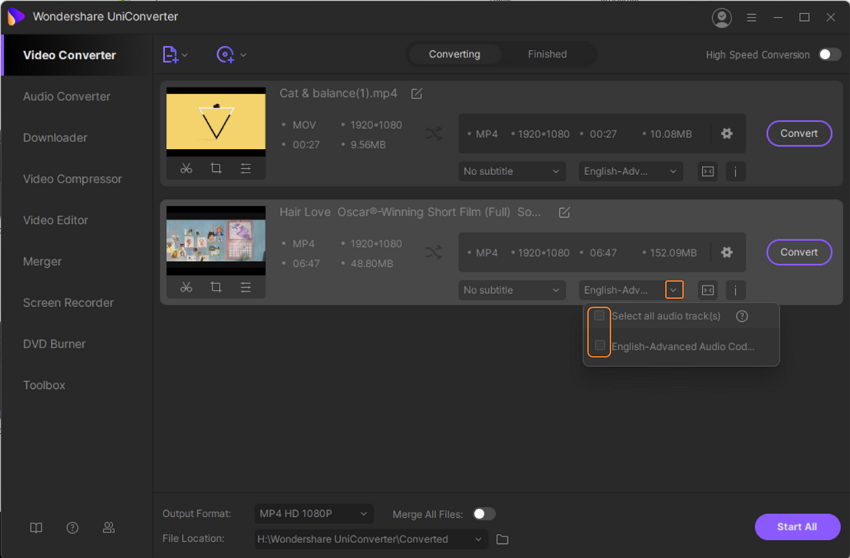 Step 3. Save the Changed Video
Finally, click on the Output Format in the main window. Tap on Start All to commence on the conversion. When the process is complete, find the video in the Finished tab.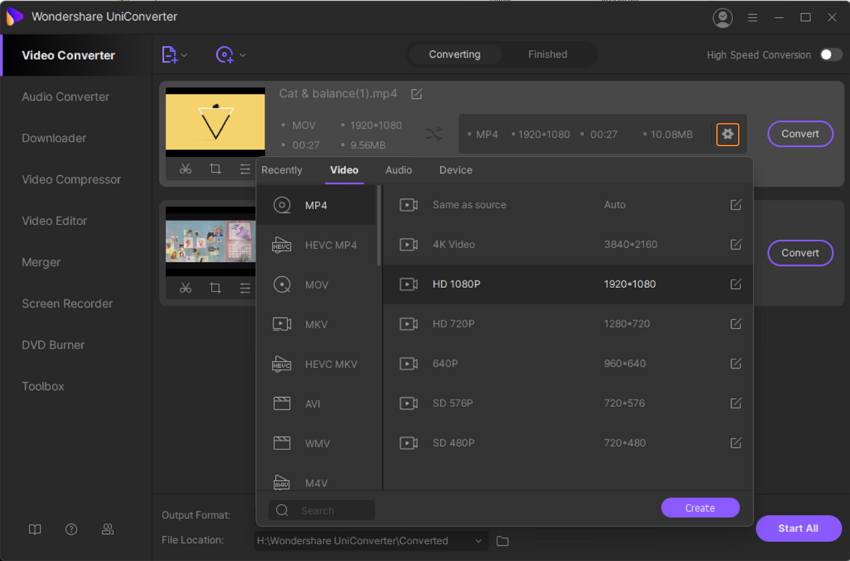 Part 2. How to Mute Audio with a Web-Based Tool
Another way to go about removing audio from a video without having to install any program is by extracting audio from videos online.
Next, we will look at three recommended sites from which you can mute audio track from video effortlessly.
URL: https://clideo.com/mute-video
Clideo is a simple website that you can use to cut audio from a video without wasting any time. It accommodates all video formats such as MP4, VOB, AVI, etc. and guarantees maximum privacy of all your data thanks to its premium security encryption. Besides, you can use Clideo to clip audio track from video on our gadgets effectively.
What I Like:
Simple and intuitive user interface.
Its compatibility with all devices; phones and comps.
What I Don't Like:
Limited maximum file size of 500MB.
Needs internet connection.
URL: https://www.veed.io/remove-audio-video
Veed is suitable for removing audio from videos very quickly. It also has an online video editor that is ideal for quick video editing tasks in the browser. You can use Veed on a Windows or Mac operating system comfortably. This online tool has a better shot at getting jobs well done than iPhone and Android apps.
What I Like:
Remove audio from video in two simple steps.
It has an excellent customer care support team.
What I Don't Like:
Cannot be used offline.
Limited video editing features.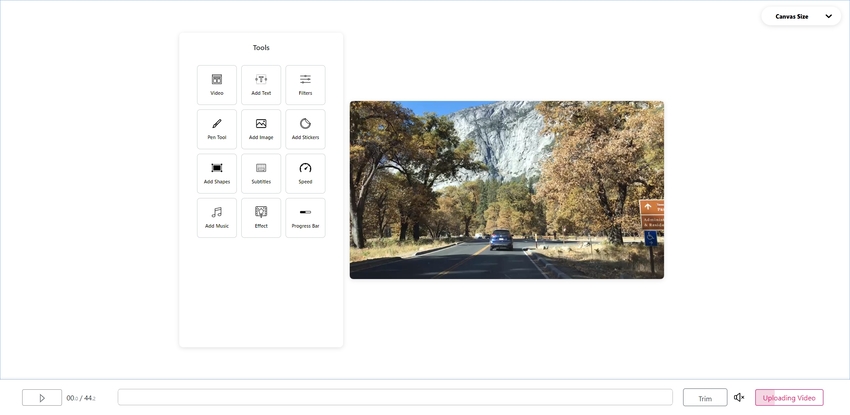 URL: https://www.kapwing.com/studio
It is simple, but a mighty tool for creating amazing images, GIFs as well as videos online. You can also add captions, logos, and other stickers using this program. If you want to arrange your media files on canvas for social media, Kapwing Studio is perfect. It allows you to adjust timing, set custom colors, animate, and add music to your media file. And most importantly, it lets you mute audio from MP4 file.
What I Like:
It is easy to use.
It is fast.
What I Don't Like:
It is only available on the web.
Glitch output for video editing features.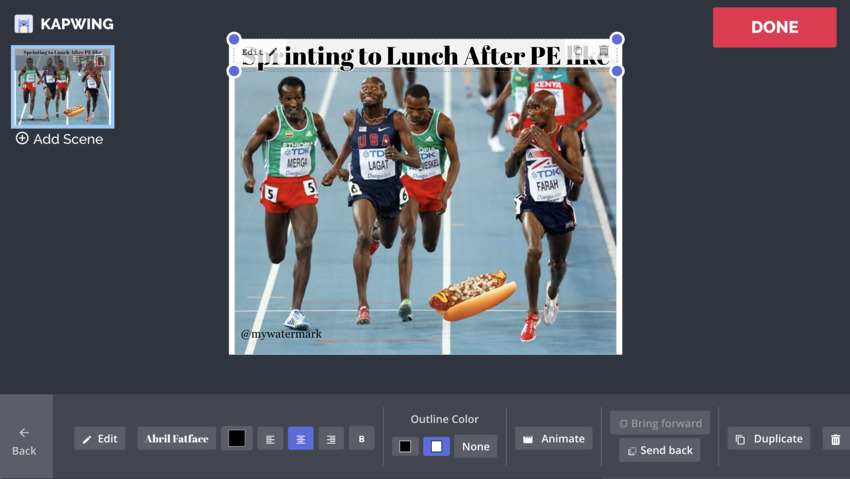 Part 3. 2 Other Alternatives Sound Remover Software for Windows and Mac
Now, we will look at two free audio removers from videos for Windows and Mac computers, respectively. These tools are built-in programs; hence, if you can figure out how to remove audio from video with them, you won't need third-party software.
URL: https://www.videolan.org/vlc/index.html
VLC is a media player that is a free and open-source tool. You can store it on a USB flash drive and carry it around on your key holder. VLC is a cross-platform media player and a streaming media server. It makes an incredible program to use to remove audio track from videos for Windows PC.
Being a free media player platform, you would assume that it is crumbled up with thousands of pop-up ads. On the contrary, there is no spyware, advertisements, nor user tracking on this free program.
Pros:
It accommodates all known audio formats.
It has a playlist module efficient for binge-watching videos.
It has a 'resume from where you left from' feature enables you to keep watching from where your left.
It is open-source hence you can program it to match your interests.
It is nicely free with no ads or pop-ups like most free programs.
You can use it any pretty much any device and on any platform/operating system.
Con:
It is a poor media library manager as files can be accessed manually by browsing the system storage.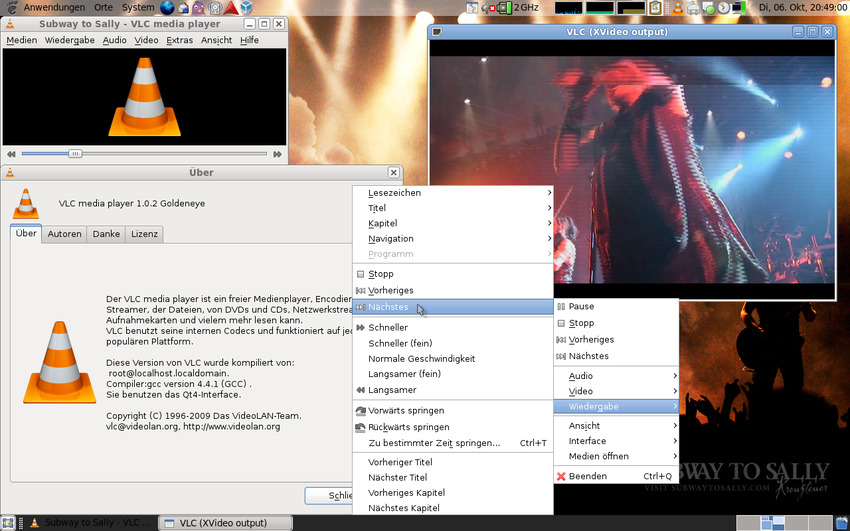 If you are a Mac user, then you know there are two applications you can use to remove audio from a video file. That is iMovie and Final Cut Pro X. the latter is a paid-for program leaving you with iMovie if you want to save some bucks.
Now, like all Mac products, iMovie has a fancy design and interactive display. You can browse and share your photos and video clips that are always neatly stored in one place. iMovie allows you to create spectacular trailers with the help of 29 trailer templates with mind-blowing graphics. You can also add some glamour to your videos by adding titles, transitions, and 3D globes and travel maps.
Pros:
It has a straightforward user interface.
It has brilliant customizing features and perfect templates.
It has incredibly built-in special effects and video enhancement with voice-over features.
It makes sharing of media easy and convenient.
Con:
It is only available for Apple gadgets.
It requires an internet connection for excellent output.
It uses a lot of storage space.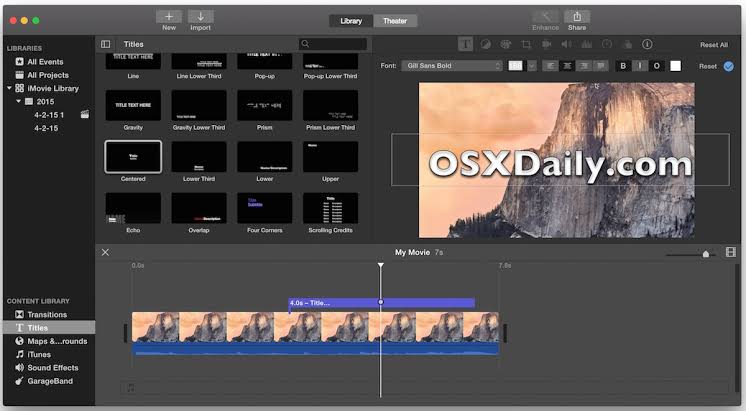 Summary
Above is a clear guideline on how to remove audio from a video file using Wondershare Uniconverter. We also saw three simple and lightweight programs to remove audio track from video online. Lastly, we spoke about two operating-system-specific free audio removers for Windows and Mac computers.
Using online platforms is an easy pick, but remember, they have video editing features and file size limitations. Thus, we would advise you to read through again and decide what tool to use to get rid of sound from video files.