Learning how to merge videos on Mac is vital in many ways. For example, you may have multiple video clips shot by your camcorder that you want to join into one long video. Also, you may want to create a long movie or music clip that you want to watch without bothering about the inconvenient playback controls. Whichever the case at hand, you must first find the perfect software to combine videos on Mac. Read on to know some excellent solutions.
Part 1: Quick steps to combine multiple videos on Mac using QuickTime Player
Let's start by learning how to join video clips on Mac with QuickTime Player. Yes, QuickTime Player can merge videos on Mac with lossless quality. It's a free, open-source app that usually comes pre-installed on your Mac computer. With this software, you can merge two or more videos quickly before exporting to MOV. Also, QuickTime Player comes with excellent sound and video recording capabilities. And obviously, you can play any video format on this video joiner for Mac.
Below are the easy steps on how to combine videos on Mac with QuickTime Player:
Step 1. Run QuickTime Player on your Mac and then open the video file on the app. Alternatively, drag and drop the video on QuickTime Player to open it.
Step 2. Now it's time to add another video clip before joining them. To do that, drag and drop the video file on the QuickTime Player window. Another way is to click the Edit tab at the top taskbar and then tap Add Clip to End. Then, drag and drop the clip on the Open File dialog and tap Choose Media. Either way, you'll see your video clips added to the QuickTime Player timeline.

Step 3. It's now time to merge the videos on QuickTime Player. But before that, you can rearrange the video clips on the timeline by dragging them to change the order.
Step 4. Lastly, click the Done button beside the video timeline to save your new video clip. It's that easy.
Limitation: Credit where it's due; QuickTime Player is a handy tool for any Mac user who doesn't wish to install a paid program. However, this software only allows users to export videos to MOV. Also, it lacks essential video editing capabilities like trimming, cropping, and more. And, QuickTime Player is for Mac users only.
Part 2: The best solution to merge video files without format limitations - Media.io
As said before, QuickTime Player only allows video creators to combine audio and video on Mac. Therefore, use Media.io Online Video Joiner to merge videos on Mac, Windows, iPhone, and Android with lossless quality. This program boasts a simple, ad-free user interface that's perfect for even the greenest of users. Media.io can merge all standard video formats and output the clip in MOV, MP4, VOB, FLV, and more. Also, it allows creators to insert background music into their merged videos. Plus, it comes with vital tools for cropping, cutting, compressing, creating slideshows, and so on.
Key features:
Merge any video format on Mac, including MP4, MOV, FLV, VOB, etc.
Insert crossfade transition effects and background music to the merged videos.
Export the merged video clips to all standard video formats.
An excellent music video maker for merging photos and videos quickly and easily.
Edit videos further by compressing, cropping, trimming, rotating, etc.
The best app to merge videos on Mac, Windows, Android, or iOS.
Below is how to stitch videos together on Mac using Media.io:
Step 1. Launch the Merge Video tool and add video clips.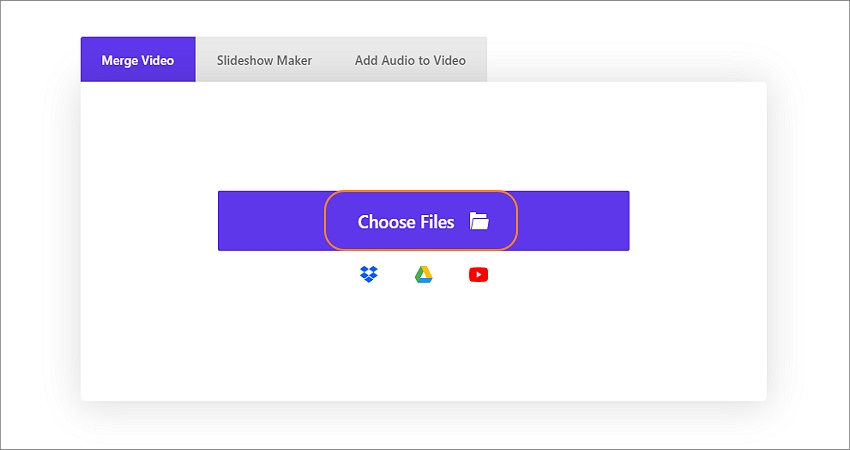 Use your Safari browser or any other web browser on Mac to launch Media.io. After loading up the program successfully, click Online Tools and then tap Merge Video. Once the window has finished loading up, drag and drop your video clips on it or tap Choose Files to open local storage and add videos. You can even upload video clips from YouTube or the cloud.
Step 2. Edit the uploaded video clips (optional).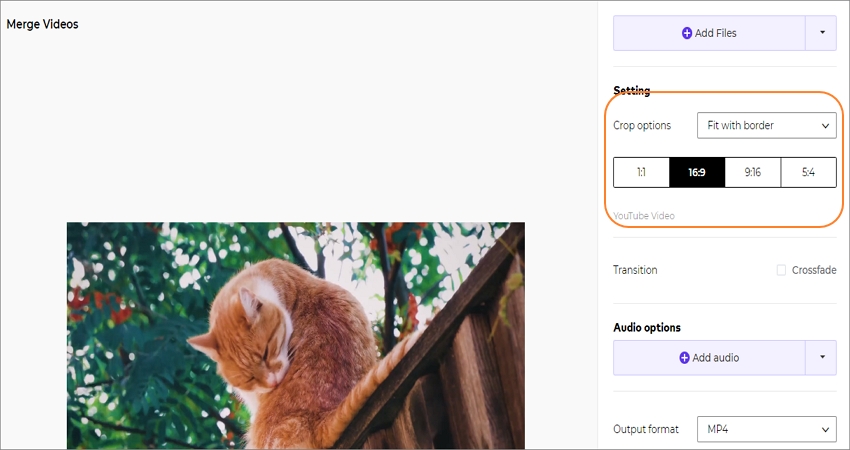 There are some situations where retouching the videos a little bit before merging them is crucial. Luckily, this free video joiner for Mac allows you to select the perfect aspect ratio for YouTube, Instagram, or Facebook. Then, you can apply crossfade transition effects to your merged video clips.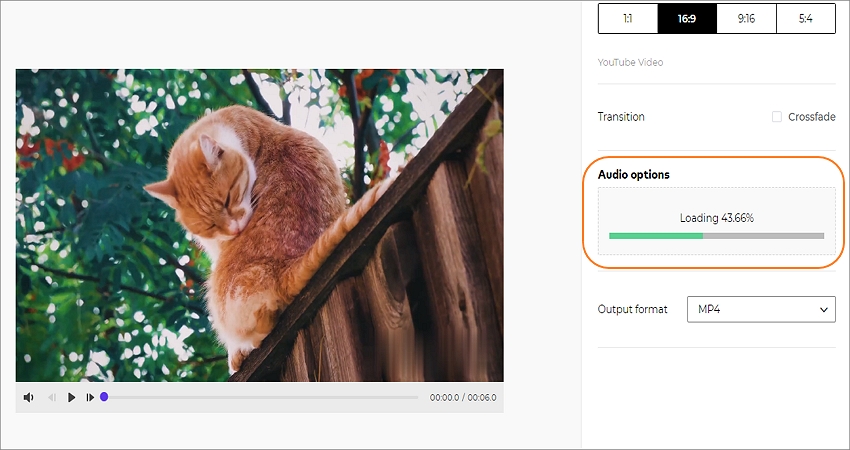 Not only that, click the Add audio button to upload the music file to use on the video background. It's vital to note that Media.io supports uploading of any audio format. After adding audio, you can adjust the volume and trim it by merely moving the sliders.
Step 3. Select a video format and combine your videos on Mac.
Are you ready to join videos on Mac? First, click the play button on the preview screen to crosscheck your video. Next, tap Output format and select MP4, MOV, FLV, 3GP, or any other video format as your target preset. Lastly, click Merge to combine your videos and download them on Mac. You'll also see options to save your video on the cloud or edit it further. It's that easy!
Part 3: Professional video joiner for Mac - Final Cut Pro
If you like editing videos on Mac, then you certainly need no introduction to Final Cut Pro. It's a professional video editing program for Mac that supports editing any video and audio format you may have. Although you may need a bit of a learning curve with this program, it contains tools to help you create award-winning videos once you get the hang of it. In addition to joining videos, users can also perform other editing tasks like color grading, adding visual effects, trimming, blurring the background, and so on.
Below is how to useFinal Cut Pro to merge clips on Mac quickly and easily:
Step 1. First, install and run Final Ct Pro on your Mac computer. Then, click File, choose Import, and select Media to upload your videos. Now drag-n-drop your videos to the timeline to begin editing.
Step 2. Next, position and click the playhead on the timeline part where you want to connect two clips. Then, head to the browser and select the clip you want to connect.

Step 3. To connect the two video clips on Final Cut Pro, click Edit and then tap Connect to Primary Storyline. You can also click the Connect button located at the left corner of the timeline.
Limitation: If you're a beginner looking to perform basic video editing tasks like trimming and merging videos, then I suggest you stay away from Final Cut Pro. That's because the user interface may feel a bit like an overkill for beginners. In addition to that, the $299.99 price tag may be too much for some users. And like QuickTime Player, Final Cut is only available to Windows users.
Conclusion
Now you know how to merge videos on Mac effortlessly. But as I have insisted earlier, you should get a program that supports other platforms apart from Mac. Also, the intuitiveness and price of the program should top your priorities when searching for a video editing program. So, use Media.io to merge and edit videos easily on any device. Nonetheless, Final Cut Pro is an excellent program if you're an advanced video editor.