Whenever we talk about an advertisement or a seminar over a real-life topic, video is considered an essential part of delivering a message to the masses. Talking about social media where Facebook and YouTube have been working to develop a global community, people look to provide content with the help of videos. This led to the development of video editing tools and software that provided explicit services for video editing. Many video editors in the market are both too easy and straightforward to use with no special features that sustain special video editing skills. Other video editors are quite tricky to use and are usually not comprehensive for novice categories. Since we believe that there is saturation in the market when it comes to video editing tools, Wondershare Filmora never disappoints its users. This video editing tool focuses on helping users develop their editing skills and dominate in the video editing market. This article will discuss Filmora video editor and would discuss its associated features to help users apprehend that Filmora 9 is the best video editing software available to date.

Wondershare has developed many iterations in the software before landing onto "Filmora 9", eventually. Their focus resided on non-editors for the past versions of Filmora; however, this version is a platform for beginners and veterans. It provides guided operations for starters and a set of advanced tools for professionals. This led Filmora to become one of the best video editing software available in the market.



Wondershare Filmora9
URL: https://filmora.wondershare.com/

Wondershare has been developing many effective tools and software for the Windows and Mac community. Filmora9 is another successfully launched service for people who seek to spend less time in understanding the basics of video editing and invest their hard work in developing and editing videos. Being an easy platform to grasp for beginners, it provides advanced experience for veteran users, making it all-level compatible software. It provides add-on packs for a price that allows wide access to more useful tools. What's better in Filmora9 than other software is its video and audio track library that constitutes around 100 videos and audios for providing users immediate access whenever they feel the need to add music onto their video or extend their video message with some more clips.

However, this application has shown a few weaknesses from its side. Taking its workspace customization options into consideration, they aren't much strong as in other software, whereas it doesn't present any storyboard mode, unlike other video editing software. Despite these facts, users should understand that if they focus on the software's basics, this would be the most comprehensive and effective platform available, with both affordability and usability.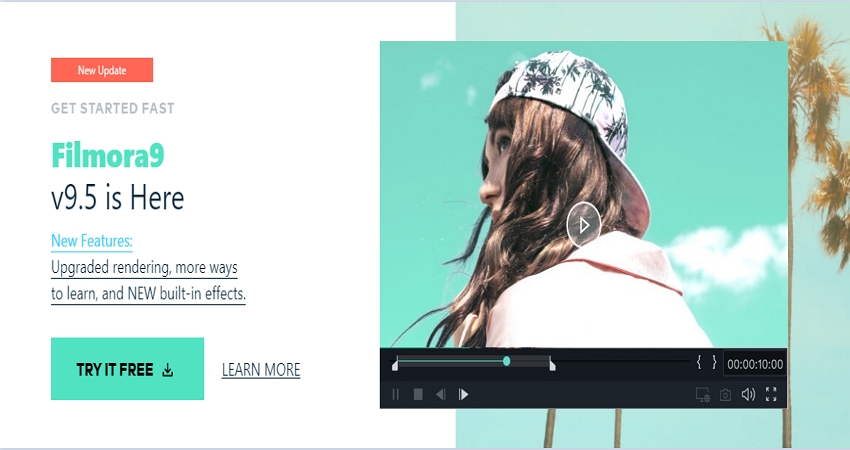 Features
Filmora video editing software is a complete tool for video production where it allows 100 videos and 100 audio tracks to be integrated for creating complex objects such as feature films, music videos, or compilations. The flexibility it offers in editing brings convenience for both beginners and advanced video editors. Its base program, which comes for free, offers 200 video effects. They are not just filters and overlays, but meaningful textures and effects that shine out the video and give it a look it wants. Users can access effects equivalent to bad TV signals, cinematic flares, or video walls, which provide an exquisite look to the video.
Filmora video editor provides a package of 200 transitions that are creative to fit in between different scenes. These transitions are basic and simple yet very effective in bringing sagacity in the video.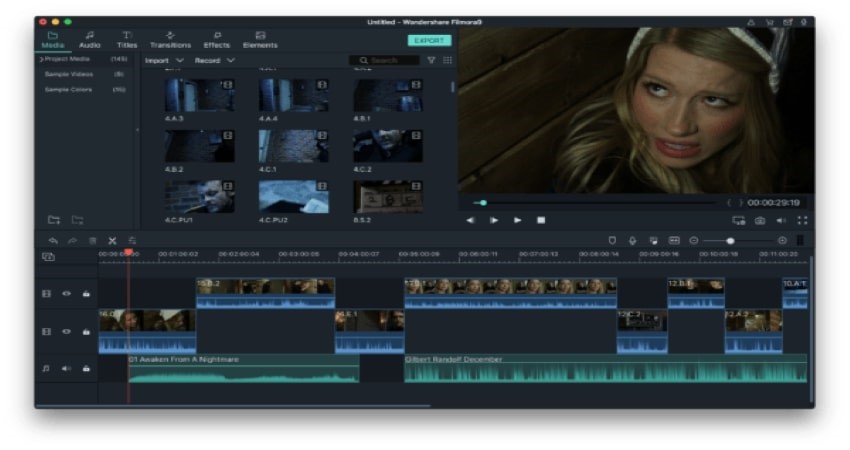 What is better in Filmora is its audio tool that is quite classical and can integrate sound in a video, as in a professional editing tool. Its basic tools provide the functionality of adjusting volume, fading in and out, pitch adjustment, background noise reduction, and sound equalization. With a decent audio library, users can get their work easily done. Apart from the 50 free music tracks available in its library, Filmora allows synchronization of iTunes library and music applications, which terms itself as a good starter pack for adding music to video. Wondershare came with an additional tool in its package; the Chroma key or the green screen. This tool was limited to Hollywood studios but introduced itself as a free and easy tool in Filmora. Users have to import the green screen footage, drop it on their timeline, and inputs the image they want behind it to use the Chroma key tool effectively.
Apart from these basic and common video editing tools, there are far more editing features that are additionally provided by Filmora9 in its system. It includes motion and color control that provides consistency to the video, shot to shot. Since Filmora has been designed with the aim of providing explicit features with ease, users can feel unbounded to create impressive videos. It has allowed users to create simple titles with the 140 available templates, including titles, subtitles, and other details. Manipulation of speed and motion has been made easier with Filmora. Users can learn how to slow or speed up their videos and even run them in reverse. These add-on packages with progressive tools provide many opportunities for users and enterprises alike.
Filmora video editing software provides a variety for users to decide over the most suited package for their requirements. Apart from its free version, it provides three different licenses with different price packages. It provides a 1-year license at $3.75/month, which is billed for $44.99 every year. A lifetime license is also offered by Wondershare, which is billed for $1.94/month or a one-time payment of $69.99. An unlimited plan for $13.99/month is being provided by Filmora for more enthusiastic users to gain access to more tools.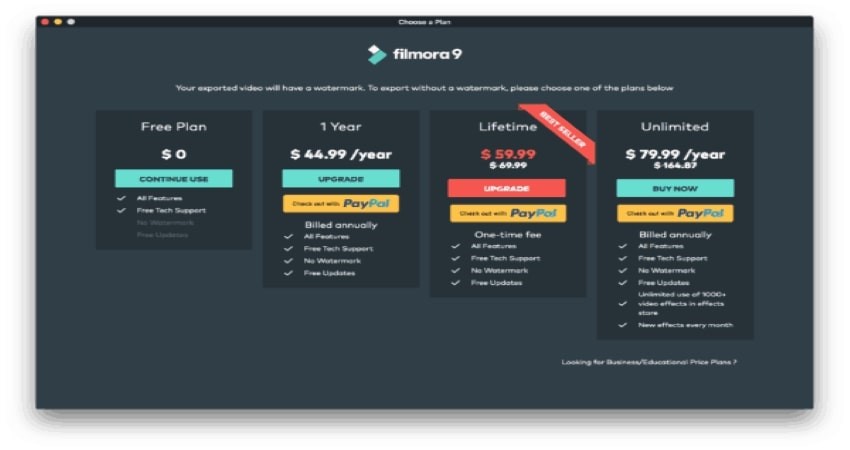 Summary
This video editing tool is definitely a perfect option for both newbies and veterans. With the tools required for developing professional videos, Filmora offers a wholesome package of impressive features that can help users excel in the video editing market.