In the ever-evolving world of social media, TikTok has emerged as a platform where users create and share short videos filled with creativity and entertainment. Whether it's a funny clip, a dance routine, or a heartfelt message, TikTok is a treasure trove of engaging content. However, there are times when you come across a TikTok video with an amazing soundtrack that you'd love to have as an MP3 file. That's where the need to download video TikTok MP3 arises.
However, the download MP3 TikTok videos is not as easy as it seems. The official TikTok app does not provide an option to save videos as MP3 files. Moreover, most of the online MP3 TikTok video downloaders add a watermark to the downloaded videos, which can be annoying and reduce the quality.
So how can you download MP3 TikTok videos with high-quality and without watermark? In this post, we will show you the best 3 tools to download TikTok videos to MP3, and how to use one of them step by step. By the end of this post, you will be able to download any TikTok video to MP3 easily and quickly.
Part 1: Best 3 Tools to Download TikTok Videos to MP3
Numerous TikTok downloading tools profess their HD ability to download TikTok videos into MP3 format, yet not all can be trusted for safety and reliability. Some may harbor malicious software, intrusive advertisements, or even serious viruses that could pose risks to your device's security and your privacy. Others may suffer from slow download speeds, restricted functionalities, or subpar output quality.
In our effort to assist you in making an informed decision, we meticulously assessed and compared numerous MP3 download TikTok video solutions. As a result, we've curated a list of the three most dependable tools capable of seamlessly converting TikTok videos to MP3 without leaving any watermarks. These top-notch tools are listed below.
Media.io is another online credible that refines your media files smartly using AI. It comes with a collection of portable online AI tools to help enhance your experience. Among several tools, it can also download video TikTok to MP3 without watermark and in HD quality. It is a versatile application that offers many other features besides downloading TikTok videos, such as such as converting video and audio files between different formats, such as MP4, MP3, WAV, MOV, AVI, etc.
Also, it enhances video and audio quality with various filters and effects. It can remove watermarks from photos or videos in a matter of seconds. It can also apply AI innovation to all aspects of content creation, such as generating text from images or speech from text.
Key Features of Media.io
medai.io offers seamless access to download TikTok videos without watermarks across various platforms. Whether you're on your desktop, smartphone, or tablet, this TikTok downloader functions flawlessly, allowing you to enjoy your downloaded content offline on any device.
The app TikTok Downloader is designed with simplicity in mind. To initiate the download process, all you need to do is paste the video link. After processing, you can effortlessly save and extract audio from TikTok and share it with your social media network, making it accessible to friends and family.
media.io includes an automatic TT watermark eraser feature, which ensures that TikTok videos are extracted without any intrusive usernames or logos. Additionally, you can eliminate other undesired objects from the video using Media.io AniEraser. Just upload the TikTok video to the program and select the object you want to erase using the brush tool.
Experience TikTok videos in pristine high-definition quality with Media.io TikTok Downloader. It maintains lossless video quality, preserving the original clarity and ensuring your viewing experience mirrors that of watching the video directly on the TikTok app.
media.io TikTok Downloader provides flexibility in saving your content. You can opt to save the video as an MP4 file or extract the audio music download MP3 TikTok file. This versatility allows you to customize your TikTok content and easily share it via various platforms such as Facebook, SMS, and more.
Enjoy an uninterrupted and ad-free experience while downloading TikTok videos on Media.io. The platform ensures a secure and transparent video download process, minimizing the risk of inadvertently clicking on phishing ads.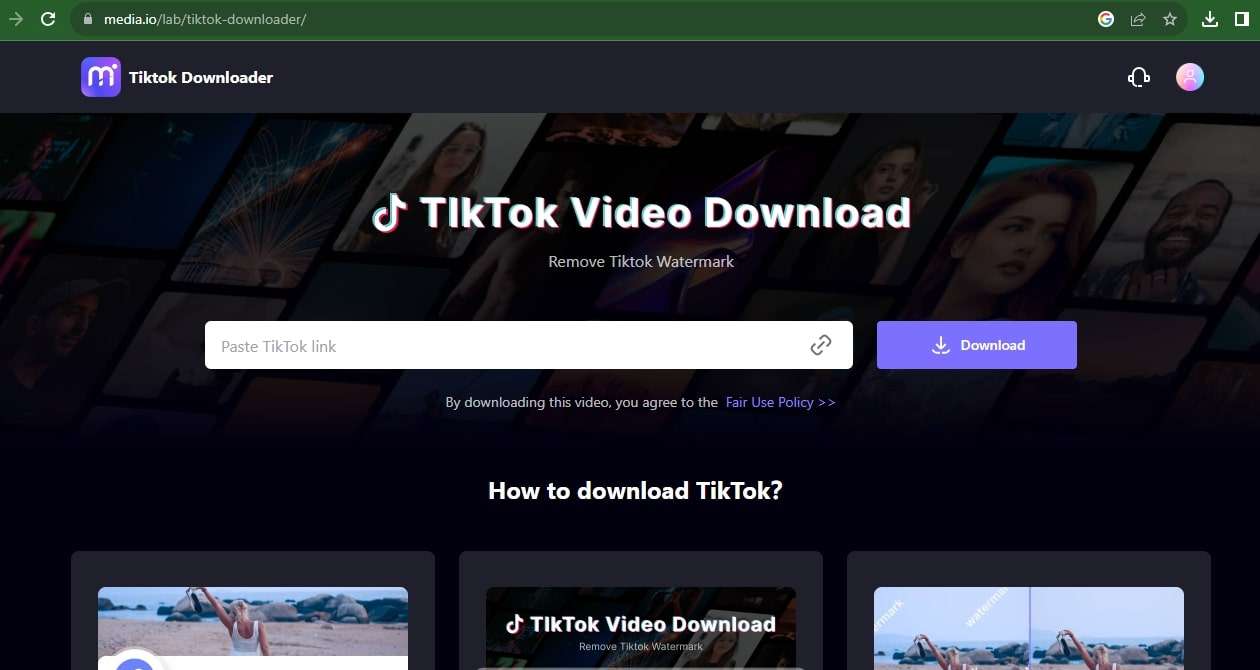 Flixier is a powerful online video editor that can also down videos TikTok to MP3 in seconds. The tool enables you to safely convert TikTok videos into MP3 format, providing you with the flexibility to listen to them at your convenience, share them with friends, or incorporate them into your own video projects. The best part is that there is no account registration required; simply paste a TikTok link into the tool, and you're all set.
Additionally, Flixier supports downloading TikTok videos in HD quality and MP4 format as well. It permits you to edit downloaded videos with various features, such as trimming, cropping, adding text, music, transitions, effects, and more. Also, it enables you to publish the edited videos directly to YouTube, Facebook, Instagram, or other platforms. The app works on any device and browser without installing any software or app. With its simple and user-friendly interface, it can be really easy to use for anyone even for beginners.
Key Features of Flixier
The app ensures effortless TikTok to MP3 The process is swift and efficient. All you need to do is to simply paste the TikTok link into the tool, click the Export button, select the audio-only option which will convert and download video TikTok MP3 audio, and watch as your TikTok video transforms into an MP3 file in no time. You can enjoy listening to the music or use it for your purpose once downloaded.
Flixier is accessible online MP3 to TikTok converter. It is accessible directly through your browser, eliminating the need for any software downloads or installations. Whether you're on a computer, tablet, or smartphone, you can get it anywhere. Simply open a browser, and you're ready to start converting.
The amazing application permits comprehensive TikTok to MP3 conversion with editing options. In addition to converting TikTok to MP3, Flixier offers the flexibility to edit the audio. You can easily add fade-in or fade-out effects, cut, trim, remove specific parts, or enhance the audio by blending it with other sounds to achieve the desired result.
The app is designed for maximum user convenience, and that includes the elimination of any account registration requirements. To download TikTok as an MP3, simply click "Get Started" on the provided link, and you'll gain immediate access to the Flixier website.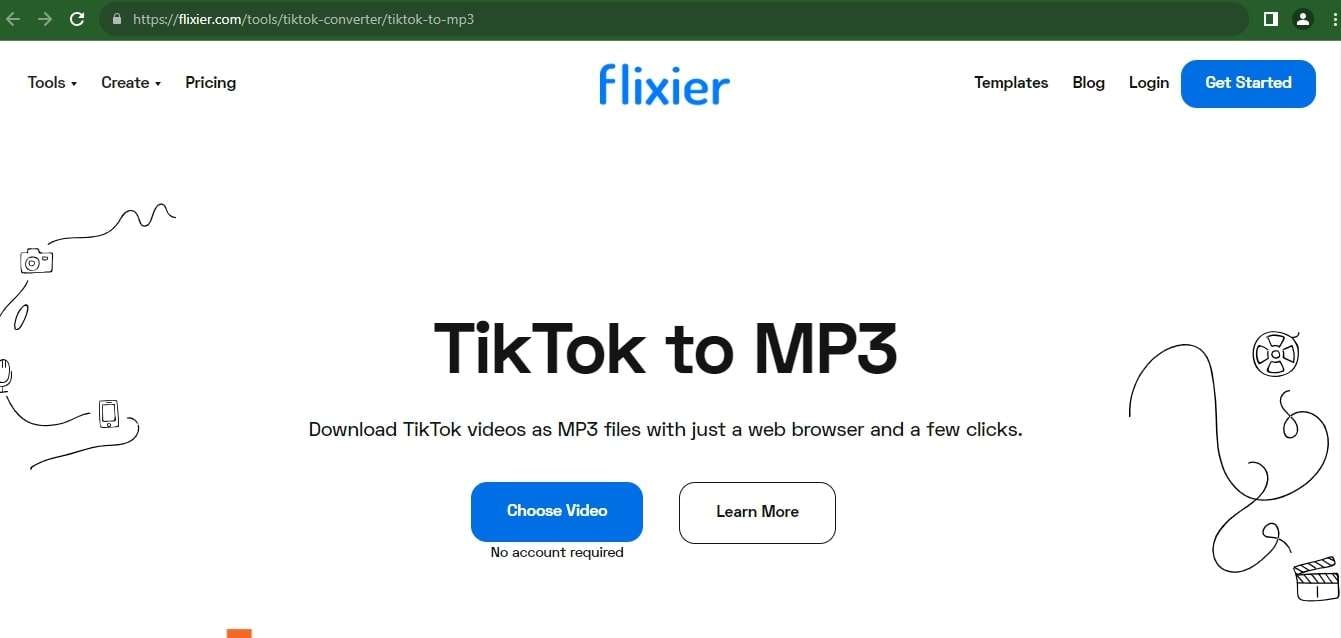 SSSTik is a dedicated website that allows you to download TikTok videos with watermark online. SSSTik is a simple and effective tool so that even beginners can use it with ease. It was created by a team of developers who wanted to provide a simple and convenient way for TikTok users to save their favorite videos and share them with others. The app has been operating since 2020, and has gained popularity among TikTok users around the world.
It has received positive feedback and reviews from many users who have used it to download TikTok videos with watermark. The SSSTik website claims to have over 10 million monthly visitors and over 100 million downloads. Also, the site is constantly improving and updating its features and performance, to provide the best user experience and quality for downloading TikTok videos.
Key Features of SSSTik
SSSTik does not require any registration or sign-up process. So, this means that you don't need to create an account, provide your email, or verify your identity to use SSSTik. You can simply access the website and start downloading TikTok videos without any hassle.
The app comes without any ads or pop-ups which means that nothing will interrupt your downloading process. You don't have to worry about annoying ads or pop-ups that may slow down your device, distract you from your task, or redirect you to unwanted websites. SSSTik is a clean and safe website that respects your privacy and security.
It supports downloading multiple TikTok videos at once by pasting multiple URLs into the text field. You don't have to download one video at a time, which can be tedious and time-consuming. You can paste as many URLs as you want into the text field, and SSSTik will download them all in one go. You can save your time and bandwidth by using this feature.
SSSTik works on any device and operating system with a browser. You don't need to install any app or software to use SSSTik. You can use it on any device, such as a laptop, tablet, or smartphone, and any operating system, such as Windows, Mac, or Android. You just need a browser and an internet connection to use SSSTik.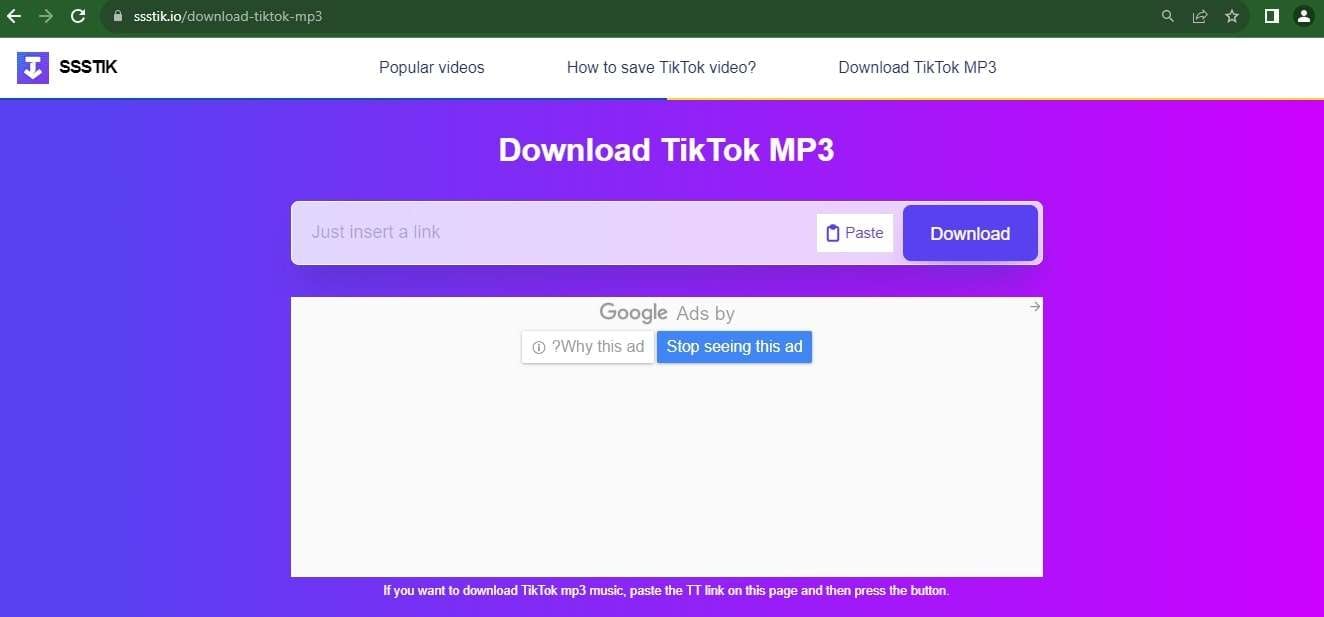 Part 2: How to Save TikTok Videos to MP3 Using Media.io
Among the trio of TikTok downloaders we've explored, Media.io emerges as our top pick for effortlessly downloading TikTok videos to MP3, all without those bothersome watermarks. It's your fast, friendly, and dependable companion on this musical journey, offering high-quality conversions enriched with AI capabilities.
Ready to dive in? Here's how to harness the power of Media.io to transform your favorite TikTok videos into MP3 format.
Step 1
Begin by opening your web browser and visiting the following link: https://www.media.io/lab/tiktok-downloader/.
On this webpage, locate the provided text field.
Now, you can paste the URL of the TikTok video you wish to download into this text field.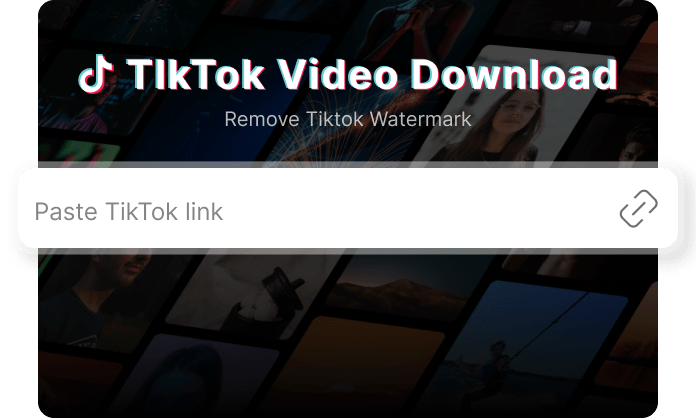 Step 2
After pasting the TikTok video URL into the text field, direct your attention to the "Download" button displayed on the page.
Click on this button to initiate the video conversion process. Please be patient for a few moments as the system processes the video.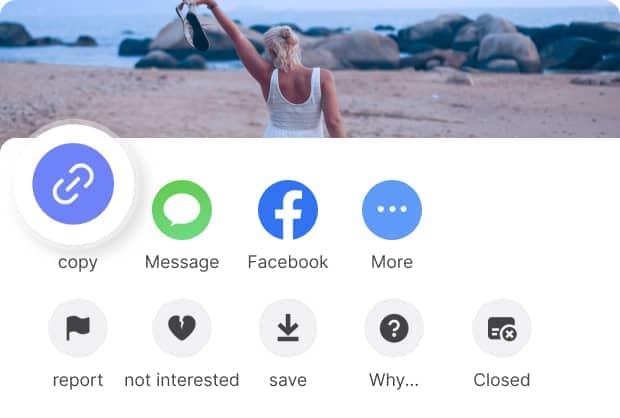 Step 3
Once the video conversion is complete, look below the video preview on the webpage. There, you will find a "Save MP3" option.
Click on this option, and the TikTok video you selected will be promptly downloaded to your device as an MP3 file.
You now have your desired TikTok content available in an easily accessible audio format, extract audio from TikTok and enjoy!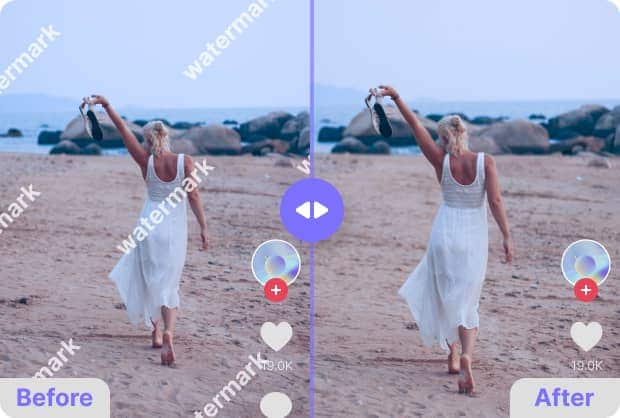 Part 3: Hot FAQs about Converting TikTok Videos to MP3
Q1: How to get the TikTok video link for downloading?
To get the TikTok video link for downloading, you need to open the TikTok app on your phone or browser and find the video that you want to download. Then tap on the "Share" button (the arrow icon) on the right side of the screen, and select "Copy link" from the options.
Q2: Can I download TikTok videos in HD?
Yes, you can download tiktok videos in HD quality using any of the tools that we have mentioned above. Just make sure to select the highest resolution available when downloading the videos.
Q3: Can I use this TT downloader on my phone?
Yes, you can use any of these TT downloaders on your phone, as long as you have a browser and an internet connection. You don't need to install any app or software to use these tools.
Q4: How long does it take to download a TikTok video?
Generally, it takes a few minutes to download a TikTok video. However, there are several factors that includes the size and length of video, speed of internet connection, and performance of your device.
Q5: Is it legal to download TikTok videos?
It is legal to download TikTok videos for personal use only, as long as you do not violate any copyright or privacy laws.
Conclusion
In a world brimming with captivating TikTok content, knowing how to download video TikTok to MP3 can be a game-changer. Whether you want to enjoy your favorite TikTok audio offline or use it creatively in your own projects, the tools and steps outlined in this article make it a breeze. From the introduction of three top-notch conversion tools to a clear guide on using Media.io for MP3 conversion and addressing common queries, we hope this article has empowered you with the knowledge and tools to effortlessly convert TikTok videos into MP3 format.