TikTok is one of the world's most popular social media platforms that is creating a revolution in the world of video content, with around 1.5 billion users globally. Every day, that figure adds up, reflecting the increasing need for video content consumption by social media users. However, the experience gets better when users can download their favorite TikTok videos and enjoy them offline, whenever they want, and easily share them with family and friends. This offline video entertainment experience is possible with a TikTok 4k downloader tool.
TikTok already has a reputation of churning out incredible videos, too good to be enjoyed once and online, or saved online. Hence, an increasing demand to download TikTok video in 4k format to consume anywhere, any day, and anytime, whether there's an internet connection or not.
In this article, we've reviewed 5 of the best Tiktok 4k video downloaders that you can use to download and enjoy your Tiktok videos offline.
Part 1: 5 Best Tiktok 4k Video Downloaders in 2023
A TikTok video download 4k app can dramatically redefine your TikTok entertainment journey. With seamless downloads, zero watermarks, HD quality, and compatibility with both PC and mobile platforms, the experience just got better.
Below are some of these best apps, with their key features to give you a perfect start into premium TikTok entertainment online and offline. Start downloading your videos right away!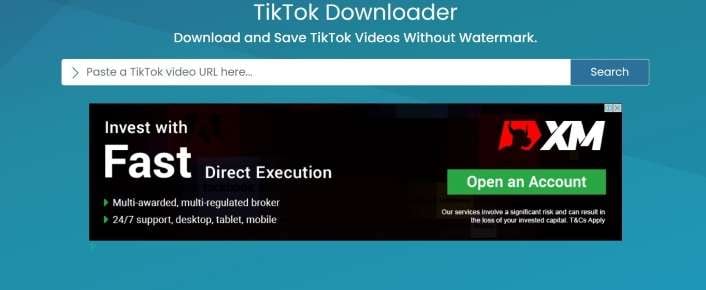 SaveTT is a free online service that allows TikTok users to download free 4k TikTok videos without watermark and in high definition. TikTok download video 4k are ultra-fast, and the website's user interface is seamless to use. You can download mp3 songs, stories, slides, profiles, and thumbnails all on the site or app, and for free.
Additionally, there's no limit to the number of videos you can download on the website or app, and these videos arrive in a special download folder created automatically by the app.
Compatibility
Key Features
Users can save HD 4k videos, mp3 sounds, stories, slides, and profiles in premium quality on the app or website.
SaveTT offers limitless titktok video downloads for free.
The app and website are compatible with various devices ranging from mobile, desktop, tablets, and notebooks.
There are no watermarks on each download and all of them are stored in separate folders created automatically by the app.
SnapTik is one of the world's most popular 4k TikTok downloader for TikTok users. The web tool has a mobile app compatible across major devices for seamless, fast, and hitch-free downloads. These downloads are free and without watermarks, which could be a burden to remove.
In addition, users can download their favorite slideshows into videos of premium HD quality, including MP3 without limits.
Compatibility
Android, Windows, iOS (iOS 12 and above)
Key Features
SnapTik excels in delivering TikTok videos without any unwanted watermarks
With SnapTik, there's no need to burden your computer or mobile phone with additional software installations
The entire downloading process is handled on their side, minimizing the effort required on your end.
It has the ability to download Tiktok's photo slide show as Mp4 Video format
It delivers TikTok videos in high-definition (HD) quality
It's totally free
Available in over 20 different languages.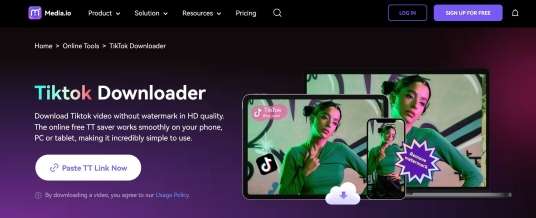 Media.io is an efficient mobile tool for TikTok lovers and users who want to enjoy a TikTok video download without watermark. The platform allows users to download their favorite videos and slideshows, and store HD-quality videos from Tiktok for free, across mobile, desktop, and tablet devices. The downloads are super-fast, and the user interface is easy to use, requiring only the TikTok slideshow or story link.
In addition to swift and easy download, there are no ads to interfere with the process, and users of TikTok on both mobile, tablet, and desktop platforms can enjoy endless downloads. However, the app is not a 4k TikTok downloader yet. So, users can download the video and make use of the app's video enhancer tool to convert to a 4k video, if the video is not in 4k format already.
Compatibility
Android, iPhone, Windows, Mac, Chromebook
Key Features
io features Cross-platform compatibility that allows users of various devices and operating systems to access its application and download TikTok videos in a breeze.
Its automatic TikTok watermark eraser ensures no watermarks in downloaded
Users can easily download and save TikTok 4k videos on their devices in either mp3 or mp4 file formats without any conversions.
Videos are downloaded in premium HD quality, without losing any critical element of sound and picture.
The platform offers an ads-free experience to users, ensuring videos are downloaded without interruptions of any sort.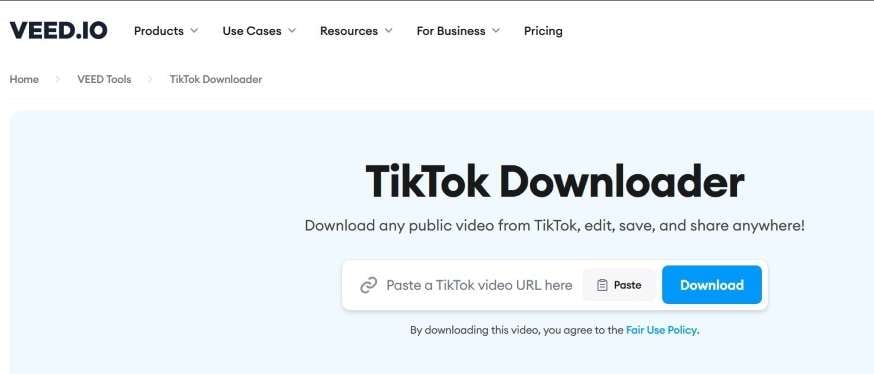 Veed is one of the best web tools that facilitates TikTok video download 4k content, and for free. Users can easily download any public video on TikTok, save it, edit, share, and enjoy it anytime. It gets better with an automatic watermark removal feature on the application, leading to clearer videos and eliminating the stress of removing the watermarks.
Veed is a no-brainer to use, and downloads can happen in seconds depending on the size of the story, or slideshow. Plus, mobile and desktop users can enjoy similar quality and fast downloads regardless of their operating systems. Hence, it's one of the best TikTok downloader 4k.
Compatibility
Key Features
Videos can be downloaded directly from Chrome on a desktop computer, or in mobile and tablet devices.
All videos are downloaded in high-definition, ensuring their quality is not compromised.
Users can easily edit downloaded videos like a pro, with a special built-in video editor on the site and app.
The application removes watermarks on videos, allowing for more quality and clearer videos for users.

SaveTik is an excellent TikTok 4k downloader tool that redefines entertainment experiences for TikTok users. Compatible across multiple platforms, SaveTik allows seamless and swift downloads of TikTok content, without ads and watermarks.
Furthermore, multiple videos can be downloaded without limitations in a day, while retaining their original TikTok qualities. Users can enjoy fluid downloads and share their favorite slideshows with family and friends whenever they want.
Compatibility
Key Features
SaveTik features a Progressive Web App for those who don't need the app due to storage constraints.
Available in over 10 different languages, catering to a broadly diverse audience across the globe.
Downloaded videos come in high-definition, regardless of the user's device.
Watermarks are absent in downloaded videos, saving users the stress of removing them, which may compromise quality.
Part 2: How to Download TikTok 4k Videos Using Media.io
Users can experience a seamless TikTok video download without watermark on Media.io by following these three easy steps below.
Step 1: Copy the TikTok Link
The first step to downloading a TikTok video on media.io is to copy the slideshow or story link on TikTok. If you are using a desktop web browser, ensure it's up to date for a better experience.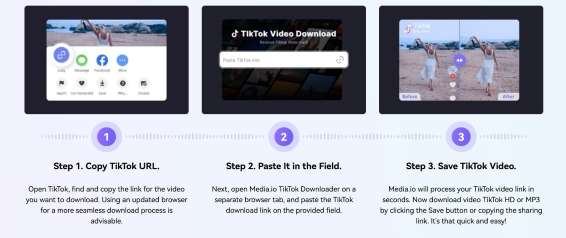 Step 2: Paste the Link in the Provided Field
After copying the link, you will find a purple-colored bar with the inscription "paste link now". Click on it and you'll find an empty white tab with the same inscription. Paste the link there.
Step 3: Download TikTok Video
After pasting the link, you'll find a download on the right side, click on it and download your video with options to export it as MP4 or MP3 file formats.

Part 3: Hot FAQS About Downloading Tiktok 4k Videos
1. Do I Need to Install Extensions to Download TT Videos?
No. You don't need any extensions to download your favorite TikTok content. The web and mobile apps are enough to handle the downloads.
2. Do I Need a TikTok Account to Download TikTok Status Videos?
You don't need to open a TikTok account to download video TikTok 4k. All you need is the video's link.
3. How Many Videos Can I Download in a Day?
You can download as many videos as you can in a day. There's no cap on the number of videos you can download.
4. Why Can't I Download TikTok Videos on the 4k TikTok Downloader?
If you can't download a video, then the problem is with the video's link. The link may be wrong or corrupted. Sometimes, the problem is from your web browser, and an upgrade will fix it.
5. How Can I Get the Link to My Preferred TikTok Video?
Access the link of your choice video for download by clicking on the video on the TikTok app. Next, click on "share" and "copy link".
Conclusion
TikTok video content is irresistible; sometimes, the save button isn't always there, which can be frustrating. If it's fortunately there to save the video, watermarks are inevitable parts and parcels of the download package - another frustrating challenge. Hence, TikTok users seeking to download TikTok video 4k content are left stranded on the app. Thankfully, there are third-party apps to the rescue, offering TikTok download no watermark at no cost. These apps can easily download TikTok stories, slideshows, profiles, and more without watermarks. Plus, they can download them in HD quality and as MP4 or MP3 files.
As we embrace 2023, these 4K video downloaders stand as valuable allies in the world of TikTok, ensuring that your favorite videos are just a few clicks away. Remember to use them responsibly, respect TikTok's terms of service, and always consider the rights and privacy of content creators. With these downloaders by your side, the TikTok experience is elevated to a whole new level, promising a vibrant and visually stunning journey in the world of short-form video content.