If you're a DSLR videography buff, then you probably know what the best camera microphone can do. For example, you can shoot high-quality videos with excellent background narrations to keep your audience fully engaged. So, if you're out shopping for an upgrade or replacement for your camera microphone, this review guide will give you a head start with these ten great options.
Rode VideoMic GO Lightweight On-Camera Microphone
The Rode VideoMic GO is arguably the best camera microphone for beginners if you ask me. For starters, it's pocket-friendly and straightforward to use because it doesn't feature complicated settings. Also, it doesn't need any batteries because it's powered using your camera's external microphone input. Another thing, it's exceptionally lightweight (73g), and offers clear sound quality. This one certainly ticks all boxes for beginners.
Pros:
Simple to use.
Pocket-friendly.
Exceptionally lightweight.
Cons:
Not the best sound quality.
Static noise issues.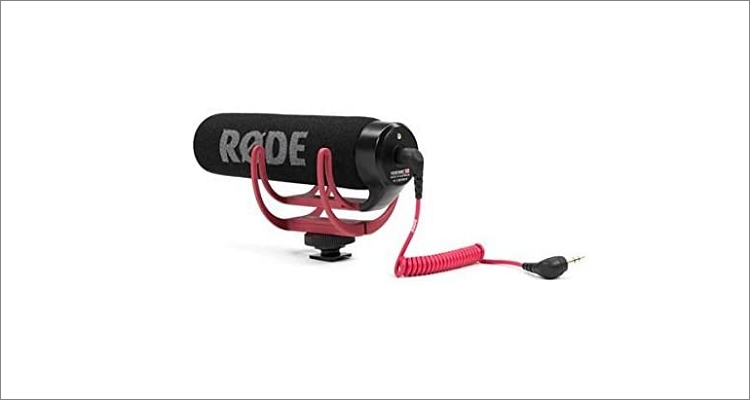 TAKSTAR SGC-598 Interview Microphone
Another camera mic that is worth considering is the TAKSTAR SGC-598. At $26, it's incredibly affordable and comes packed with multiple exciting features. These two reasons alone make it an excellent buy for beginners. But unlike the first option, this mic needs 1.5V AA batteries to work. With these cells, you'll enjoy up to 100 hours of playtime, which is a plus. Moreover, the shockproof design goes a long way towards reducing mechanical noises. Just note that the sound quality is not too exciting.
Pros:
Affordable unit.
Shockproof design
Durable battery life.
Cons:
Clumsy noise reduction.
Average sound quality.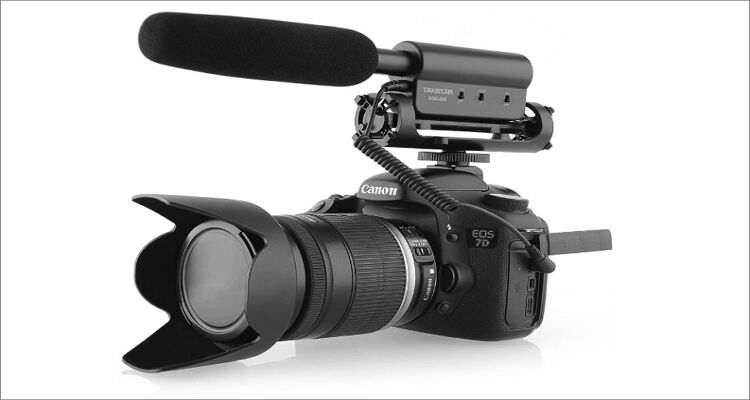 Movo VXR10 Universal Video Microphone
The Movo VXR10 is a cute little shotgun microphone that boasts of durable aluminum construction and weighs in at a mere 86g. It features a cardioid polar pattern for excellent noise reduction and feedback resistance. Also, it comes with a sturdy shock mount and furry windscreen, which is the standard requirement for its class. To pair this microphone with your DSLR camera, computer, or mobile device, you can use the 3.5 mm TRS or 3.5 mm TRRS connector.
Pros:
Flexible connectivity.
Durable aluminum construction.
Affordable.
Cons:
Not for long-range shootings.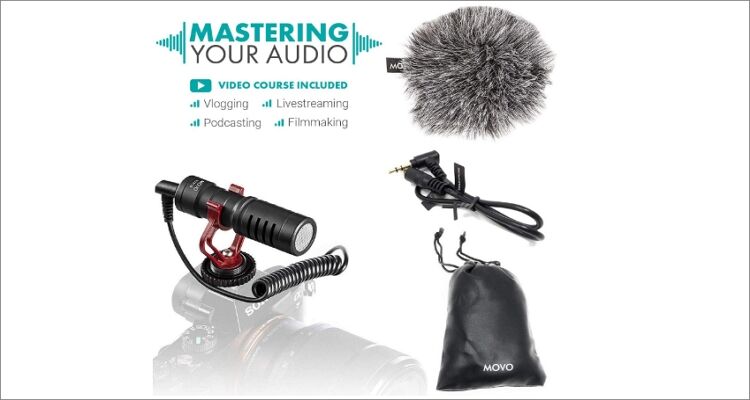 MAONO AU-100 Hands-Free Clip-on Lapel Mic
The MAONO AU-100 is a lightweight mic with small dimensions but very durable construction. It looks sleek and comes in four distinct colors. As for the audio quality, the omnidirectional condenser provides excellent sound recording experience for both indoors and outdoors. That aside, you can connect it to your camera via the 3.5 mm jack and is compatible with amps with 3.5 mm and 0.25" adapters. Lest I forget, the MAONO AU-100 comes with two batteries.
Pros:
Lightweight microphone.
Great audio quality.
Reasonable price.
Cons:
No power indicator light.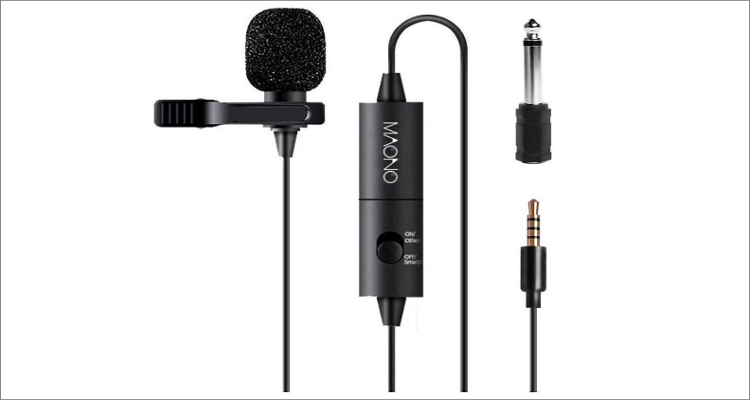 Cam Caddie Scorpion Jr Stabilizing Camera
The Cam Caddie Camera Handle is undeniably the best action camera microphone attachment for DSLR and GoPro cameras. It comes in up to five color variations and is perfect for lightweight cameras. The Cam Caddie also features a comfortable neoprene grip for a secure hold and reduced vibration of your action camera or smartphone. Meanwhile, the threaded socket allows for a seamless mounting of the camera on most tripods. All said, it's the best compliment for your DSLR camera.
Pros:
Affordable price.
Steady control.
Multiple configurations.
Cons: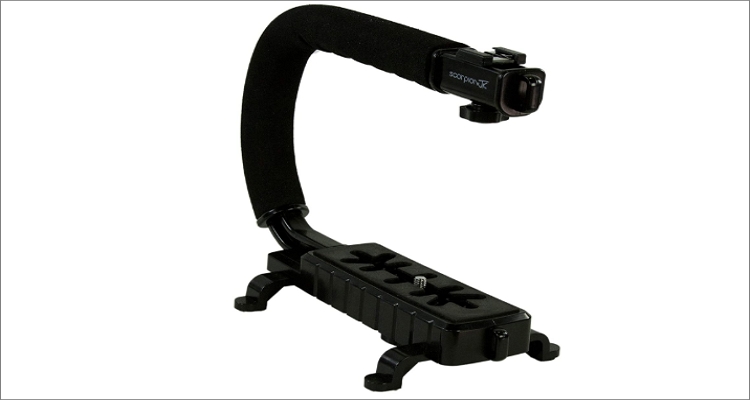 PowerDeWise Professional Grade Lavalier Lapel Microphone Omnidirectional Mic
PowerDeWise is the perfect microphone if you're looking for effortless compatibility with your Android or iPhone smartphone. You can use it to record podcasts and tutorials for YouTube, Facebook, Twitch, and other platforms. It's also reasonably simple to use as you merely have to plug it and enjoy recording. You don't even need additional drivers to use it. And lastly, it features a handy 79" cable for secure connectivity. However, iPhone 7 or later versions require 3.5 mm adapters.
Pros:
Clear sound.
Plug and play feature.
Excellent omnidirectional mic.
Cons:
Doesn't work with powered microphone devices.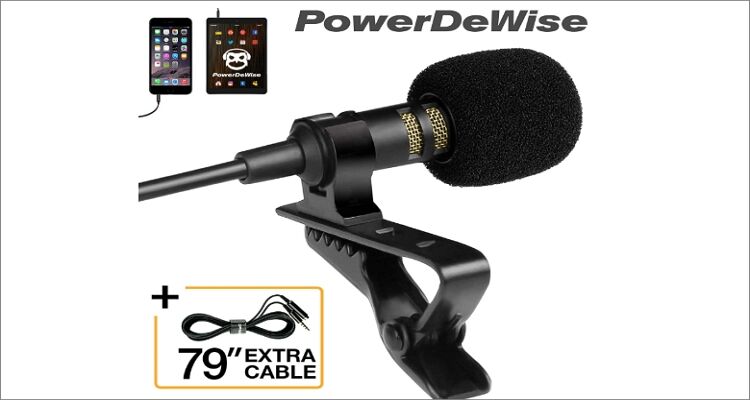 Rode VideoMic with Fuzzy Windjammer Kit
This trusted brand is at it again with the affordable and effective Windjammer Kit. This camera microphone is tailor-made for SLR cameras and features a solid mount, windjammer, and of course, the shotgun microphone itself. Also, this Rode microphone features an 80hz filter to minimize obtrusive noises like traffic. Generally, it's a professional-grade microphone.
Pros:
Two-step high-pass filter.
Features a shock mount.
Clear sounds.
Cons:
only useful when pointed at the source directly.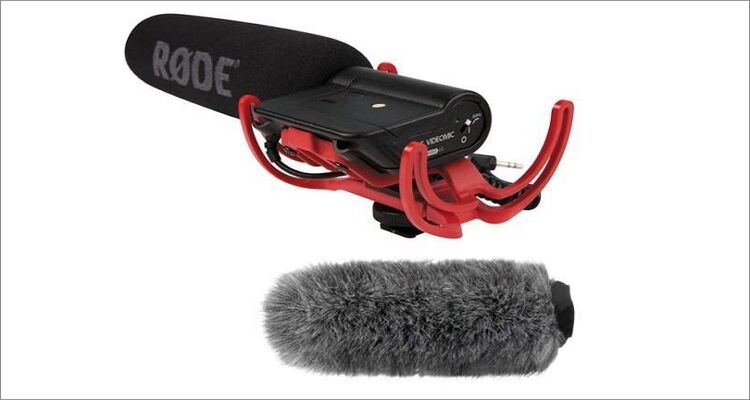 MAONO AU-200 Hands-Free Clip-on Lapel Mic
Here's is another excellent choice for videographers. The MAONO AU-200 is very pocket-friendly with a price tag of less than $30 on Amazon. It's fitted with a 3.5 mm jack, making it perfect for your DSLR camera, smartphone, computer, or tablet. Even better, both the cables and mic are lightweight but sturdily constructed. And without forgetting that the sound quality here is second to none.
Pros:
1-year warranty.
Lightweight and durable construction.
Single unit.
Cons: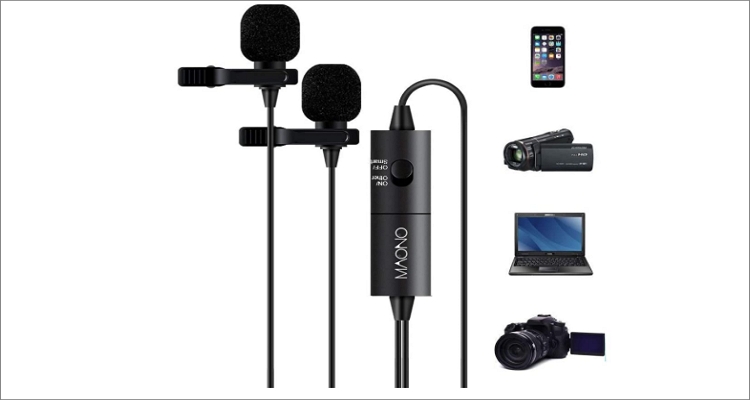 Gongpon Full HD Camcorder 1080p Digital Camera
Sometimes, all that you need is a complete unit to get started. For $100, you can get this Gongpon Full HD Camcorder that comes with a microphone and remote control. This little camera boasts of excellent sound and picture quality for the price. Also, its battery life is good enough because it can last you up to three hours of playtime. And as expected, it comes with lots of accessories, including the mic, battery, remote controller, HDMI cable, and charging cable.
Pros:
Affordable camera.
Comes with necessary accessories.
Good video quality.
Cons:
Clumsy touchscreen.
Average performance.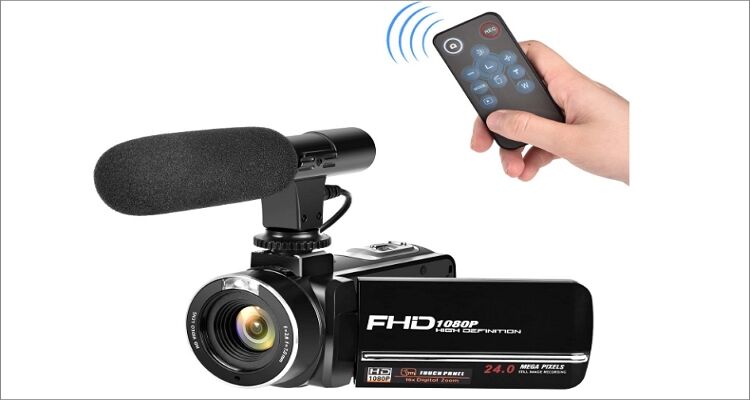 Canon Directional Microphone DM-E1
Interestingly, this is Canon's first external mic that is specifically designed to work on its EOS digital cameras. It comes with several directional controls and a shock mount construction. Here, you will enjoy up to three pickup settings for the perfect shooting conditions. For instance, you can adjust it to a 90-degree stereo mode to capture sound from a single source. The 120-degree angle, on the other hand, captures sounds from several sources. To cap it off, you will also get a frequency range of up to 16 kHz, which can capture multiple sounds effortlessly.
Pros:
Wide frequency range.
Easy to set up and use.
Durable battery life.
Cons:
Steeper price tag than other options.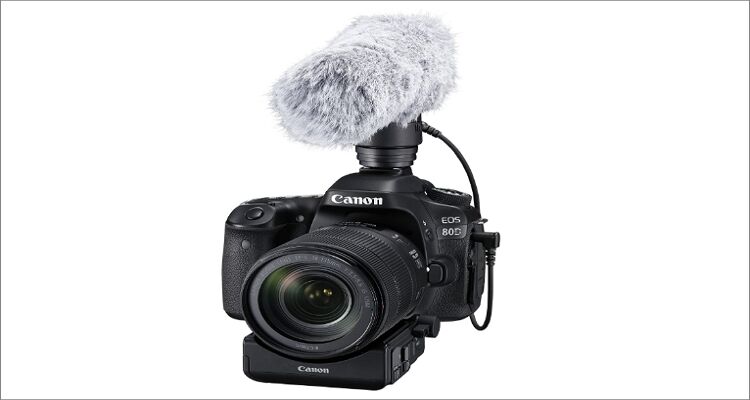 The Wrapping Up
This review article gives you a unique opportunity to look at several high-quality microphones for multiple situations. So, it all about your personal preferences and what you're willing to pay. So, keenly consider factors such as size, directivity, intended use, and of course, price.