Photos play a vital role in people's lives. They store our memories and remind us of the important moments spent together with our beloved ones. But have you accidentally deleted photos of a memorable moment in your life from your iPhone? Or have you lost photos due to an iPhone factory reset? It would be sad that one mistake leads to the loss of all these precious moments in a few seconds. Don't worry, we offer you a complete guide to help you get your photos back. Read on to learn how to retrieve deleted photos from iPhone efficiently.
Part 1. Recover Photos from iPhone from Recently Deleted Album
Do you know you can recover all your deleted photos from the recently deleted album on an iOS device? All iPhone device usually stores deleted images to this album for 30 days, but after that, your photos will be erased permanently. Follow the steps below to recover your photos from the recently deleted album.
Step 1: Launch the Photos app on your iOS device.
Step 2: Open Album and tap on Recently Deleted.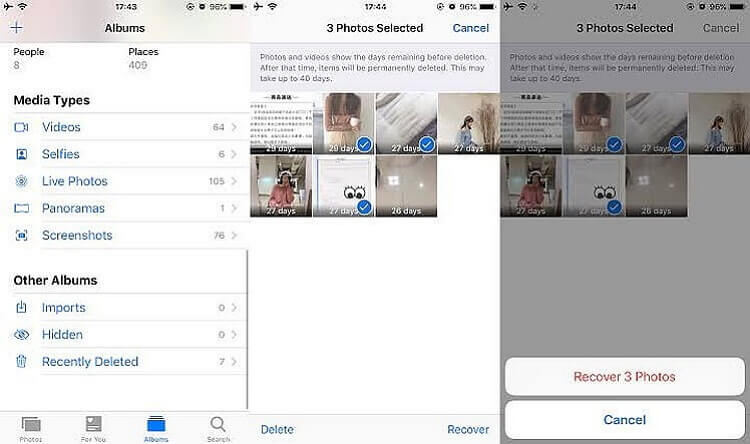 '

Step 3: Tap on Select in the top right corner of the pane

Step 4: Tap Recover to reclaim all deleted photos or you can select certain photos that you're willing to restore and tap Recover.

Note: You can also follow these steps to recover photos from your iCloud photo library if you've activated it before.
Part 2. Use your Mac to Restore from A Backup
If you've fortunately backed up your iPhone using the Mac OS, then you can easily reach out for your computer and restore your lost images. However, only photos backed up on the day the operation was carried out will show up.
You can use the steps below to use Mac to restore your photos:
Step 1: Connect your iPhone to the Mac computer using its USB cable and click on Command+N simultaneously.
Step 2: On the left pane of the Finder window, find your iPhone and click on it.
Step 3: Your device info will be displayed on the right side of the screen of your computer.
Step 4: Search for the section labeled Backup and click on the Restore Backup option.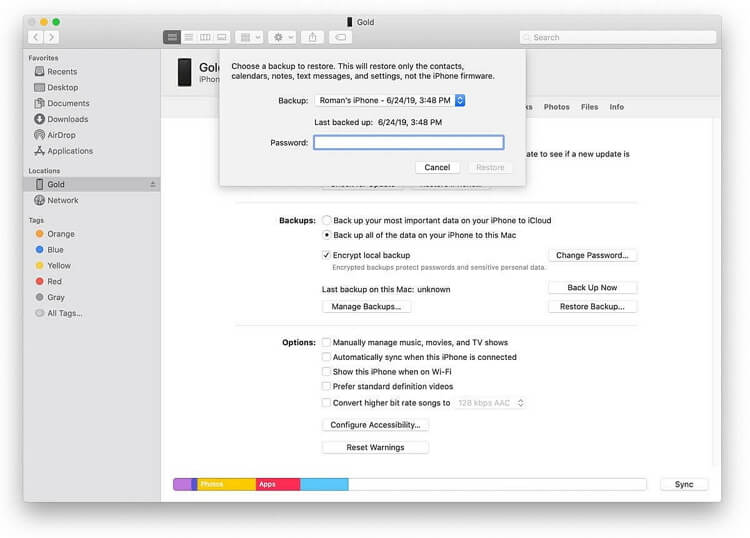 Step 5: A window will pop-up, click on the menu labeled Backup. Then you can now select which backup you're going to use.
Step 6: Input your Passcode in the password section and click on Restore to begin the process. After that, wait for a few minutes for the backup process to be completed.
Part 3. Recover Using A Third-Party Software
There are so many data recovery software apps out there that you can use to restore your deleted photos. And I've made a list of top effective ones that'll enable you to recover your deleted photos from the iPhone effectively.