Wireless technology is slowly but steadily taking over the entertainment scene. Gone are the days of connecting headphones to phone or computer using cables. Today, Bluetooth has made it easier to listen to music tracks on headphones without worrying about the wires. In fact, the chances are that your next earbuds will be Bluetooth-enabled. So, if you've just purchased brand new headphones and you don't know how to get started, this guidepost will show you how to connect Bluetooth headphones to your computer or phone easily.
Part 1. How to Connect Bluetooth Headphones in Windows
First of all, confirm if your PC is Bluetooth enabled. You can click the Notifications tab at the bottom-right corner to do that. Also, both devices should be charged, and the audio level of your computer should not be too high or mute. After that, apply these steps:
Step 1: On your PC, click the Start menu and then type the Settings on the search bar.
Step 2: Next, tap the Devices tab and then click the Bluetooth slider to turn it on.
Step 3: Now click the Add Bluetooth or other device located just above the Bluetooth toggle.
Step 4: Choose the Bluetooth option on the pop-up window.
Step 5: After that, long-press the power button on your Bluetooth headphones to turn it on and enable Bluetooth. Take note, however, that different headphones have varying pairing buttons. Therefore, ensure that you read your headphone's user manual carefully before connecting.
Step 6: Finally, go back to the Bluetooth window on your computer and choose the name with a headphone icon. It's that easy!
Part 2. How to Connect Bluetooth Headphones in Mac
macOS is another popular computer operating system. Like the Windows PC, Mac also offers the Bluetooth feature. So, without wasting much time, let's dive in and discuss how to pair Bluetooth earbuds to Mac easily.
Step 1: Start by launching the Apple Menu by clicking the Apple icon at the top-left side of your screen. On the drop-down list, select the System Preferences option.
Step 2: Next, tap the Bluetooth app to launch the Bluetooth window. There, click the Turn Bluetooth On button to enable the Bluetooth service.
Step 3: Follow the same procedure you used on Windows PC to activate Bluetooth on your headphones.
Step 4: Once your headphone's Bluetooth service is on, go back to your computer and click the Connect button next to your headphone's name. It has a speaker icon.
Note: If you want to pair these two devices quickly next time, just click the "Show Bluetooth in menu bar" checkbox and then choose your Bluetooth name. Now tap "Connect" to save your settings.
Part 3. How to Connect Bluetooth Headphones in Android
At this point, I want to assume that you've previously used Bluetooth on your phone at some point. With this service, you can pair two phones and share data such as photos, videos, documents, and audios. Thankfully, connecting your Bluetooth Headphones to phone is pretty easy as well. Just make sure that the headsets are in pairing mode then apply these steps:
Step 1: On your phone, enable Bluetooth by swiping down your screen top and then click the Bluetooth icon. You can use a similar method to disable Bluetooth connectivity at any time.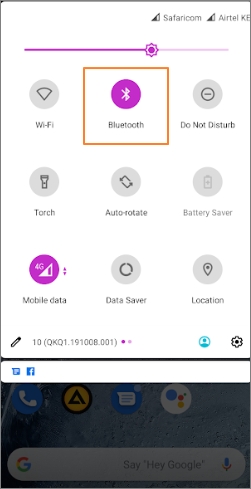 Step 2: Now locate the Settings app and then click the Connected devices option.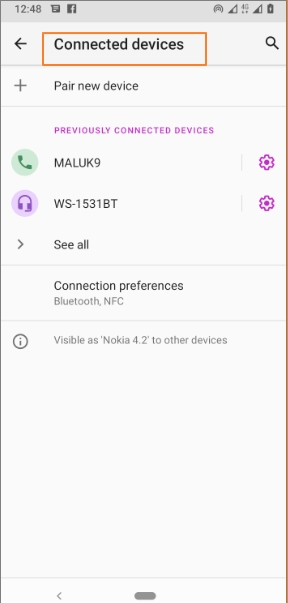 Step 3: Next, hit the Pair new device option and your phone will start scanning for the Bluetooth device in range. You'll see your headphone's name under the "Available devices list. Click it.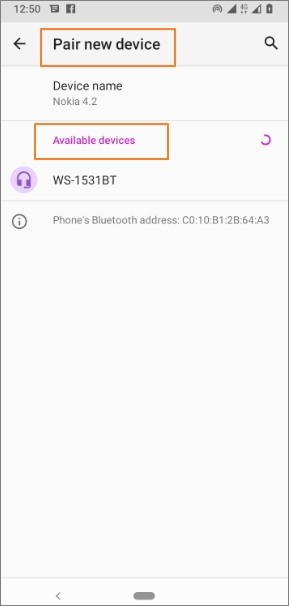 Step 4: Copy the pairing code in the pop-up dialog and then click the PAIR button. The next time you want to pair your Android to Bluetooth headset, just choose your headphone's name under the PREVIOUSLY CONNECTED DEVICES list.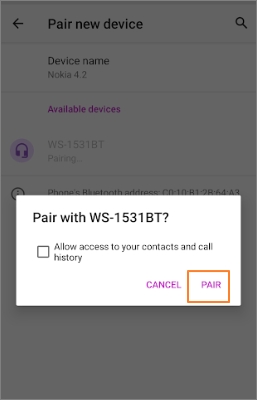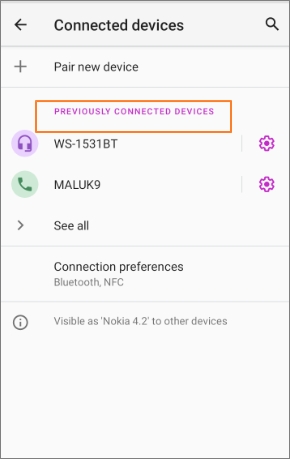 Part 4. How to Connect Bluetooth Headphones in iPhone
Finally, let's discuss how to connect Bluetooth headphones to the iPhone easily. It is just as simple as the other three methods.
Step 1: On your iPhone, tap the Settings icon, choose the General, and then click the Bluetooth option.
Step 2: Turn on your Bluetooth if it's turned off and the iPhone will begin searching for the available devices automatically.
Step 3: Now enable the pairing mode on your Bluetooth.
Step 4: You'll see your headphone's name on your iPhone. Tap it to start pairing and connecting. If your phone asks you to enter a code, use "0000." You can now enjoy your music.
Conclusion
These are the surest methods of connecting your devices to Bluetooth headphones. And now that you already know how to pair them quickly, you can do away with your old headphone and get a brand new Bluetooth headphone. To make it easier for you, you can check out this list of some top-class wireless headphones to try out.