How to have a thriving career as a graphic designer using free software?
A graphic designer is the one who uses the computer, internet, and graphic designing software to bring in their creative ideas into visual concepts.
A set of skills such as creativity, excellent communication, knowledge of interactive multimedia, presentation skills, branding, appealing language, etc. are essential for a graphic designer.
Using appropriate graphic designing software is as critical as having the required skills to make an excellent career as a graphic designer. Though creativity is considered to be the topmost quality, having the right creative resources are also equally important.
Adobe is the best graphic designing software; however, paying a sum of money as a beginner in this field is quite terrifying. Today there is muchfree graphic design softwaredesigned and available online that assists the designers in easing their tasks at the initial stages of their career.
Let's have a look at the top 5 free graphic design software.
URL - https://vectr.com/
Vectr is one of the best free graphic design software available for creating various projects. It is a versatile tool that is suitable for designing beautiful graphics. The interface offered by this tool is easy to use and understand. The website provides 29 tutorials explaining some of the essential topics such as Webs user interface prototyping, creating a business card, creating professional presentations, creating twitter header images, creating a typographic logo, creating iconic logos, custom t-shirt image, creating a meme, flyers, posters, creating watermark in vector, etc. Vectrs learning curve is quite steep. The developers are very cooperative and are willing to help anytime with any queries. It is the bestfree graphic design software for Mac for beginners.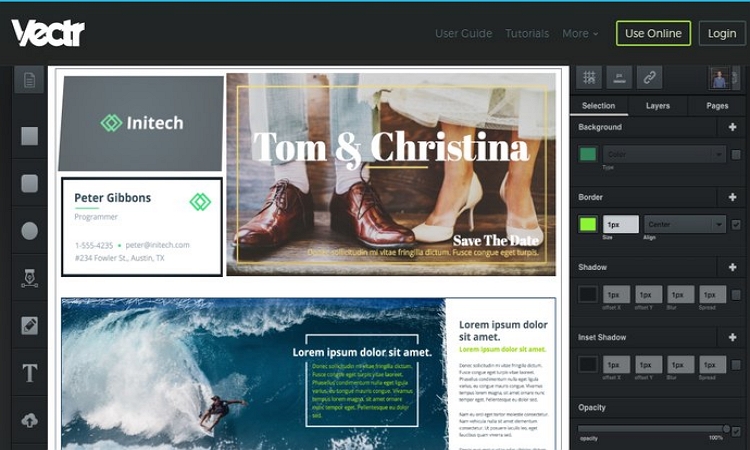 Price:: Free.
Platforms: Mac, Windows, Linux, and Chrome OS.
Performance as per capterra: 4.4/5.
Pros:
The interface is uncomplicated and understandable.
Great for live collaboration.
Tutorials on every aspect of graphic designing are available on the website.
Work can be easily shared.
Cons
At the time the counter-intuitive tools discourage to unleash the potential of a designer.
URL - https://www.designer.io/en/
This is suitable for beginners and works well on all Platforms: such as browser, windows, macOS, Linux, ChromeOS. It is another versatile tool that helps with all graphic solutions. The functions offered in Gravit are more than Vectr. Top web technologies such as WebGL, HTML, Canvas, Javascript are used to build this tool. Gravit designer pro version can be accessed directly after signing up as a free trial, which later on becomes paid for pro features. For importing and exporting, it supports SVG, SVGZ, PNG, JPEG, PDF, and EPS formats.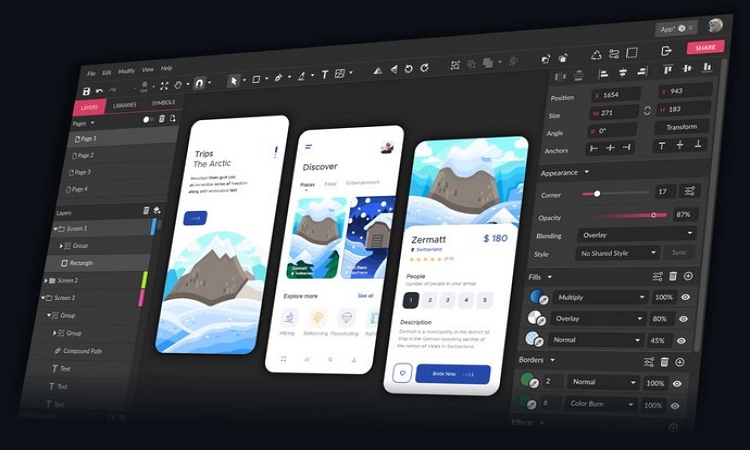 Price:: Free.
Platforms: Windows, Mac, Linux, Chrome OS, and web.
Performance as per capture: Not found.
Pros:
Easy to use and powerful for beginners as well as professionals.
Cloud integration i.e., syncing or saving projects to the Gravit cloud for further access.Unlimited folder on Cloud.
Premade design assets, Preset canvas sizes, Professional templates, a large number of free fonts can be used in projects for free.
Cons:
It is free at the signing up stage, which later becomes paid for pro features.
URL - https://www.canva.com
This is one of the best free online graphic design software founded in 2012. It is best suited for graphics rather than any other document work with a large number of pages. It comes with a variety of templates and tools that makes it more famous among designers. This is best for social media graphics and beginner as it comes with different fonts, styles, logos, color palette tools, and many more.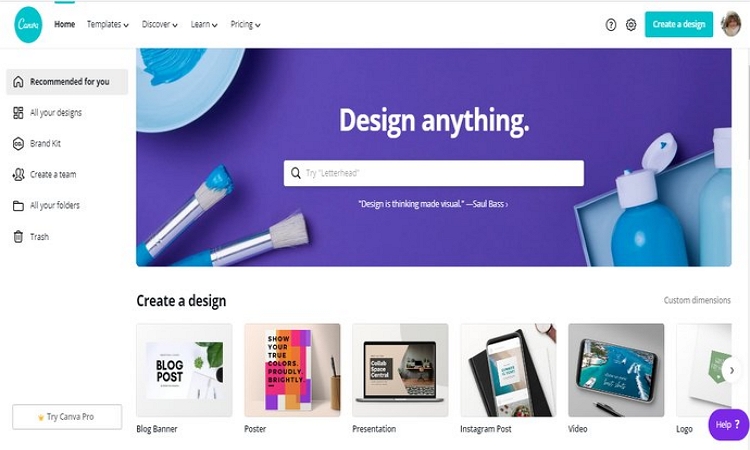 Price: Canva is free; Canva pro is price.
Platforms: Brower-based, android, ios.
Performance as per capterra: 4.7/5
Pros:
Drag and drop functionality
Professional layouts and many professional templates.
Easy to understand and use.
It provides an excellent resolution and an appealing background.
Cons:
More features can be unlocked only after paid subscriptions.
The speed of the internet has to be great.
The one-click resize feature is not available in Canva free version.
Designs get exported as an animation in Canva pro i.e, paid version but not in the free version.
URL - https://inkscape.org/
A broad set of features are offered by Inkscape, an open-source vector graphics editor. The software is used by designers for artistic as well as technical projects. The main format used by Inkscape is an SVG file format that is supported by almost all applications. SVG, AI, EPS, PDF, PS, and PNG can be imported and exported by this tool. The features of Inkscape are object creation, manipulation of the object, fill and stroke, operations on paths (path simplification, path insetting and outsitting, bitmap tracing, converting to the way), text support, rendering and file formats. There are many tutorials available on the Inkscape site that are quite knowledgeable and educational.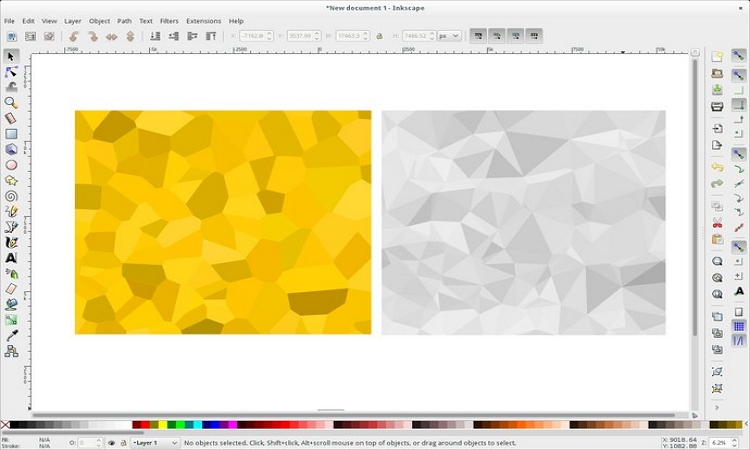 Price: Free.
Platforms: Windows, GNU/Linux, and Mac OS X.
Performance as per capterra: 4.4/5.
Pros:
This is free ( even for commercial purposes).
Drawing tools are flexible.
Bezier and Spiro curves.
A lot of learning materials available on the site.
Cons:
The tool becomes slow in large projects.
URL - https://www.easel.ly/
This software tool is more suitable for creating Infographics automatically. It supports PDF and jpg formats to bring Infographics on them. It has been used by more than 3 million users in creating 6 million Infographics with this tool to date. It offers customization of Infographics with free access to the library of icons, charts, illustrations, and images, etc.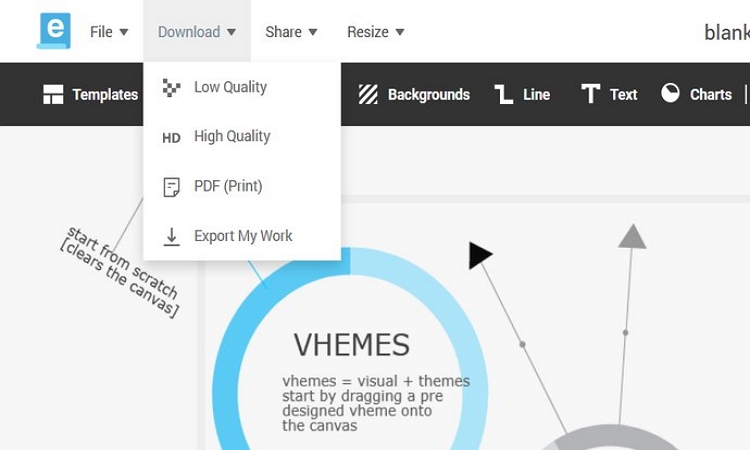 Price:: Free.
Platforms:: Web.
Performance as per capture: Not found.
Pros:
No Easelly watermark or branding on free export.
A large number of infographic template designs and access to the library full of design assets.
It can be downloaded in any format and can be embedded on a web page.
Cons:
It is more beneficial for beginners than advanced users.
There is no auto-save option in this tool.
Summary
Well summarizing, all the mentioned graphic design software noted above are free to explore and learn. However, if you are still doubtful or hesitant in choosing the best free graphic designer, we suggest you go for the Simplest tool - Vectr as it is easy to understand and quite smart graphic design software for mac for beginners as well.