When it comes to reliable smartphone brands, Samsung and Apple iPhone stand out from the crowd. In March 2020, Samsung introduced the Galaxy S20 as an outright competition to the iPhone 11, which was introduced earlier in September 2019. While the iPhone 11 enters the duel with no 5G connectivity and a less robust display, it makes up ground with the all-powerful A13 Bionic processor and the futuristic iOS 13. So, before deciding which device to buy between these two premium phones, read this comprehensive review first.
Part 1. Specs Comparison
| Specs | iPhone 11 | Galaxy S20 |
| --- | --- | --- |
| Display size, resolution, and pixel density (pixel per inch) | 6.1-inch Liquid Retina LCD, 1792 x828, 326ppi | 6.2-inch Dynamic AMOLED 2x, 3200 x 1440, 563ppi |
| Dimension (Inches) | 5.94 x 2.98 x 0.33 | 6.37 in × 2.90 in × 0.31 |
| Software | iOS 13 upgradable to iOS 14 | Android 10 |
| Processor | A13 Bionic | 64-bit Snapdragon Octa-Core |
| RAM | 4GB | 12GB |
| Storage | 64GB/128GB/256GB | 128GB expandable up to 1TB |
| Battery | 3110mAh | 4000mAh |
| Connector | Lightning | USB-C |
| Water-resistant | IP68 rated | IP68 rated |
| Cameras | 12MP front, 12MP wide rear, 12MP ultra-wide rear | 10MP front, 12MP main rear, 12MP ultra-wide rear, 64MP 3x telephoto rear |
| Weight | 6.8 ounces | 5.7 ounces |
| Price (USD) | $699/64GB, $749/128GB, $849/256GB | $999 |
Part 2. Display and Design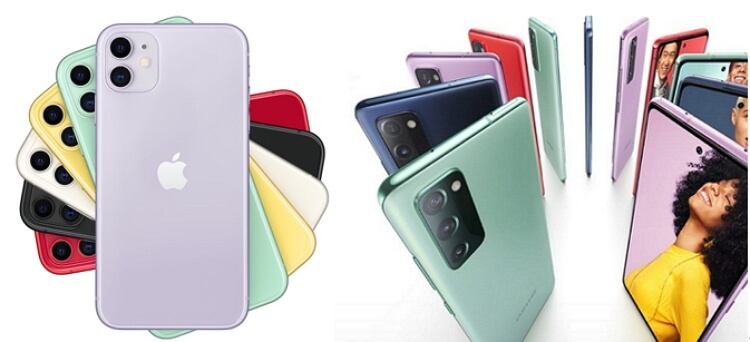 Let's start with what most eyes see – display and design. From the specs above, it's evident that these two devices are evenly matched sizewise. However, it's the Galaxy S20, which has a slightly bigger 6.2-inch display than the iPhone 11's 6.1-inch screen. On top of the S20's bigger screen, it also boasts of an unobtrusive front camera.
Still, on the design matters, the iPhone 11 offers more color variety than the Galaxy S20. It's available in six variations, including Blue, Purple, Product RED, Black, White, and Green. The Galaxy S20, on the other hand, is only available in Cosmic Gray, Cloud Blue, and Cloud Pink.Jumping to the display quality, the Galaxy S20 makes the iPhone 11's screen look like a child's play, despite size similarities. For starters, you'll have to make do with an LCD on iPhone 11, whereas the S20 offers an OLED display. That means that the latter's images are more vibrant and colorful. Also, the S20 it more comfortable to use in brighter surroundings and to watch videos. And if you factor in the gigantic resolution of 3200 x 1440, the S20 has the advantage.
Part 3. Camera Comparison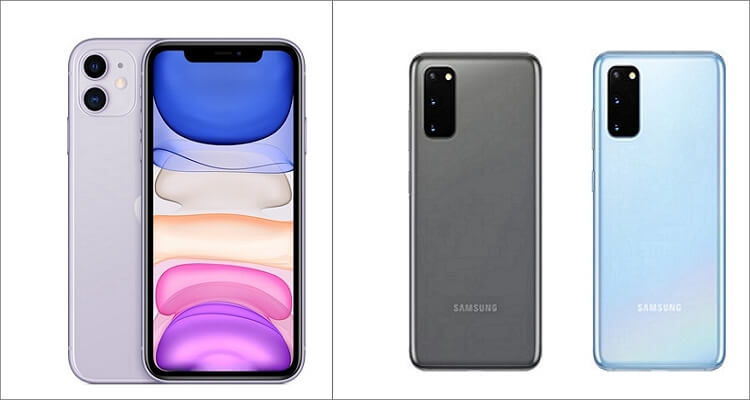 If there's an area that justifies the S20's hefty price, this is it. Although both phones can take beautiful photos, the S20's triple-rear camera setup with a telephoto sensor is too good to be true. It offers a 12MP main rear camera and another 12MP ultra-wide for capturing more scenes with one shot. And as if that's not enough, you'll also get a 64MP telephoto rear camera that supports 30x digital zoom and 3x optical zoom.
The iPhone 11's 12MP main camera and 12MP ultra-wide are not bad by any stretch either. They can easily capture high-quality images that match those of Galaxy S20. The iPhone 11 also boasts a superior 12MP FaceTime selfie camera, while the S20 settles for a 10MP sensor. Although not of a big deal, it can still make the difference for selfie lovers.
As for the video quality, the Galaxy camera options can take 8K videos at 24fps. This makes it the go-to smartphone for those with 8K TVs. The iPhone 11 camera doesn't fare poorly either because it can easily capture 4K clips at 60fps and 1080p slo-mo clips at 240fps. So all things considered, the S20 lives up to the hype.
Here is a detailed video about the Samsung Galaxy S20 vs iPhone 11 Camera comparison.
Storage Comparison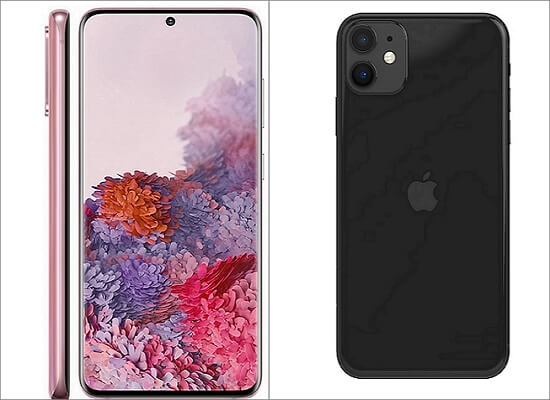 They say that the more the RAM, the smoother the system, and that's precisely what these two premium phones offer. Here, the Galaxy S20 offers users more RAM than they'll even get on most laptops. For the S20's 5G version, you'll get a massive 12GB RAM, whereas the LTE model offers 8GB. That's significantly bigger than the iPhone 11's 4GB capacity. But before jumping the gun, consider that these phones run on totally different processors and operating systems.
Interestingly, it's the iPhone 11 that offers more internal storage options. It comes in either 64GB, 128GB, or 256GB. The S20 disappoints with only one storage option of 128GB. However, it makes up for that deficit with an expandable microSD storage of up to 1TB. Overall, both phones perform fairly well in terms of memory flexibility.
Part 5. 5G Compatibility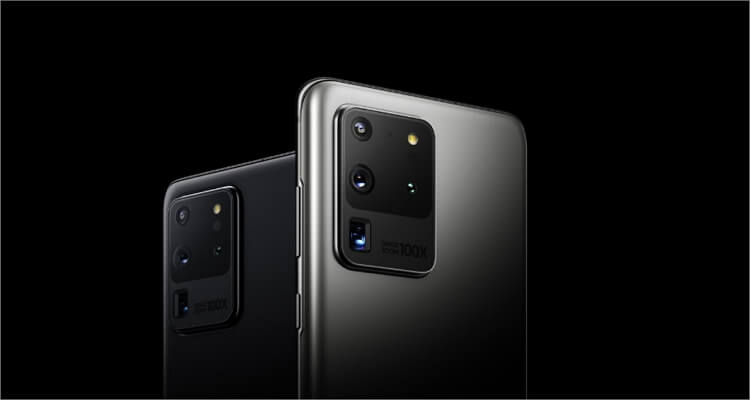 This is no contest at all because the Galaxy S20 supports sub-6GHz 5G connectivity while the iPhone 11 is limited to 4G. In other words, the S20 can work in small 5G networks found in big cities in the UK and the US. However, we expect the soon-to-be-launched iPhone 12 to support 5G connectivity.
Part 6. Battery/Charging Comparison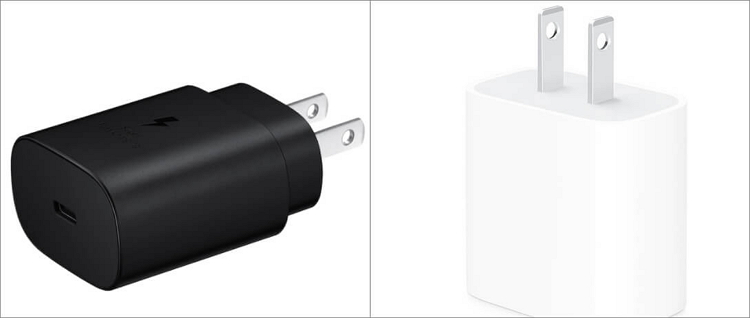 Again, the Galaxy S20 wins with more battery juice. It has an impressive 4000mAh capacity than the iPhone 11's 3110mAh. But if you consider S20's power-hungry features like the 5G and brighter and better display, I find them evenly matched in this contest.
Moving forward to fast-charging, the Samsung Galaxy S20 has the upper hand with its 25W charger and 15W wireless charging. As for the iPhone 11, it comes with a mere 5W charger and supports 7.5 wireless charging. Luckily, you can also upgrade both devices to fast charging. You can purchase Samsung's 45W charger for the Galaxy S20 or Apple's 18W charger for the iPhone 11.
Part 7. Price and Availability Comparison
As I've mentioned earlier, the iPhone 11 became available for preorders earlier than the Galaxy S20. The iPhone was on retail as early as September 20, 2019, whereas the S20 went on sale on March 6, 2020.
As for the price, the iPhone 11 starts at $699 for the 64GB storage, whereas the 128GB version goes for at least $749. The 256GB storage version wraps it up at $849. Compared to the Galaxy S20's $999 starting price, that's a colossal $350 difference.
Final Verdict
Apple fans will be disappointed with the drabbing the iPhone 11 gets from the Samsung Galaxy S20. It loses out in most essential aspects, such as battery life, camera, RAM, and display. However, the A13 Bionic chip processor is a game-changer. It offers better and smoother performance than Samsung Galaxy's Qualcomm Snapdragon. Another area of interest is the cheaper iPhone 11 Price. But the consensus is that none is your 'regular' smartphone.
Tips: Regardless of which smartphone you choose, you will need to upload media files for future playback on-the-go. If that's the case, Install Wondershare UniConverter on your Mac or PC. Not only is it simple to understand, but it also offers a 30x faster transfer speed than traditional file transfer methods. Even better, you can convert media files to device-optimized presets like Samsung Galaxy, iPhone, and iPad before sharing.
Step 1: Launch Wondershare UniConverter
After installing and running Wondershare UniConverter, run it and then open Toolbox. Now click the Transfer function and then connect your Samsung Galaxy or iPhone to PC using a USB cable.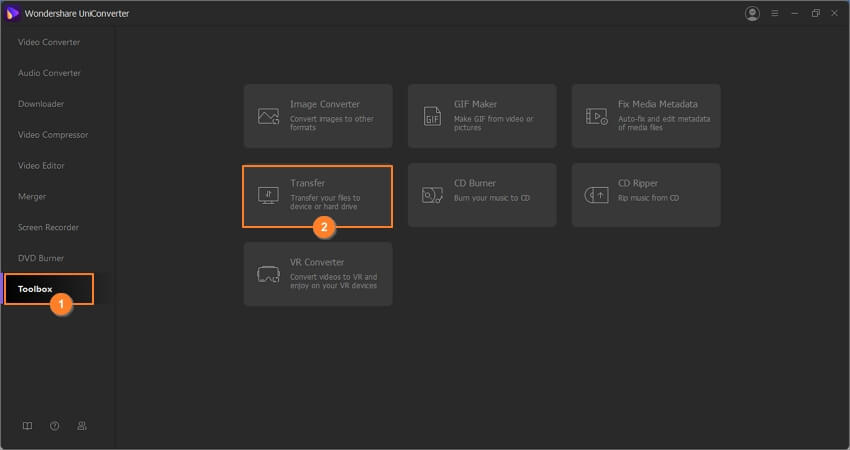 Step 2: Upload files
Follow the on-screen instructions to connect the two devices and then drag-and-drop files on the Transfer window. Alternatively, press the Folder button at the top-left corner to open your computer's local storage.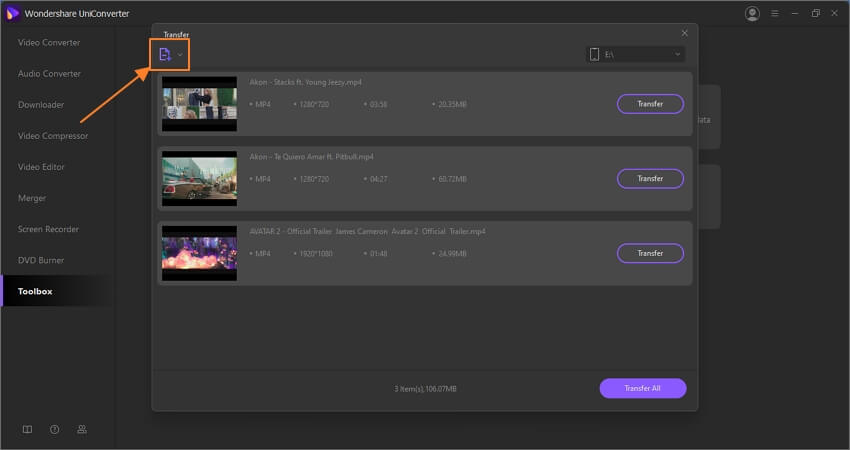 Step 3: Transfer files
After importing multiple files, open the drop-down menu on the upper-right corner and choose your phone's name. Finally, hit Transfer All and enjoy your songs or movies anywhere, anytime.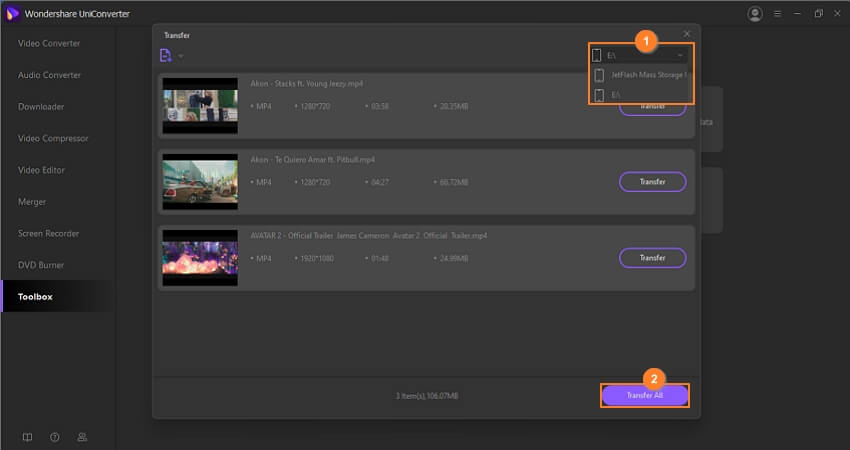 Wondershare UniConverter
Directly convert videos to MP4, AVI, MKV, and other 1,000 formats without quality loss at 30X faster speed.
Convert videos to devices such as iPhone, iPad, iPod, and Android phones directly.
Edit videos with advanced video editing functions, like trimming, cropping, adding watermarks, subtitles, etc.
Download/record videos from YouTube and other 10,000+ video sharing sites.
Burn videos to DVD or Blu-ray disc to play with your DVD player.
Support additional functions like Video Compress, VR Converter, GIF Maker, Fix Video Metadata, etc.