YouTube influencers are important for businesses because they can build a large audience on the platform for a low cost. Businesses wouldn't need to invest large amounts of money in traditional advertising.
While YouTube influencer marketing can be a great way to promote your brand they can be difficult to find and work with. This is often due to the sheer number of YouTube influencers out there, and the difficulty of finding the right one for your business. If you're struggling to find YouTube influencers for your brand, then this article will hopefully give you some clarity on how to proceed.
Method 1:Find Influencers for Your Brand by Google or YouTube Search
One of the easiest methods you can incorporate is something you do daily - online searching. Using either Google or YouTube, you can run some searches to find content that matches your requirements. They are two of the largest search engines in the world, and you are bound to find some hits.
To start with, search for "The niche you want + Influencer (or) YouTuber + The most recent year". This will provide you with up-to-date search results in both blog form and videos. (Note: To view videos only, click on the "Videos" tab).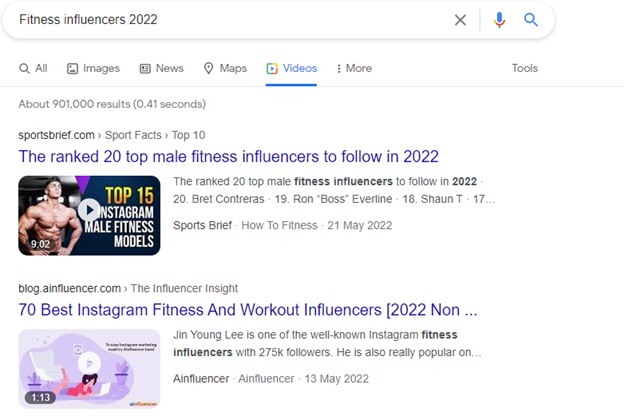 However, one point to keep in mind is that Google is only going to show the most popular results upfront. This means that you may find influencers that are very expensive to work with. To find influencers that fit your budget, make sure you narrow down your searches by being very specific. Try to identify what exactly you're looking for and then run some searches.
For example, "Fitness influencers who do kettlebell workouts in 2022"
Method 2:Find Influencers with Hashtags
Hashtags are commonly used on social media to organize and improve the discovery of content. They have become an integral part of our online experience, enabling us to quickly find and follow content we are interested in. They also allow us to search for people and other hashtags on YouTube, Twitter, Instagram, and other social media platforms.
The best way to find influencers using this method is by searching for hashtags with some relevance to your topic and industry. If an influencer has used these hashtags on their post/video, it will tell you that their content and audience are geared toward your needs.
You may not be able to find influencers on every hashtag search. So, you will have to note down possible words that you want to use and try all of them. You are bound to find some results this way.
Simply type on YouTube's search bar - "#" followed by your search words.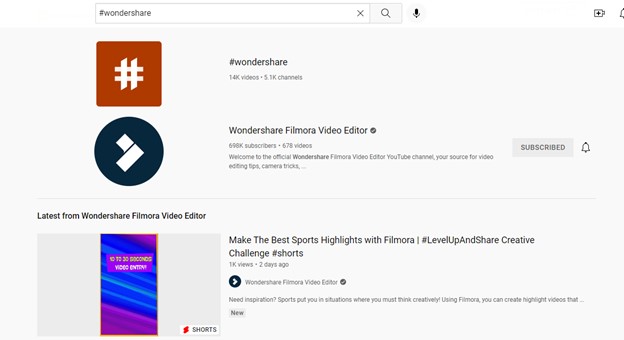 Method 3 - Find YouTube influencers with Influencer Platforms
Influencer platforms are companies that specialize in connecting brands with social media influencers. This allows them to leverage their influence to drive sales and increase brand awareness.
1. Upfluence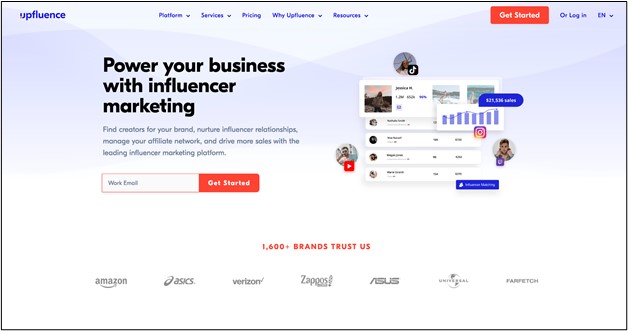 Upfluence is a complete YouTube influencer marketing system that supports you through each stage of your campaigns. It not only assists you in finding influencers but also reveals those who already support your brand.
With this tool, you can:
Search for influencers through keywords
Identify influencers who already use/like your brand
Browse through the performance metrics of each registered influencer
Use in-built tools to improve collaborations with influencers
Track the results of your marketing campaigns and ROI
This platform features a unique, passive method of growing your influencer network. "Live Capture" is a feature that can be used on your website to identify potential influencers. It sets a pop-up to appear on the site requesting the users' social network details. This data is then sent to and analyzed by Upfluence's internal teams to identify potential influencers.
2. Heepsy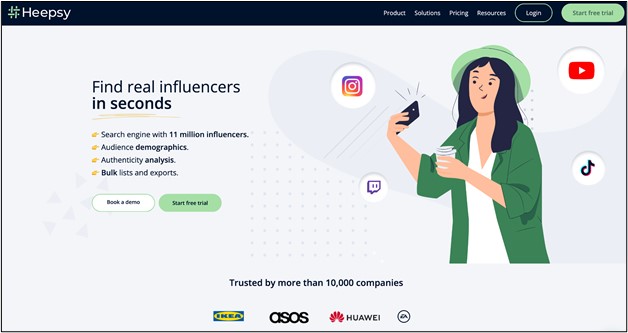 Heepsy is an influencer platform that offers a lot of features with an emphasis on maintaining authenticity. All accounts registered on the platform are verified to be real people. This allows you to always check if the influencer you've chosen is genuine.
With this tool, you can:
Find influencers on Instagram, TikTok, YouTube, and Twitch
Get comprehensive reports on each influencer account
Identify if an influencer used shady practices to grow their account inorganically
Use advanced search filters
Create lists of influencers and export them easily
Heepsy is known to be one of the best platforms out there for bulk searching. You are able to scan through multiple profiles in quick time due to its powerful search engine. This gives you the capability to weed through unwanted profiles and even find micro-influencers to work with.
3. NoxInfluencer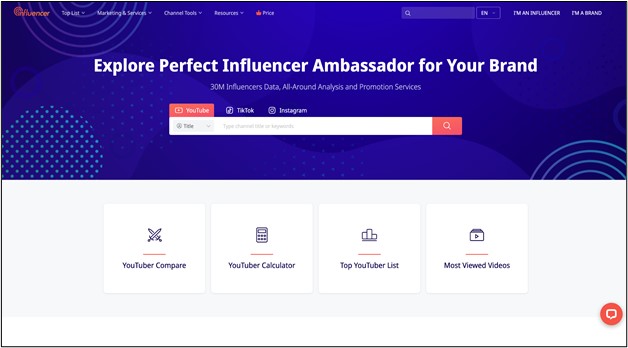 NoxInfluencer is a comprehensive influencer marketing platform that allows you to:
Manage influencer relationships
Find social media influencers
Run marketing campaigns
It has a base of over 20 million content creators on the platform that are involved in social media platforms and YouTube. With this platform you have the following features:
An advanced influencer search engine capable of browsing through all platforms
Contact multiple influencers in bulk
Create marketing campaigns inside the platform to attract potential influencers
Get analytics on social media and YouTube
Monitor the results of your campaigns
NoxInfliencer is also known for its YouTube analytics features. You can view real-time statistics, track videos, and measure channel growth.
4. Hypeauditor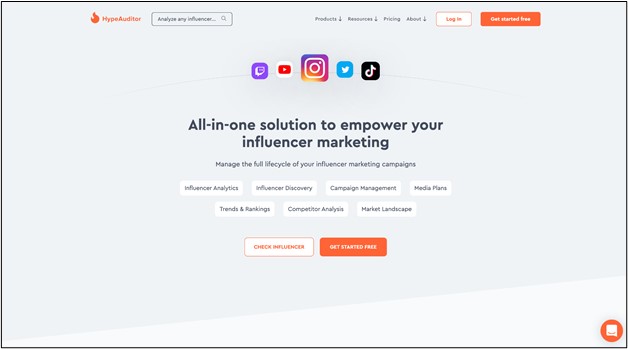 Hypeauditor started out as a platform used to audit fake followers and engagements. It has since evolved into one of the more popular influencer marketing platforms for Instagram and YouTube. It features a selection of tools that will help you identify the best influencer using bulk searches. While it is limited in some features, it places focus on the following areas:
Identifying new influencers
Analyzing each influencer through a point system
Tracking your marketing campaign's performance
The platform is well-known for generating comprehensive reports on each influencer. It uses over 35 different metrics to analyze each influencer. You can also get an "Audience Quality Score" to identify if the influencer offers you sufficient value.
5. Afluencer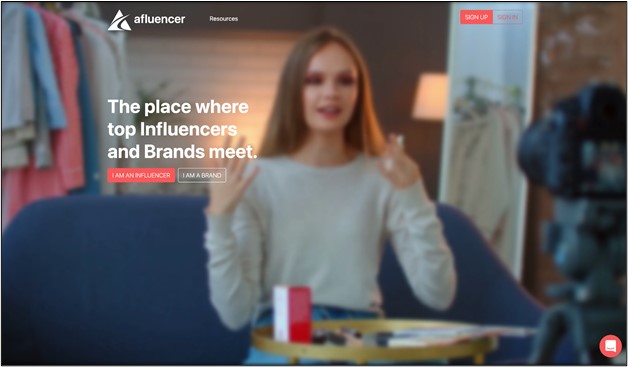 Afluencer is an influencer platform that allows businesses to easily find the perfect influencers to work with. As a business, you simply need to create a Collab on the platform and then allow potential influencers to send in their offers. A Collab in this case is a detailed explanation of all your requirements for a potential influencer.
With this tool, you have the following features:
Advanced search filters that integrate into all major platforms
Invite influencers directly to your Collab
Sends out a newsletter every week to promote top Collabs
Direct messaging features to contact influencers
Post multiple Collabs at the same time
The platform also has a unique feature that allows you to save your search filters. "Save and Subscribe" ensures that influencers with a similar interest to your Collabs are notified. This way you don't have to keep running multiple searches every time. Influencers are going to be constantly informed of your potential Collabs.
Types of influencers
When searching for influencers, it's not only about how to find influencers for your brand. You need to identify if they will work for your brand and niche. One of the simplest categories used to identify different influencers is their follower base.
1. Nano Influencers
If you want an influencer who works closely with each of their brands, then this is the choice for you. They usually have a small follower base between a range of 1k to 10k followers. This option is typically cost-effective and works well for smaller brands looking to make a name.
The best platform to find them - Instagram
2. Micro-Influencers
If you have a slightly higher budget, then micro-influencers can prove more bang for your buck. They usually have a very engaged follower base, ranging between 10k to 100k followers. This option is great for small to medium-sized businesses that operate in a specific niche.
Best platforms to find them - YouTube, Instagram
3. Macro Influencers
These influencers are some of the more popular social media stars. They have a large audience that they have built through years of creating content. They will be able to provide your brand with a lot of visibility but at a higher cost. Also, their engagement rates are going to be much lower than Micro or Nano influencers. Their follower base ranges between 100k to 1 million followers.
Best platforms to find them - YouTube, TikTok, Instagram
4. Mega Influencers
These are the largest social media celebrities you can find on the internet. They will have very popular platforms, but their audience engagement rates will be quite low. They also come with a hefty price tag for collaborations. You should only go for these influencers if you want to increase your brand awareness using a substantial marketing budget. Any influencers with over 1 million followers are considered to be Mega.
Best platforms to find them - You don't need any specific tools to find them as they will be quite popular and easy to find.
How to Choose a YouTube Influencer
Now that we understand how to find influencers on YouTube, let's look at the criteria for selecting one.
Relevant audiences
No matter how popular an influencer is if their audience base is not your target market they are not a good fit for you. It would be a complete waste of money!
How passionate are they?
A good influencer is someone who is able to market a product without making it seem like a sales pitch. They need to be fully invested in the brand and use it themselves. If they aren't genuine, it will be very difficult to convince their audience to also purchase the product.
Identify your goal
When you're creating an influencer campaign, you need to know what you want out of it. If you want brand awareness, then a large follower base would be ideal (Macro and Mega influencers). But, if you want sales then a smaller follower base with more engagement would be preferred.