Real estate is a growing sector, and one of the essential things required for marketing and promotion in this business is a video or a slideshow. Slideshows are important for showcasing and advertising your buildings, portfolio, and other details to potential customers. These slideshows help you do listing in an impressive manner to get the attention of the buyers.
To create a real estate slideshow, you can take the help of professionals in the field or opt for some professional software. Both these methods will cost you depending on your requirements. So, if you are new in the business or have a tight budget and do not want to spend on professional services, do not worry as there are several free tools available. There are many free programs that can be used to create an impressive-looking slideshow in no time. Learn in detail about these programs in the following parts.
How to Create A Real Estate Slideshow with Music
Part 1: 5 Best free real estate slideshow makers
To help you create a strong portfolio that catches the attention of potential buyers, we have shortlisted the best slideshow makers that will help you create real estate animations:
It is a popularly used program that allows creating slideshows and videos in a quick, hassle-free manner. The tool comes with a wide range of templates in several categories, including real estate. You can pick up the template that matches your real-estate marketing theme and then customize its content to create a fantastic slideshow. Each of the real-estate templates has a different number of scenes, designs, and other details. You can sort the templates based on what is trending, latest, rating, and also randomly. There is also a search box to look for your desired template.
Price: The free version of the tool allows creating unlimited slideshows with a watermark in 360p quality. There are also paid versions in different plans that process watermark-free videos along with higher resolution options.
Key Features:
Free and simple tool for creating slideshows quickly
Comes with a wide range of templates in different categories including real estate
The video aspect ratio for the slideshow can be selected
Allows to choose frames per second
This free slideshow maker for real estate has an option to add the script to videos
The slideshow can be created using autogenerated or custom option
Media files can be added from the local system, cloud storage, URL as well as Facebook.
Limitations:
Free sign-in using Facebook or Google is required to use the tool
The free version creates slideshows with a watermark
The quality of the made video in the free version is only 360p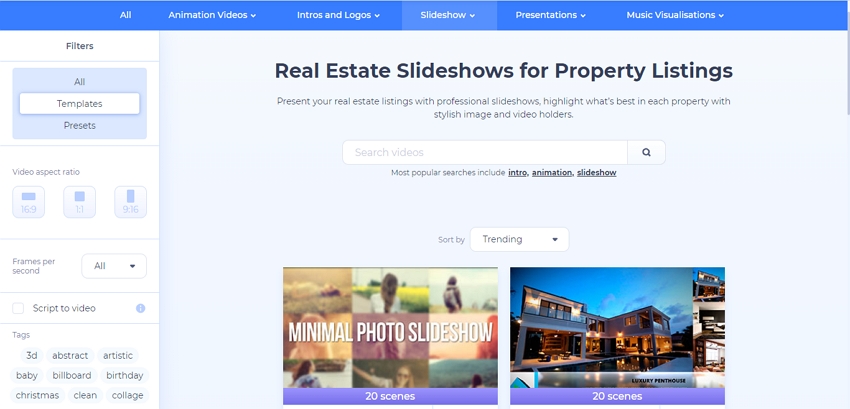 This free tool has no shortage of templates for creating slideshows in various categories, including real estate. With just a free sign-up, you are all set to start creating awesome-looking slideshows with the option to customize and personalize the images, text, animations, and more. The media files for the slideshow can be added from the local system, phone, and social media accounts of Facebook and Instagram.
Price: Smilebox can be used for free. However, for more advanced features, you may need to pay $7.99 per month.
Key Features:
Comes loaded with a variety of templates in real estate as well as other categories
Allows adding media files from the phone, local system, Facebook, and Instagram
The created slideshow can be saved as a video in MP4 format
Created slideshow can be downloaded locally, sent to an email, and can also be uploaded directly to social media
Option to personalize by changing the text, font, adding animations, and other features
Music can be added to the slideshow by either uploading your custom file or by selecting the ones available with the tool.
Limitations:
Sign-up is required to work with this real-estate slideshow video maker
Premium personalization features can be used after opting for the paid premium version
The software notifications on the interface are annoying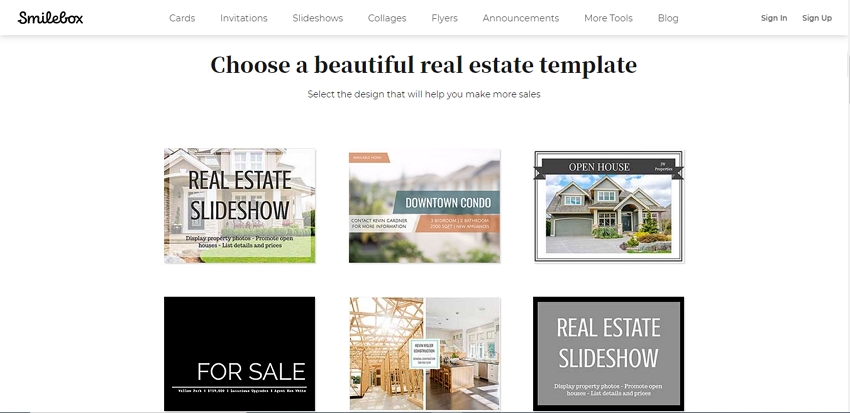 This is another popularly used free online video-making tool that allows creating slideshows in several different themes using templates. An array of templates in real estate are also available, and some of the popular ones include Open House, Just Sold, Market Update, and more. The free version of the tool comes with a watermark, and the templates and features are limited. You can opt for the personal and professional premium paid version to get access to all the available templates, watermark-free files, and more.
Price: Free version of the tool available with limited features. Option to upgrade to paid personal and professional version (monthly a yearly subscription) options available.
Key Features:
Free online video maker
Comes with a wide range of templates in real estate and other categories
This real-estate slideshow maker free allows adjusting the video aspect ratio suitable for Facebook, Instagram, and YouTube
Templates and their content can be edited to suit slideshow requirements
Limitations:
The free version has access to very few templates
Free version processes videos with a watermark
Background music cannot be added through the free version
Limited editing features with the free version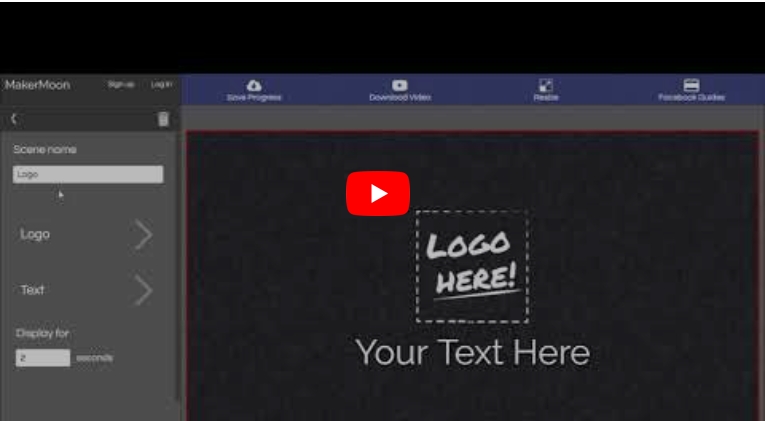 Widely used, Animoto is a free online slideshow-making tool that offers you a variety of templates in several categories including real estate. The tool's interface is simple and easy to understand, making it apt for all types of users. The tool also has a collection of licensed songs that can be used as background music. You can edit the images using the built-in photo editor.
Price: Free version of the tool allows creating unlimited videos in 720p resolution with limited fonts, tracks, and swatches. Apt for the professional and team premium paid version to access more editing features, HD quality videos, option to add watermark and logo, and more.
Key features:
Comes with several real estate and other category templates
Has a vast collection of images and videos to use
Option to add the local media files
Add your music or choose from the music library of the tool
Created videos can be downloaded locally, sent through an email, or uploaded to YouTube.
Limitations:
The free version has a watermark on the slideshows
The free tool supports creating videos in 720p resolution
HD resolution and added features are available only for the premium paid users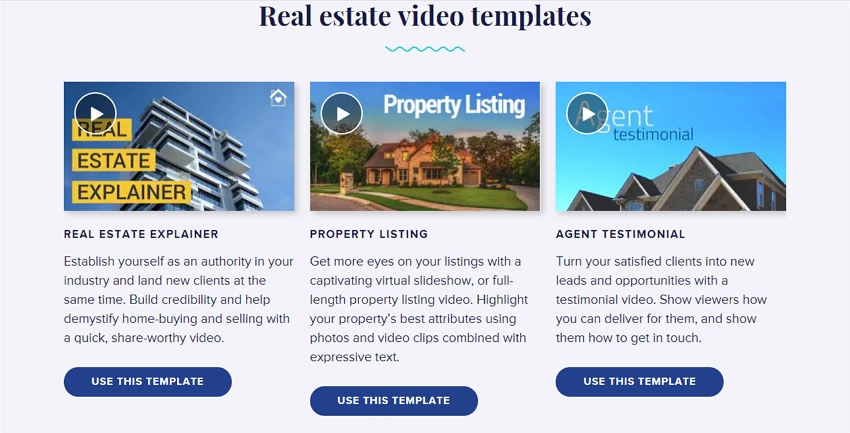 Creating impressive and professional-looking slideshows is simple using Canva. In addition to real estate, the tool has a collection of templates in a wide range of categories to meet all your video creation needs. The program is available for the web as well as for phones and desktops. The interface of the tool is user-friendly and comes with several editing features.
Price: The free version of the tool offers a huge collection of templates and features. Additionally, you can opt for a pro and enterprise version that is paid with additional options.
Key features:
Comes with more than 250,000 free to use templates in different categories, including real estate
Huge collection of images and graphics
Offer 5GB of free cloud storage
Multiple options for editing images and other content
Limitations:
The mobile-app version is cluttered
No option for creating unique elements
Images and templates are generic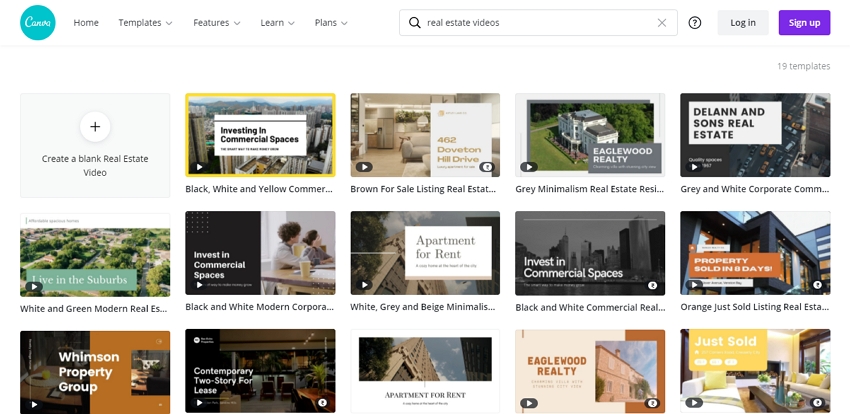 Part 2: FAQs on Real Estate Slideshow Maker
1. What is the easiest Slideshow Maker?
Above, we have listed the popular tools for creating a slideshow, but if you are looking for a simpler yet effective one, Online UniConverter Slideshow Maker is an apt choice. This is an online tool that works from your browser and supports creating a slideshow in just a few simple steps.
Key features of Online UniConverter Slideshow maker:
Add images and videos on your system, Google Drive, Dropbox, or YouTube URL for creating a slideshow
Aspect ratios of the added files can be selected to suit YouTube, Facebook, and Instagram
Time duration of the files can be selected
Local as well as cloud storage music can be added
Created slideshow can be exported in all key video formats
Simple and user-friendly interface
2. What type of music is used for real estate videos?
To make your real-estate videos engaging and impressive, selecting the right background music plays an important role. Real-estate video music should be an ambient one with a cinematic feel. Uplifting music that makes you feel invited is best for these videos. The music can also be selected based on your target and potential customers. Using sophisticated and subtle music like instrumental tracks are the safest option. You can also add some elements of the orchestra to add a personal touch. The selected music should drive the video forward in a seamless manner.
Below we have enlisted some of the popular music for your real-estate music:
Brooklyn Bridge by Mattijis Muller
Finding Home by Mindy Gledhill
Razer Trap by Cymatix
My New Home by Martie Echito
Violet Letter by Aulx Studio
Allure by Little Red Church
Write Your Story by Yan Perchuk
Golden Skies by Liam Aidan
A Girl from Osaka by Aulx Studio
7 Years by Cedar Avenue
3. Where can I get free music for YouTube videos?
For a real-estate video that you want to upload on your YouTube channel, you should use license-free music so that there are no legal issues. There are several paid and free sites that offer license-free music that you can download without any worries.
Two of the famous sites to get free music for real-estate videos are HookSounds and BenSound. While using music from these sites, you will be required to credit the creator and ensure to read the rules and licensing terms of the sites.
Conclusion:
With the growing expectations of the present-day house hunters, the need for creating an impressive video has increased manifold. In the present-day scenario, you can't just get away by simply adding a few pictures to a slideshow. You have to be good while creating a slideshow of images and videos along with apt background music. To help you with all these tasks, an excellent real estate slideshow video maker is an essential tool. With a myriad of options available, choose the program that best matches your requirements and let you get the task done efficiently.