If you have ever come across any interesting video on Instagram and felt an urge to save it for your collection or to share on your social media account, you are in luck as several mighty tools can convert an Instagram video to GIF with ease.
Why as GIF and not as a video? - You may ask.
The reason is, a GIF file is lightweight and is accepted by many platforms. Another reason to prefer a GIF over a video is, the former is a standalone file that plays in a continuous loop on your web browser. On the other hand, the latter needs an integrated media player with supporting codecs on the platform you're planning to share the file to. Likewise, there are other websites (e.g., Instagram) that strictly say NO to GIFs and only allow its users to upload and share the videos.
Nevertheless, to convert a video to GIF or convert GIF to video for Instagram is a simple process that can be completed using both online and offline converters. Here you will learn some of the best ways to convert videos to GIF with ease.
Part 1. Top 3 Instagram to GIF Converters [Online]
Listed below are the top 3 tools to convert Instagram video to GIF online.
URL: https://www.kapwing.com/tools/convert-video
Main Features:
Lets you upload a video from your computer or paste its URL.
It allows you to test the process with its built-in sample file before uploading your file.
How to Turn Instagram Video into GIF with KAPWING
Step 1. Click Upload, locate and select a video from your hard drive, and click Open to import the video.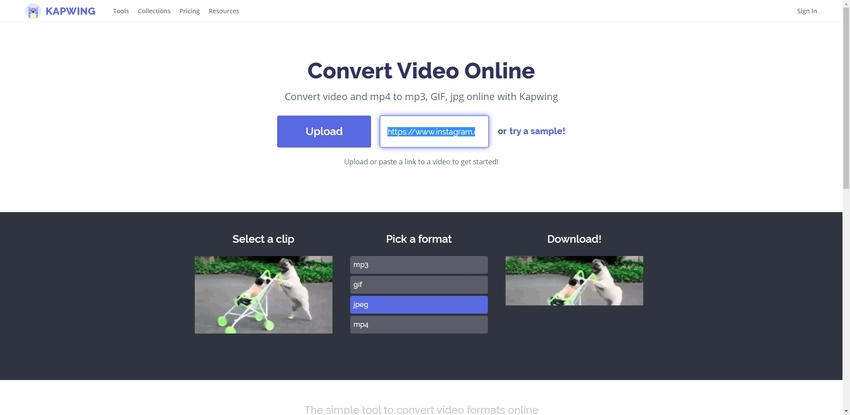 Step 2. Select GIF from the Convert Video section in the left pane, and optionally adjust the duration of the GIF by dragging the sliders available in the right.
Step 3. Click CREATE from the bottom-left corner to convert the video to GIF.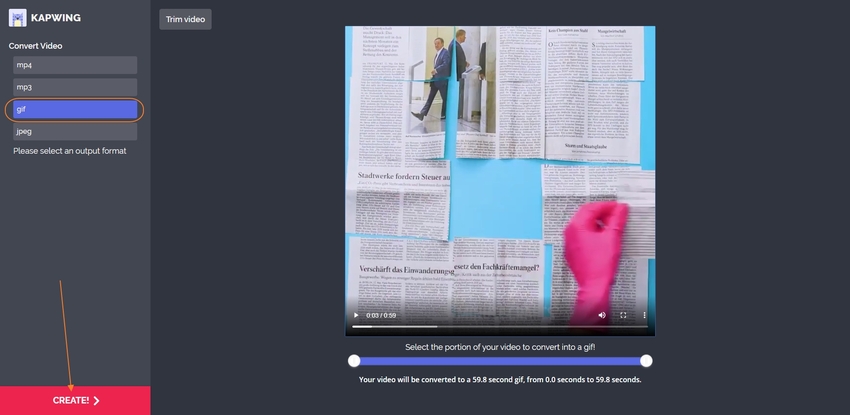 URL: https://imgflip.com/gif-maker
Main Features:
Imgflip supports URLs from almost all popular sites such as YouTube, Vimeo, etc.
Lets you rotate, crop, resize and manage the speed of the videos before converting them to GIF.
Convert Instagram Video to Animated GIF with Imgflip
Step 1. Click Upload Video, select a video from your computer, and click Open from the bottom-right corner of the box to upload the file.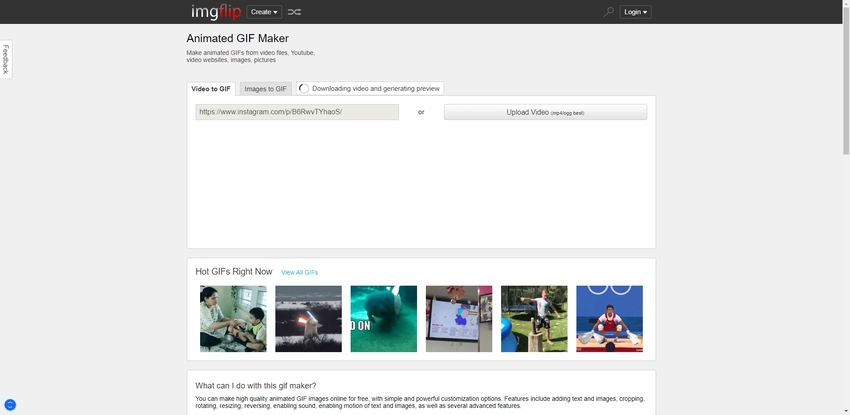 Step 2. Make the required adjustments from the right side of the preview pane such as adding captions, choosing dimensions of the GIF, typing a title for the file you're about to produce, etc.
Step 3. Click Preview from the left pane, and once you find the expected output satisfactory, click Generate GIF from the lower section of the right pane.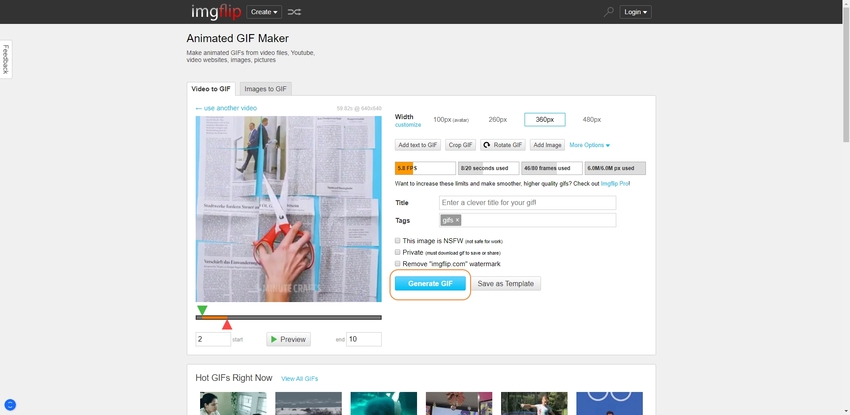 URL: https://convertio.co/gif-converter/
Main Features:
Lets you choose source files from your computer, Dropbox, Google Drive, or URL
Convertio has various other media manipulation tools like MP3 and video cutter, video resizer and compressor, etc.
Step by Step Guide: Instagram Video to GIF with Convertio
Step 1. Click Choose Files, browse your hard drive to locate and select a video to convert, and click Open from the bottom-right corner of the File Upload box.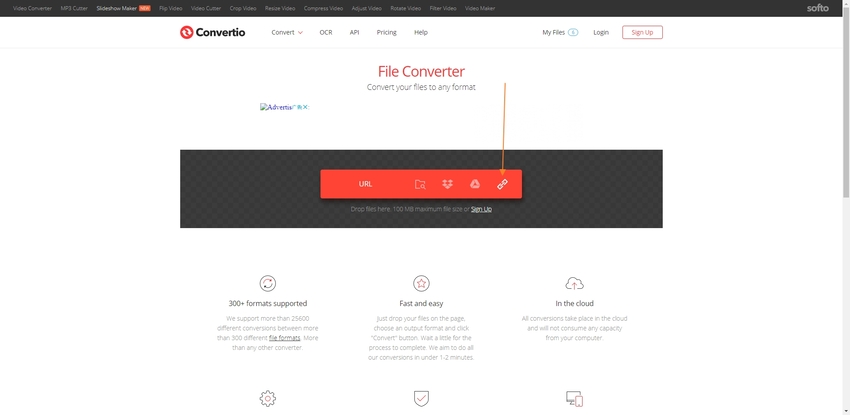 Step 2. If not already selected, choose GIF from the to drop-down list.
Step 3. Click Convert to begin the conversion process.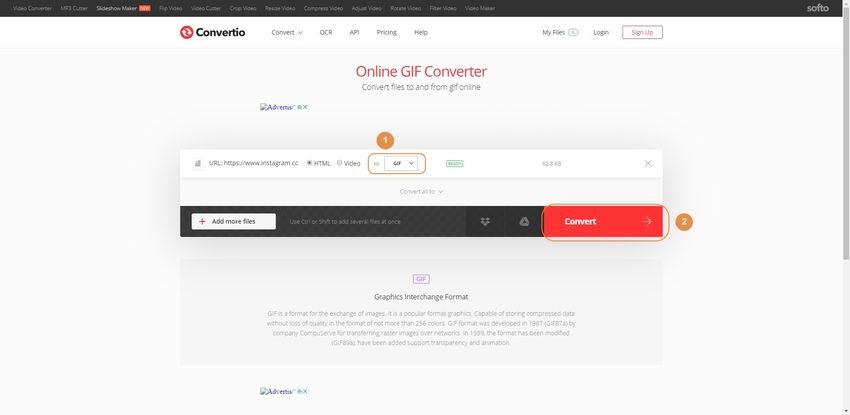 Part 2. How to Convert Instagram Video to GIF via Wondershare UniConverter
Wondershare UniConverter, is available for both Windows and Mac computers. As its name suggests, the program is a universal converter that is capable of converting files from any format to any other relevant format, even if you have least or no technical knowledge about the application. In addition to this, the app has a built-in video editor that enables you to cut or crop the videos, and even add subtitles, watermarks, and other effects before it is finally converted to an animated GIF.
Wondershare Instagram to GIF Converter
· Wondershare UniConverter is the easiest to use software with simple interface and features
· Capability of easily creating a cool GIF from Instagram video
· It has 30x faster conversion and download speed
· You could use UniConverter to transfer videos from computer to iPhone or Android mobiles without using iTunes
· UniConverter comes with the newest features, which are GIF maker, screen recorder, virtual reality (VR) converter, and others
· Wondershare UniConverter allows you to burn video and other media files to DVD as well
Converting Instagram Video to GIF with Wondershare UniConverter
Step 1. Go to Toolbox and Click GIF Maker
Launch Wondershare UniConverter, click the Toolbox tile from the top, and click GIF Maker.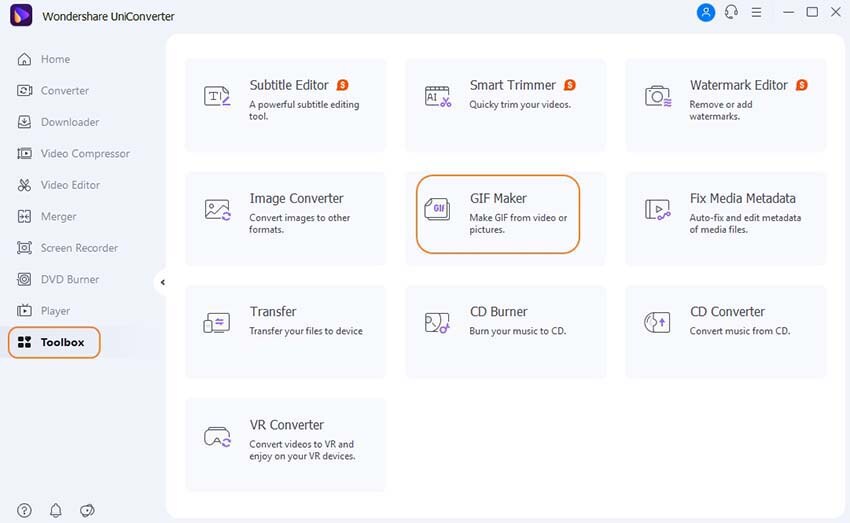 Step 2. Click Add Files and Import a Video
Click Add Files from the top-left corner of the GIF Maker box, select the video you want to convert, and click Open to import the file.
Step 3. Make Adjustments and Click Create GIF
Once the source video is imported, use the right pane of the GIF Maker box to adjust the duration, size of the GIF you are about to produce, its framerate, and the output location. Click Create GIF once everything is in place.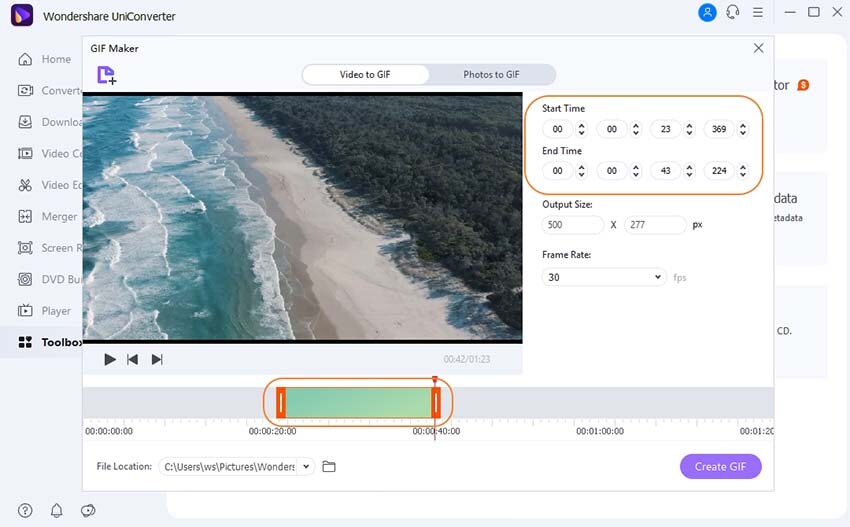 Part 3. Other 2 Pratical Softwares for Instagram Video to Animated GIF
Although not as robust as Wondershare UniConverter, below are the two alternatives that you can use to convert Instagram video to GIF.
IOTransfer Video to GIF Maker
URL: https://www.iotransfer.net/gif-maker.php#gif-maker-message
IOTransfer Video to GIF Maker is another alternative for Wondershare UniConverter. However, unlike the previous one, this app is absolutely free to use. The program can accept videos of almost all major formats, including 3GP, AVI, MP4, MKV, etc. Apart from this, the app also lets you upload the videos from Instagram, Facebook, and even from some of the most popular streaming video sites such as Vimeo and YouTube for GIF conversion.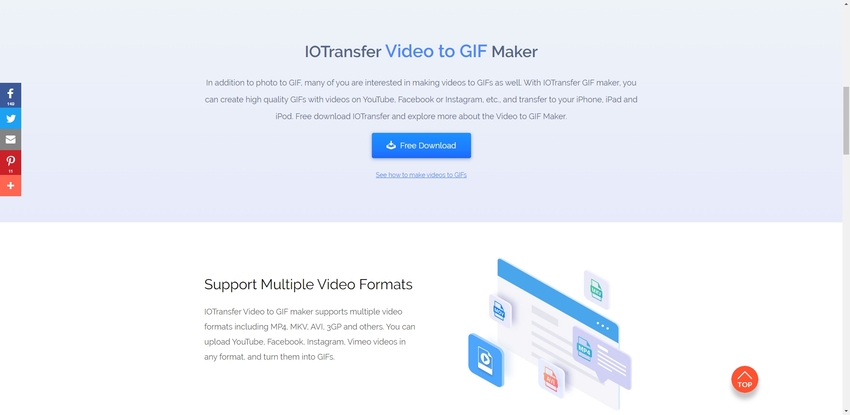 URL: https://instagram-to-gif.en.softonic.com/
This Wondershare UniConverter alternative is only available for Windows computers at the time of this writing. Although it is a paid program, the interface is straightforward, where you can paste the URL of the Instagram video you want to save as GIF. Specify the dimensions of the output file, set the loop settings, adjust the framerate (fps), define an output folder you want to save the GIF file to, and begin the process.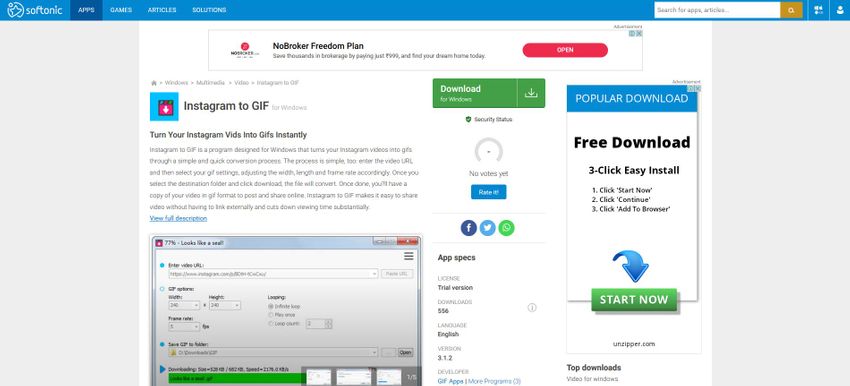 Summary
Considering all the online and offline tools listed above, the process of converting Instagram video to GIF not only seems simple but pretty impressive as well. Also, if you have an efficient and feature-rich program like Wondershare UniConverter on your Mac or Windows computer, you can use all your creativity to add various effects to the videos to come up with a single GIF file.