GIF is a picture set in motion just like a video but without audio, hence making it occupys less storage space. This file type has gained extensive use. In social media sites, they are known for creating huge sensations mostly due to the humor elements they usually incorporate in conversations.
When you find a GIF on your phone, you may want to share with others or store it, you will need to know how to save GIFs on iPhone or Android depending on the kind of device you're using. This guide will walk you through the 5 popular GIF downloader apps. Additionally, you will be taken through detailed steps on how to save a GIF to your phone.
Part 1. 5 Popular GIF downloader Apps for iOS and Android
GIPHY is among the top mobile application that is being used to save a GIF to iPhone. They claim to be the most significant and most ideal home for users who ponder, how to save GIFs to my iPhone? The application provides the most straightforward platform to download GIF on iPhone. More so, it has a tool that lets users share favorite GIFs to communication platforms like WhatsApp, Twitter, iMessenger and Facebook Messager, among many more others.
Pros:
User can get GIF based on-trend.
GIF is well integrated with iMessage.
Con:
It lacks diverse editing options.
It has no keyboard to install and will, therefore, not work directly with most interaction platforms like WhatsApp and Facebook.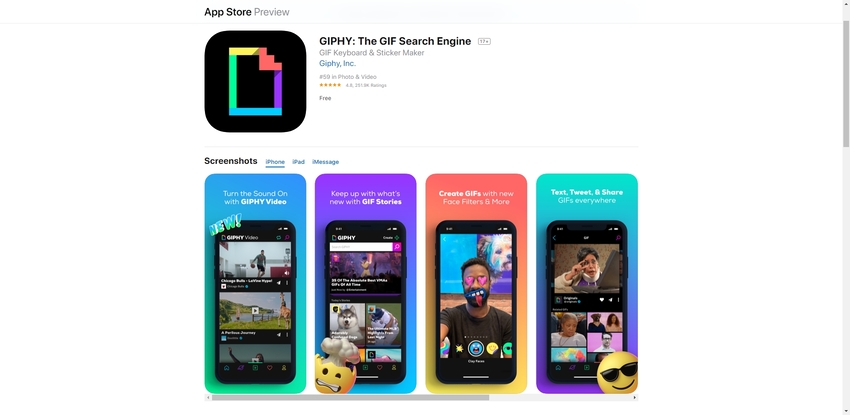 For GIF connoisseurs, an app that can solve how to save GIFs on iPhone 6 and its later versions will be beneficial. GIFWraped has proved to be a helpful tool enabling the users to collect GIFs with ease, share them with loved ones, and also enjoy viewing them across social media platforms. It is available for free. But if you would like to use its version that has got additional features, then you can opt for GIF Wrapped Premium that is availed at $3.49 per year.
Pros:
Users can buy additional features in the application.
It is easy to use.
Con:
Too many ads in the free version.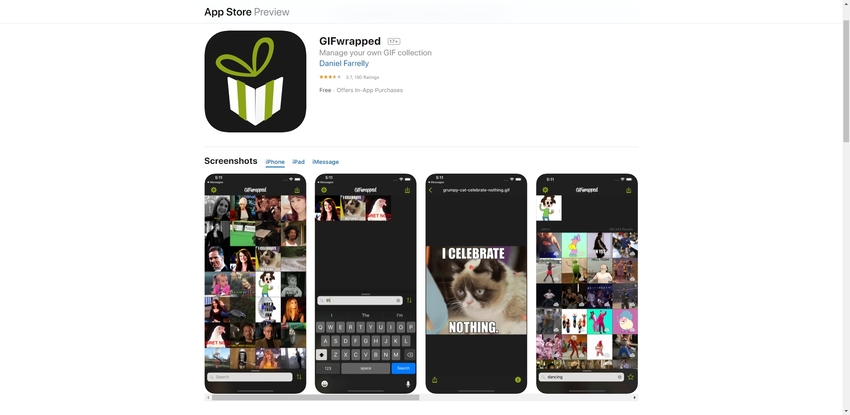 GIF Downloader-All wishes gifs
https://play.google.com/store/apps/details?id=gif.gifdownloader.allwisheshgif.gifshare.whatsapp.facebook.instagram&hl=en_US
GIF Downloader is another quality program that will be helpful on how to save a GIF on Android. It is a product of GIPHY and provides a platform for users to download and share GIFs across social media. The fact that it has categorized GIF into segments such as 'I Love You GIFs,' 'Wedding GIFs,' 'Congratulation GIFs' and 'Dancing Gifs' among others, has made it simpler for the users to be able to obtain a GIF of their liking.
Pros:
They update GIF daily and hence include the latest trends.
Users can share the GIFs to social media sites.
Con:
The application has got interstitial ads and banners that can be pretty distracting to the users.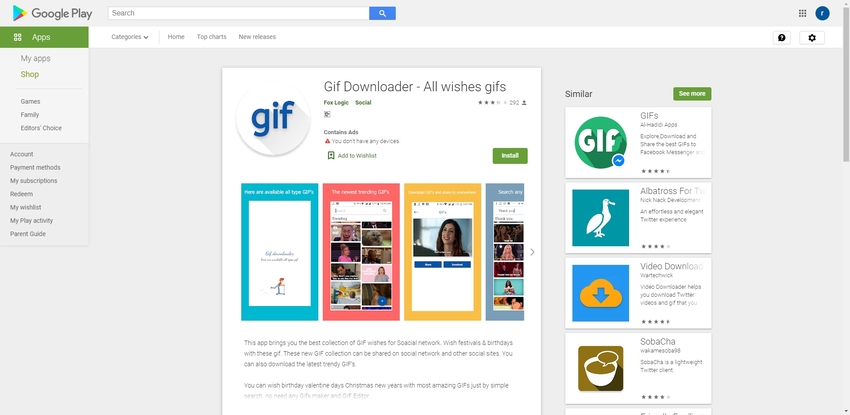 https://play.google.com/store/apps/details?id=com.riffsy.FBMGIFApp
Just as its names suggest, GIF Keyboard is equipped to allow its users to enhance the message they may be trying to share out directly at the keyboard. Users can add GIFs or videos to express their emotions, give a cunning response, or share out an inside joke. This app has been developed by Tenor, which is one of the largest GIF libraries that are available out there. And other than just sharing GIFs, this application lets the users create and customize GIFs.
Pros:
Users can save and organize GIFs.
Compatible with top platforms like Whatsapp, Facebook, Twitter, and Snapchat.
Con:
It is not a really all-rounded keyboard application.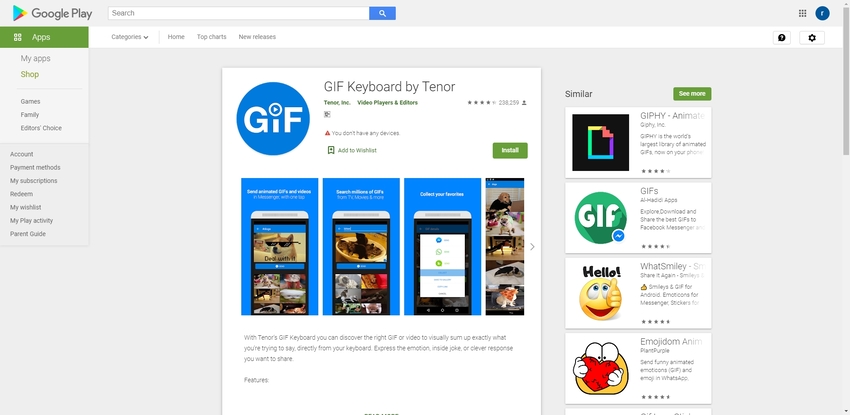 https://play.google.com/store/apps/details?id=com.imgur.mobile
This application will end the hurdles of users pondering how do you save GIFs on Android. It has been developed to let users discover fun on the internet. This is because, with Imgur, there are limitless opportunities for exploring the endless and funny picture of pets, and GIFs that were removed from TV shows and movies.
Pros:
It lets users download images and GIFs via URL.
Supports uploading of files via drag and drop, and copy and paste.
Con:
It does not support uploading different file types, such as PSD.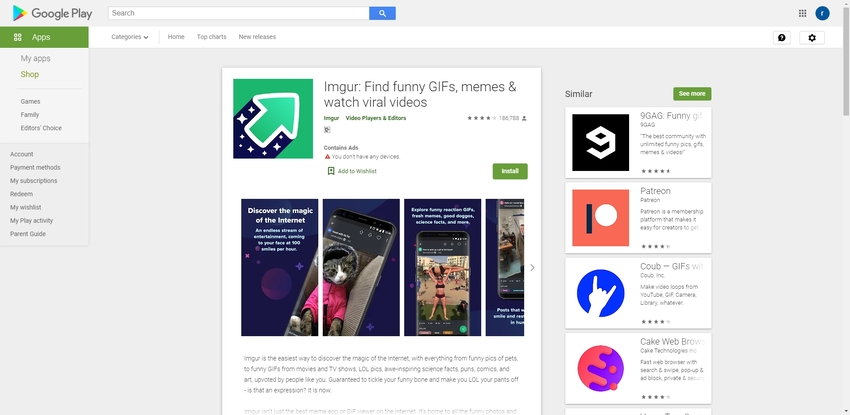 Part 2. How to save GIFs on your iPhone Camera Roll
Now that we have seen the top GIF downloader applications, it is time to learn how to save GIFs to the camera roll. We will be using GIPHY in this tutorial because other than being the top-ranked, it is straightforward, and even novices can learn how to use it. You will, however, be required to download the app first and sign up to proceed on.
Follow the steps to save GIFs on iPhone Camera Roll
Step 1. Launch GIPHY App and Select a GIF
Download and Launch the GIPHY app first, and then you could search for any categories of GIF that you want. Find one of the GIFs you desire.
Step 2. Save the GIF to the Camera Roll
Option 1. The first step to go about how do you save a GIF to your camera roll inquiry will depend on the kind of iPhone you are using. If you have an iPhone with 3D Touch, press on the GIF to activate 3D touch. And when it pops up, swipe up. A window with a couple of options will be displayed. Click on the Save Image option.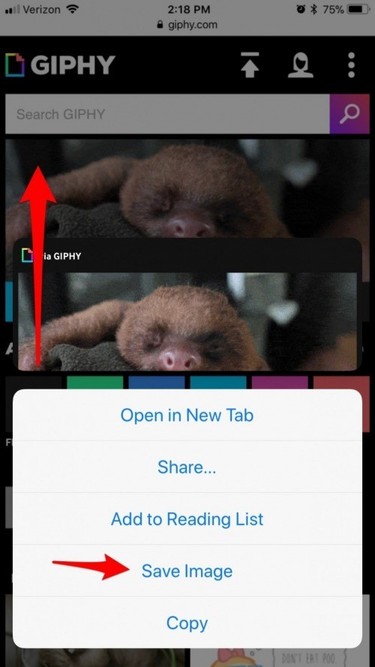 Option 2. When the iPhone device that you are using does not support 3D Touch, press on the GIF and hold. Click on the Save Image button that will be shown on the new window that will pop up.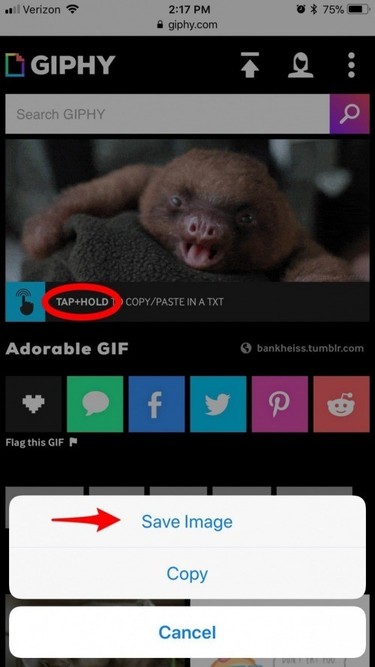 Part 3. How to download GIF on Android
No one could have imagined that GIF files could have gained wide popularity a few years ago. More and more people are seeking to know the process of how to save GIFs to Android. You will be glad to know that there is no sacred formula required, especially when it comes to using GIPHY. This tool will definitely help you get your videos to go viral.
How to save GIFs on Android step by step?
Step 1. Run GIPHY in Android
Visit Play Store, download, and install the GIPHY application if you do not have it on your device. Open the app and look for the specific GIF file that you would want to download and click on it.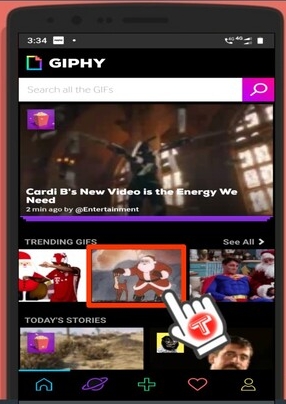 Step 2. Choose a GIF That You Want
Upon clicking on the GIF file, you will be taken to a new display. Click on the three-dotted buttons present on the right and middle of the screen.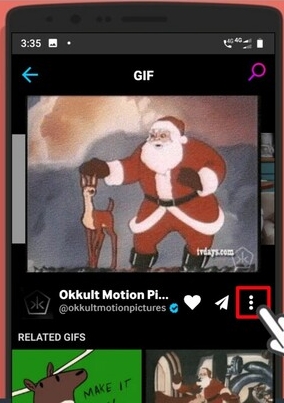 Step 3. Save a GIF to Your Android
You will be taken onto a new window. Here, click on Save GIF to store the GIFs into device storage.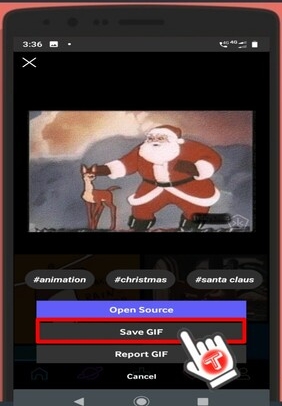 Summary
There are plenty of phone applications that can be used to download GIF. However, not all of those applications can be relied on wholly. This guide has sampled out the best out of the pool of already availed programs. GIPHY is recommended in this guide, and it can go as far as showing users how to save GIFs on Android and iPhone with ease.
Wondershare UniConverter has a popular feature, which is a GIF maker. People could turn their photos or video to GIF by one-click. Save and share it easily.
Wondershare UniConverter
· UniConverter has an intuitive interface that friendly for first-time users.
· It is an all-in-one software that allows people to compress, edit, burn, transfer videos, add video metadata, and more features.
· People can customize their videos through advanced editing features and get professional-looking works in minutes.
· Users could use its Toolbox tab for more additional features, which are image converter, VR converter, fix media metadata, and others.
· Transfer videos to any devices & external hard drives easily.