A lot of people may like videos on Facebook and would want to convert the Facebook video to GIF. Making GIFs may sound daunting, but it's an easy task to accomplish. To make GIF from Facebook video will be easy if you know of various ways to convert Facebook video to GIF. This article will explain all the best ways to save GIF from Facebook video in the fastest and most efficient way, and also the quickest way to access these options.
Part 1. Create GIF from Facebook Video Online Free
Tons of websites can be used to convert Facebook videos to GIFs to GIFs, and imgflip is one of these sites. It is a powerful online GIF maker that allows you to convert Facebook video to GIF, producing a quality looking GIF while at it.
It supports multiple formats such as FLV, AVI, MOV, MP4, MPG, MPEG, WMV, 3GP, ASF, SWF, OGG, and more formats. The following are the pros and cons of using this website.
Pros:
ImgFilp is a free online tool.
Converting Facebook video to GIF is faster than other tools.
It's widely used.
Supports various codecs and formats.
Con:
To accomplish some tasks, you will need a pro account.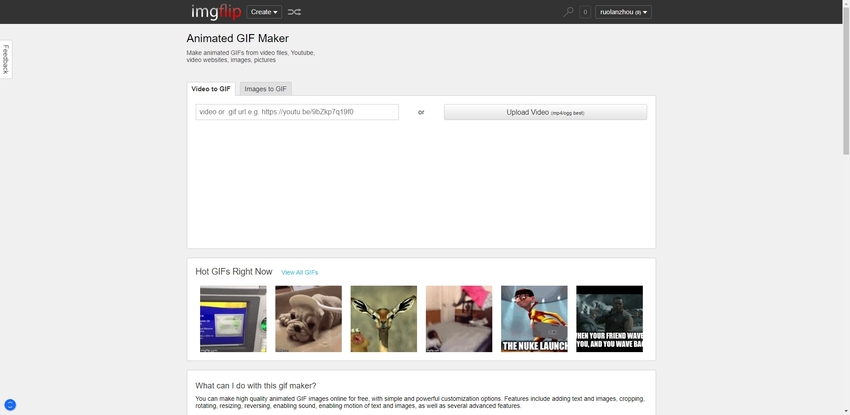 https://makeagif.com/facebook-to-gif
Makeagif is a great online tool to convert Facebook video to GIF. It is a useful tool that makes it easy for the user to navigate it easily. The Facebook to quick video option allows you to scroll through the site in a breeze quickly.
The platform allows the user to convert Facebook video to GIF easily and supports the following formats: MPEG, GIF, PNG, and many more. The following are its pros and cons.
Pros:
It is free to use the service.
It is a quick GIF converter.
Makeagif has support for various video formats.
Has a great interface.
It is fast to navigate.
Con:
It has a premium option.
It has watermarks in its GIF.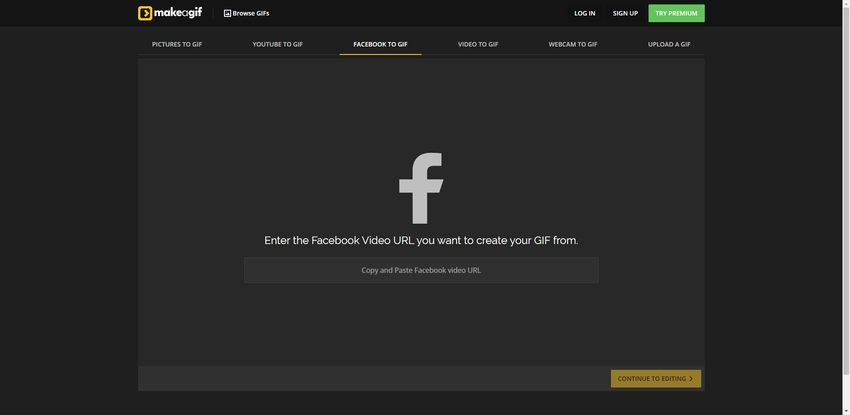 https://ezgif.com/video-to-gif
EZGIF websites is a great website to transform your Facebook video to GIF quickly. It has a variety of features such as cropping, resizing, and optimizing your videos. You can paste your Facebook video link on the site, or drag and drop images or videos to a box on the site.
EZGIF supports various formats such as MP4, WebM, AVI, MPEG, FLV, MOV, 3GP and other video files.
Pros:
The first try you will think that it is easy to use if you never use it before.
It is very fast while processing.
Supports the most popular formats that you need.
Video formats are vast.
It has a lot of features, so it looks like an all-in-one online tool.
Con:
It does not have the best interface. A little bit complicated.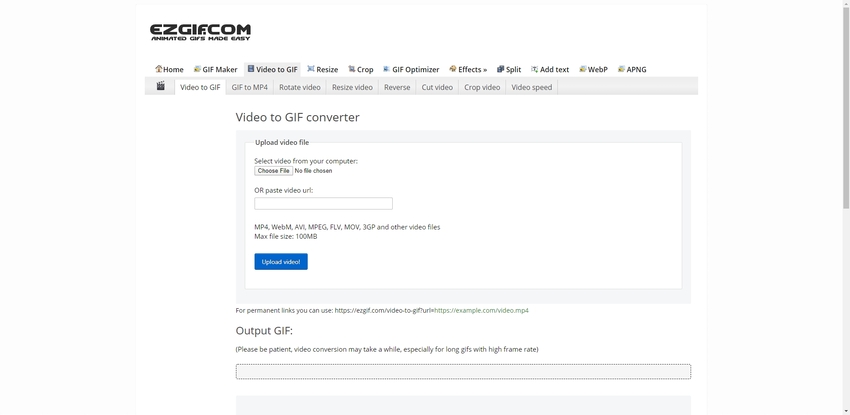 https://www.kapwing.com/studio/editor
Kapwing is an online website where you can make GIFs from Facebook videos. It is a great website as navigation is easy. Features such as add subtitles and shapes make the website great to make quality and original GIF from a Facebook video. It makes it easy to transform Facebook video to GIF look easy.
It supports the following formats during its conversions: MP4, MOV, GIF, JPG, PNG, AVI, and a lot more formats.
Pros:
It has a clean interface.
It provides template facilities.
It is a fast Facebook video to GIF converter so far.
Supports a lot of popular video formats.
It has a lot of essential features.
Con:
It displays a lot of its features, which may sometimes make a cluttered mess.
It has signed in features that may expose your information.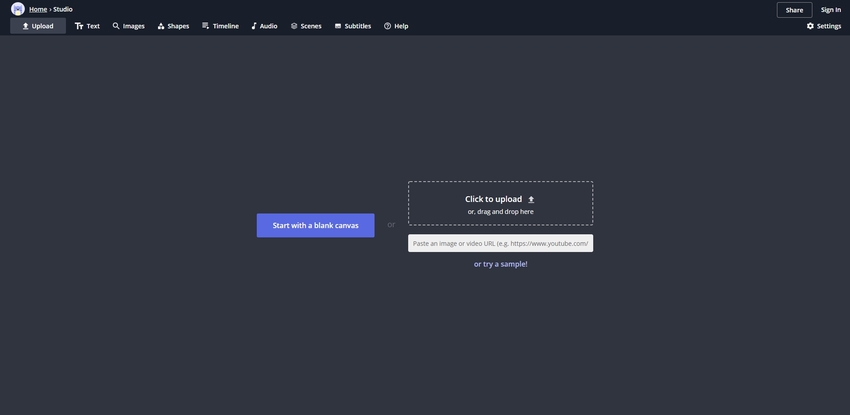 https://www.online-image-editor.com/gifmaker/
The Online Image Editor is an excellent Facebook video to GIF converter on the internet. Its functionalities and excellent customer support ensure that using the website is pleasant. It has an image editor and a facility to paste videos of the videos that you would love to change to GIF.
It supports the following file formats: JPG, MEPG, GIF, and many more formats.
Pros:
Simple to use for most users.
No mandatory fees to use. You could use it as a free tool.
It has other essential features that could help you make GIF better.
Con:
It does not have an excellent interface, which looks like a cluttered interface.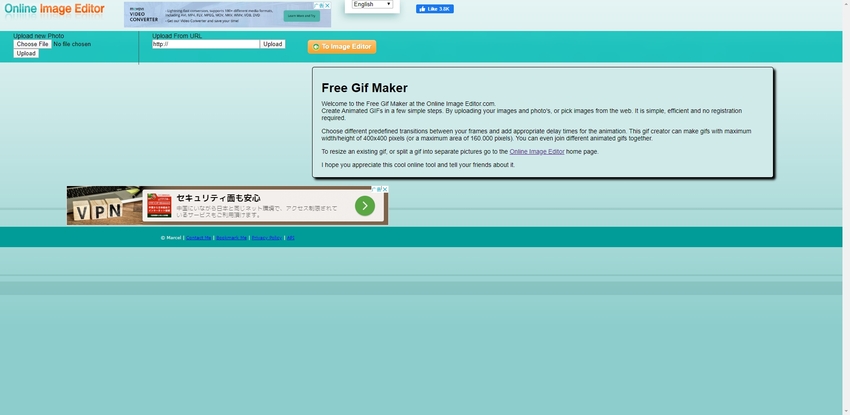 These websites are some of the best ways to convert Facebook video to GIF while connected to the internet. Using these is easy and cheaper compared to using an application. However, you should be worried about some of the information you give to these sites, as some may have malicious files contained in them. Therefore, it is vital to be vigilant while on the internet.
Part 2. The Best Converter to Convert Facebook Video to GIF
Wondershare UniConverter is an excellent and powerful standalone application that can be used to convert any video to a GIF. If you may have a Facebook video that you would love to switch to GIF, you can do it quickly by using Wondershare UniConverter available tools and options. It is a popular tool that is used by most people, which acts as a testament to its quality.
Wondershare UniConverter
· It has video editing options such as trim, crop, rotate and many more features.
· The application supports a multitude of formats such as MP4/MOV/AVI/MKV/WMV/M4V and more formats.
· It allows you to transfer videos from computer to iPhone or Android mobiles without using iTunes.
· UniConverter has additional functions such as fix media metadata, cast to TV, VR converter, GIF maker, and others.
· It allows users to burn videos to DVD with various templates using super burning speed and having a high-quality output.
How to Use UniConverter to Convert Facebook Video to GIF
Converting your Facebook video to GIF may seem hard for most people. It may prove daunting to most people, which in turn may make people not to try it. Are you one of these people? If your answer is yes, you can follow the following tips and tutorials to make it easier to make GIFs from Facebook video. The whole process is easy and, most certainly, a satisfying endeavor. The following are the steps that you will follow to convert Facebook video to GIF.
Step 1. Save FB Video and Run UniConverter Application
Saving your Facebook video to your computer. Then, launch your Wondershare UniConverter application, and click on the Toolbox tab for GIF Maker option.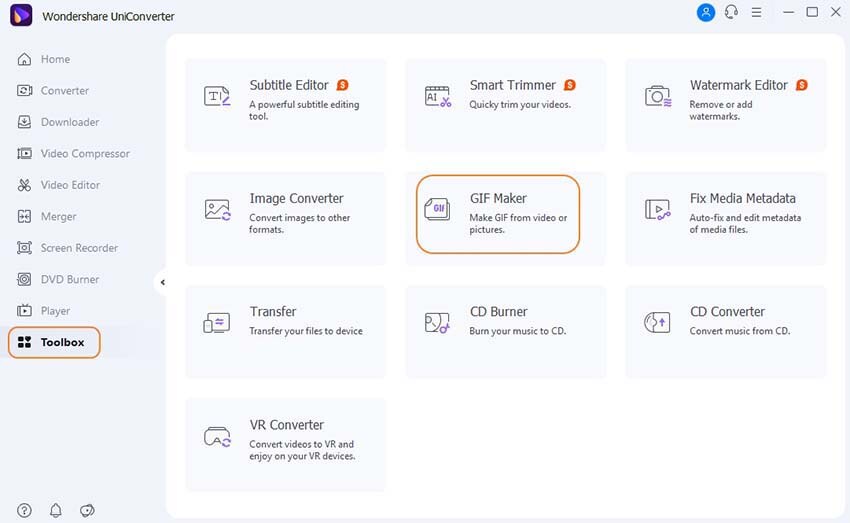 Step 2. Input the Facebook Video
After the GIF Maker option opens up, click on the Video to GIF tab and upload the video by clicking add files button to import the video file to the application.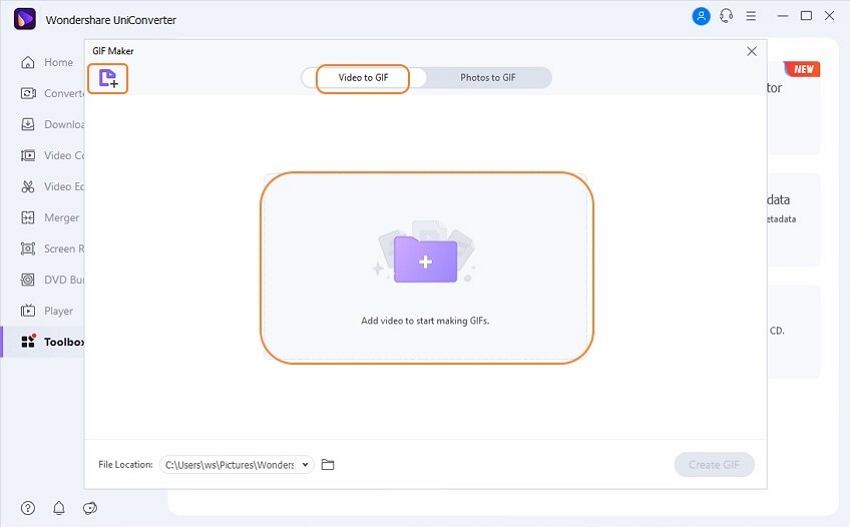 Step 3. Set the Preferences and Start the Conversion
Once the video appears on the preview menu, move your bar over the video to select where your video starts or select the start and end time. Change your video frame rate, output size, and the location where you may want to save your video. The final step is to click on the Create GIF button to convert your Facebook to GIF format.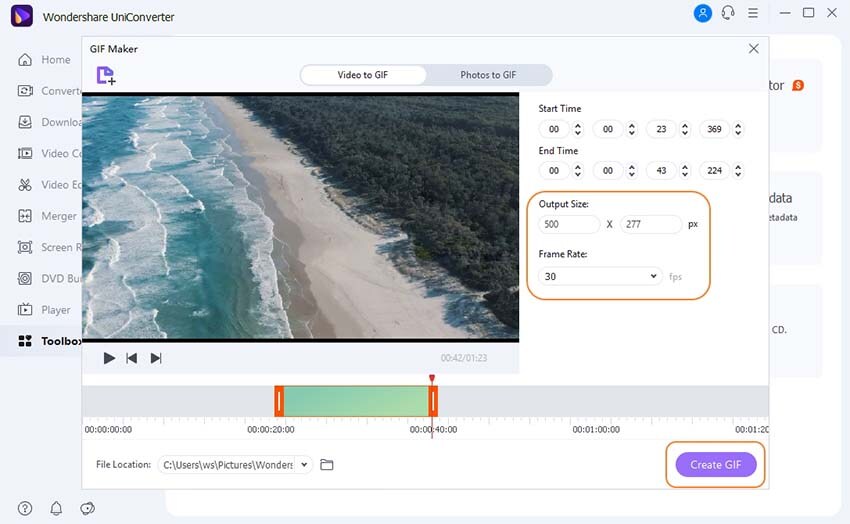 Part 3. Make GIF from Facebook Video Using Google Extension Tool
Video to GIF Animation Converter
https://chrome.google.com/webstore/detail/video-to-gif-animation-co/kbjnohibfajlocjlfboonfofdchmfijl/related
Video to GIF animation converter is free to download and use chrome extension. It has features such as converting Facebook video to GIF, converting video from google drive, and has a great and excellent frame rate conversion of video.
It supports the following video formats: MPEG, GIF, PNG, and many more.
Summary
These are the seven best ways to convert Facebook to GIF, following the practical advice of these articles will help you create an excellent GIF that you can share with friends and family. Using a tool like Wondershare UniConverter will ensure that your GIF stands out. Hence you and your friends can be able to share the fun of creating and sharing beautiful GIFs.