JPG/JPEG is one of the most popular image file formats. Apart from offering universal compatibility, this file format also takes up less storage space than any other image format. Well, the same is true for MP4 in the video storage world. However, there are instances where you may need to convert JPG photos to MP4. For example, converting a slideshow to MP4 allows you to arrange the images in a single video file and customize them with texts, background music, filters, etc. Therefore, this article will show you how to convert JPG to MP4 slideshow with easy steps. Read on!
Part 1. How to convert JPG to MP4 slideshow online?
As you can see, most methods recommended above are for advanced users. Even worse, these apps are only compatible with computer operating systems. Fortunately, you can use Online UniConverter and create MP4 videos from JPG photos anywhere, anytime. This online app is easy to use and supports most image file formats, including PNG, WebP, TIFF, etc. When creating an MP4 slideshow, users can add as many JPG photos as they want and customize the slide playback duration, aspect ratio, and add a transition effect. Another thing, users can apply background audio and retouch it by trimming and adjusting the volume level.
How to Convert JPG to MP4 Slideshow with Music
Key features:
Converts JPG to slideshow online on Mac, Windows, Android, and iOS.
Supports creating MP4 videos from JPG, PNG, TIFF, BMP, etc.
Allows users to apply background audio with custom duration and volume.
Customize the video aspect ratio for YouTube, Instagram Stories, and Facebook Videos.
It offers an excellent video editor for trimming, cropping, merging, converting, etc.
free with helpful 24/7 customer support.
A step-by-step guide to change JPG to slideshow online using Online UniConverter:
Step 1: Launch the slideshow maker and add JPG photos.
Open the app using your favorite web browser, then select Slideshow Maker under the Online Tools tab. Now click the below Choose Files button to browse and add JPG pictures from your local storage. You can also add files from the cloud or import a YouTube video URL link.
Step 2: Customize the slide duration and add background audio.
After the image files are uploaded successfully, they'll immediately convert to a video slideshow. First, navigate to the right side of the preview screen, then choose the border style for your slides. To do that, open the Crop options menu and set the border style as Zoom & Crop or Fit with border. Next, set the aspect ratio, then select the image playback duration.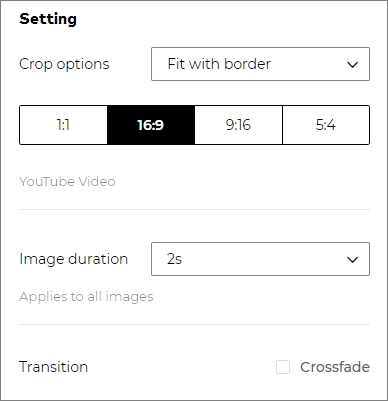 Don't stop there, though. Click the Add audio button to add background audio for your slideshow. Interestingly, you can edit the audio by trimming and adjusting the volume.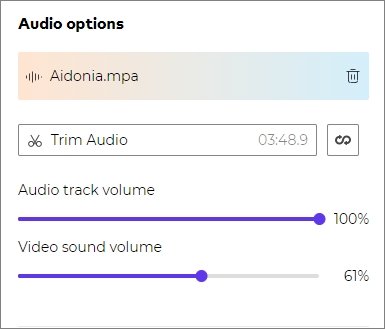 Step 3: Choose an output format and create the video.
Open the Output Format menu, then select MP4 as your target file format. Now crosscheck your work on the preview screen by clicking the play icon. Finally, if everything looks clean and polished, press the Merge button to create an MP4 video from your JPG photos. It's really that easy!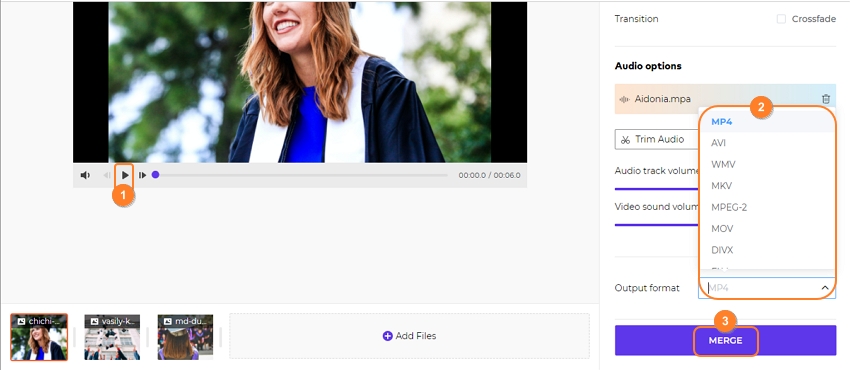 Part 2. How to turn slideshow to MP4 with PowerPoint?
For those who have worked on a project presentation at school, work, or anywhere else, you should know a thing or six about Microsoft PowerPoint. With this computer app, you can create Oscar award-winning slideshows and share them as MP4 video files. It comes with tens of slideshow presentation templates that you can personalize with unique texts, transitions, animations, and so on. You can even rearrange the slideshow slides, frame the pictures, and add background music. Just remember, you may need a bit of knowledge to use this app.
Here are the steps to convert a slideshow to MP4 using Microsoft PowerPoint:
Step 1: Launch Microsoft PowerPoint on your PC, then choose a presentation theme. After that, select the slide layout, then tap Create to open the slideshow maker.
Step 2: Click the Insert button, then choose Pictures. You can now browse your local storage and insert the JPG photo to use on your slideshow. To add another slide, right-click the current slide, then tap New Slide. Add another photo and repeat a similar process until you upload enough pictures.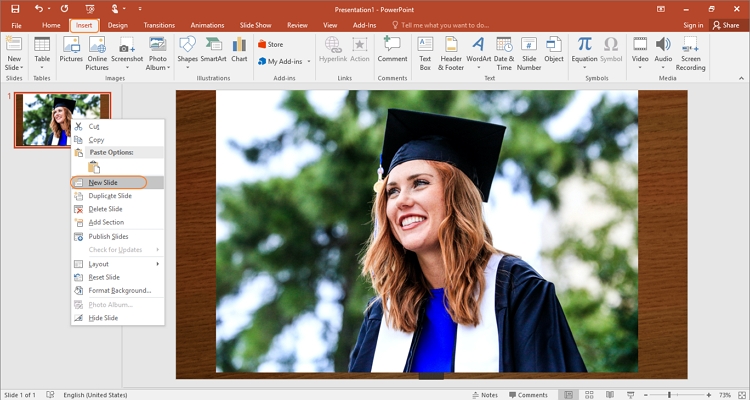 Step 3: Next, it's time to retouch your photo slides to make them look more presentable. To do that, click a slide on the left pane, then add a brief but catchy title. You can also add a subtitle where necessary.
After adding texts, proceed to apply a piece of background music. Just select a slide, click Insert, then tap the Audio icon. Now click Add on My PC to upload audio from your local storage. Repeat the process on all slideshow slides.
Step 4: Before saving the slideshow to MP4, check if the images are correctly arranged. If not, you can rearrange them by dragging a specific slide and placing it on another slide to swap position. After that, click the SlideShow tab, then select From Beginning. Your JPG slideshow will start playing immediately.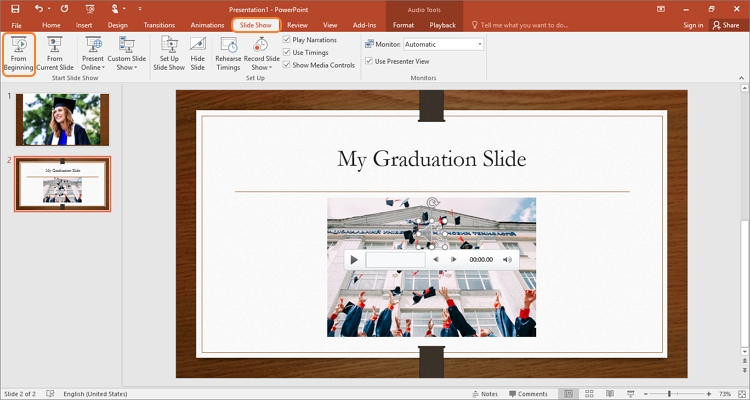 Step 5: If everything looks okay, close the preview window, click File, and tap Save As. Now give your slideshow a name and choose a folder path. Lastly, open the Save as type menu, select MP4 as the output format, and then press Save. Wait for a few seconds as PowerPoint creates your MP4 video.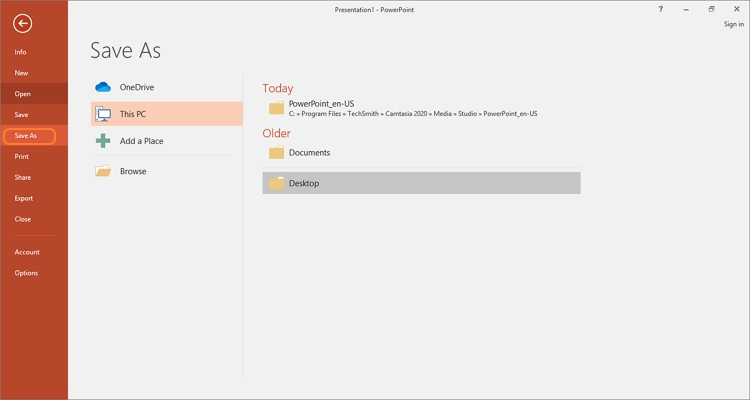 Note: Some audio formats are not compatible with Microsoft PowerPoint. So, choose MP3 for the best results.
Part 3. How to convert JPG to MP4 with software
In this part, we want to learnhow to make a video from JPGusing two excellent desktop solutions.
First on the list is Wondershare DVD Creator, a powerful all-in-one tool for Windows and macOS. This popular software is known for creating high-quality DVD and Blu-ray files from any video file format. But Wondershare DVD Creator also doubles up as an excellent slideshow creator. In addition to JPG, users can also create MP4 videos from PNG image files. As expected, users can also customize their slideshows with unique texts and background music. And of course, you can burn the created video slideshow to a DVD, Blu-ray, or CD.
Now follow these straightforward steps to convert JPG photos to MP4 using Wondershare DVD Creator:
Step 1: Download and install Wondershare DVD Creator on your computer, then press More DVD Tools at the bottom-right corner. After that, click the Slideshow Maker tab to launch the feature.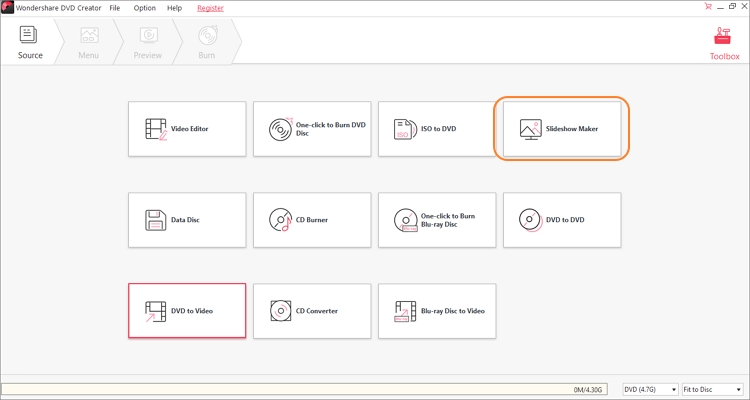 Step 2: Next, click the Add (+) icon at the center to open your local folders and add JPG photos you want to use. As said before, you can also upload PNG photos. You'll see the uploaded images arranged from top to bottom on the right side of the preview screen. Click the up and down arrow to rearrange the image sequence.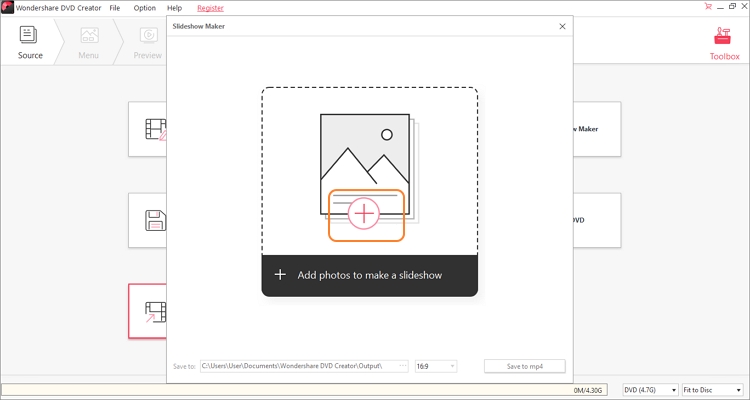 Step 3: Now it's time to edit your image settings before saving them to MP4. To do that, navigate to the bottom of the screen, where you'll see icons for Effect, Transition, Text,and Audio. Next, choose a slideshow image to edit, then tap the relevant editing tab.
For example, select an image, then tap Effect to change the brightness, contrast, and saturation. This app also offers more than ten ready-made video effect styles. If you want to apply the changes on all slideshow images, press Apply to All.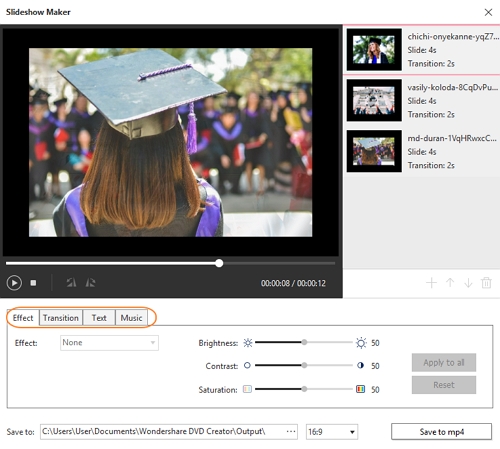 Step 4:Click the play icon on the preview screen to see if the slideshow meets your required standards. If satisfied, click Save to MP4 to create your MP4 slideshow in minutes. That's it!
Another excellent all-inclusive app for creating MP4 slideshows is Leawo Video Converter. This Windows and Mac app is super easy to install and use. It allows users to upload their JPG or PNG photos and convert them to a single MP4, AVI, MOV, or MKV video. Users can also customize their slideshows with background audio and Leawo's more than fifteen transition effects. And yes, you can change the transition duration to suit your preference.
Below are the steps to create a photo slideshow using Leawo Video Converter:
Step 1: Download, install, and launch Leawo Video Converter on your PC. After that, click the Convert tab, then press Add Photo to browse and upload your JPG photos. The added photos will immediately display as a video slideshow.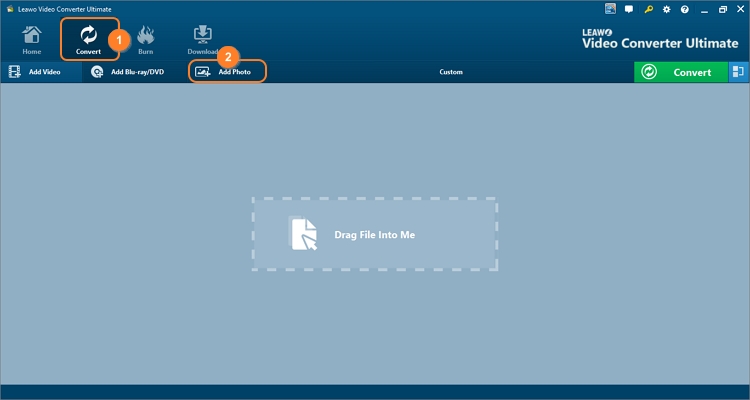 Step 2: Click the Edit icon beside the uploaded photo slideshow to launch the editing window. Here, you can click the Add (+) icon to add more photos. You can also click the + or - icons to adjust the photo display duration and the transition duration. Moreover, you can open the Transition Effect drop-down menu and choose a ready-made slideshow effect. Click Ok if satisfied.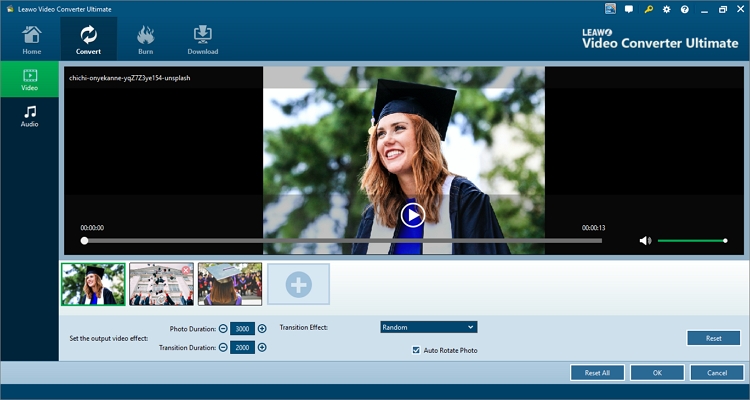 Step 3: Finally, click the green Convert button to generate your MP4 slideshow from JPG photos.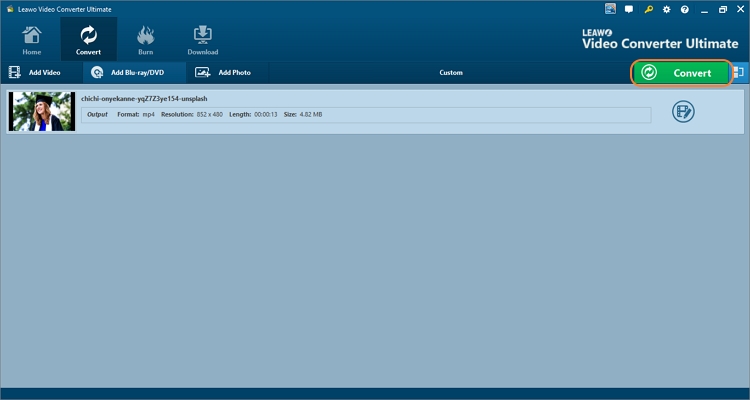 Note: Although Leawo Video Converter is a tremendous slideshow-making app, the user interface is not as straightforward as Wondershare DVD Creator. For example, beginners would really struggle to adjust video settings like the resolution, frame rate, and aspect ratio. What's worse, Leawo Slideshow Maker doesn't offer users an option to add background music. But that aside, it's a friendly software to have.
Part 4. FAQs about converting JPG to MP4
1. How do I convert JPG to MP4 on Mac?
Converting JPG to MP4 is super-simple with the right program. You can use Wondershare DVD Creator to do that on Mac or Windows. Alternatively, use Online UniConverter to convert JPG slideshow to MP4 on your smartphone, tablet, or computer.
2. Is JPEG the same as JPG?
Actually, there is no significant difference between these two image files. But whereas a JPG has a three-character filename extension (.jpg), JPEG has four (.jpeg). So, JPG exists only because earlier Windows versions like MS-DOS 8.3 only worked with three-character filename extensions.
3. How do you add videos together?
You can merge or join videos using Online UniConverter. First, on the Slideshow Maker, click the Merge Video tab to run the video merger. Next, press Choose Files to add your videos, then hit Merge to join the videos.
Conclusion
I'm confident you can now convert JPG to MP4 slideshow with any of the methods above. But as said, some ways, such as Microsoft PowerPoint and Leawo Video Converter, can be confusing for beginners. So, you could use either Wondershare DVD Creator or Online UniConverter to create excellent-looking MP4 videos without breaking a sweat. Have fun!