When you visit people's WhatsApp status, and even in a group or personal chats, you will find all kinds of WhatsApp stickers/memes. You may want to use some of these memes for WhatsApp status or chats. In addition, some people may want to know how to create these funny memes for WhatsApp status to share amongst their friends during WhatsApp conversations.
Whichever one you desire from the above, this blog will guide you to create the best meme stickers for WhatsApp. Furthermore, you will be shown how to do this with the top three suggested free WhatsApp meme creators we have found.
Part 1. Top 3 Handy WhatsApp Meme Generators to Make the Best Stickers
Here are our three handy WhatsApp meme generators you can use to make the best memes stickers for WhatsApp:
Imgflip is a free online editing tool that speedily generates memes for all social media platforms, including WhatsApp. This WhatsApp meme maker lets you customize and add text to your memes/stickers before sharing them on WhatsApp. Choose any meme template available on this site, edit them to suit your preference, then share on WhatsApp status or group chats and conversations. Alternatively, you can upload your downloaded images or gifs and create the WhatsApp stickers memes from scratch using simple steps.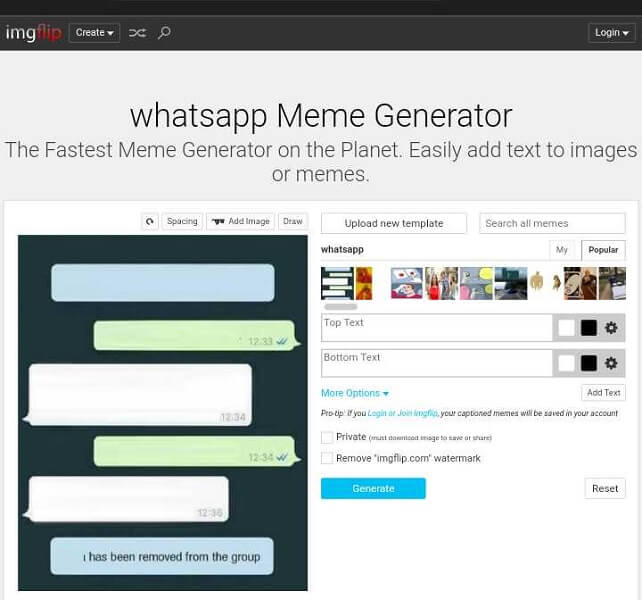 Pros:
Many customizations are available for you to make the meme or sticker more personal to you before you share it on your WhatsApp status or send it to your loved ones.
It comes with a wide range of best meme stickers for WhatsApp, which you can edit to suit your preferences.
Cons:
The images come with a watermark as this is a free tool.
The interface can be a little messy to navigate, especially with the interrupting adverts.
Create viral memes and stickers for WhatsApp using the Canva meme generator online or with the app. It is a free and easy WhatsApp meme creator that comes with customizable or flexible templates you can use without worrying about font restrictions or watermarks on the regular memes. In addition, you can choose the size and color of the meme text and the text format to use.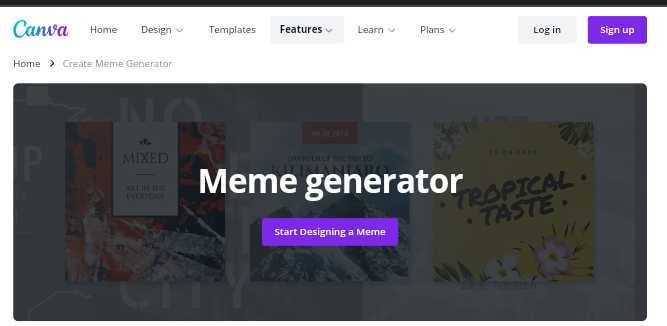 Pros:
It contains an extensive collection of memes and stickers you can use as memes for WhatsApp status and chats. There are additional stock images, icons, speech bubbles, stickers, and other graphics you can use to improve the general outlook of the meme stickers for WhatsApp.
You can easily create and share memes with Canva.
Cons:
The premium meme template images/stickers come with watermarks, and the only way you can remove them is by paying for the premium version of the app.
We saved the best for last! The third recommended WhatsApp meme maker is Media.io Meme Generator. This online image editor helps you easily create funny memes for WhatsApp status and chats with family and friends. Additionally, you can make meme gifs for WhatsApp to add humor to your WhatsApp conversations. This humor can be extended to the meme text when you customize it.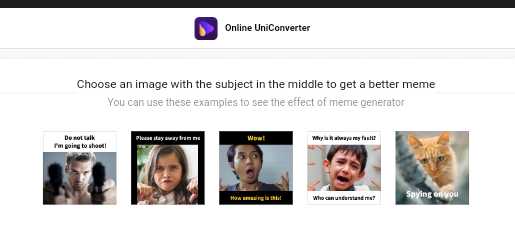 It contains 9 beautiful meme templates that you can edit to see how the meme generator works before uploading your images or gifs. These templates can also be customized and shared as WhatsApp memes if you like them that much.
It is fully featured, allowing you to adjust the meme text's size, font type, color, and alignment. That is where you get to add humor to your meme text and make a funny meme even funnier.
It is safe and secure for use with no ads interruptions.
It allows users to share the memes generated on different social media platforms, one of which is WhatsApp.
Its intuitive and clean user interface (UI) allows easy meme creation with a few clicks.
Pros:
Although it is a free tool, this meme generator does not impose watermarks on the WhatsApp stickers and memes you create with it.
There are no interrupting ads while you create memes with the tool online.
It is an all-in-one editor that not only serves as a WhatsApp meme makerbut an editing and conversion tool for the customization of your meme stickers for WhatsApp.
Cons:
It could do with a broader range of meme templates like other tools, as it only has 9 meme templates, limiting users' choices.
Top Tip: For whatever purpose you need the WhatsApp memes (status or chat), use the Media.io online meme generator to create memes for WhatsApp. This WhatsApp meme maker is the most recommended of the three tools discussed above because it is more convenient and efficient than the other two.
Part 2. How to Easily Create a WhatsApp Meme?
Follow the steps below to quickly create memes stickers for WhatsApp using the efficient the best WhatsApp Meme Maker - Media.io Meme Generator:
Step 1: Select from the list of nine meme templates or choose an image or gif from your device storage that you want to use as a WhatsApp meme/sticker.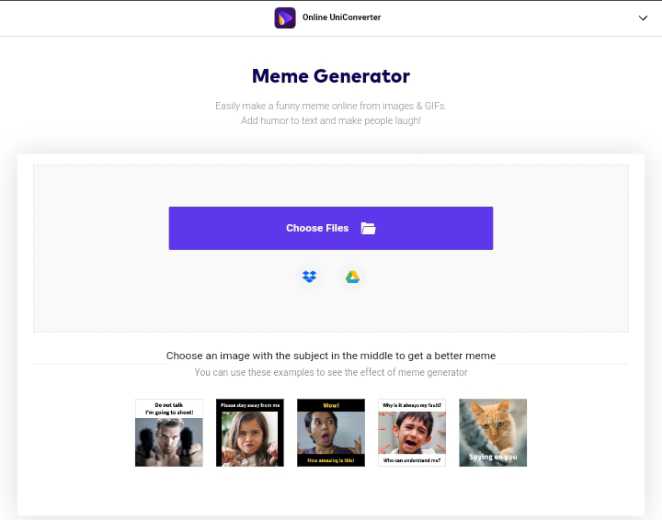 Step 2: Edit the meme image's font color, style, and alignment. Next, choose the output format, meme size, and click "Generate".
Step 3: The WhatsApp meme will be generated in a few seconds; select Download. Then save it to your device storage from which you can share your WhatsApp status or send it to your friends, family, or group chats and make people laugh.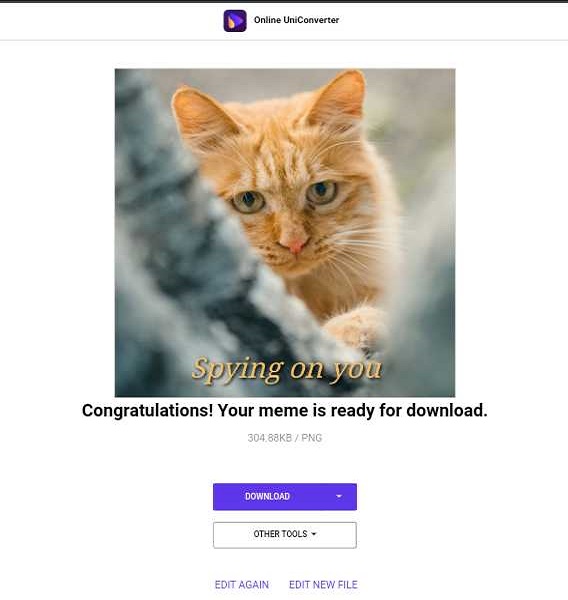 After creating your WhatsApp stickers/memes, follow the guidelines below to send the funny meme sticker to your friends or post the stickers/memes on your WhatsApp status within seconds:
Launch the WhatsApp app on your device.
Go to the conversation you want to send the meme; or your WhatsApp status if you want to share the meme.
Tap Attach and go through your gallery. The emoji WhatsApp meme you have saved will be found in your device Downloads Go there.
Choose the meme image you have created. Note that the smaller the image is, the more sticker-like it would look.
Share the WhatsApp meme stickers on the conversation or your WhatsApp status by pressing the Send button.
Conclusion
Conversations on WhatsApp get more exciting when including memes or stickers that crack up the person you text. You can make your conversations more interesting by using the memes stickers for WhatsApp. Make people want to always view your WhatsApp status by using our guidelines in this blog to create and share funny memes for WhatsApp status and chats.