Replying to a collaboration email is as important as sending one. Whether you want to accept the offer or are planning otherwise, a decent and humble reply always leaves a positive impression about your personality and professionalism.
Simply put, if you plan to refuse an offer due to your prior engagements, associations, or tight schedule, a respectful No would surely leave the doors open for you if you ever plan to connect with the other party in future.
With that said, the following sections explain how to respond to a collaboration mail both as a brand and as an influencer.
If You Are a Brand
If you are a brand or a representative of a brand and have received a collaboration email from an influencer, the following tips would help you understand how to reply to a collaboration email:
Tip 1: Credentials and Samples
If you have been approached by an influencer for collaboration, and you are planning to go ahead and accept the proposal, it is advisable to request the influencer to share some samples of their past productions. You can also inquire about the strength of the audience your brand is expected to reach during the promotion if you get associated with them.
Even though you may sound rude if the email is not drafted correctly, with proper use of words and humble tone, you would definitely look genuine and professional. At the influencer's part, if they are professional too, they wouldn't mind sharing the requested details.
Tip 2: Share Product/Service Details
Once you decide to hire an influencer for promotional campaigns, consider it your responsibility to share as much information as possible. If need be, do not hesitate to send them a sample product for testing. Although this approach may cost you a bit more, the review the influencer will come up with would be genuine and first hand.
Keep in mind that the more the influencer is equipped with the tools the more detailed and engaging content will they be able to produce for brand promotion.

Tip 3: Discuss Turnaround Time
You must also request for the information related to their time as to when do they plan to begin. If an influencer has approached you, it doesn't necessarily mean that they are not currently engaged with other projects. In that case, inquiring about the turnaround time in response to their collaboration mail would help you schedule your campaigns accordingly.
If You Are an Influencer
If you have been approached by a brand or any of its representatives, and have been requested to promote their product or service, it's time to congratulate yourself for being successful and noticeable in your line of business.
As mentioned earlier, a cheerful acceptance or humble denial are key elements of the influencers' profile. Therefore, the following tips explain how to response to a collaboration email when you receive one from an entrepreneur or a person representing them:
Tip 1: Quick Response
Regardless of the nature of your reply (acceptance or refusal), being a service provider (influencer), it is imperative to respond to a collaboration email as quickly as possible. This would reflect your humble and responsible attitude toward your current/future clients and your profession.
Furthermore, instantaneous responses give an impression that you are active and passionate about your work, and take your job seriously.
Tip 2: Ask for Details and Product Sample
If you plan to accept the proposal offered by the brand and agree to promote their product/service, feel free to ask for more details to get a clear picture of what you are about to market. In addition, if possible, you should also request for a sample or demo. Although asking for any such favor might sound a bit awkward to some clients, testing the service/product first would ensure that the description that you share with the audience is first hand, accurate, and is not misleading in any way.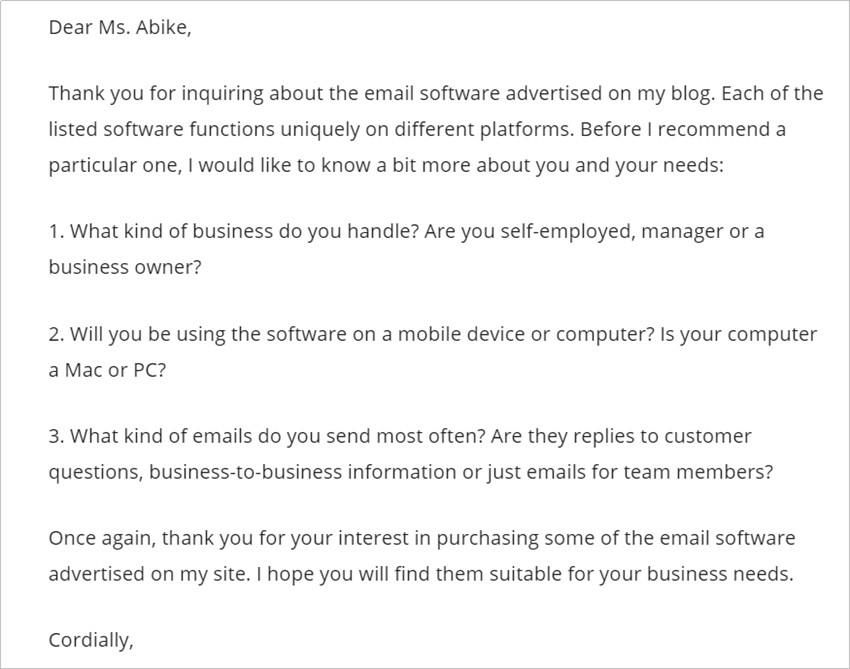 Tip 3: Conduct Researches
In addition to requesting details and sample from the company itself, conducting your own research is also important. This would help you discover genuine feedback shared by the customers who are already using the product (in case it was launched earlier).
Because your review should cover every aspect of the product including the issues existing consumers are experiencing, before finalizing the deal, you should inform your client about this. Always remember that talking about the downsides (at least briefly) is also important to gain audiences' trust as no product is foolproof.
Whether You Are a Brand or Influencer, These Tips Are Applicable
Apart from the above, there are a few tips that are universal and must be practiced by both parties for strong business association. The following suggestions help you draft an impressive reply to a collaboration email regardless of your job profile:
Tip 1: Simplicity
Regardless of your response, Yes or No, make sure to keep your email simple. While the complex and lengthy replies might be good if you want to convey a detailed reason for your acceptance or denial, short and simple responses would save you both a decent amount of time, and also eliminate the chance of the recipient losing their interest in you.
If you want to give a reason for not accepting their proposal, make sure not to get into details. A simple email that starts with Thank you for…, and refusing with Unfortunately… should suffice.
Also, do not forget to conclude the mail with We will get back to you once… to leave the doors open for future communications.
Tip 2: Voice Call Invitations
Either as a brand or an influencer, it is always a good idea to invite the other party for voice call. This not only gives you a fair idea about their personality, the approach is also helpful in developing trust that further enables you to build a long-term business association with them. In addition, with one-to-one interaction over a phone or voice messenger, you can share your ideas and views more clearly to the other party.
Tip 3: Negotiation
Trying to save a couple of bucks in every deal is human nature.
If an influencer has approached you and has mentioned the cost of their service, you may want to assess their skills on the basis of the details they have shared. Although saving some amount isn't a bad thing to do, you don't want to pay the influencer less than what they deserve. Do you?
On the other hand, if you are an influencer and have been contacted by a company, your reply should contain a suggested price with enough room for negotiation in order to establish a long-term business association.