Converting one file format to another is now an easy task thanks to the introduction of several offline as well as offline tools. These tools will allow you to change any file from SWF to GIF format easily. This is quite helpful for a lot of people as, by conversion, they can view files if one of the forms isn't supported on their device. If you wish to convert SWF to GIF, you can use an offline or online tool. The difference among these tools is that offline tools require you to download the tool on your device, and online tools can directly convert images using cloud technology.
Part 1. Online SWF to Animated GIF Converters
The following are the prominent online tool used for SWF convert to GIF online. Online tools do not have system restrictions, so people could convert their SWF file to GIF in Linux, Mac, and Windows.
URL: https://convertio.co/swf-gif/
Key Features:
This is one of the best online SWF to animated gif converter that supports a lot of other popular formats like JPEG, RAW, PNG, etc.
It is entirely free to use, and the User interface is top-notch, which helps the users to do their jobs efficiently.
It can provide a lossless conversion of any file that you want to convert.
Benefits:
There are little to no advertisements on this tool that makes the user experience a whole lot better.
The website is attractive and does all the conversions at a rapid rate.
Drawbacks:
The website doesn't allow you to store your files online, and they will be deleted if you accidentally close the site.
Due to overload issues, sometimes the download speed of the results is below average.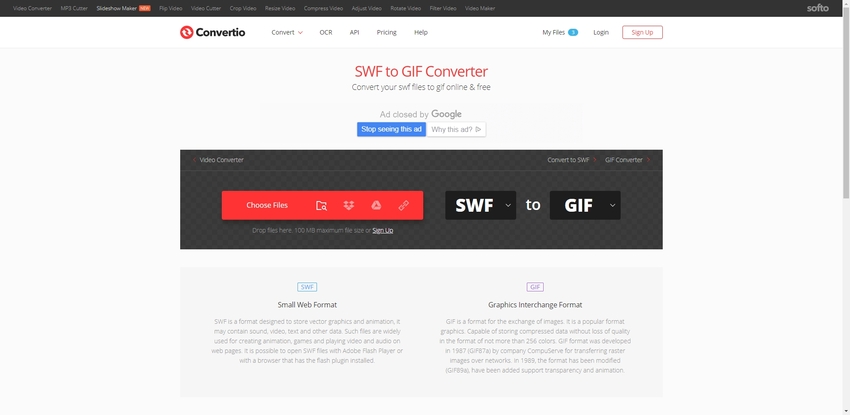 URL: https://onlineconvertfree.com/convert-format/swf-to-gif/
Key Features:
This tool boasts of support for more than 200 major file formats like GIF, JPEG, PNG, SWF, etc., for conversions.
This is the most reliable tool for the conversion of SWF to GIF online due to the use of advanced cloud servers.
Apart from conversions, it has a lot of other basic editing features like cropping, merging, compressing, and flipping.
Benefits:
This tool also allows for making custom icon image files apart from SWF convert to GIF online.
It allows for the high-quality lossless conversion of SWF to GIF online or any other type of transformation from the 200 supported file formats.
Drawbacks:
There are a lot of advertisements on this site that might be annoying for a lot of users.
The online SWF to animated GIF converter feature of this tool is slow at times that can significantly harm the user experience on this tool.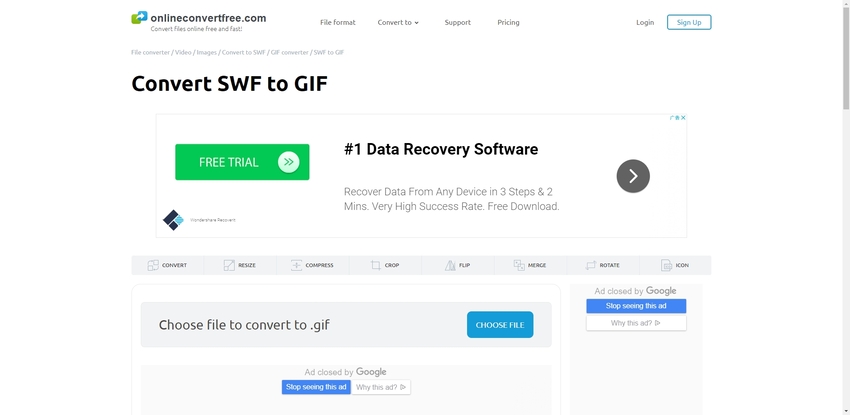 URL: https://www.aconvert.com/video/swf-to-gif/
Key Features:
Apart from online SWF to animated GIF converter, this tool has loads of innovative and useful features like editing of the image, conversions of other types of files, creating PDFs, and much more.
Features like creating, editing, and converting E-books, videos, and other files make this tool stand out of the line of another SWF to GIF online converters.
It provides high-quality lossless conversions without taking much time, and the download speed for the resulting files is always great.
Benefits:
There minimal ads on the website of this tool that enhances the user experience quite significantly.
All the features and options are correctly listed, and the process of conversion or performing any edit is straightforward to use, which makes it popular among new users and professionals alike.
Drawbacks:
This SWF to GIF tool can be a bit slow for processing the images if the servers are overloaded.
The audio file conversion feature of this tool is relatively slower than other similar tools.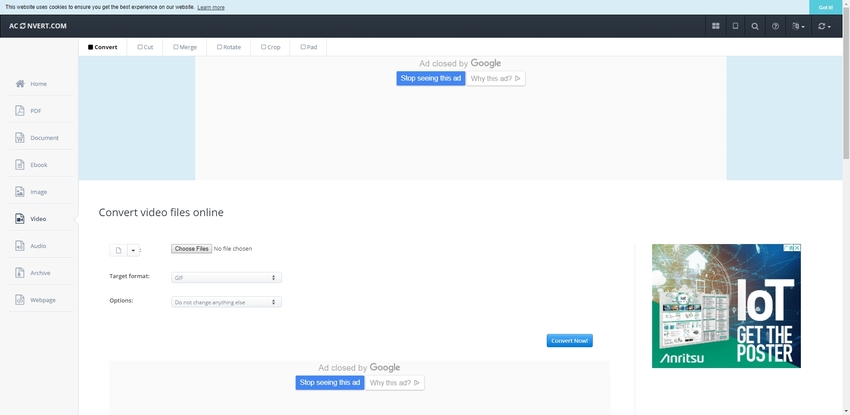 URL: https://cloudconvert.com/swf-to-gif
Key Features:
This tool is one of the most professional looking SWF to GIF online conversion tool, and its User interface is straightforward and minimalistic, making it easier to understand for new users.
This tool allows for the lossless conversion of any files and has support for transformation for all major formats, including JPEG, PNG, RAW, etc.
Cloud convert uses advanced cloud-based servers that allow you to easily convert all the files at a fast pace without the risk of losing any details in the image.
Benefits:
This is one of the very few SWF convert to GIF online that supports batch conversion of files.
Apart from image conversion, this tool also allows for the conversion of audios and videos along with providing you the ability to edit or change the codec.
Drawbacks:
A lot of times, the servers are too busy, and you might end up not getting the conversions that you might have wanted.
You might need to pay for the advanced features on this tool.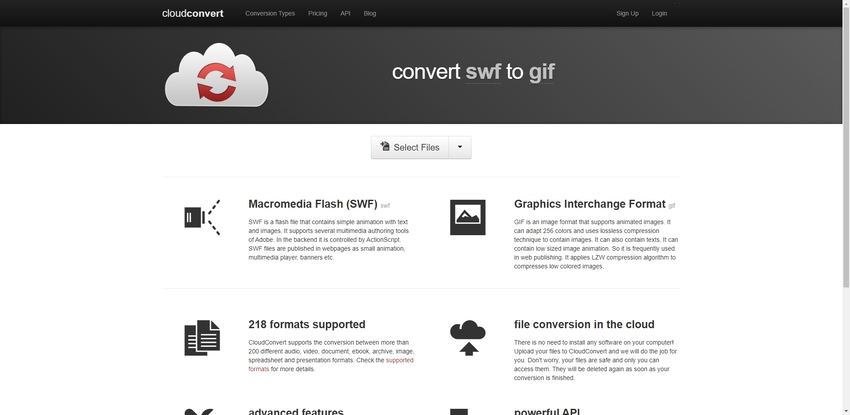 URL: https://pdfmall.com/swf-to-gif
Key Features:
This website ultimately ensures the protection of your data and its privacy with the use of advanced security algorithms.
This a very advanced tool that has a unique text recognition feature that enables you to identify and preserve each text present in the image.
There is support for over 200 major file formats for conversions, and it also allows for batch conversions.
Benefits:
There are multiple special features like text recognition, batch conversions, lossless conversions that make it stand out of the league of other conversion tools.
There is a minimum amount of ads on the website that is great for new users, as they won't get confused due to it.
Drawbacks:
This tool might feel a bit sluggish and slow while using an average speed connection.
Batch conversions take a lot of time and might even lose quality in some cases.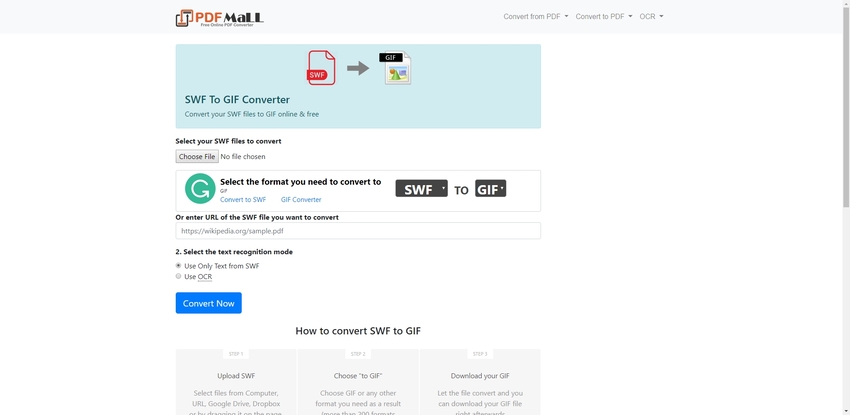 Part 2. Top 4 Software to Convert SWF to GIF
The following are a few of the best SWF to GIF converters that will allow you to convert your files offline.
URL: http://swf-to-gif.watermark-software.com/
Platform: Windows
Cost: Free/$19.90 for advanced features
If you want to convert SWF to GIF or wish to do any other conversion, this might be just the best tool for you. This software is one of the easiest to use tool that has a straightforward user interface. It allows for the lossless conversion of various file formats that is great, considering it is free to use. It is only available for Windows users and can be directly downloaded from the official website.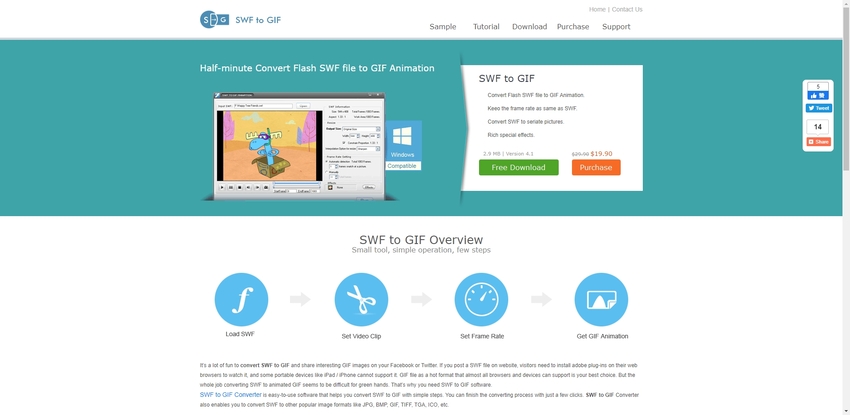 URL: https://www.videoconverterfactory.com/swf-to-gif-converter/
Platform: Windows
Cost: $19.90
Wonderfox is a top-rated tool among users that have to convert SWF to GIF regularly. It is a tool that offers a free trial, and by paying a onetime fee, you will be able to access all the advanced features. It is effortless to use and has a clean and clutter-free user interface that can quickly help you to convert your files without any prior experience for using this tool. This tool boasts of completely lossless conversion for any file that you turn using it.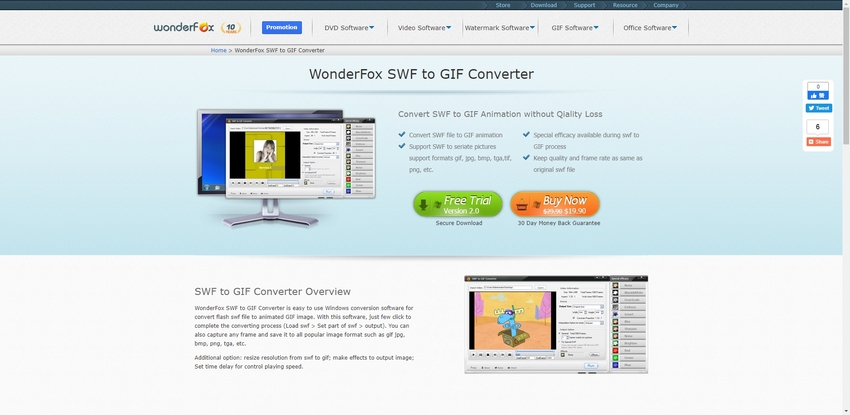 URL: https://www.aoaophoto.com/swf-to-gif-converter/swf-to-gif.htm
Platform: Windows
Cost: $19.90
Aoao is another excellent tool to convert SWF file to GIF with its vast set of features. This tool also offers a free trial to new users that you can use to understand the functions of this tool before you pay. It is effortless to use and is very lightweight as well. Extra features like the ability to tweak frame rates and quality of the output are quite innovative, and people find it somewhat useful. It is used by professionals and regular users alike across the world due to its simple user interface.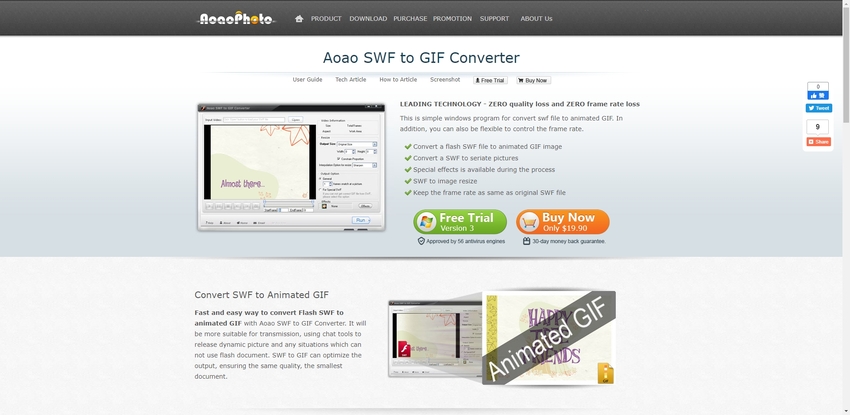 Thundersoft SWF to GIF Converter
URL: http://www.thundershare.net/swf-to-gif-converter/
Platform: Window XP and above
Cost: $19.95
This is one of the most popular tools among web developers and professionals due to its advanced functionalities and fast pace. This tool can be used to instantly convert unsupported file formats into usable formats that can be used by the user on their websites or other places. This is a very light tool that has support for nearly all the significant conversions and file formats, which makes it stand out of the crowd. The best thing about this tool is that the user can set the output speed and frame rates according to their preferences.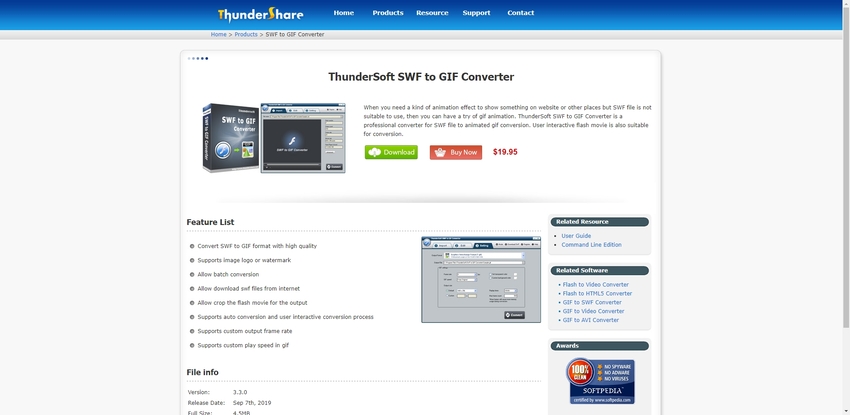 Part 3. Convert SWF to GIF Using Google Chrome Add-on
URL: https://chrome.google.com/webstore/detail/swf-to-gif-converter/ebkflnacbfpadadeebjpmfnlinnhclep
Add-ons are created to make life easier, and this adds on fulfills that. It is a light chrome extension that allows the users to directly convert any SWF file into a GIF file while downloading it. There are no ads associated with it, and it is entirely safe for use. The features that this tool has to offer make it a lot easier for users to convert their files and also help them to save a lot of time. It can be easily downloaded from the chrome extension store for free.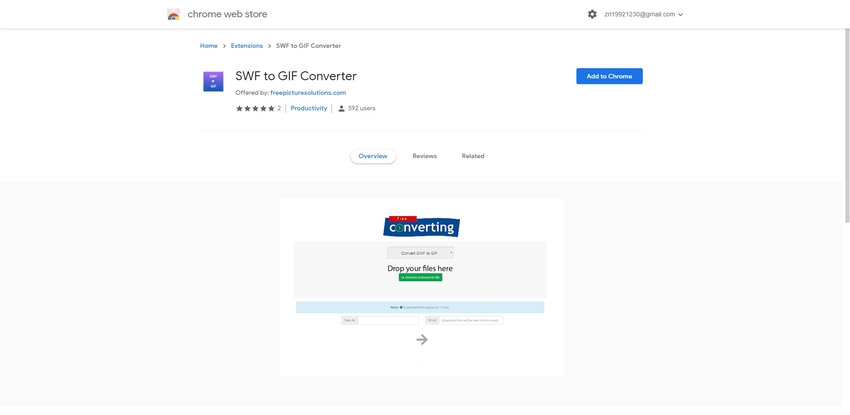 Summary
Converting SWF to GIF is a task that anyone might have to do. This is why knowing online as well as offline tools that can do the job is a knowledge that everyone should have. If you do not own a desktop or a computer device of any type, it is better to use an online tool as you can access them easily from shared devices and even mobile phones. If you have a device, then using an offline tool will provide you more advanced features. You can also use a trusted add-on from your browser that will allow you to convert any file while accessing them on your computer directly.
Wondershare UniConverter is not only could convert video, but it also could convert image and audio files. The total has more than 1000+ formats for you to convert and save.
Wondershare UniConverter
· Batch files conversion is supported in UniConverter.
· It can be downloaded in Windows and Mac.
· It allows users to transfer videos from computer to iPhone or Android mobiles without using iTunes.
· UniConverter has convert images, create GIF, burn CD, rip CD, cast to TV, and fix Meta tags features.
· Most beginners' first choice because it is simple and easy to learn how to use.