There are many reasons to purchase a sound to text converter. For example, you may want to add subtitles or captions to your video file before sharing it on YouTube. Or, you may want to understand better a podcast, speech, audiobook, and more. Whichever the case, getting a fast and accurate voice to text converter will do. Some even support transcribing multiple international languages. So, let's hunker down and list some reliable sound to text options.
Part 1. 3 Top-rated Audio to Text Converters Online [Free]
In this section, we'll list and learn how to use the best online voice converter apps. Remember, you can use them on mobile or PC.
Media.io should be your first choice if you want to convert sound to text quickly and accurately. Here, you can transcribe formats such as MP3, AAC, OGG, MP4, WebM, AVI, and more. Just upload your sound file and use the auto transcription tool to create accurate text tracks. That's not all. Media.io supports multiple transcription languages, including French, English, Japanese, Hindi, and more. Also, you can edit the text or subtitles tracks on the multitrack timeline by copying, duplicating, deleting, changing text, etc. And guess what? Media.io lets you download the subtitles in SRT or TXT formats. It doesn't get any better, does it?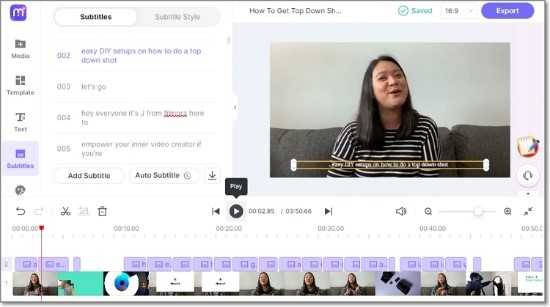 Pros:
It supports 1000+ formats.
Transcribe sound to multiple languages.
Up to 95% accuracy.
Edit the extracted text easily.
Save text in .srt or .txt.
Con:
Doesn't work smoothly on mobile browsers.
Flixier is another excellent online voice to text converter for transcribing podcasts, speeches, voiceovers, movies, and more. This online video editor is compatible with standard video and audio formats like AVI, MP3, MP4, WMV, and MKV. After uploading your audio, Flixier uses advanced AI technology to transcribe sounds and synchronize texts with your video. But before converting, you can customize the subtitle text, font, size, and positioning. In addition, Flixier can transcribe audio from 20+ languages. However, free transcriptions are limited to only 5 minutes every month.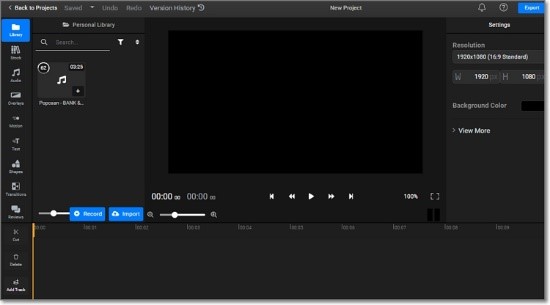 Pros:
Multiple formats are supported.
It supports 25+ languages.
Download .txt file.
2,000+ inbuilt fonts.
Import Zoom videos directly.
Cons:
Limited free version.
Not for beginners.
With Happy Scribe, you can transcribe audio manually by adding text tracks or using the AI-powered transcription service. Also, you can book the human transcription services but at a fee. That said, Happy Scribe allows you to upload over 50 audio and video formats. Then, you can transcribe audio or voice overlays in Portuguese, Hindi, English, French, Dutch, and more. In addition, you can export the text to TXT, SRT, VTT, Word, PDF, and more. However, there's no free AI service.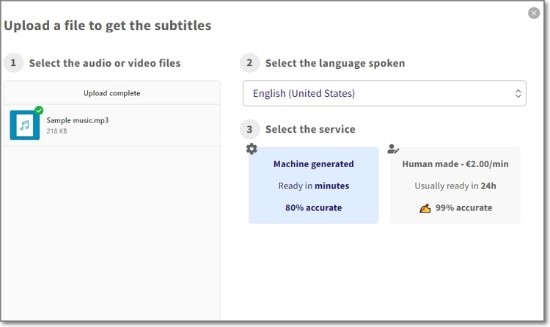 Pros:
50+ formats support.
Transcribe sound to multiple languages.
Download texts to several formats.
Manual transcription service.
Cons:
85% AI accuracy.
It's a bit overpriced.
Part 2. 4 Best Speech to Text Apps for Android/iPhone
Nothing beats the convenience of transcribing sounds on the go using a speech to text app. So, without wasting time, below are the best speech-to-text converters for Android/iPhone.
Compatibility: Android 6.0 or newer
Live Transcribe & Notification is an Android voice transcription service with more than 500 million downloads. With it, you can quickly and accurately transcribe voices in over 80 languages and switch between two languages seamlessly. As you transcribe, the texts appear word-for-word on your phone as they are being spoken. Also, you can add custom words such as names, and your phone will vibrate each time someone mentions your name. Plus, this app will notify you whenever something personal or risky happens.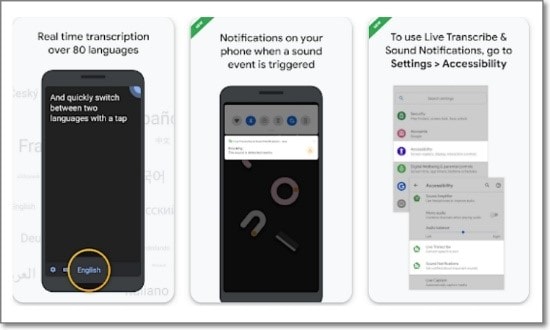 Pros:
Transcribe sound in real-time.
Type conversation responses.
Copy and paste transcriptions elsewhere.
Real-time notifications.
Con:
Needs an internet connection to work.
It can be inaccurate sometimes.
Compatibility: iOS 14.0 or newer
Transcribe – Speech to Text is a highly rated iPhone voice to text transcription service that also works smoothly on iPads and Macs. This app uses intelligent AI technology to provide quality and readable transcriptions. Excitingly, this sound to text converter supports more than 120 transcription languages and allows users to export raw texts to their favorite text editor. You can export text in SRT, PDF, DOCX, and TXT formats. However, you'll need a Pro account to do that.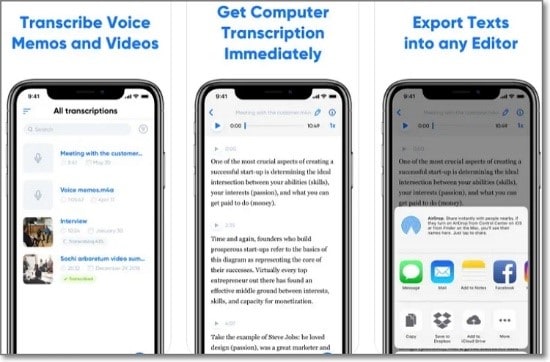 Pros:
Import sounds from Dropbox and other apps.
120+ transcription languages.
Multiple output presets.
Simple UI with no ads.
Cons:
Only 15 minutes of free transcription.
It's inaccurate at times.
Compatibility: iOS 14 or newer
Mac, iPhone, iPad, and Apple Watch users can use this audio to text converter to accurately transcribe audio. With this app, you only need to recite your text instead of typing. You can even record or play audio, then Dictation will do the dirty work. It supports 40+ translation and dictation languages, making it perfect for YouTubers and vloggers. After transcribing sound, Dictation will automatically synchronize the texts to iCloud. Or, tap the "Share" button and export text to WhatsApp, Facebook, Instagram, Twitter, etc.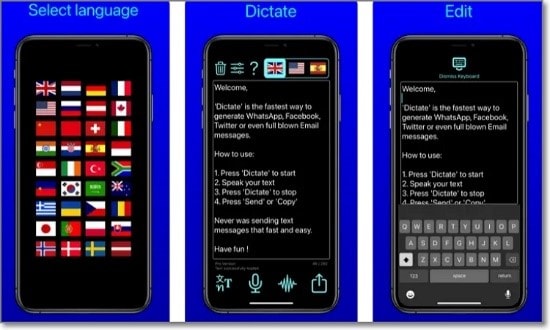 Pros:
Compatible with all Apple devices.
40+ input and output languages.
Dictate speech/audio instead of typing.
Auto-synchronize text to iCloud.
Cons:
It can be inaccurate with multiple voices.
Not beginner-friendly.
Compatibility: Android and iPhone
If the speech to text converters above don't impress you, consider Dragon Anywhere. It's a professional text recognition service for Android and iPhones. It offers super-fast dictation and recognition with almost 99% accuracy. Interestingly, there is no time length here, meaning you can speak as long as you want while creating documents. And then, after dictating and transcribing, you can export text to email, Dropbox, Evernote, etc.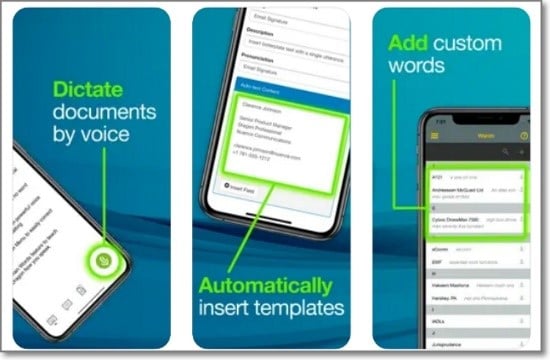 Pros:
Accurate transcription and dictation.
Compatible with iPhone and Android.
Unlimited dictation time.
Powerful voice editing.
Cons:
No free service.
$150 per year.
Part 3. 3 Free Voice-to-Text Software for Windows/Mac
Before we wrap up this post, let's discuss three helpful solutions to transcribe sounds on Mac and Windows PCs.
Freebie lovers should love this cloud service from Google. Launched in 2006, Google Docs is a multilingual cloud service that also packs Google Slides, Google Forms, Google Sheets, and more. Having said that, you can create and edit documents while collaborating with other editors. And to make your work easier, this cloud service allows you to dictate texts and edit mistakes while voice typing. For instance, you can add texts, punctuations, formatting, and more. However, you should speak clearly and slowly for the voice commands to work accurately.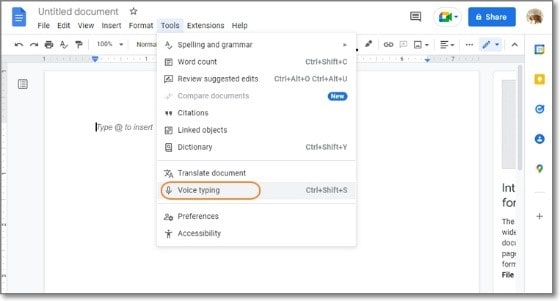 Pros:
Free, cross-platform service.
100+ dictation languages.
Multiple voice commands.
Collaborative document editing.
Cons:
Lots of complex features.
Windows Speech Recognition (WSR)
Windows 10 and 11 users don't need to install anything to convert voices to texts. Instead, these systems come already baked with super-accurate speech recognition services. This service is available in multiple languages like German, French, English, Japanese, Chinese, and Spanish. You can use it to dictate to your computer to start, shut down, open Word, insert texts, select word range, punctuate documents, and more.
Pros:
Free, inbuilt service.
Command your computer system effortlessly.
Multiple languages supported.
Hundreds of voice commands.
Cons:
Only for Windows systems.
Limited command and voice recognition languages.
Dictate is a speech to text recognition service for Windows 10 PCs. Actually, it's an add-in for Microsoft Office 365 services like Word and Excel. As the name suggests, Dictate allows you to type all day by merely reciting words. This voice recognition service supports up to 29 spoken languages and 60 real-time translation languages. Also, Dictate features convenient voice commands like "enter," "stop dictation," and "new line." You can even add punctuation marks with voice commands.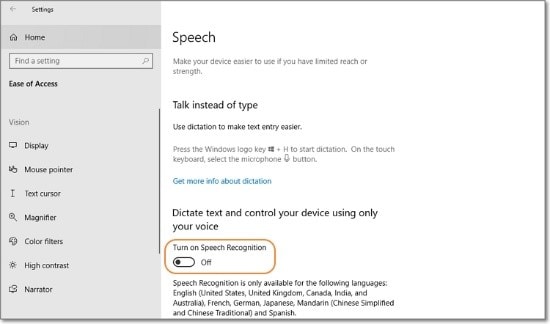 Pros:
AI-powered speech recognition service.
Compatible with Office 365 services.
Multiple languages supported.
Multiple voice commands.
Cons:
For Windows PCs only.
Use a microphone for the best results.
Final Words
Any questions or additions? You're free to add to our list. Meanwhile, use these speech-to-text conversion services to transcribe sounds. With a speech-to-text converter like Media.io Speech to Text Converter, you will transcribe more than 90 languages and download SRT or TXT subtitles. And don't forget to exploit the multitrack video and audio editor. Give it a try!