Text memes are the real deal these days. You'll find people sharing funny memes on platforms like Twitter, Facebook, Instagram, and so on. The fascinating thing about memes is that they are funny and allow the creator to communicate efficiently. Even better is the fact that creating one is very simple with the right meme text generator. So, in this post, we're going to list up to 10 well researched meme text generators to consider.
Part 1. What is a Meme Text Maker?
A meme text generator is simply a program (online or offline) that allows you to create captivating meme captions. In other words, the perfect meme maker will enable you to add customizable meme captions for maximum effect. For example, you can edit the text size, color, positioning, opacity, font style, and even add emojis. In addition, some meme text makers come with multiple template designs to make your meme more unique and attractive. And if you're lucky, a meme text maker will offer you thousands of meme templates to customize with your own captions.
Part 2. 10 best handy meme text generators online
Now let's discuss the best meme text generators in the game: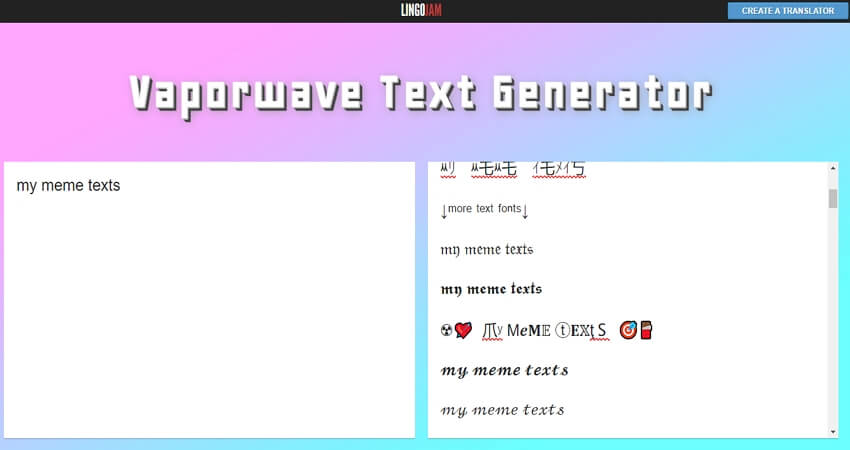 Vaporwave Text Generator isn't a meme maker. Instead, it's a text generator that allows you to create quality looking texts with stylish fonts. Put simply, you can convert normal looking captions to cool fonts and styles. For example, you can change a standard text into old English font, handwriting font, font art, etc. This free text maker also comes with unique stickers and emojis to copy and use for free. Just enter the meme text you want to transform and copy it on your clipboard. That's it!
Pros:
Very easy to use.
Multiple font styles and arts.
Free to use.
Cons:
Not a meme maker.
Nothing much about it.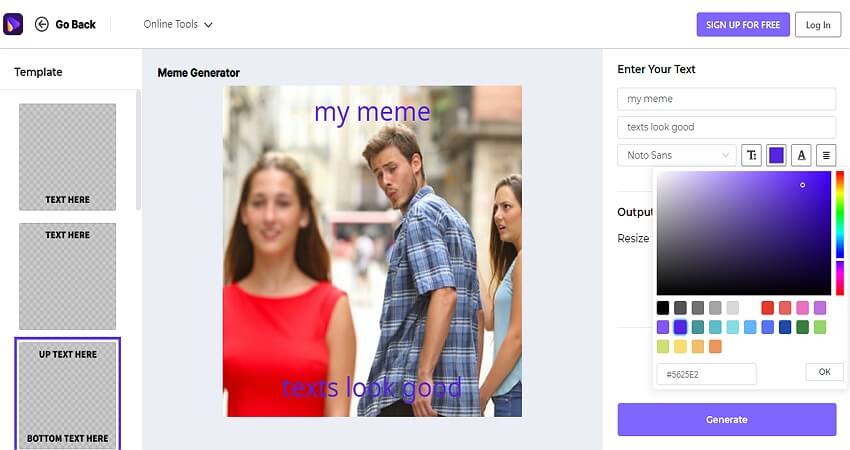 Now let's get to the real meme maker online – Media.io Meme Generator. Although this website is famous for its file conversion and video editing services, it houses several handy tools, including a meme maker. Here, creators can generate memes from all image formats, including GIF files. It features 10+ free meme template designs to customize with a meme face text. In addition, Media.io Meme Generator features a robust text editor to retouch the text color, impact, size, positioning, and more. What's more, you can specify the output aspect ratio for your meme.
Pros:
Simple and free to use.
10+ meme template designs.
Create memes for popular social media platforms.
Cons:
No free meme templates to download.
Nothing else.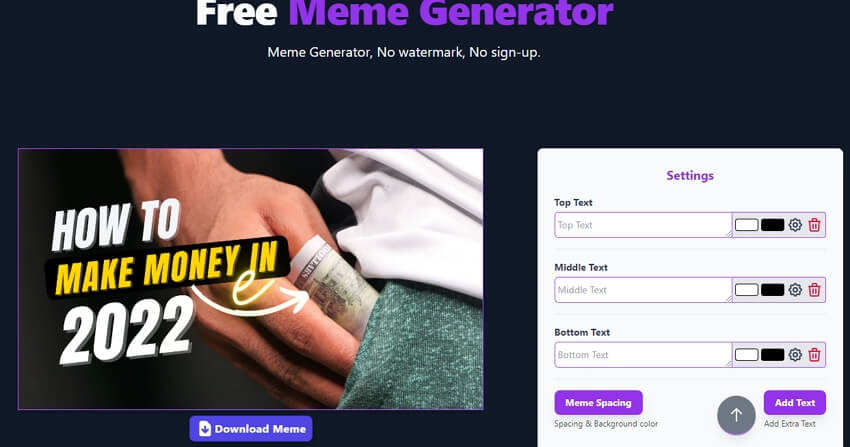 DrMemes is another free text maker to create an award winning meme in seconds. As expected, this online tool offers a straightforward UI with hundreds of free meme templates to browse and edit as you wish. It allows users to add top, middle, and bottom meme captions before editing the color, size, alignment, and font style. In addition to that, you can customize your meme texts with hundreds of fun emojis and stickers. And even more importantly, you can resize the meme image size. Be mindful of the ads, though!
Pros:
Hundreds of free stickers and emojis.
Customize the meme size.
Apply text shadows and strokes.
Cons:
No ready made template designs.
Annoying adverts.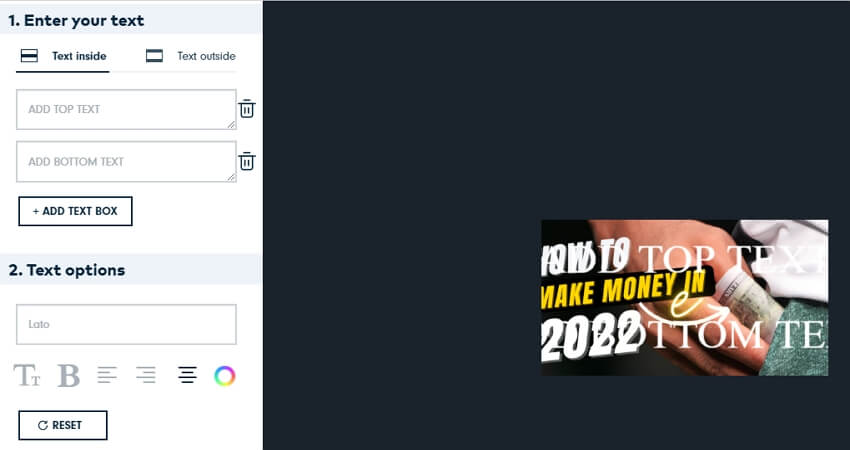 Filmora Free Online Meme Maker is a free meme maker that works with popular video formats, image formats, and GIF files. With it, you don't have to sign up anywhere to generate memes. Instead, just upload your file and get going. You can even upload a video or image URL. After adding an image, this text creator online allows you to crop, flip, and rotate before adding the top and bottom texts. As usual, you can change the text opacity, color, size, impact, and other settings. And if satisfied, you can export to PNG or JPG.
Pros:
Create memes from videos.
No watermarks.
Export meme to GIF or JPG.
Cons:
Not beginner friendly.
No free meme templates in sight.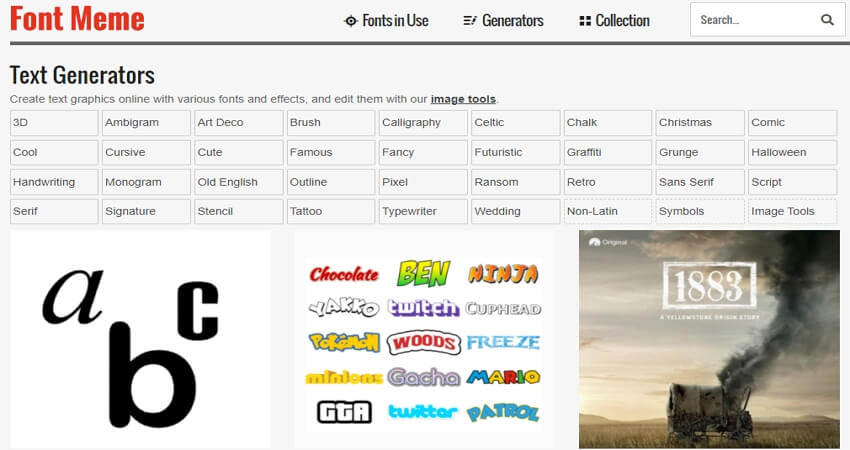 Font Meme is a helpful text generator that allows you to create cool texts for your upcoming meme project. You can create text graphics based on categories like 3D fonts, graffiti, tattoo, retro, typewriter, etc. But that's not all; Font Meme comes with tens of text effects to add pomp and color to your meme texts. You can even choose the type of 3D animation to add to your meme text. Overall, it's a wonderful text generator once you learn to use it.
Pros:
Multiple text effects.
Create colorful 3D texts.
Tens of font styles.
Cons:
Not a meme maker.
It needs a learning curve.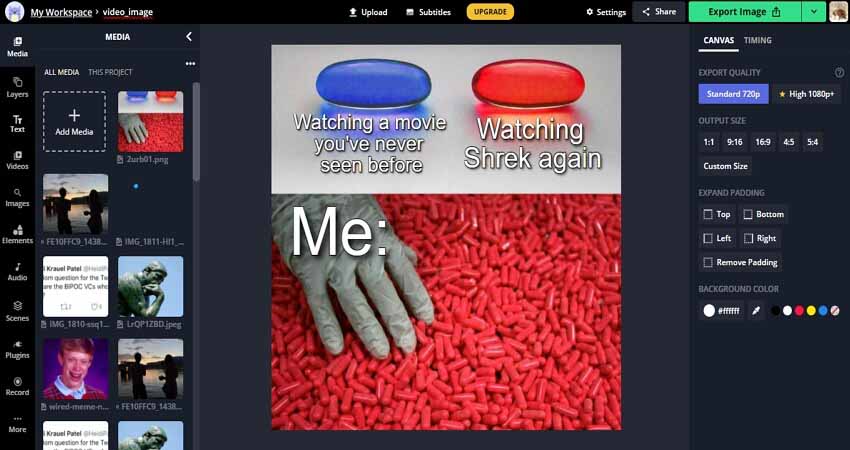 Kapwing is a super clean meme maker with hundreds of free templates to select. Here, you can upload a local or online image file or simply choose a template to customize. After choosing a meme template and adding it to Kapwing Studio, you can edit it with any caption of your choice. Like other online apps here, this meme font text generator allows you to retouch the text outline, size, color, opacity, and so on. Also, Kapwing enables you to add animations like fade, pope, and reveal to your meme text. Another thing, you can directly share the created meme to social media.
Pros:
Hundreds of customizable meme templates.
Numerous meme template designs.
Add text animation to meme texts.
Cons:
Not beginner friendly.
Only PNG image outputs.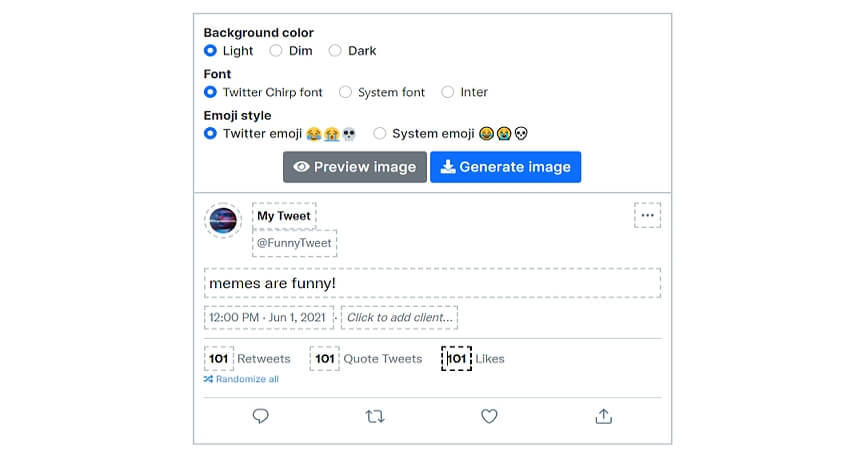 Have you noticed the flurry of fake tweets these days? Well, phony tweet creators like TweetGen are at play. With this meme text editor, you can create a hilarious tweet in seconds. It allows you to add everything that an actual Twitter account needs. For example, you can add your own profile picture, name, Twitter name, current date, and the number of retweets. And to make the tweet even more believable, TweenGen lets you add a verification checkmark to the fake profile. And you know what? It's absolutely free to use!
Pros:
Simple and free to use.
Change the tweet background color.
Create a Twitter reply chain.
Cons:
It needs prior Twitter knowledge.
You can't add a meme template.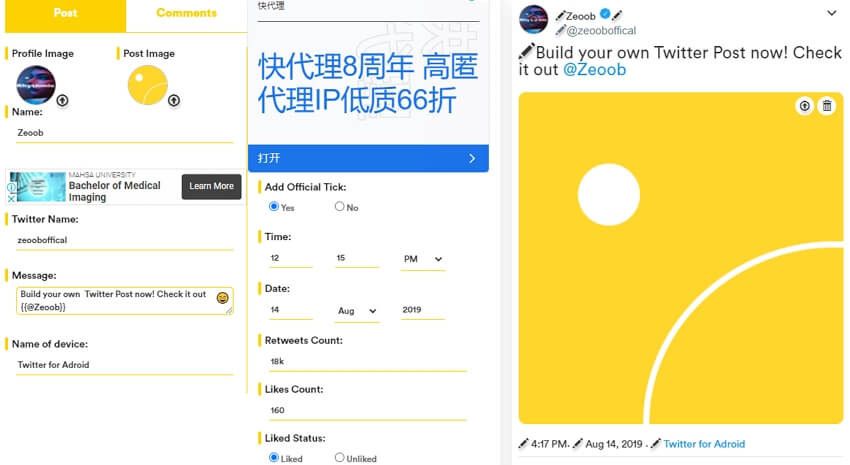 Zeoob is another exciting tool to create a fake tweet quickly and easily. Like TweetGen, this online program packs everything you need to make your tweet believable. For example, you can use your real profile image, names, and even add the actual date and time. But even better than TweetGen, Zeoob lets you add an image post to your fake tweet. Remember also that you can create a hilarious Twitter comment for your tweet.
Pros:
Add a meme template to your tweet.
Create a fun Twitter comment.
Add custom reply, retweet, and like counts.
Cons:
Cluttered UI.
It has ads everywhere.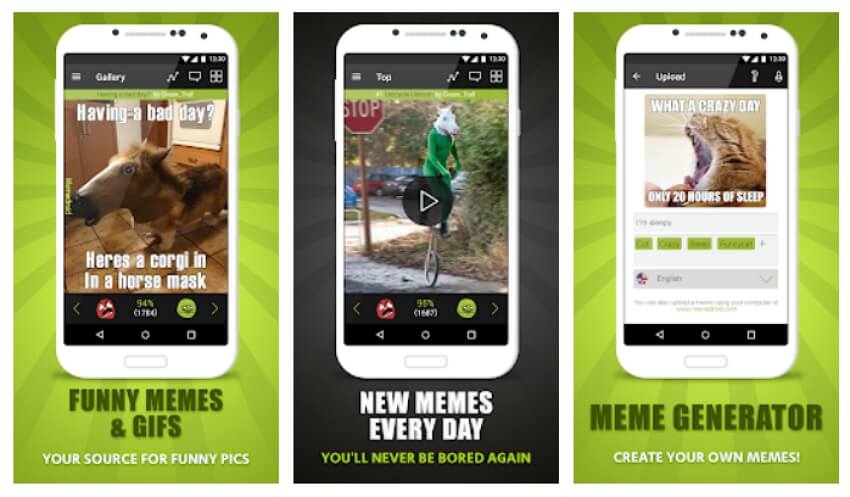 Use Memeroid to design and create cool text memes on your Android phone. With this top rated app, you can create memes from your funny pics and GIFs. As usual, Memeroid lets you add crazy captions to your meme template and become one of the top creators of all time. But that's not all; this app has a vibrant and active meme community that always shares and rates memes. So, if you want a platform to share your humorous side, install Memeroid on your phone.
Pros:
Free to install.
Intuitive meme creator.
Active Memeroid community.
Cons:
Lots of unfiltered content.
Full of American politics.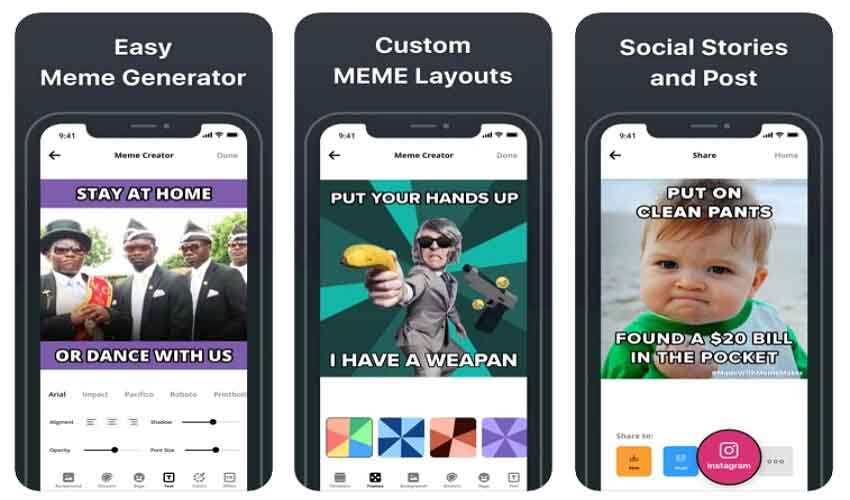 On the other hand, iPhone users can create beautiful memes effortlessly with The Meme Maker & GIF Generator. Of course, it's easy to use, as you only need to upload your photo and customize it with relevant texts. This app comes with a text editor to help you retouch the text opacity, shadow, size, font type, and other settings. In addition, The Meme Maker & GIF Generator packs hundreds of free meme templates to customize and download. Plus, you can directly export the created memes to Instagram, Facebook, and other social media apps.
Pros:
Hundreds of free meme templates.
Add stickers and emojis to memes.
Directly export memes to social media.
Cons:
Too many ads.
Watermarked outputs for free users.
Part 3. FAQs about text creator online
1. How to easily add text to a meme?
You can easily add meme text to image on any device using Media.io Meme Generator. It's a cakewalk, actually. Follow me:
Step 1. Launch Media.io Meme Generator and then tap Choose Files to add an image file or merely drag and drop it.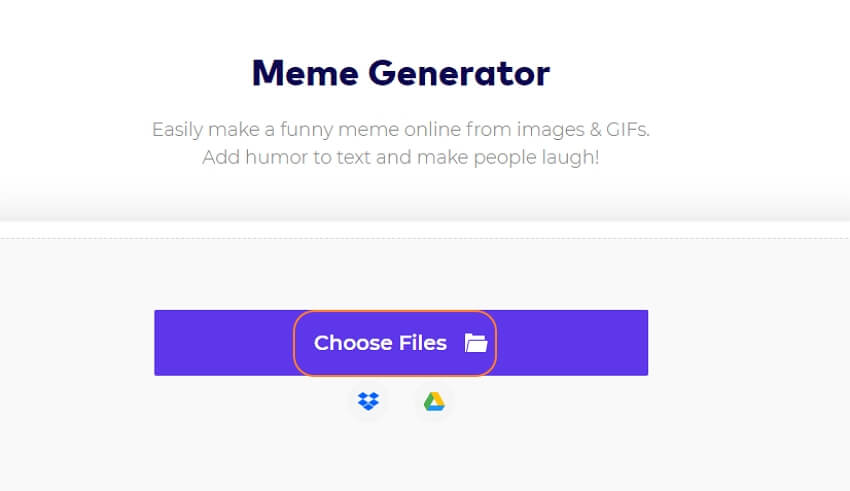 Step 2. Now choose a template design and then apply the top and bottom captions. Remember to use the text editor to beautify your meme texts.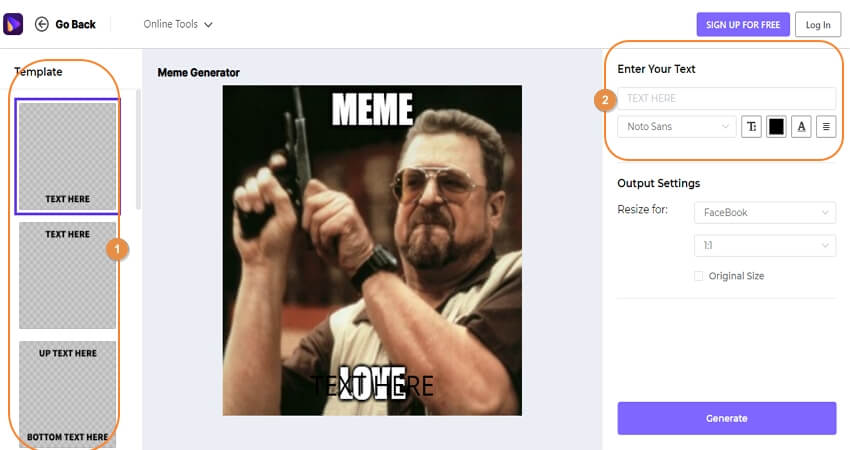 Step 3. Choose the image aspect ratio and then click Generate. You'll have your meme in seconds.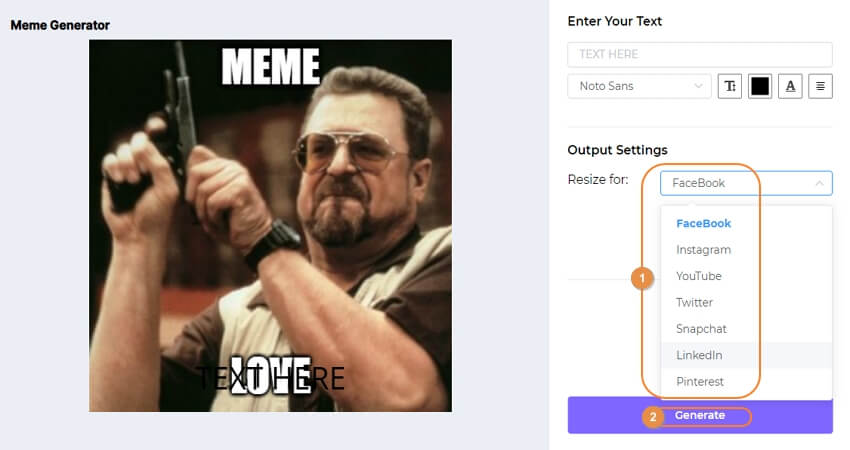 2. How to create a plain text meme?
Sometimes you don't have to create a meme using a movie screenshot or a funny picture. Instead, something plain and simple would do. In that case, you will need a plain text meme generator like Imgflip. Alternatively, you can generate a fake tweet using an online tool like TweetGen. So, choose whichever app that fits your style.
3. How to make my meme text glow online?
A cute meme is all about the text you insert. You can add a hilarious caption but still fail to get the desired impact due to dull texts. So, use a glitter text maker like Picasion to attract the attention you need. With this meme text maker, you can change the font type, positioning, and size. You can also add or remove a text border before applying a glitter effect of your choice. And above all, Picasion lets you save the animated text on your device for sharing and re sharing.
Conclusion
I guess you've learned a lot up to this point. First, you can use a text maker like Vaporwave Text Generator to create a meme text style that's too good to ignore. Then, use Media.io Meme Generator or any other app to make your cool meme with the generated text. And don't forget that sometimes all you need is a hilarious tweet to leave your followers in stitches. Enjoy!