Now, what's the best karaoke microphone ? This is a question that has been disturbing most karaoke fans. With so many mics out there that promise the ultimate karaoke experience, zeroing in on the best unit can be confusing. You'll find both wireless and wired options at pocket-friendly prices, although I recommend the wireless mics for their flexibility. So read on to know the best bluetooth karaoke microphone that is worth your money.
BONAOK Wireless Bluetooth Karaoke Microphone
The Bonoak Wireless Bluetooth Karaoke Microphone is a sleek-looking and extremely portable mic. It features a dull, pink finish that's comfortable on the hands. With this mic, you'll enjoy a reliable inbuilt Bluetooth connectivity that allows you to connect it to your speaker, music player, computer, and more. On top of the secure Bluetooth connection, this wireless mic can also be connected to a speaker using a cable. Even better, it supports USB connectivity and offers an expandable memory size of up to 32GB.
Pros:
Two-way connection.
Expandable 32GB SD connections.
USB port.
Cons:
Average surround effects.
TOSING 008 Wireless Bluetooth Karaoke Microphone
TOSING is a leading producer of high-quality microphones currently, including the TOSING 008. With this 3-in-1 wireless Bluetooth karaoke mic, you'll enjoy a 10W loudspeakers for the best music experience. Also, the advanced Bluetooth 4.2 connectivity is so reliable and can reach up to an incredible 33 feet. Not to forget the layered shells and high tech components on the mic.
Pros:
Bluetooth 4.2 connectivity.
Great sound quality.
Durable battery life.
Cons: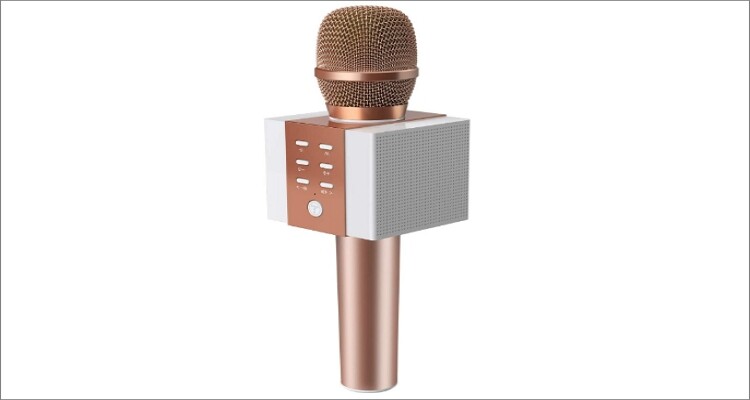 GTD Audio G-380H VHF Wireless Microphone System
The GTD Audio G-380H microphone system is a high-quality, 4-channel handheld unit that uses the advanced Surface Mounted Technology (SMT). With it, you can receive backup from up to three sources while on stage to make the event more electric. This affordable system also comes with excellent volume controls for each of the four channels to help you tune the volume to your convenience. Moreover, the unit can cover up to 230 feet to help you and your pals move around while performing.
Pros:
Four mics and four-channel receiver.
Individual volume controls.
230 feet coverage.
Cons: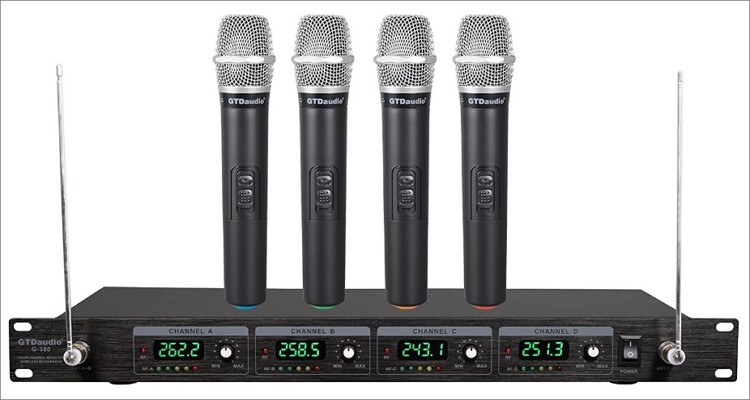 Tralntion XINGMA PC-K6 Portable Rechargeable LED Wireless Microphone
The fourth entry on this list is from none other than Tralntion themselves. It is a beautiful rechargeable wireless microphone that offers fantastic sound quality. Surprisingly, it features an inbuilt ANC (Active Noise Cancellation) for canceling all background noise while on stage. Also, the build quality and hand comfort of this mic are second to none. And lest I forget, anything that can fit in the 6.35mm plug is accepted here. That includes your DVD player, TV, speaker, and more.
Pros:
Flexible connectivity.
Excellent build quality.
Long-distance coverage.
Cons:
Verkstar Upgraded Wireless Bluetooth Karaoke Microphone
When rocking the stage, you'll always want to be the main center attraction. Well, the Verkstar Karaoke Microphone will help you with that, thanks to its controllable colorful LED lights. The flashing lights will flicker through the music rhythm effortlessly, giving you that dynamic light show. Also, it features a loud karaoke speaker that offers clear sounds and powerful reverberation. Furthermore, you can connect it via an audio cable or Bluetooth.
Pros:
2-way connection.
Up to 10 hours of battery life.
Flashing multi-color LED light.
Cons: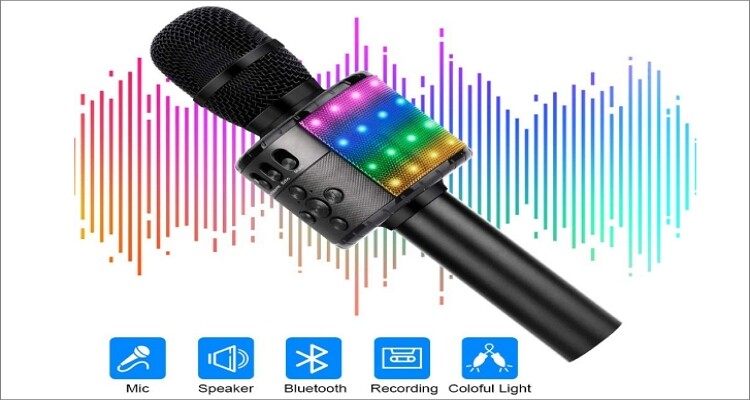 mockins Wireless Bluetooth Karaoke Microphone
At $22, the mockins Wireless Bluetooth Microphone is a steal. To begin with, it offers simple controls to help you skip, record, adjust volume, remix, scan FM radio, and more. Also, it boasts of an inbuilt Bluetooth connectivity to give you a wireless connection with your computer, speaker, or mobile device. What's more, you can connect up to four devices via the headphone plug-in, TF card, AUX, and USB port.
Pros:
Mind-boggling lifetime warranty.
Up to four input channels.
Simple controls.
Cons: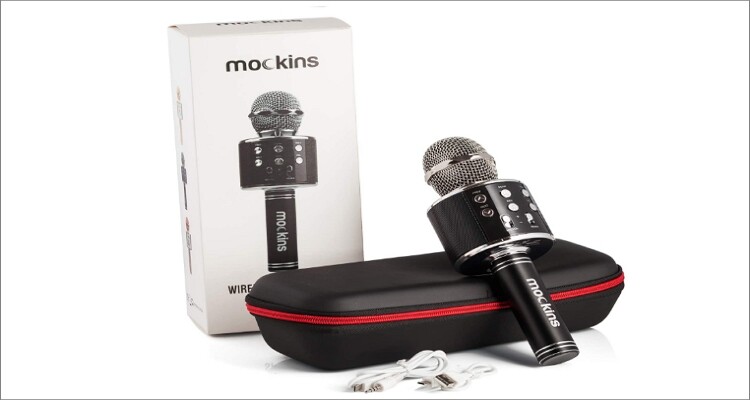 BONAOK Wireless Bluetooth Karaoke Microphone (Q88 Space Gray)
This BONAOK Bluetooth Karaoke Microphone is the perfect fit for any situation. First, it applies the latest technologies like the integrated LED lights on the front and rear sides to make the show more colorful. It offers up to seven breathing lights and six full colors. Also, it has a super-powerful speaker with a three-layer filter and DSP technology. And as expected, the Bluetooth connectivity enables you to securely pair the mic with your speakers, computer, or mobile device.
Pros:
3-layer net for noise reduction.
Support SD card.
Durable battery capacity.
Cons: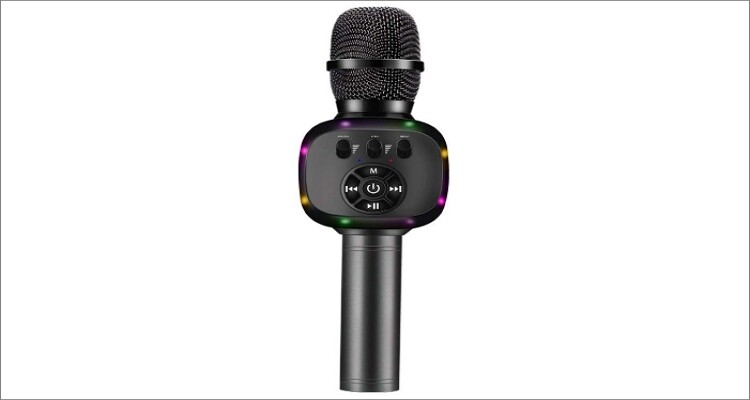 TOSING Wireless Kids Portable Karaoke Microphones
This TOSING wireless microphone is the perfect gift for your little ones to rock their birthday parties. It uses a rechargeable lithium battery that takes around 2.5 hours to charge and offers up to 5 hours of playtime. Also, you can pair it to your iPhone/Android via Bluetooth connection or use the provided USB cable to connect it to your Android. This way, you can stream live music from Spotify, YouTube, or Pandora. However, the fact that the mic offers no volume control is a severe drawback.
Pros:
Sturdy and durable construction.
Connects to Android and iPhone easily.
Nice carrying case.
Cons: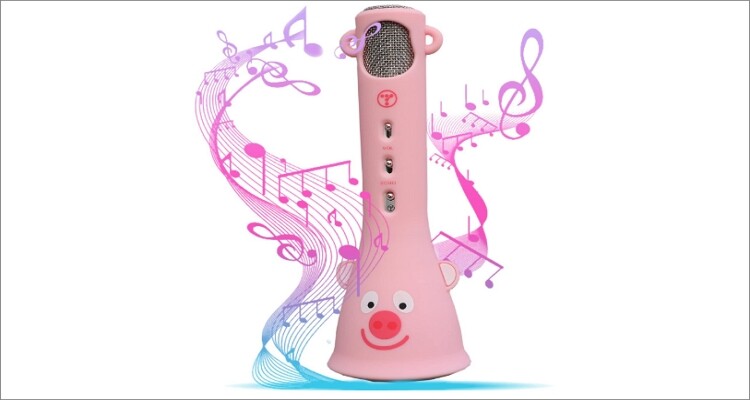 Tzumi PopSolo – Rechargeable Bluetooth Karaoke Microphone
The Tzumi PopSolo Bluetooth Karaoke Microphone is available in rose gold and black colors. Here, you can download any karaoke app and connect your smartphone or tablet to your microphone before hitting the stage. It offers a reliable and retractable smartphone holder that can fit devices up to 6". Also, it provides a 2-in-1 wireless speaker and advanced Bluetooth connectivity that supports smartphones, tablets, or computers. Plus, the long-lasting battery can give you as much as 5 hours of entertainment.
Pros:
Long battery life.
Seamless device connectivity.
Supports any karaoke smartphone app.
Cons: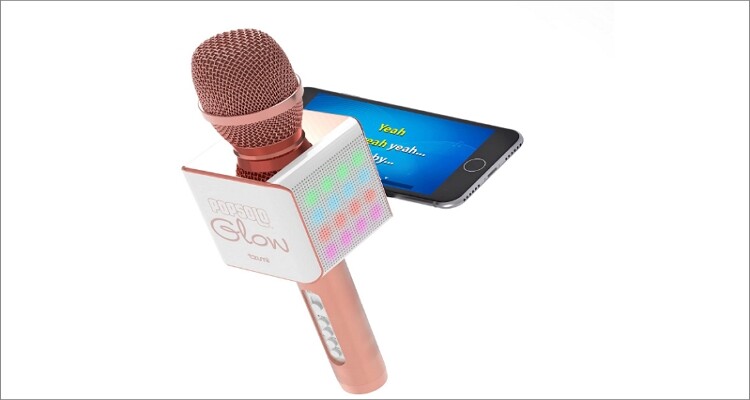 Singsation Karaoke Machine
The last Bluetooth karaoke microphone on this list is the Singstation Karaoke Machine. This unit offers electrifying room and ceiling light effects to make the performance more fun. Also, the digital system allows you to enjoy audio files saved on your mobile device or computer, thanks to the high-quality speaker and reliable Bluetooth connectivity. Besides that, you can stream videos directly from YouTube. Overall, it offers great vibes for your club and house parties.
Pros:
Impressive build quality.
Suitable for multiple events.
Multiple light effects.
Cons: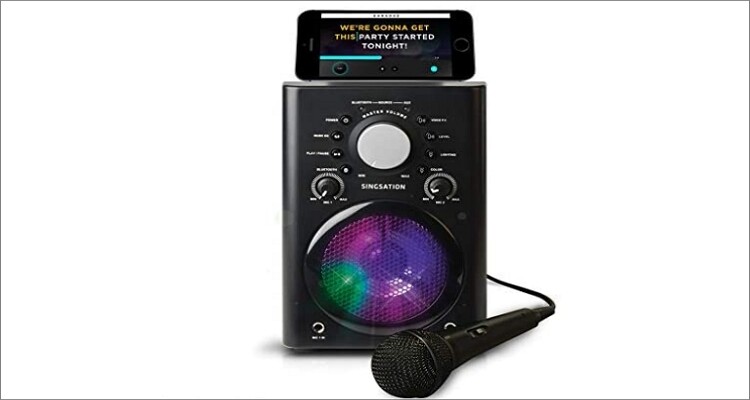 So, which is The Perfect Karaoke Microphone?
Simple! It is all about the use-case and your pocket-size. Luckily, this list entails anything for all circumstances. So, just make a pick and entertain your guests and family with beautiful karaoke memories.