If you're using Google Play Music to stream your favorite tracts, there's bad news for you. Google announced in August 2020 that YouTube Music would be replacing the service as of December 2020. Luckily, you won't lose your hard-earned music library as you can transfer everything to YouTube Music and continue where you stopped. But sadly, YouTube Music's free plan is ad-supported with an advert-free subscription starting from $9.99. So, the smarter move is to enter the Google Play Store app on your Google phone and download these ten excellent Google Play Music alternatives.
Part 1. Best Free Music Apps on Google Play Store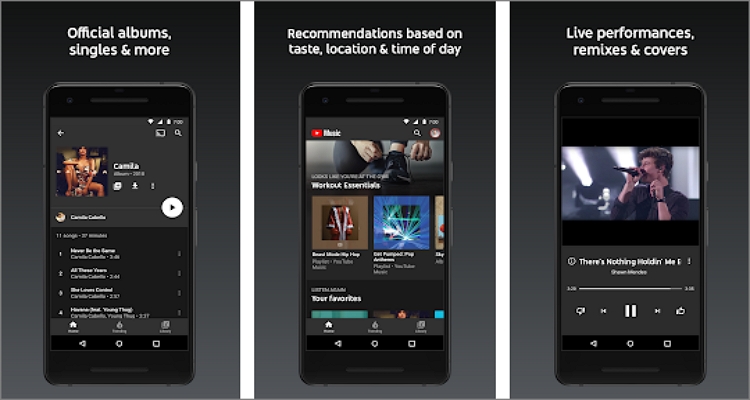 If you're not ready to lose your Google Play Music library, it's better to start getting acquainted with YouTube Music. It offers both free and premium versions, although it's the former that has more perks. First of all, you'll enjoy a 30-day free trial period to try out the site. After that, you can proceed to upload 50,000+ local songs and start streaming on the move. Also, you can stream over 30 million songs with new recommendations to suit your taste. And lastly, the songs are available in varying genres like decades, artists, mood, and artists.
Pros:
Sync playlists with Google Play Music.
Users can upload 50,000+ songs.
Cons:
Sound quality not the best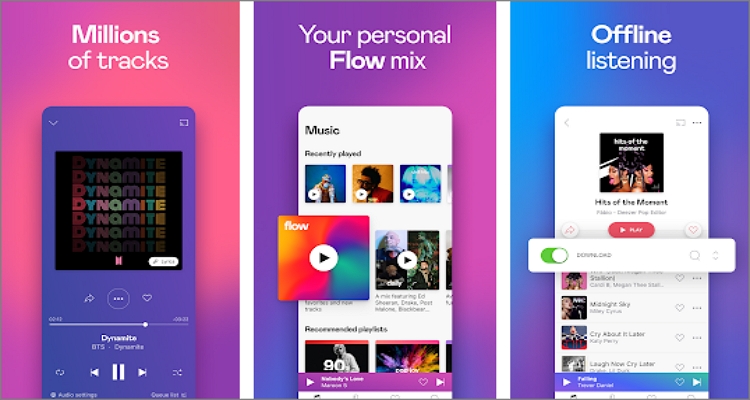 Giving YouTube Music a run for its money on Android and iPhone is Deezer Music Player. Here, you can enjoy streaming music, podcasts, and radio stations with zero adverts. It offers more than 50 million songs and recommends new tracks based on your listening history. But what sets Deezer from the pack is its ability to provide music lyrics to help you sing along to your favorite hits. And best of all, you can download music and podcasts for offline listening.
Pros:
Offers 50 million-plus free music
Zero adverts.
Cons:
Users can add a maximum of 2000 songs.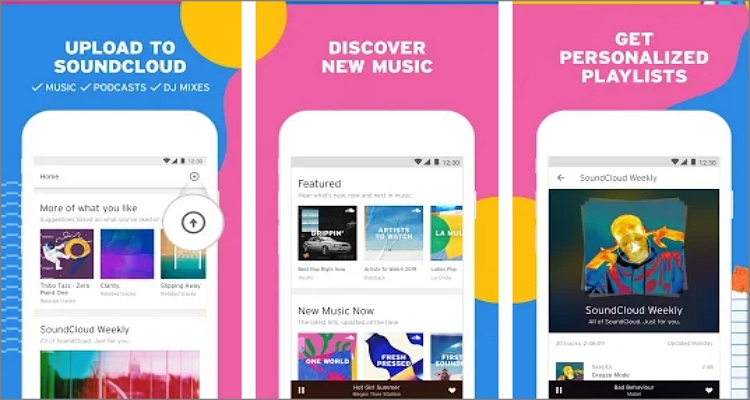 SoundCloud is undeniably one of the best free music apps on the overall Google Play Store library. One, it's an open platform where users can stream songs without those disturbing ads. Two, the Premium version is pocket-friendly at $9.99/month. And three and most importantly, users can access more than 120 million track titles from different genres. You can also listen to podcasts, shows, and radio stations.
Pros:
120 million-plus tracks.
Save tracks of offline playback.
Cons:
Ad-supported free version.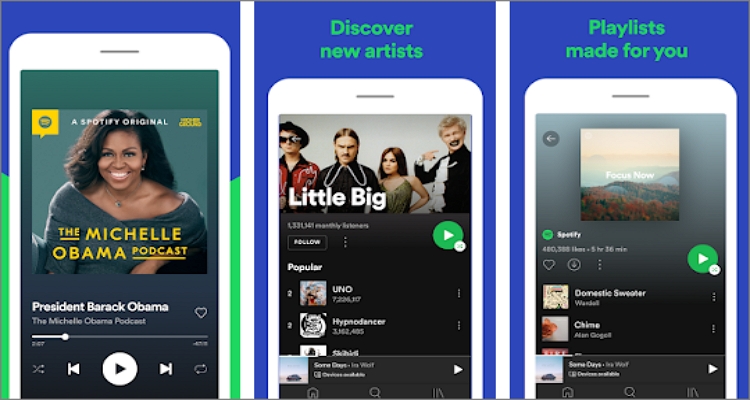 If you think that the first three apps on this list are popular, meet Spotify with its 500 million-plus downloads on Google Play Store. On this excellent music streaming platform, you'll not only get a generous music catalog with 50 million-plus songs but also listen to curated playlists from famous artists and DJs. Spotify also offers hundreds of free podcasts and new albums from music stars like Drake, Rihanna, Kanye West, etc. Plus, you can connect Spotify to your Smart TV, PlayStation, or computer.
Pros:
Beautiful UI.
Excellent music library.
Cons:
Not available in some countries.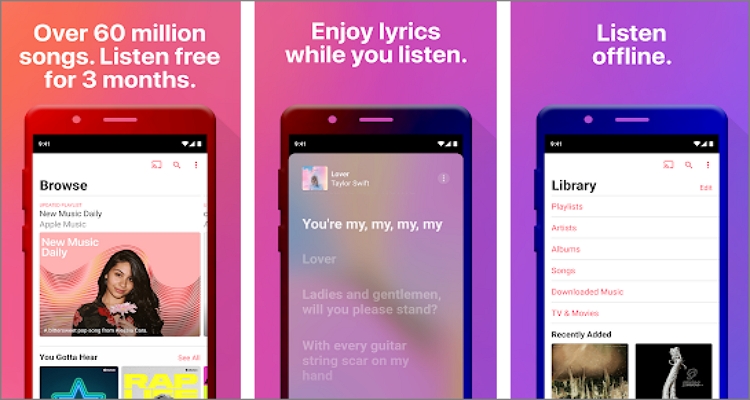 Apple Music has been for a long time a reserve left to iOS and Mac users. But today, Android users can also enjoy the 60 million-plus tracks in its library. For starters, the app is free to download from Google Play and allows you to stream or download music for offline listening. You can also listen to podcasts and radio stations worldwide and create unique playlists and personalized mixes. And lest I forget, you can watch documentaries, TV shows, concerts, films, etc.
Pros:
Stream 60 million-plus tracks.
Supports synched lyrics.
Cons: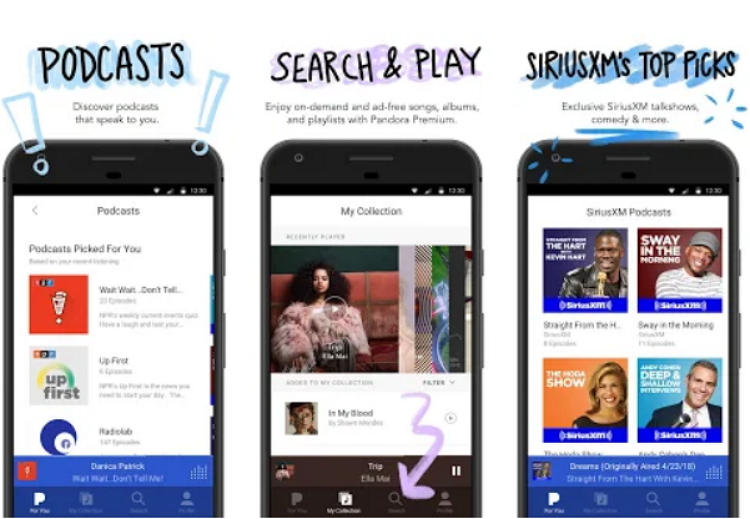 Of course, we can't mention the best free music apps for Android without reserving a seat for the good old Pandora. Like the rest, Pandora is a free music streaming app, although you'll have to pay as little as $4.99 to unlock most of its features. On top of allowing you to listen to music and podcasts for free, Pandora also displays your favorite artist's tour and ticket information. Interestingly, Pandora users can also search for songs by lyrics.
Pros:
Affordable subscription if you want to unlock more features and options.
Unlimited skips and replays.
Cons: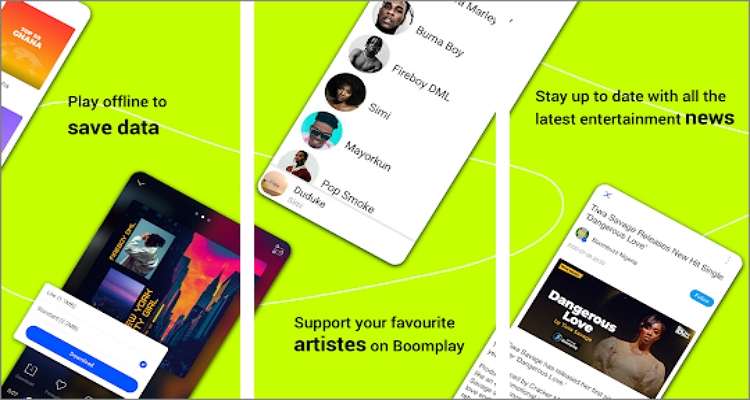 Armed with 38 million-plus music tracks on its library, Boomplay rightfully makes it in our top ten list. If you're still doubting, check out its number of downloads and five-star ratings on Google Play Store. That said, Boomplay allows you to stream and download the latest and hottest albums, playlists, and songs for free in a flash. You can also find out the most played top 100 tracks in your region every week. Another thing, song lyrics are synchronized to your song.
Pros:
Synchronized lyrics.
EQ for adjusting sound quality.
Cons:
Can't play offline without a subscription.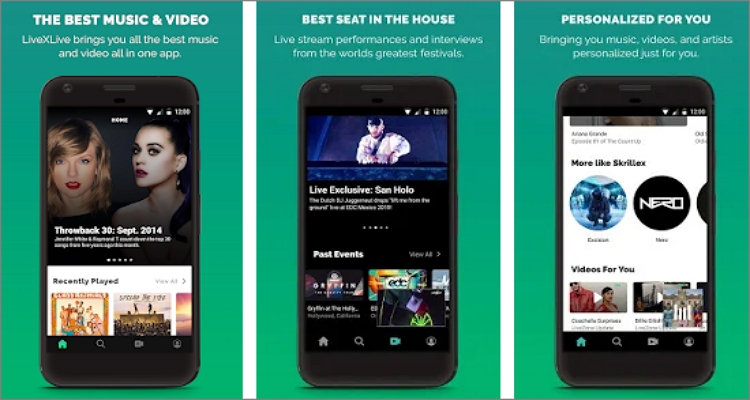 LiveXLive is performing so well in the market that it manages to outdo some seasoned music apps. It comes with a sleek design that houses curated channels and hundreds of hand-crafted music stations to enjoy. If you find the free version limited, you can upgrade to the LiveXLive Plus version for only $3.99 and enjoy ad-free listening, unlimited skips, and maximum audio quality. Even better, you can stream live concerts and interviews of your favorite music stars.
Pros:
Multiple hand-crafted music stations.
Curate personal playlists and stations.
Cons: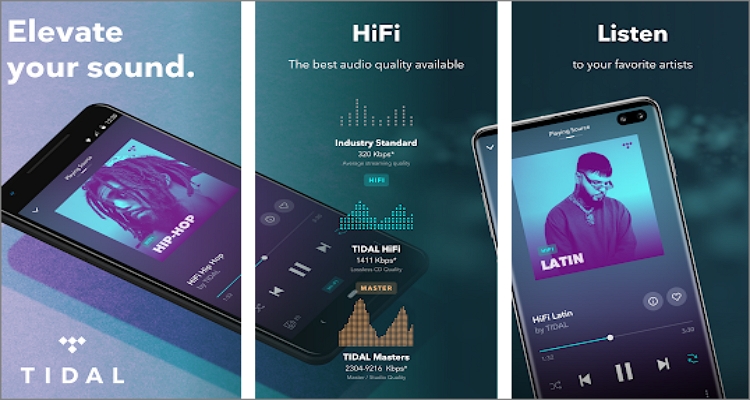 If there's one thing that elevates Tidal above the rest, then it's the Hi-Fi sound quality. With Tidal, you'll get a free 30-day trial, after which you can stream and download music from prominent artists like Jay-Z and Kanye West. On top of that, you'll get multiple supplemental features like hand-crafted playlists, music lyrics, written editorial pieces, and so on. Another thing, Tidal is compatible with Android TV.
Pros:
Excellent sound quality.
30-day trial period if you want to subscribe.
Cons:
Repetitive track radio playlists.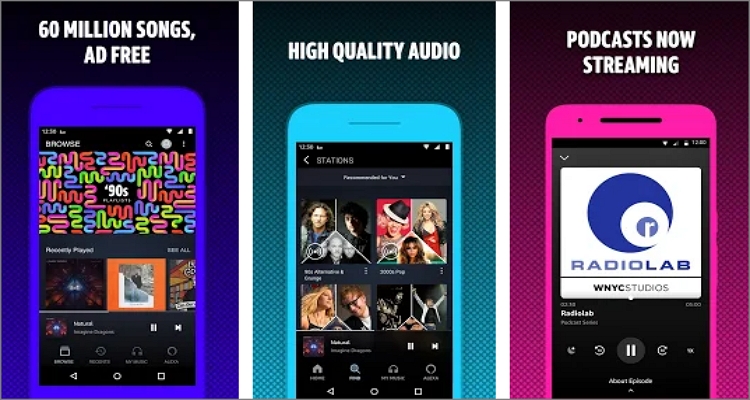 Finally, you can download Amazon Music and enjoy streaming podcasts and music on your Android phone or tablet. This service is a free-for-all and offers unlimited skips and offline listening. You can also subscribe to the Plus version and unlock 60 million-plus songs and a 30-day free trial period. You can even go further to Amazon Music HD and listen to Ultra HD and 10x bitrate songs.
Pros:
Supports unlimited skips
Ad-free listening.
Cons:
Album and song titles don't match sometimes.
Part 2. Comparison Between the Free Music Apps on Google Play
| Music App | Features |
| --- | --- |
| YouTubeMusic | Compatible with Android TV, and online | 50,000 + songs | Supports FLAC, MP3, OGG, WMA, and AAC |
| Deezer | Stream 50 million-plus licensed songs | 320 kbps audio quality | Available in 180+ countries |
| SoundCloud | Cross-platform service | 60 million + songs | Supports offline listening | 320 kbps bitrate |
| AppleMusic | Available in 160+ countries | Cross-platform support | 60 million+ songs | 6-month trial period |
| Pandora | Available on Android, iOS, and Windows | Offline playback support | Unlimited replays and skips |
| Boomplay | 38 million+ songs | Synchronized lyrics | Filter music by genres | Download tracks for offline playback |
| LiveXLive | Multiple hand-crafted music stations | Live video streams | Create playlists and stations |
| Tidal | Hi-Fi sound quality | Upload and share playlists | Download playlists for offline listening | 30-day trial |
| AmazonMusic | Ad-free listening | Unlimited skips | Supports offline listening | 60 million-plus songs |
The Sum Up
With these music apps installed on your Google phone, you won't miss the outgoing Google Music Play. However, I suggest migrating to YouTube Music because this Google Store app will synchronize your Google Music playlists. But with big guns like Spotify, Apple Music, and SoundCloud at play, this might be the perfect time to swap allegiance.
Pro Tip: Nothing beats the convenience of listening to your favorite tracks offline on the go with your mobile device. That's why I recommend using Wondershare UniConverter to transfer all your music playlists from your computer to Android. This app is 30x quicker than the typical file-sharing process and offers multiple customization capabilities.
Step 1. Open the Transfer feature
Install and run the app before clicking Toolbox. Now click the Transfer tool then connect your Android device to your PC using a USB cable.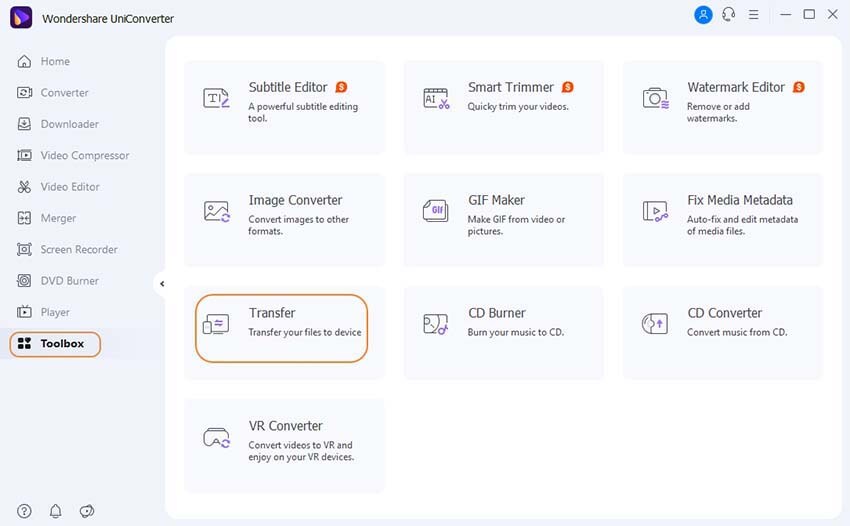 Step 2. Upload songs
Next, select your music files before dragging and dropping them on the Transfer window. Another option is to click the Folder button to open your local drive and import files.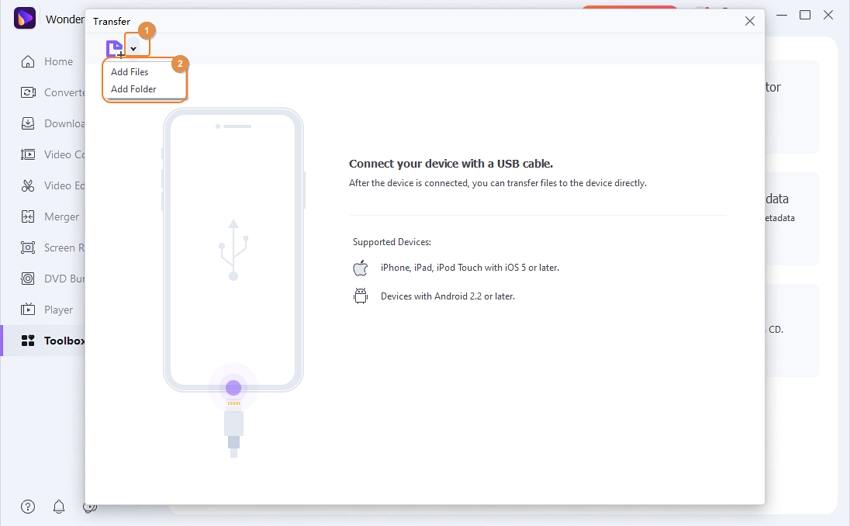 Step 3. Share files
Open the drop-down textbox on the upper-right corner and then choose your Android device. Lastly, press Transfer All to share music files in a heartbeat.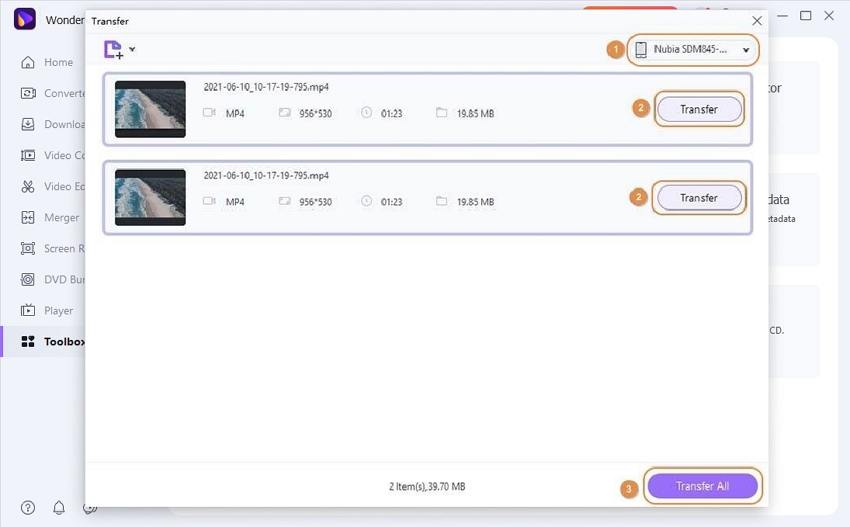 Wondershare UniConverter
Directly convert videos to MP4, AVI, MKV, and other 1,000 formats without quality loss at 30X faster speed.
Convert videos to devices such as iPhone, iPad, iPod, and Android phones directly.
Edit videos with advanced video editing functions, like trimming, cropping, adding watermarks, subtitles, etc.
Download/record videos from YouTube and other 10,000+ video sharing sites.
Burn videos to DVD or Blu-ray disc to play with your DVD player.
Support additional functions like Video Compress, VR Converter, GIF Maker, Fix Video Metadata, etc.