Your car is like your second home, and that's why maintaining it to the fullest is not an option. However, taking good care of your entails more than just regular servicing and cleaning. Today, you can add some entertainment to your vehicle with the best car speakers on the market. So, if you don't know where to begin your search, read on as I take you through the 12 best car speakers 2020 to buy. Let's dive in!
Focal ES 165 KX2 Speaker System
Focal ES 165 KX2 is arguably the best car speakers of 2020. The whole package comes with a pair of woofers, a pair of high-frequency tweeters, and a pair of crossovers. You'll also get mounting options like grilles, gaskets, tweeter cups, and more. And to add on the accessories, this car stereo unit has a maximum power output of 240W and a frequency response of up to 22 kHz. Honestly, this should be enough to change your car into a little entertainment zone.
Pros:
240 Watts.
Durable design.
1-year warranty.
Cons: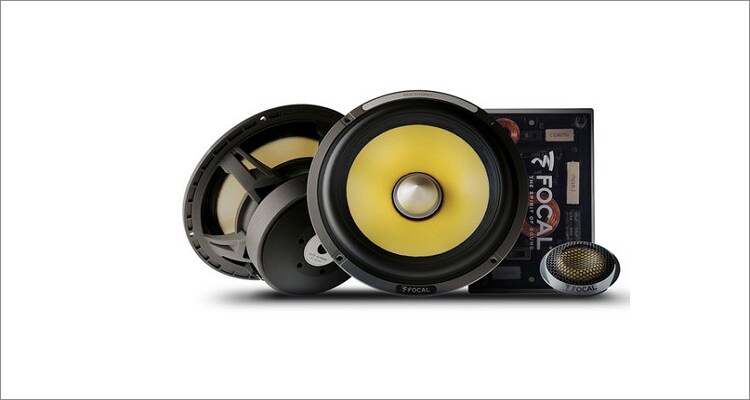 JL Audio C2-650X Evolution
I'm absolutely amazed by these speakers. You'll realize that they put out a more abundant treble and precise sound, even with an adjusted EQ. You don't even need to buy an amp to get the best out of these JL speakers. It features 6.5", two-way coaxial speakers, 0.75" silk dome tweeter, and 6.5" subwoofer. This combination is designed to offer high-frequency detail, powerful mid-bass, and smooth mid-range. Overall, they are a great sounding car system.
Pros:
Great sound.
Silk dome tweeters.
Typical JL audio performance.
Cons: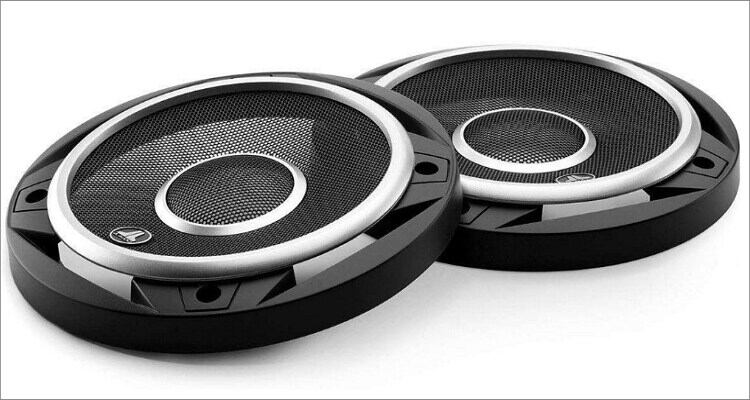 Kicker 44KSC6504 6-1/2" KS 2-Way Coaxial Speakers
The Kicker 44KSC6504 Coaxial Speakers is one of the most affordable high-quality speakers around. For only $100, you'll enjoy up to 100W RMS from the two 6.5" coaxial speakers. It also has a peak power handling of an impressive 200W, giving you more bang for the price. Moreover, the silk dome tweeters offer a high-frequency response of up to 21 kHz. You'll definitely enjoy an excellent overall sound improvement with these.
Pros:
High power handling.
Tough rubber polypropylene woofer.
Thin mount design for a secure fit.
Cons:
Requires an amp for maximum performance.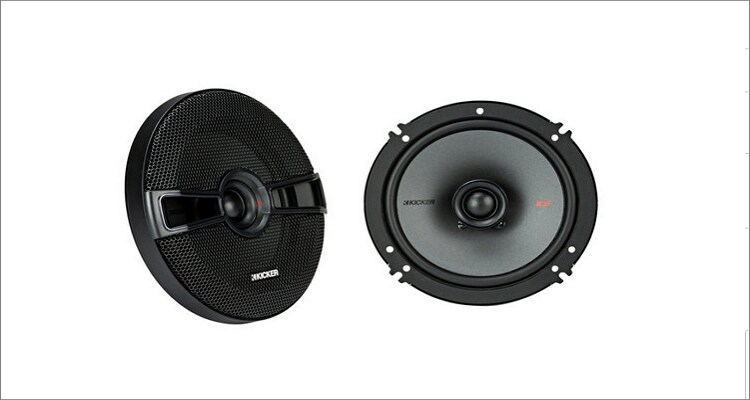 Pyle 4" x 6" Three Way Sound Speaker System
This three-way speaker system features an eye-catching and stiff blue poly injection cone, tailor-made for increased wattage and temperature situations. It can withstand up to 240W from your car stereo, thanks to the 4-ohm component audio speaker. In addition to that, the Pyle Three-Way Speaker comes with a 0.75" piezo tweeter for a smooth, loud, and detailed entertainment. If you add in the affordable price tag of $23, these are the best fit for anyone on a budget.
Pros:
240W maximum power output.
1" ASV voice coil.
Up to 20 kHz frequency response.
Cons: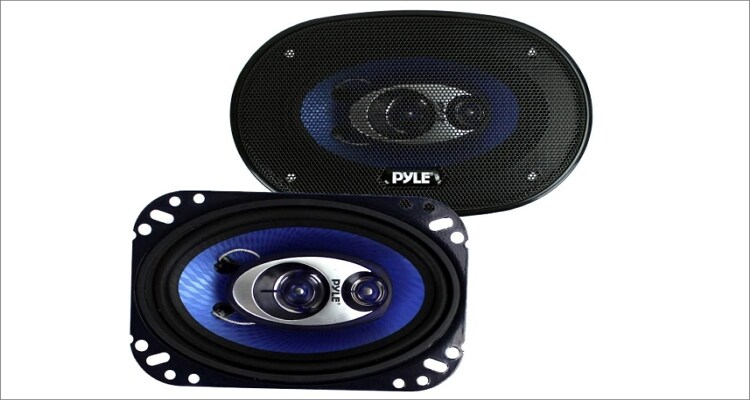 Focal RCX-165 Auditor 2-Way Coaxial Speakers
This two-way coaxial speaker unit comes with 6.5" woofers and Mylar, inverted dome tweeters. The woofer cones use polypropylene material for an immersive mid-bass and mid-range performance. The woofers also have a rubber surrounding to ensure long-lasting service. As for the frequency response, you'll enjoy up to 21 kHz with a peak power handling of 120W.
Pros:
1-year warranty.
Rigid steel basket.
Handles up to 120W Peak.
Cons:
Mounting screws are 0.5" longer.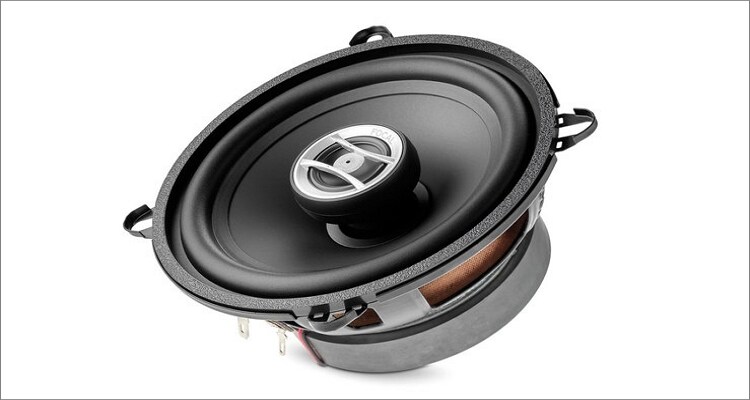 JBL GTO629 Premium 6.5" Coaxial Speaker
The JBL GTO629 Coaxial Speaker will undoubtedly take your driving experience to a whole new level. For starters, the Plus One carbon-injected cones will offer more speaker-cone area. This way, you'll enjoy a better low-frequency response, thanks to the increased air radiation. Another thing, it can handle up to 180W from your head unit, giving you sharp, clear sounds. And yes, the carbon-composite non-magnetic frame makes it the perfect speaker for all demanding conditions.
Pros:
Durable construction.
Up to 180W power support.
Easy to install.
Cons:
Not the best sound quality.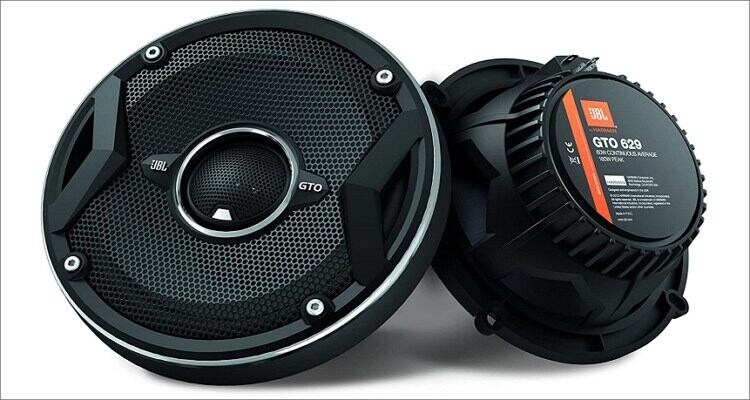 Dynaudio Esotan 272 6.5" 2-Way Component Speakers
Going for $850, the Dynaudio Esotan 272 is not your ordinary car speaker. It offers up to 120W of continuous power handling that can reach as much as 1000W. Also, the maximum frequency response from the soft dome tweeters is 20 kHz, with an impedance of 4-ohm. So, you'll get a strong bass response, silky-smooth highs, and of course, high-fidelity sound. I also like the reassuring 1-year warranty.
Pros:
Up to 1000W of power handling.
High-fidelity sounds.
Long-lasting rubber surround.
Cons: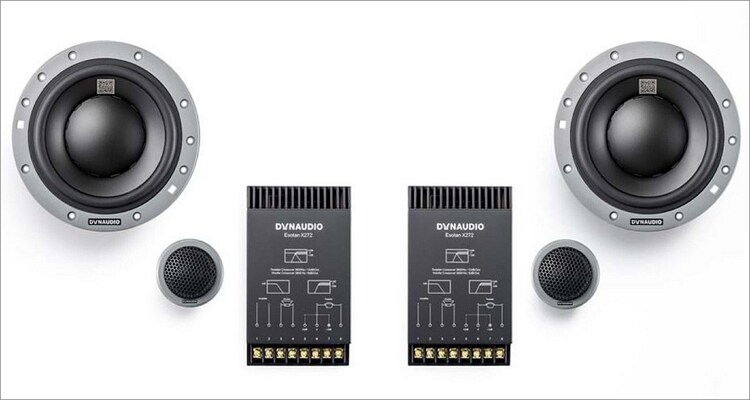 Boss Audio Chaos Series 6.5-inch Component Speaker
The Boss Audio Chaos Series 6.5" truly represents a great value for the money. That aside, it uses polyurethane material, which is durable and flexible. Also, the Chaos Series is easy to install and supports up to 200W. It also features a frequency response of 18 kHz and 4-ohm impedance, which is still impressive considering the affordable price tag. However, if you're a music buff, I suggest you take a look at the other more powerful options on this list.
Pros:
Affordable price.
Clear sound.
Durable construction.
Cons: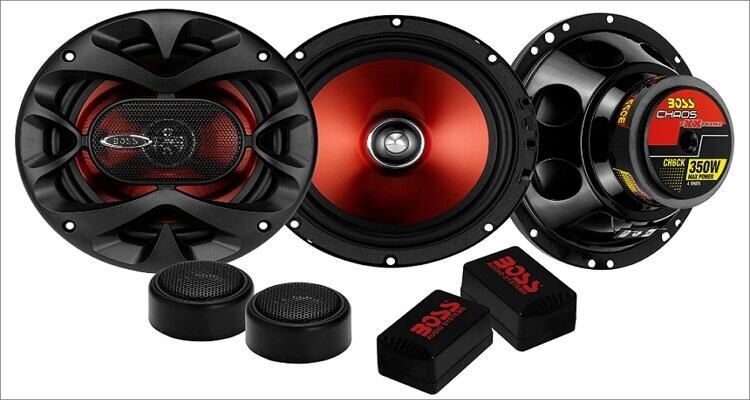 Focal ICU 165 Universal Integration 6-1/2
The Focal ICU 165 is another remarkable improvement on your original car speakers. It has a compact size, making it a cakewalk to fix the speakers in your car. Quickly moving forward, it has a frequency response of up to 21 kHz and can handle up to 140W of maximum power. The ICU 165 features a durable aluminum tweeter and a pure treble boost. Don't also forget to check if the box comes with all mounting hardware as advertised.
Pros:
Up to 140W of power handling.
Easy to install.
High sensitivity.
Cons:
Rockford Fosgate R14X2 Prime
Don't be tempted to throw some shade at this product by merely looking at the price tag. That's because the Rockford Fosgate R14X2 Prime ranks among the best car speakers on this list, thanks to its sleek and durable design. It will fit seamlessly in your car rear doors without necessarily drilling anything. In short, it's an excellent buy for less than 200 bucks.
Pros:
Pocket-friendly price.
Durable rubberized construction.
Fits seamlessly.
Cons: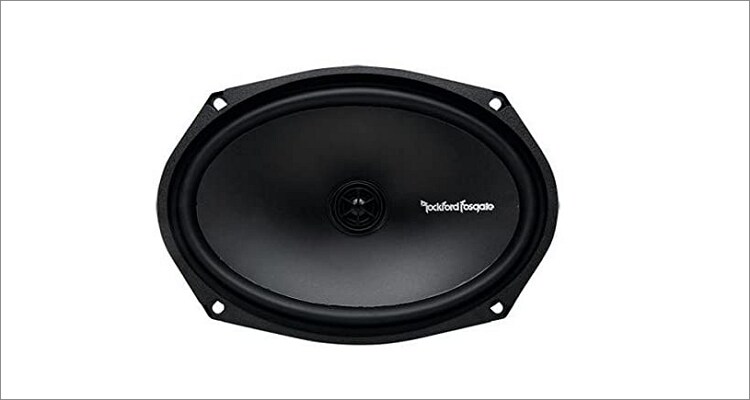 Infinity KAPPA 60csx 6-1/2" 2-Way Component Speakers
The Infinity KAPPA 60csx Component Speakers is a two-way kit that comprises of 6.5" woofers, tweeters, and dual crossovers. The woofer cones use Plus One glass fiber for increased mid-range response and bass. This is backed up by the smooth high-frequency response from the soft dome tweeters. It can handle a frequency response of up to 35 kHz and peak power of 300W. And lest I forget, you'll get a 3-year warranty and 60-day money-back guarantee.
Pros:
3-year warranty.
Up to 300W peak power.
Rubber surround for durability.
Cons: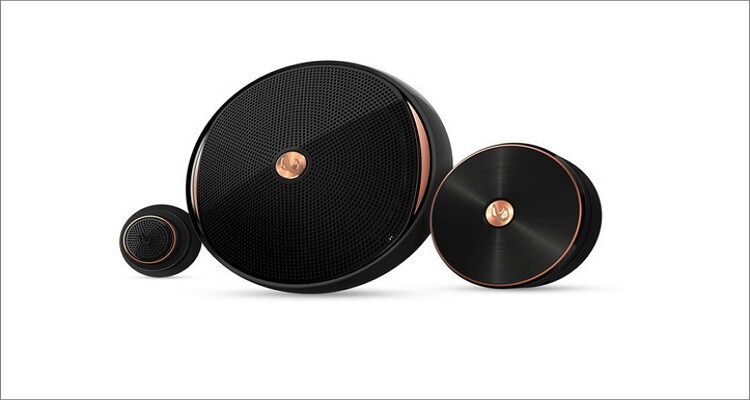 Polk db651 Coaxial Speakers with 6.5" Silver /Black Audio Jack
Although Polk's reputation is legendary, these coaxial speakers don't rest on their laurels either. First of all, they're pocket-friendly, going for around $69. But don't be fooled, these speakers pack peak power handling of up to 360W. In addition to that, the db651 Series comes with swivel mount tweeters and polymer composite cones for a big and precise sound. Furthermore, it comes with a shallow-depth magnet design and multi-hole mounting pattern for maximum installation flexibility.
Pros:
High-efficiency design.
Swivel-mount tweeter.
Pocket-friendly price.
Cons: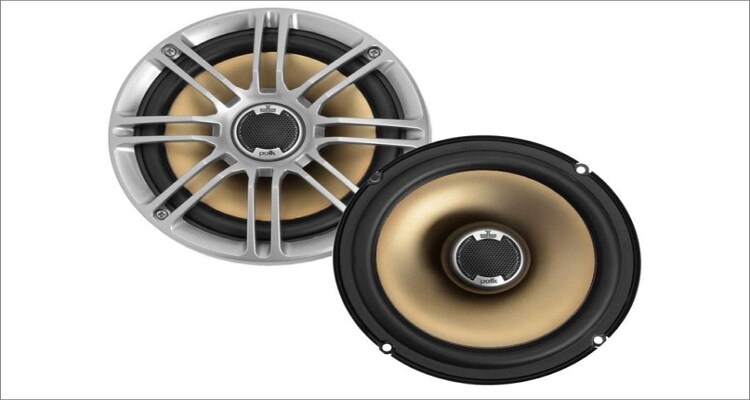 Summary
Overall, these are the best car speakers 2020 that should pump up your vehicle with booming bass and clear sounds. The list entails some recognizable names as well as other little-known but high-quality options. So, because the world of car stereo can be confusing at time, you should just pick one from these excellent options and enjoy!