Are you still searching for software to add audio to video? Your search ends here! Adding sound effects and music tracks to a video can make it more engaging and entertaining to watch. For example, you can add a foreground music track to engage viewers in parts of the clip with no voice commentary. Also, you can place the music in the background in areas where you need to evoke emotions. Either way, finding the best add audio to video software is essential. So, this listicle takes a look at ten excellent options out there.
Part 1. Top 10 software to add audio to video
Adobe Premiere Pro is a top-class video editing software with cutting-edge technology. Its easy drag-and-drop editor supports most video formats, including raw files shot on iPhone, Canon, GoPro, or DSLR. As expected, users can trim videos with precision to mix and shorten clips, add video effects and animations, and sync audio effects on videos. Even better, the Creative Cloud Library allows you to create anywhere, anytime. Overall, it's almost a 10/10 for Premiere Pro.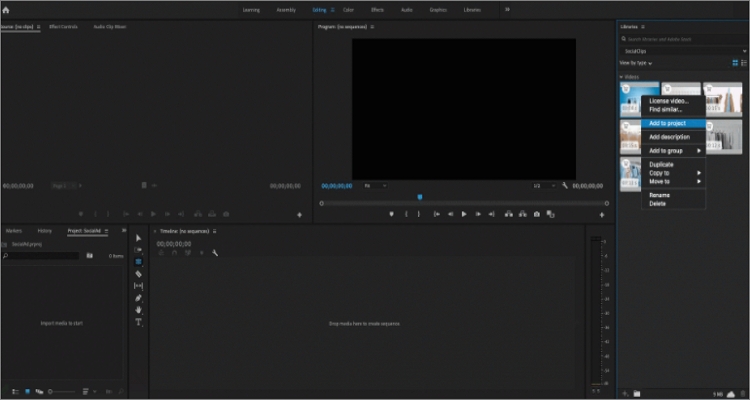 Pros
Add Hollywood visual effects to videos.
Expansive Creative Cloud Library.
Cons
Expensive subscription plans.
VSDC Video Editor is another top-class app for creating award-winning videos on PCs. Like Premiere Pro, this app supports almost all video file formats, including FLV, 3GP, MTS, and more. After importing your video file, you can add multiple visual effects, object transformation, and color correction. Also, users can retouch their videos with audio filters and effects. Above all, VSDC can export 4K videos.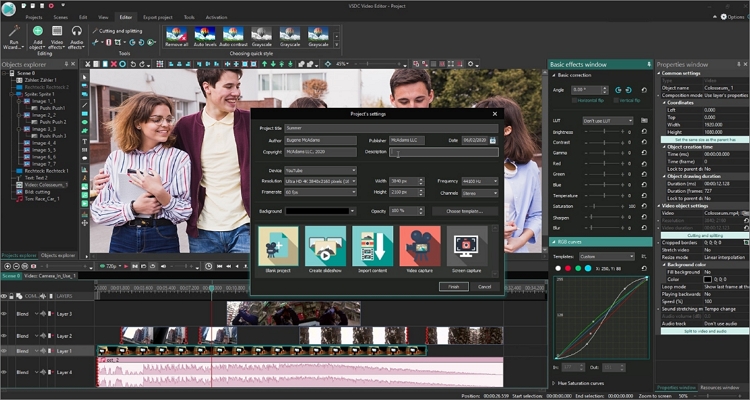 Pros
Beginner-friendly user interface.
4K video quality.
Cons
If the other two don't cut it, try this software to add music to video on PCs. As the name suggests, this app can seamlessly cut audio and videos and mix them up to create an entertaining music clip. Interestingly, the program allows you to add audio to video regardless of whether the video clip already had a piece of background music. And of course, you can convert your media files to any format without sacrificing the original quality.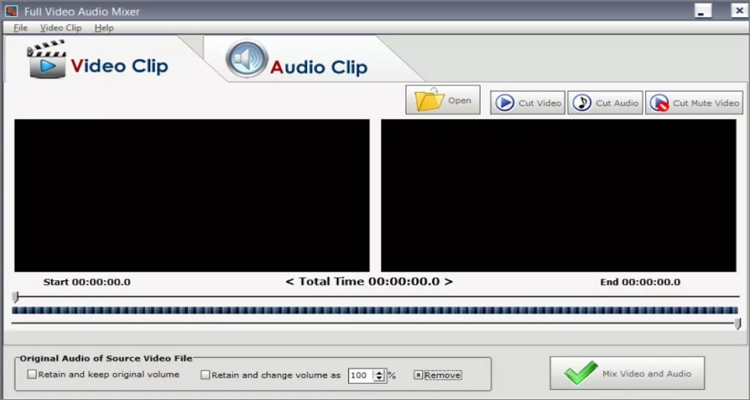 Pros
Excellent video mixing capabilities.
It can remove audio from video.
Cons
VirtualDub is one of the oldest desktop file editing apps, having been around since 2004. Here, you can batch process AVI and BMP files, although VirtualDub can also read MPEG-1 videos. When adding audio to video, users can compress, reduce noise, and add entertaining video effects. Its extensive set of video effects can smoothen, sharpen, brighten, etc. Plus, VirtualDub features intuitive mouse and keyboard shortcuts for faster operation.
Pros
Multiple video and audio effects.
An extensive list of keyboard and mouse shortcuts.
Cons
VLC is arguably the most popular multimedia player for Mac, Windows, Android, and iOS. This app is free and open-source, meaning you don't have to pay a dime to use it. That said, VLC can play almost any digital media file as well as DVDs, CDs, VCDs, and Blu-ray discs. Surprisingly, VLC also allows users to convert media files and add audio to video. However, green hands may struggle using this software.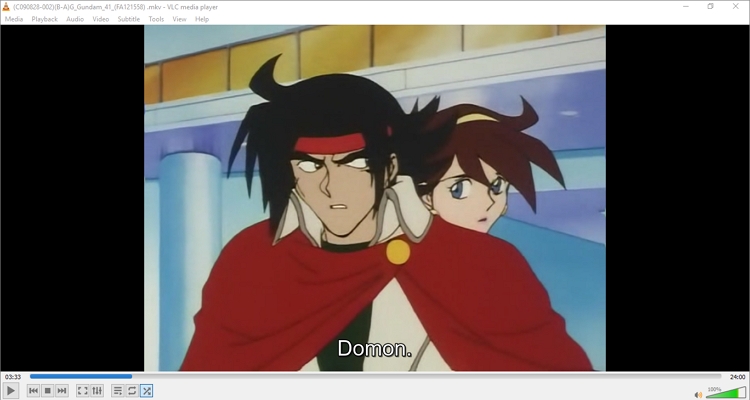 Pros
Free, open-source app.
It supports all standard media files.
Cons
Have you ever heard of this software to add audio to video? Probably not! Well, VideoMeld is a free, simple, fast, and fun-to-use video editor for PCs. The drag-and-drop editor allows users to perform basic video editing tasks like cutting, splitting, copying, cropping, and adding text captions to videos. Users can also add special audio and video effects before mixing and combining. What's more, it features an intuitive computer screen recorder.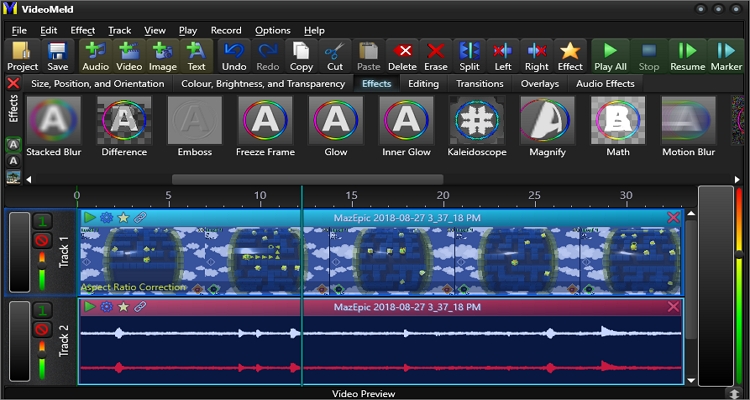 Pros
Exports videos in 1080p quality.
It offers more than seven audio effects.
Cons
OpenShot is an award-winning video editor free to download and use without paying anything. Mac, Linux, and Windows users can craft high-quality videos and trim them by cutting, splitting, and rearranging. Also, OpenShot allows users to customize videos with animations like bounce, slide, fade, etc. In addition, you can add unlimited audio tracks to videos before exporting your clip to any file format. Overall, it's a nice free app to have.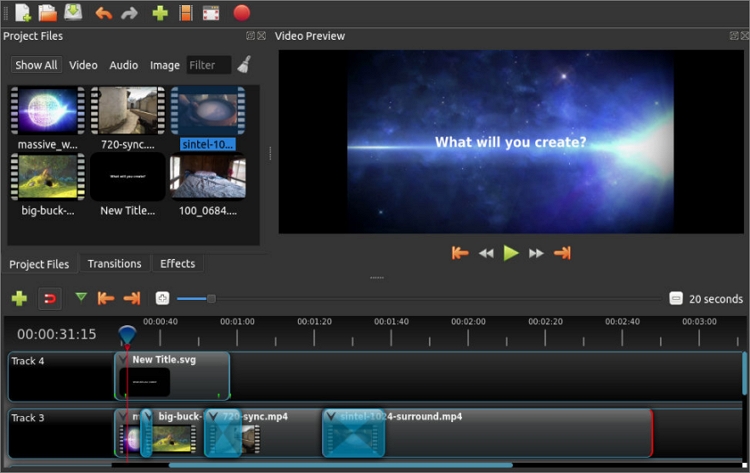 Pros
Free, open-source app.
Cross-platform app.
Cons
It lacks essential video editing tools.
With Aimersoft Filmora Video Editor, users can create, edit, and export video clips on Mac and Windows. Its video editing suite allows users to split and combine, rotate, adjust speed, set the volume, and so on. As expected, users can upload any audio file and embed it as the video's background music. Even more surprisingly, you can extract audio from video and customize it accordingly. And yes, Aimersoft can directly upload videos to Vimeo, YouTube, Facebook, etc.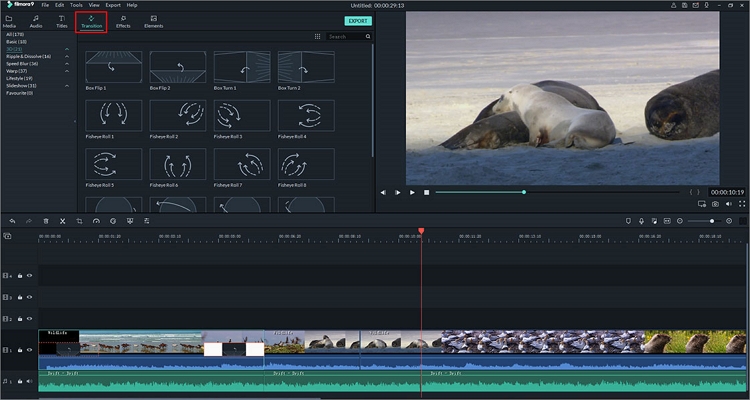 Pros
Feature-rich video-editing suite.
Directly upload videos online.
Cons
It can't transfer videos directly to mobile devices.
Last but not least, use this add music to video software for PC to perform basic file editing tasks. With Avidemux, you can cut, filter, and convert between standard video formats like MP4, ASF, AVI, and DVD. Also, Avidemux comes with an inbuilt subtitle processor for adding text captions to your videos. And best of all, this software runs smoothly on Windows, Linux, and macOS.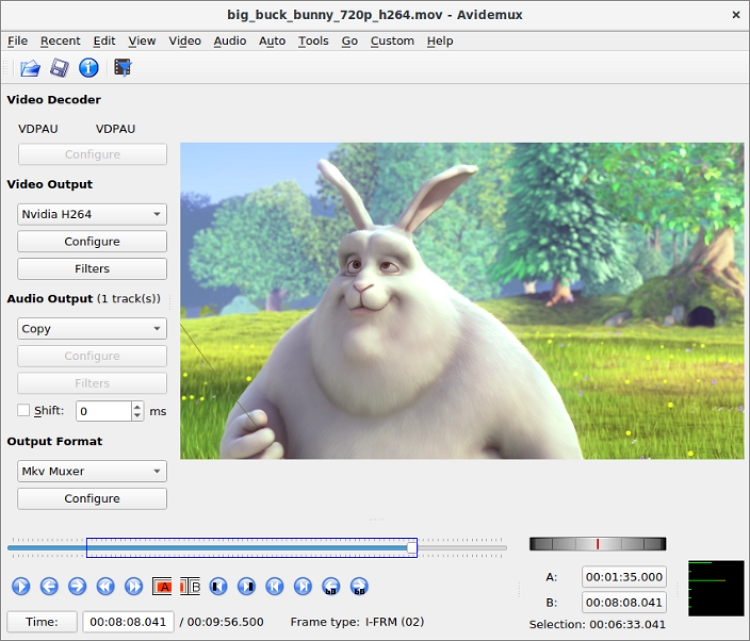 Pros
Cross-platform software.
It offers essential video editing functions.
Cons
Limited file format support.
Kate's Video Toolkit is a pretty lightweight app developed in 2012 for Windows PC users. However, don't be duped by the simplicity, as this app features all the video editing tools you may need. First, it supports almost any video and audio file format you throw at it. Secondly, Kate's Video Toolkit features a robust multimedia player for opening videos of any resolution. And thirdly, the video editing toolkit can cut, join, mix, transition, and more. Unfortunately, users must register first to use the app.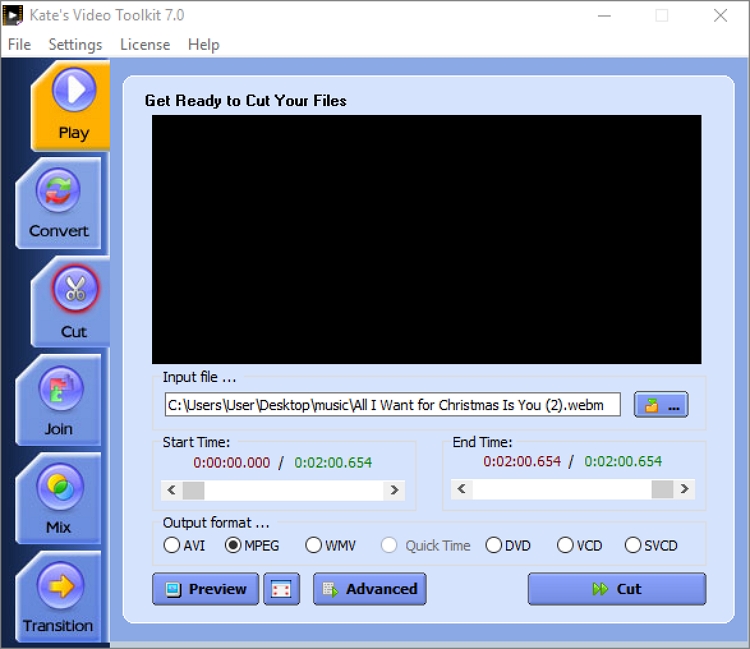 Pros
Fast and lightweight video editing app.
Excellent multimedia player.
Cons
Requires registration to use.
Part 2. The best easy-to-use software to add audio to video online free
If there is one area where online apps shine over dedicated apps, it's cross-platform compatibility. With the best software to add audio to video online, you can create video mixes anywhere, anytime on smartphones, tablets, and laptops. One such software is Online UniConverter. This online tool is 100% free and allows users to customize 1000+ file formats. Adding music to video enables you to adjust the volume level and trim the audio to fit your preferences. You can even rearrange the video sections to create a brand-new video clip. And yes, users can export their edited videos to multiple video formats.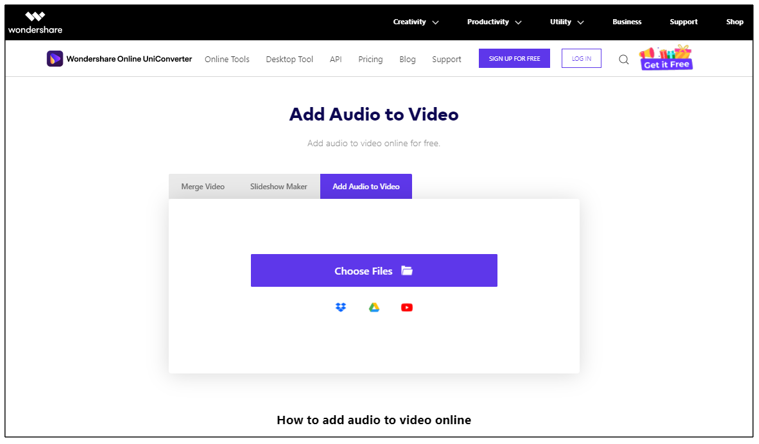 Key features:
Free, open-source app.
It uploads more than 1000 file formats.
Exports videos to MP4, MOV, FLV, MTS, etc.
Trim audio and adjust volume level before adding to video.
Excellent video editing tool.
2GB free cloud storage.
It's the best software to add music to video on any updated web browser.
Steps to Follow these easy steps to add audio to video with Online UniConverter:
Step 1: Launch the Add Audio to Video function.
Visit the website on any updated browser app and then press Online Tools. After that, choose Add Audio to Video to run the function.
Step 2: Upload your video file.
Next, press Choose Files to open your local folders and add the video file you want to edit. You can also upload clips from Google Drive, Dropbox, or YouTube by pasting the video URL.
Step 3: Add audio and edit it appropriately.
After loading your video file successfully, go to the right pane and click Add audio to browse your local storage and add the music file to use on your video. Again, you can upload music from the cloud or YouTube.
Now click the Trim icon to customize your sound file by cutting off the unwanted sections. You can also change your video's music volume to get the perfect sync between your video and background audio.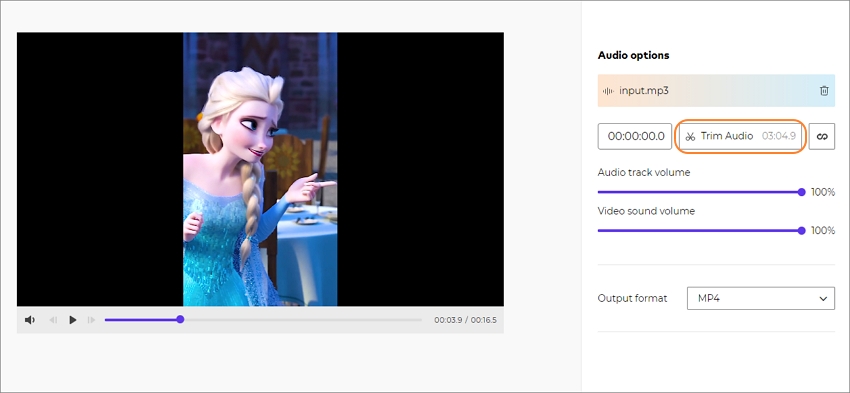 Step 4: Preview your video and convert.
Open the Output Format menu and choose MP4 as the target format. That's because any video player supports MP4. Now click play to preview your video and then finish the process by pressing Merge. You can now enjoy your video file with background music.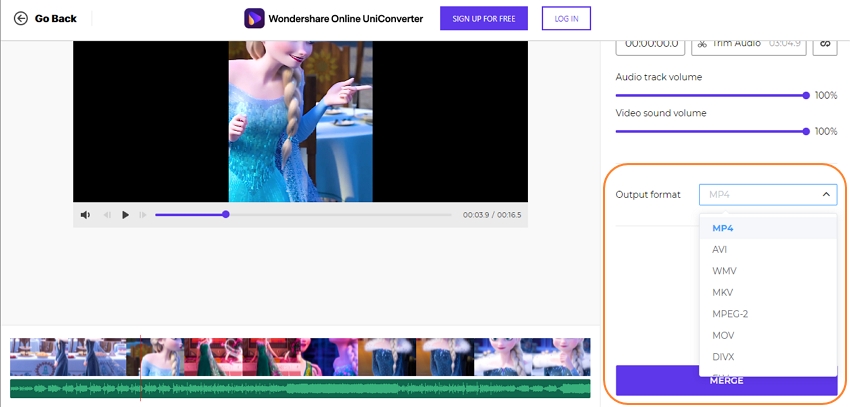 Other powerful features of UniConverter video audio editor
* Easy to add audio to your YouTube or Instagram videos.
* It allows you to edit the audio by trimming, looping, or changing the volume after adding audio.
* The video audio editor supports all the popular audio formats like MP3, WAV, FLAC, OGG, WMA, M4A, and others.
*It supports the most common video formats, including MP4, MOV, WMV, AVI, MKV, WebM, MPEG, MPG, FLV, etc.
* It allows you to trim video to get your desired segment and select an appropriate output format.
Conclusion
As you can see, many software can add audio to video on Mac or Windows computers. However, most have serious drawbacks like significant installation sizes, complicated UI, and more. So, play it safe by using Online UniConverter to add music to videos without breaking a sweat.