Presently, the reverse GIF is a popular way to entertain the users due to its visual significance, and needless to mention the compatibility of the GIF files with many mobile and web-based programs.
If you are looking for ways to reverse your favorite animation in a GIF file, the hunt for a feature-enriched application or an online tool to reverse animated GIF ends here. The below-stated article comprises of parts that are providing readers, an overview of websites to reverse GIF pictures smoothly. Adding to it, tabular comparison between the listed freeware along with a suitable alternative is also discussed to grant ease to explorer while reversing the GIF file on several operating systems.
Another portion of the said composition exhibits those applications that allow the end-user to reverse a GIF on Android or IOS based smartphones.
Part 1. Online Free Tools to Reverse GIF
Below stated mechanisms prove worthy when the user ponders to reverse animated GIF snaps through the built-in storage, social mediums, URLs, or existing GIF files. Though all the applications somehow follow almost the same panel of steps, just the procedure to execute is different. But the aim is to offer efficiency in creation & modification, with simple tools at the minimal cost or for free.
The indexed attributes provide the user with an outline to carry out the procedure to reverse GIF shots online.
URL: https://ezgif.com/reverse
EZGIF is one of the available programs that reverse animated GIFs online. The advanced toolkit aids in giving reverse effect to previously formulated GIF files. Along-with modifications like cropping & resizing in supported formats WebP, APNG, MNG, and FLIF, it is capable of framing GIFs from videos or images. These diverse functions thus portray it as a GIF-making and amending tool equally. The images fixed below may communicate the process to reverse GIF.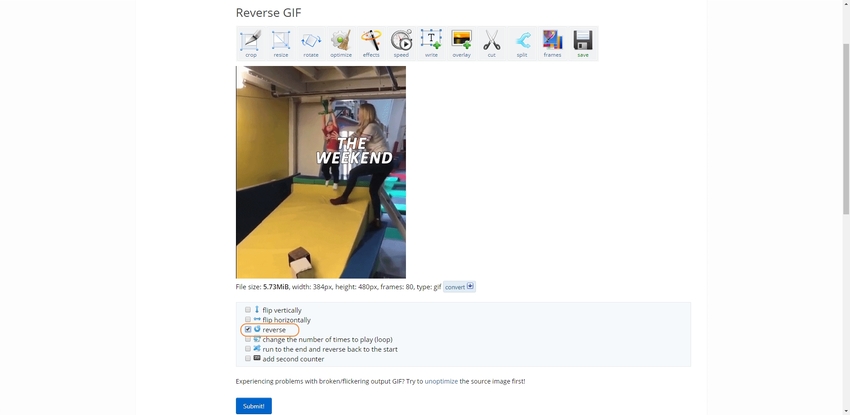 URL: http://freegifmaker.me/reverse-gif/
Another online medium to reverse an animated GIF file is the Free GifMaker.me. The above-provided URL allows reversing Gif online by accessing the page directly. The user may select the desired GIF file from the existing database or by mentioning the unique links available on the World Wide Web platform to apply the reverse effect.
The applied changes can be further stored and shared with your friends and family on different social media platforms easily.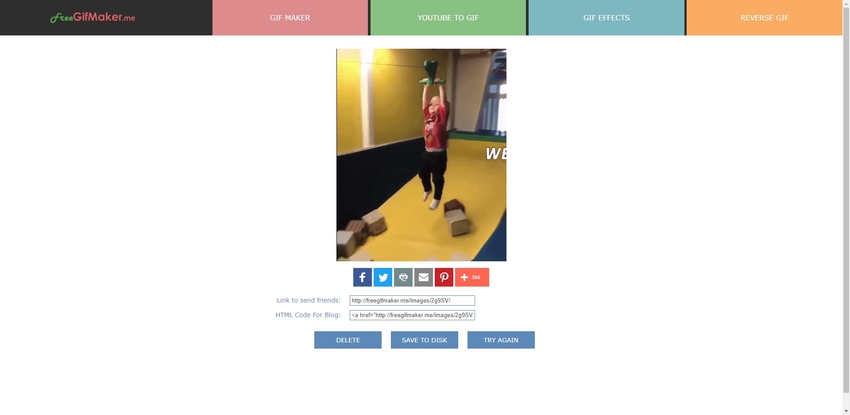 GiF Reverse is an online portal exclusively dedicated to reverse, animated GIF files. The welcome page asks the visitor to upload the particular GIF flick, through the cache memory to reverse it effortlessly. The next opened window presents an option to change or delete the uploaded image, before finally generating the output online.
The reverse GIF picture can be stored by right-clicking on the screen, in-fact the website allows us to save the GIFs, with the help of specially generated links.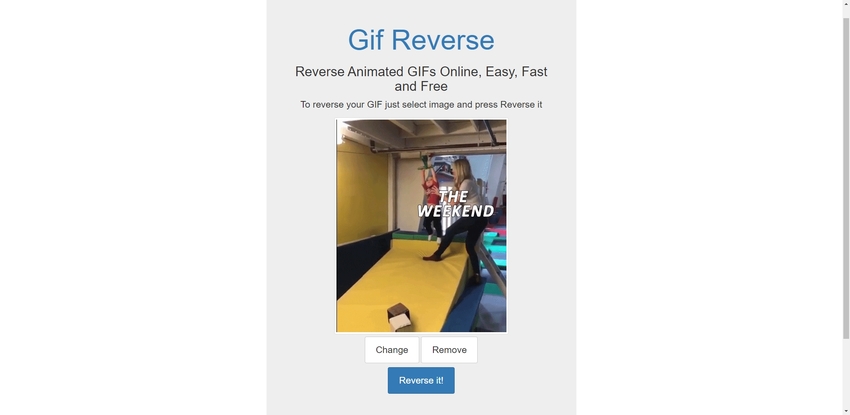 URL: http://gifgifs.com/reverser/
Through the mentioned URL, the user may instantly load the webpage of GIFGIFS to reverse GIF image or may proceed with other options to resize, optimize or crop the picture. To apply the reverse effect, you just need to upload the file or refer to the desired URL. On the next window, the chosen image appears along with the 'Reverse' button at the bottom of the webpage.
Now, check the option below the screen and view the reverse animated GIF. Finally, save the output on disk or store with IMGUR.COM.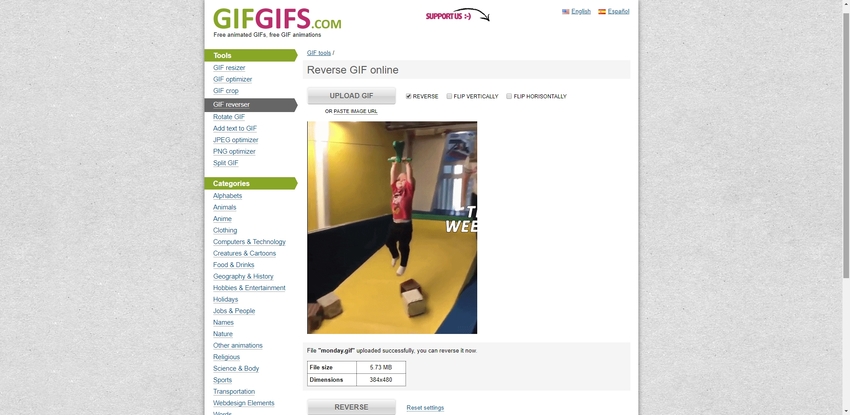 URL: https://gifmaker.me/reverser/
To reverse animated GIF, the referenced website receives the user with a brief introduction, automatically. GIFMaker.me helps to reverse GIFs through videos along with making, creating, and optimizing the uploaded file. Just choose the desired image or visual clip through Adobe Flash Player and convert it to a reverse GIF snap. At the time of writing this article, image insertion was blocked due to the unavailability of Adobe Flash player.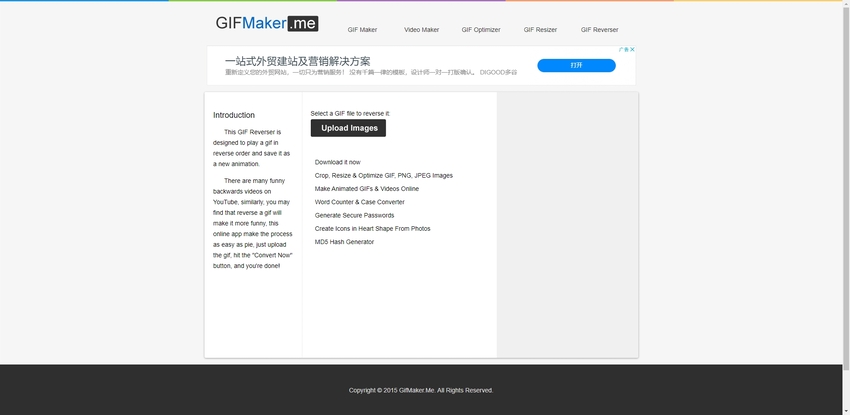 URL: https://www.kapwing.com/tools/reverse-video
The mentioned web segment helps to invert video footage with its unique tool collection that favors trimming, adjusting, adding an image or visual stuff to videos, and so on. Meanwhile, you can insert frames or borders to collages or snaps through provided templets by creating an account with KAPWING.
The user has to upload the video in MP4, MOV, or supported format through the option stated in the blue box and proceed with the reverse function of the gadget.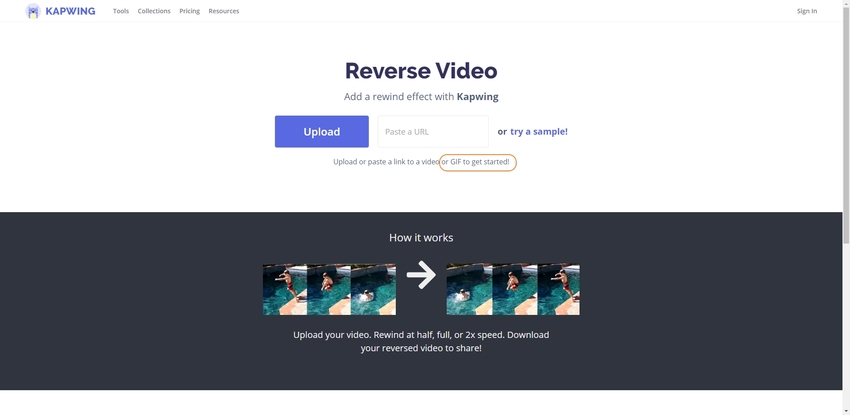 To get a brief impression, cited underneath, is a tabular representation of the reverse animated GIF mechanisms stated above.
| Online Tools | Pros | Cons | Conversion Speed | User-Friendly (Yes/No) | Price(Free/Plans) | Ad-Free (Yes/No) |
| --- | --- | --- | --- | --- | --- | --- |
| EZGIF | Supports WebP, APNG, PNG, GIF formats. | Countless options to tick before reversing file. | Instant only after marking all options up to 35MB. | Yes | Free | No |
| Free GifMaker | Social Media Sharing. | Apart from GIF files only supports YouTube link. | Instant | Yes | Free | Yes |
| Gif Reverse | Reverse animated GIFs only. | Refresh page after every conversion. | 2-3 seconds | Yes | Free | No |
| GIFGIFS | Effects insertion after reversing also. | Reverse option on every window creates confusion. | Uploading takes time | Yes | Free | No |
| GIFMAKER | Provides guidelines to perform procedure. | Only support Adobe Flash Player to upload. | Depends on size of media file. | No | Free | Yes |
| KAPWING | Advance toolkit with frames & Borders. | Only support Visual formats. E.g. Mpeg, .ogg. MP4 etc. | Depends on size of media file. | Yes | $0 for uploading 500MB file. $20 per month for storage, editing, upload limit & download. | Yes |
Part 2. Alternative Application for Reverse Animated GIF
Apart from the above-stated Web components to provide maximum benefit while performing the process to reverse GIF online.
Tucows download can be a solution when dealing with several operating systems with different platforms, to reverse animated GIF files with intact quality and fast speed by just installing an application.
The mentioned gadget is suitable for all OS due to its advanced features, like using primary footages to preview with different frames and sequences inserted along with or when wondering to reverse GIF pictures online.
URL: http://www.tucows.com/preview/1607601/Free-Reverse-GIF-Maker
Cost: Free download
Platforms Available: Windows (all the versions), MAC, LINUX.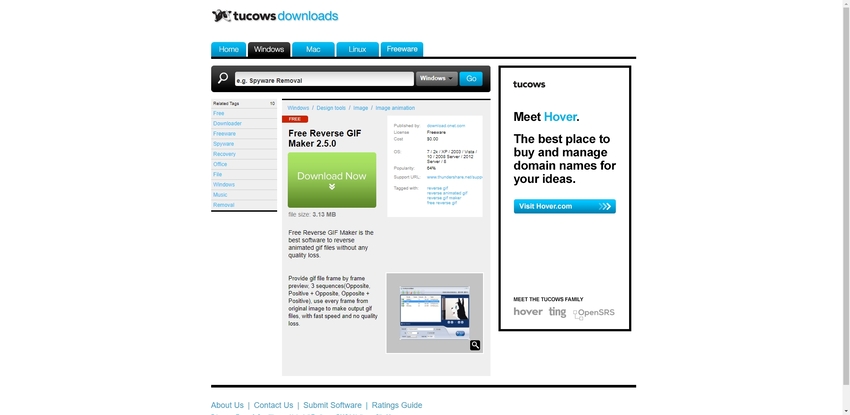 Part 3. Reverse GIF App for iPhone and Android
Live Photo to GIF Converter
Platform available: iOS
Live Photo to GIF Converter is an application that can collect live photos from your iPhone or iPad Photos app, create a GIF out them, trim them, control their play speed, and even reverse animated GIF pictures on your device. Also though the program is of 69 megabytes, it still doesn't lay much load on the processor of your phone and can be easily installed from the App Store for free.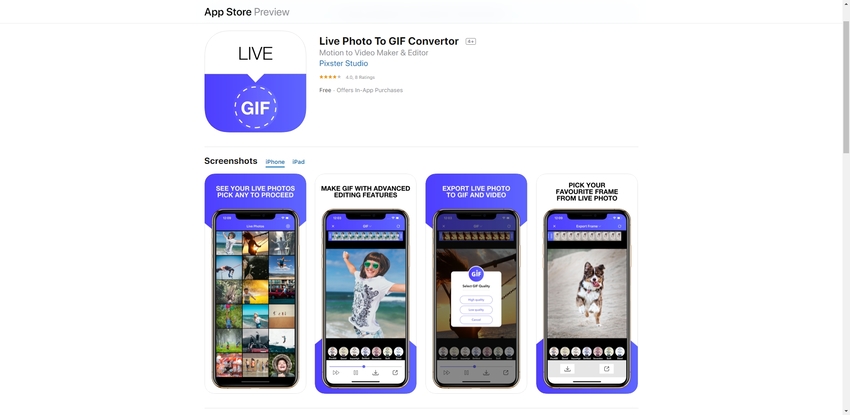 URL: https://play.google.com/store/apps/details?id=com.davesla.gifreverse&hl=en_US
Platform available: Android
An application plus option for the Android users available on the Google Play Store is GiF reverse. The stated app allows the users to click shots from its camera and then turn them into reverse animated GIFs. The rating of 3.9 out of 5 stars is an indication of its success rate among end-users. Several in-built animation effects tend to deliver better output.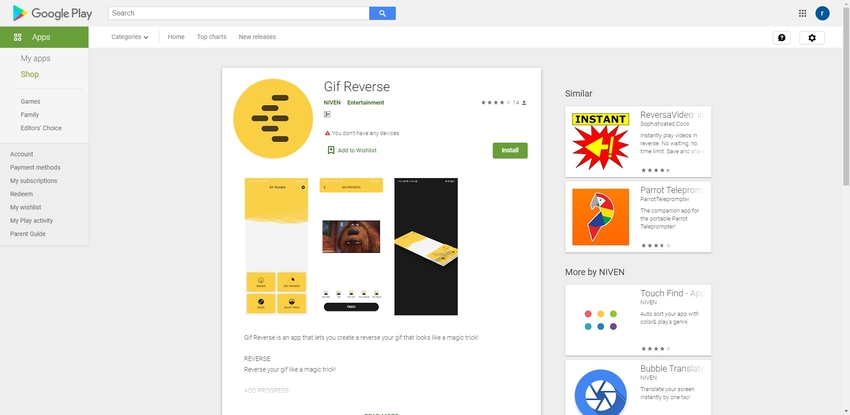 Reverse GiF Maker – Moving Pictures App
URL: https://apkpure.com/reverse-gif-maker-moving-pictures-app/com.Gtg.Reverse.Gif.Maker.Moving.Pictures.App
Platform available: Android
In the field of apps authorizing to reverse animated GIFs, another app prevailing in the market is Apkpure. To the Android users, this application allows reversing GIFs in their respective handsets without logging in to a website. They have to click or record the object through the app, follow the mentioned instructions, and enjoy the reverse motion in desired GIFs.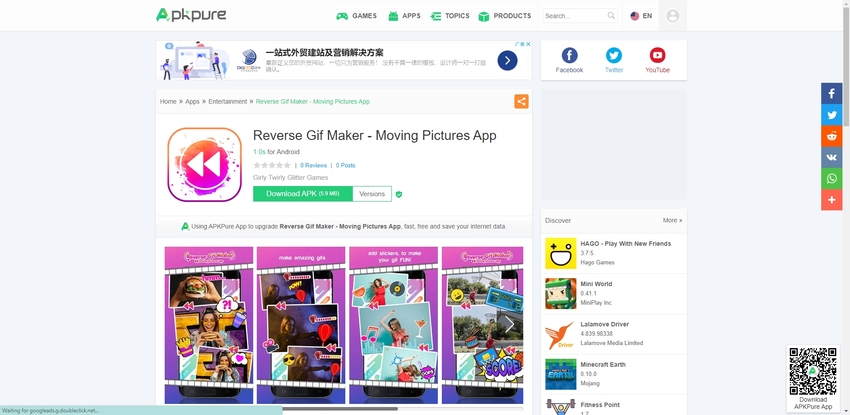 Summary
As indicated, reverse animated GIF pictures are massively in circulation due to easy creation through a variety of websites with several advanced functions that enable the users to crop, trim, merge, or resize the file. Similarly, the stated digital mediums facilitate the users to modify and edit the formulated stuff by reversing motions, adding texts and frames, reducing movement frequency, and so on.
In this digitized era, these amendments aren't restricted to webpages only but have created a vast fan-base. If an end-user wants to reverse GIFs on their respective operating systems, (Windows, Mac, or Linux), or on an Android or IOS supported cellphone, they do have substitutes to execute.
Wondershare UniConverter is an all-in-one desktop software that supports edit, convert, and compress files. It has 7-days free trials if you're interesting in its features, free download, and tries it.
Wondershare UniConverter
· Convert media files to 1000 formats at 30X faster speed without quality loss.
· Customize videos through advanced editing features with simple steps.
· The toolbox has ancillary functions, which are image converter, VR converter, screen recorder, GIF maker, and others.
· Transfer media files to Apple devices, Android devices, USB flash drives or external hard drives easily.
· UniConverter is compatible with Windows and Mac.