JPEG and GIF are among the most popular formats. JPEG refers to the Joint Photographic Experts Group, which uses many color options. It is the main reason you often use them for photographs. The standard image format consists of compressed and lossy image data while maintaining a reasonable quality of the image. Moreover, the compression feature makes them widely used to file the internet, mobile devices, and computers.
On the other hand, GIF utilizes less disk space and contains animation and transparent areas. Hence, GIF is called an animated image. The animated image is quite different from the animated video; it is more like a flipbook and holds multiple photos at a time. However, to create beautiful memes and other emotions, GIFs are gaining high-end popularity.
In this article, we will discuss the top 7 ways or tools by which you can convert JPEG to GIF and share the moments on apps like Facebook Messenger, Twitter, and other social media. All these platforms are thoroughly researched and significantly compared with other best tools available in-system as well as online.
Try Online UniConverter Now | Convert JPEG to GIF Online and Free
[没有发现file]
Part 1. Top 5 Online JPEG to GIF Converters
We are now introducing the best five online converters available to convert JPEGs to animated GIFs. Let's see the description of each one by one.
URL: https://onlineconvertfree.com/convert-format/jpeg-to-gif/
Onlineconverterfree uses a bit complex interface with all the information on the front landing page. As you enter the site, it says, Convert JPEG to GIF and a lot of ads if you are not having any of plans subscribed. However, the site supports thousands of different formats in various sub-categories such as AAI, ARW, BPG, BMP, etc. in images; and epub, fb2, and Mobi in books and so on. The section of supporting file formats includes Images, Books, Documents, Archive, Audio, and Video.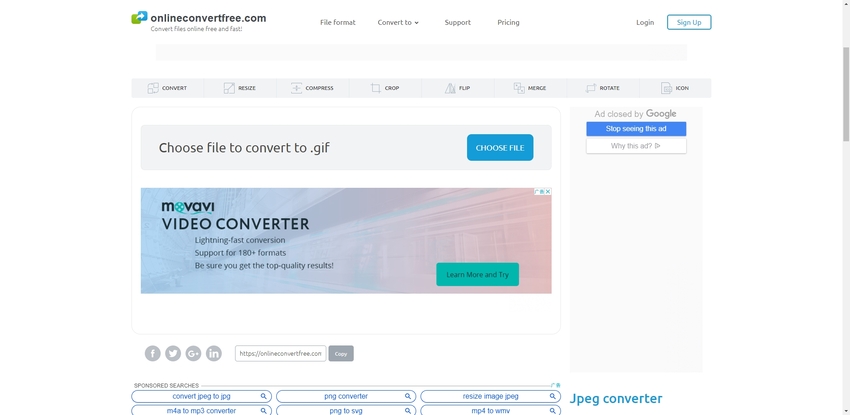 URL: https://onlinejpgtools.com/convert-jpg-to-gif
Onlinejpgtools is our next best version of ad-free tools. This JPEG to GIF converter uses many options such as generate random JPG, pixelate a JPG, blur JPG, converting JPG to Data URI, duplicating a JPG, etc. However, the tool transforms JPG to static GIFs only, so there is no facility for creating an animated GIF. Furthermore, you can also go for selecting a single solid color as the GIF transparency color. Its producers are very creative and are in their way of creating more amazing features such as Convert JPG to WebP, Skew a JPG, Convert ICO to JPEG, etc.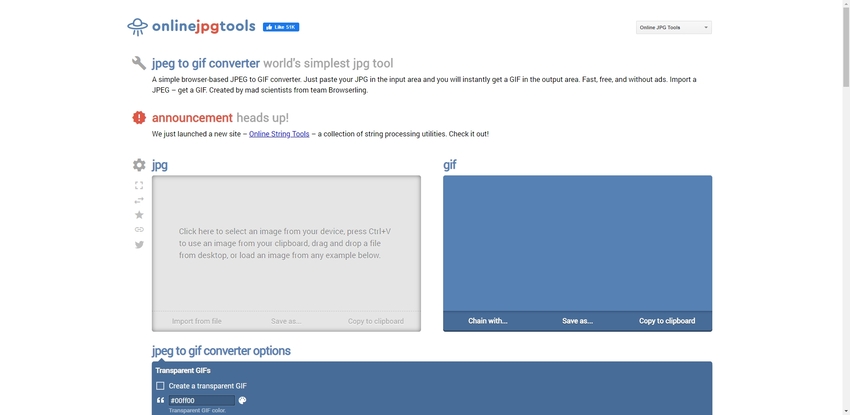 URL: https://mygeodata.cloud/converter/jpeg-to-gif
MyGeodata Converter is an easy and straightforward tool supporting more than 3000 coordinate systems in various formats such as RAR, ZIP, GZIP, TAR, and 7Z, etc. It is also an ad-free site providing unlimited conversions after subscribing their one of the plans. You can use a simple drag and drop feature for quick conversion. It transmits all JPG to GIF, commonly used in software like QGIS.
In their free plan, you get only three conversions per month. Moreover, the site supports many other online apps such as MyGeodata Drive, MyGeodata Map, Transform Coordinates, and MyGeodata API.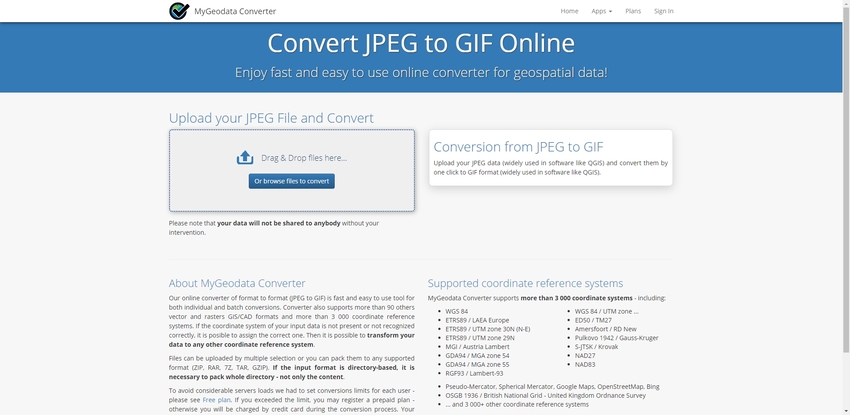 URL: https://convertio.co/jpeg-gif/
Convertio provides a modern-looking site interface to convert your JPEG to GIF format. It also supports another file conversion such as JPEG to DOCX, JPEG to JPG, JPEG to PDF, and PPTX to JPEG, etc. They have separate pricing plans to offer unlimited conversions per day. The interface is much more straightforward, where you get all the information at the top with very fewer ads. Convertio offers several other features such as video converter, audio converter, archive converter, font converter, document converter, presentation converter, image converter, and ebook converter.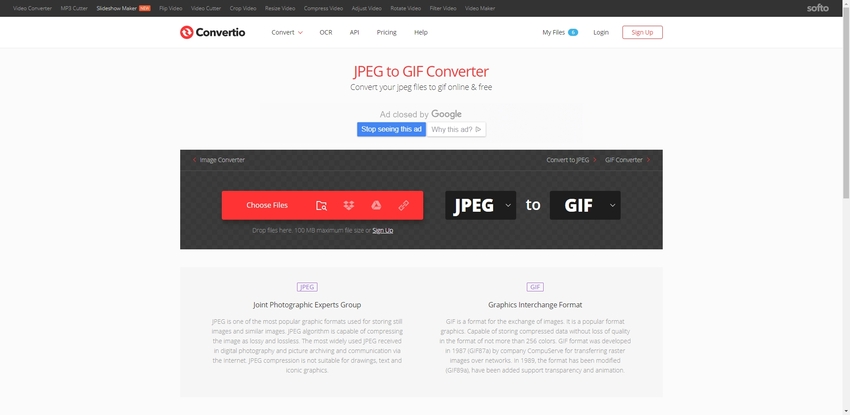 URL: https://convertimage.net/convert-a-picture/to-gif/#supported-file-types
ConvertImages uses a much like a traditional site interface with an excellent online facility to convert any image into GIF format. It supports various forms, such as CUR, GIF, BMP, PSD, PNG, TIF, PCX, and CXF. As it has no pricing options available, so the tool is free. Along with online converter, it offers various other functions such as online Favicon maker, online watermark tools, online photo ID maker, and so on. The interface is also facilitating as the info is accessed easily.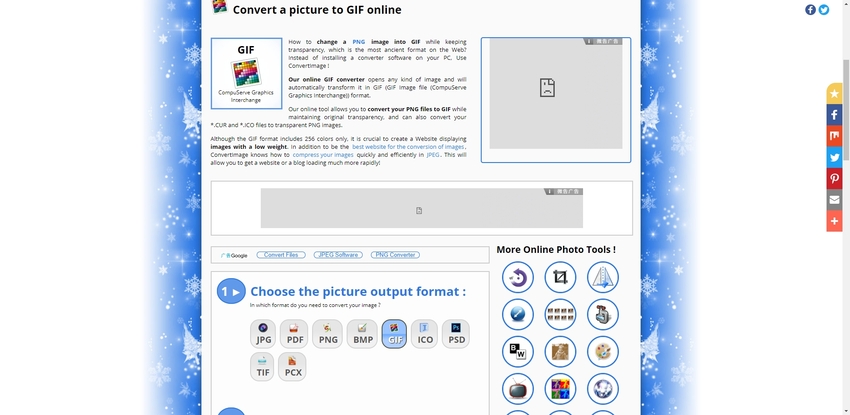 URL: https://pdfmall.com/jpeg-to-gif
This online platform is free with the not very complicated interface as in other platforms. There are just three simple steps, including Step 1: upload JPEG, Step 2. Choose 'GIF' and Step 3. Download your GIF. Moreover, there is also a facility to choose from text recognition modes like OCR and Use Only Text from JPEG. As the name suggests, its primary function is PDF conversion that consists of converting PDF to TXT, PPT, HTML, ODP, ODT, and XPS, etc.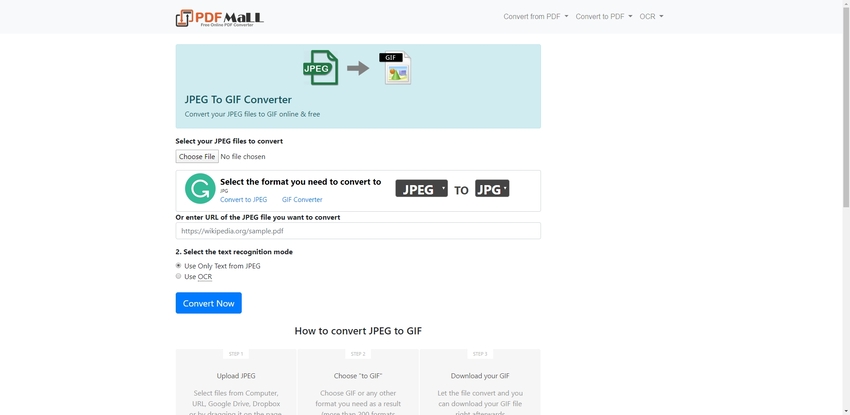 | Basis | OnlineConverterFree | Onlinejpgtools | MyGeodata Converter | Convertio | ConvertImage | PDFMall |
| --- | --- | --- | --- | --- | --- | --- |
| Interface | A bit complex | Feature-rich | Very simple | Intuitive | Traditional looking | Not intuitive |
| Ease of use | Yes | Yes | Yes | Yes | Yes | Yes |
| Upload Speed | Normal | Fast | Fast | Fast | Normal | Normal |
| Conversion Speed | Normal | Normal | Fast | Normal | A bit slow | Fast |
| Ad-free | No | Yes | Yes | No | No | No |
| Pricing | Three plans for unlimited conversions | No pricing options available | Free, Basic, Standard, and Premium Plans available | Light, Basic, and Unlimited Plans available | Free | Free |
Part 2. Convert JPEGs to Animated GIF in Wondershare Uniconverter
Now all tedious tasks of video conversion get handed over the most precise tool known as Wondershare Uniconverter. While searching for other means, we came across this platform as the most reliable, feature-rich, and trustworthy. Coming with lots of exciting promises and backed by highly positive customer ratings, this tool shows a lot of potential right from the start. You can have it for both Windows and macOS platform. Its streamlined user interface supports more than thousands of formats for video conversion, as well as other exciting features with user-friendliness.
Wondershare UniConverter
· Wondershare UniConverter is the easiest to use software with simple interface.
· Add Subtitles, add watermark, add effects, crop, rotate, and other features to video are supported in UniConverter.
· Transfer media files to Apple devices, Android devices, USB flash drives, or external hard drives easily.
· UniConverter also offers a full set of optimized video tools that will come in handy sometime.
· Wondershare UniConverter allows you to burn video and other media files to DVD as well.
Let's see how Wondershare Uniconverter can convert jpegs to animated gif in a few simple steps.
Step 1. Install Wondershare Uniconverter
In the very first step, you need to direct the official website and click Download to enjoy the free trial version. After that, the program gets installed over the computer system. Then, follow the simple installation formalities and click the Toolbox button. A list of tools will appear from which you have to select GIF Maker.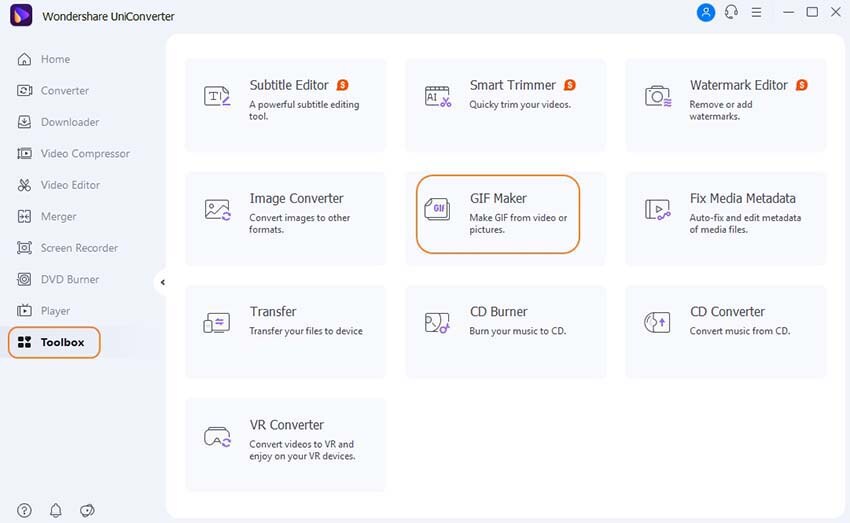 Step 2. Add JPEG Photos
The GIF Maker will offer you two options, i.e., Photos to GIF and Videos to GIF. Select Photos to GIF and tap the button Add Files. You can also add multiple JPEG files. The software supports the process of conversion of jpeg format in both Windows and Mac.
Supported Image Input Format for Windows: JPEG, JPG, BMP, and PNG
Supported Image Input Format for Mac: JPEG, JPG, PNG, TIFF, GIF, and BMP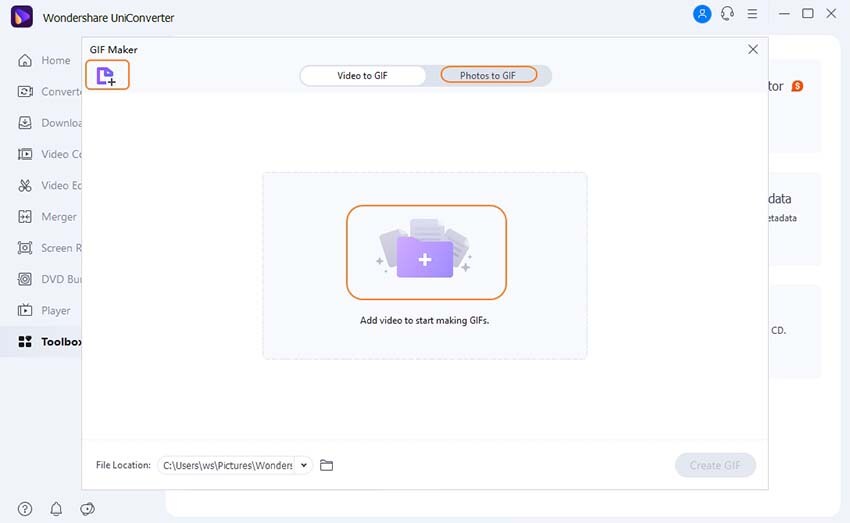 Step 3. Adjust GIF Settings
To set GIF, adjust the Output Size, Frame Rate, and select the folder where you want to save the animated GIF. It is given just below the chosen picture.
Step 4. Create GIF from JPEG Images
After you are over with all the settings, tap the button Create GIF. Thus, you need to follow these four simple steps to create an animated GIF from JPEG format.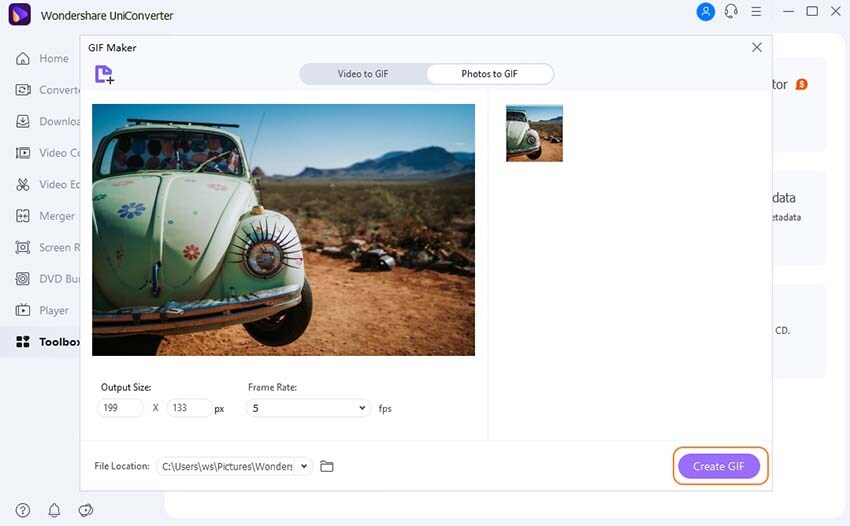 Summary
Hopefully, you have enjoyed and well-analyzed these top 7 JPEG to GIF converters. Both these formats are widely famous, but sometimes you need a change in image quality or create new memes. For these reasons, you need to shift from JPEG to GIF format. The above given six ways are online tools with smooth features and availability. And, the last recommendation Wondershare Uniconverter is a kind of software that performs various functions. As you may need that kind of technical stuff regularly, so having an all-in-one tool may be more helpful than a single feature online tool.