The main reason why most people need to convert AVI to GIF is that AVI files are usually large; hence are a drag when it comes to sharing them on various platforms and such stuff. In this article, we'll discuss how to convert AVI to GIF on a variety of gadgets, and list the top 10 AVI to GIF converters online free also for Windows/Mac.
Try It Now | One click convert AVI to GIF free online with Online UniConverter
[没有发现file]
Part 1. 2 Best AVI to GIF Converters for Windows & Mac
Wondershare UniConverter is the perfect and most professional application to solve all your video problems. It is an ideal AVI to GIF converter on Windows as well as Mac operating systems.
Wondershare UniConverter
· Conversion from AVI to GIF involves few and straightforward steps. Plus, a wide variety of other formats for GIF conversion is also present.
· The conversion speed is incredible: 90 times faster.
· You can trim, crop, and edit a video file first then convert it to GIF.
· The converter ensures high-quality GIF output.
· It lets you choose the frame rate and size of the GIF clip.
Pros:
It has an all-encompassing toolbox comprising a video editor, GIF maker, media Metadata fixer, etc.
It supports the conversion of any video file format to GIF, including AVI.
Con:
It is neither totally free nor open-source.
How to convert AVI to GIF in Wondershare UniConverter?
Step 1. Open the UniConverter and Select the GIF Maker
Having downloaded and installed Wondershare UniConverter on your computer, launch it and tap on Toolbox from the main window. Then choose GIF Maker.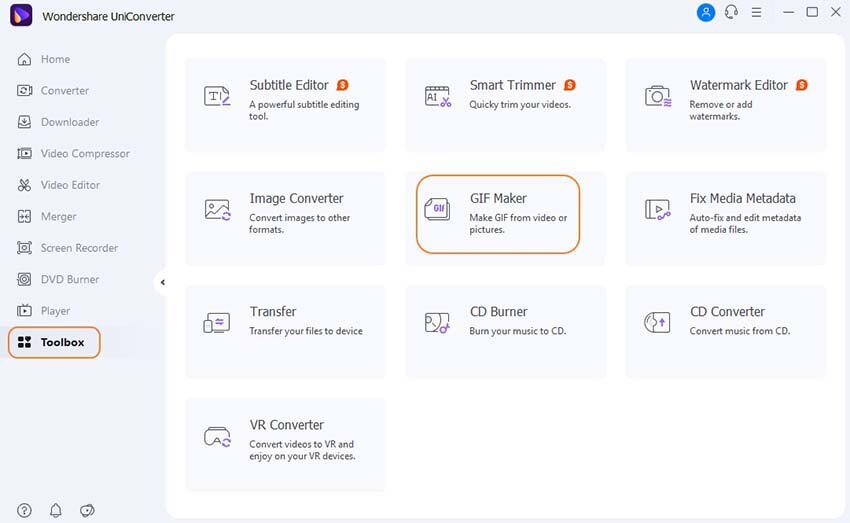 Step 2. Add AVI File and Customize Settings
To import AVI files from your computer, tap on + Add Files tab, as shown in the screenshot below. Choose the Start and End time, Output Size, and Frame Rate of the video you wish to make a GIF clip. Next, under Save to option, select the location where you want to save the converted file.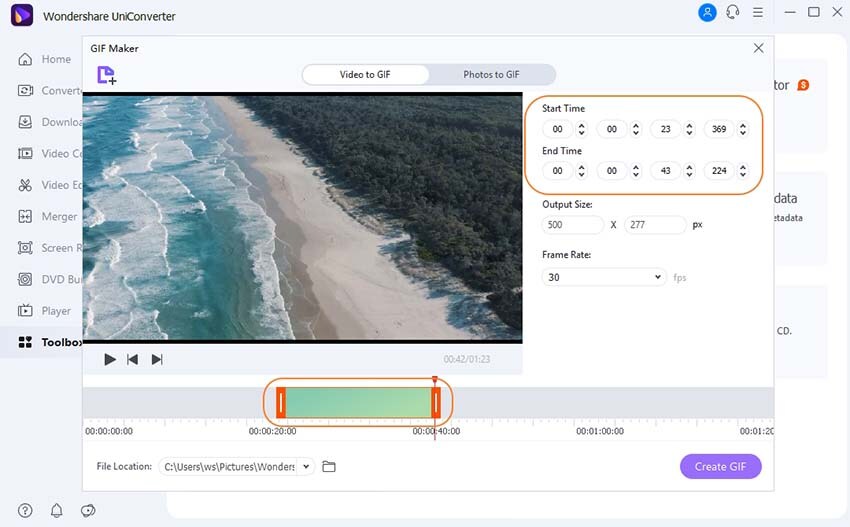 Step 3. AVI to GIF Conversion in UniConverter
Lastly, tap on the Convert button at the bottom right of the window to commence the process of converting AVI to GIF.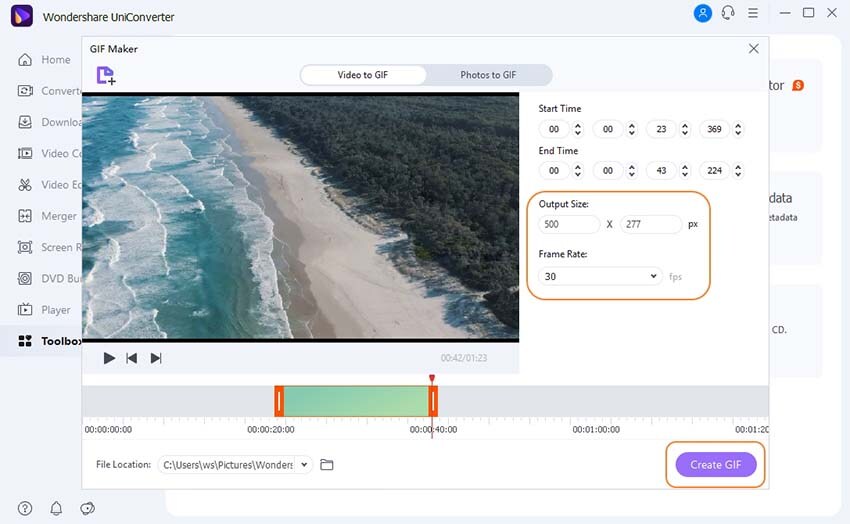 Whether you are a first-timer or pro, VideoSolo is a working AVI to GIF converter software to make it amazingly easy to convert AVI file to GIF on its integrated and user-friendly platform. You can then share the freshly created GIF clip to various social media apps.
Key Features:
Video Solo allows the conversion of any video file to GIF.
It lets you set the duration for the GIF animation.
It has a built-in editor that lets you personalize the GIF clip easily.
It enables you to set the frame rate of the GIF animation.
Maintains/improves high-quality output.
Pros:
It has a lot of useful features ideal for GIF-making.
It is available for use freely.
Cons:
It is limited to Windows and Mac computers only.
It lacks downloading video function.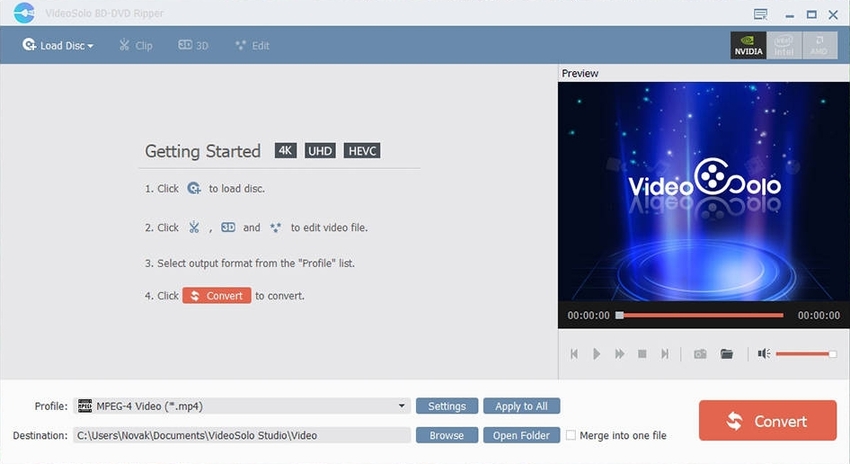 Part 2. 8 Popular Tools to Convert AVI to GIF Free Online
URL: https://convertio.co/avi-gif
If you are looking to convert AVI to GIF for free without having to install the software, Convertio is the app to get.
Key Features:
It supports more than 200 formats, including AVI to GIF animation conversion.
It has a simple and straightforward user interface.
It guarantees quick conversion speeds.
Convertio supports the addition of local AVI files (videos) from the cloud storage as well as URL.
Pros:
It lets you download the converted video file or saving to the cloud directly.
Allows importing of files from a computer, URL, Google Drive, and Dropbox.
Con:
It has a limited file size for video upload of up to 100MB.
It lacks frame rate, size, and such file parameter options.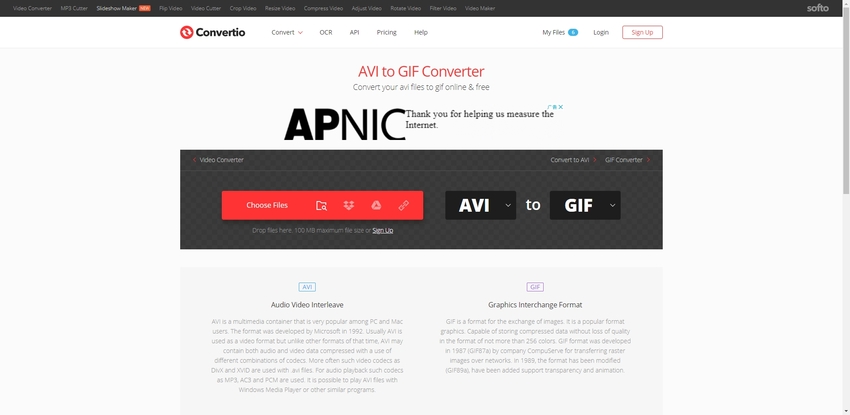 URL: https://www.onlineconverter.com/avi-to-gif
Online Converter is a free AVI to GIF converter ideal for quick and straightforward video conversion tasks.
Key Features:
Accommodates converting AVI and several other video files to HD GIF clips.
It supports choosing a preset, changing size, editing color, and other properties.
You can import the AVI files from a computer, URL, and cloud storage to convert to GIF.
Pros:
It lets you save the conversion settings for future use.
Allows adding effects and enhancing the GIF clip with lots of options.
Con:
It requires a stable and robust internet connection to work seamlessly.
It has limited features compared to AVI to GIF converters that require installation.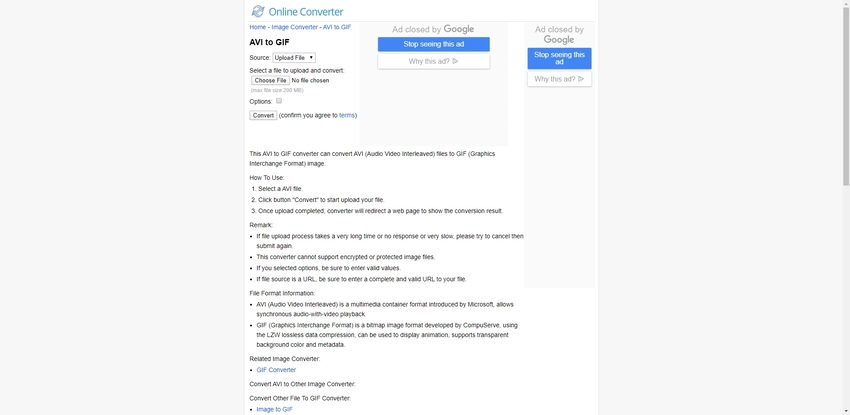 URL: https://www.zamzar.com/convert/avi-to-gif/
Zamzar is a popular online free AVI to GIF converter that is easy to use.
Key Features:
It can convert not only AVI files but also other standard formats to GIF files.
It allows you to download the converted file after sending it to your email.
It has an intuitive platform suitable for non-tech-savvy users.
Pros:
It has incredible conversion speeds.
You don't need to download and install it to use it thus saves on-device storage space.
Con:
To download the converted file, you must send it to mail id first instead of directly downloading it from the main interface.
It does not let you select the frame rate or GIF size.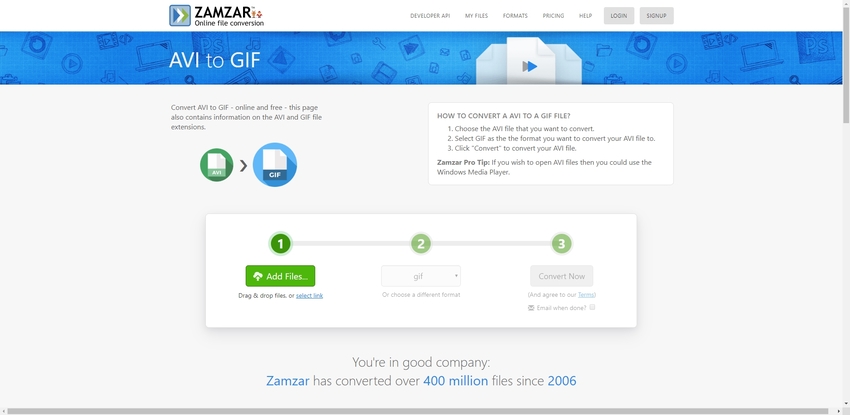 URL: https://ezgif.com/video-to-gif
It is one of the most used online tools used to convert AVI to GIF.
Key Features:
This online tool supports MP4, WebM, MOV, and AVI and several other video file formats conversion to GIF animation.
It allows the selection of frame rate and size of GIF output.
It enables its users to choose the video duration for which they want to create the GIF clip,
Pros:
Users can import video files from computers, mobile phones, and online platforms via URL links.
It allows for video file optimization for a static background.
Con:
The software can only accommodate up to 120MB file size upload.
The conversion speed is heavily dependent on internet connectivity.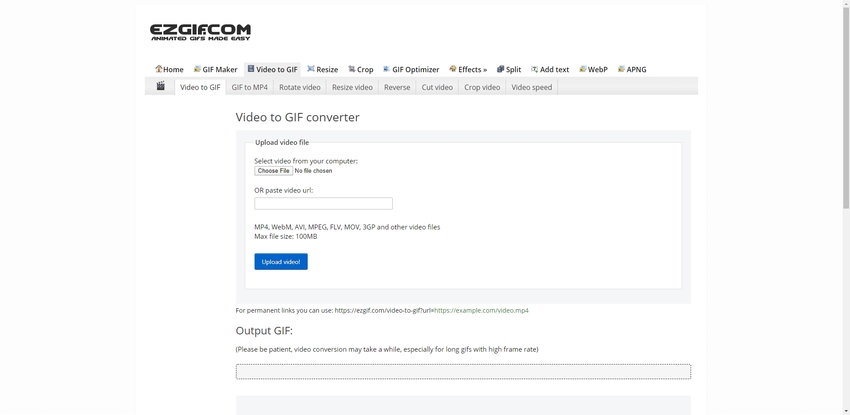 URL: https://image.online-convert.com/convert/avi-to-gif
This online conversion tool allows converting your RAW files to JPG and other image formats in a quick and simple manner. The files to be converted can be added from the computer, Dropbox or your Google Drive account. The tool allows adding multiple files at a time. You can also download and save the processed file to the cloud storage account or share it's link or QR code.
Key Features:
Allows conversion to GIF clips from AVI and other popular file formats.
It lets the user cut the video to create an ideal GIF animation.
Enables one to customize the frame rate and size of the GIF file.
Pros:
Supports importing of files locally or from URL links for the conversion process.
The tool supports cutting video files and setting the frame rate for ideal GIF output.
Con:
Online Converter accommodates a maximum of 200MB file size upload.
Highly relies on internet connectivity.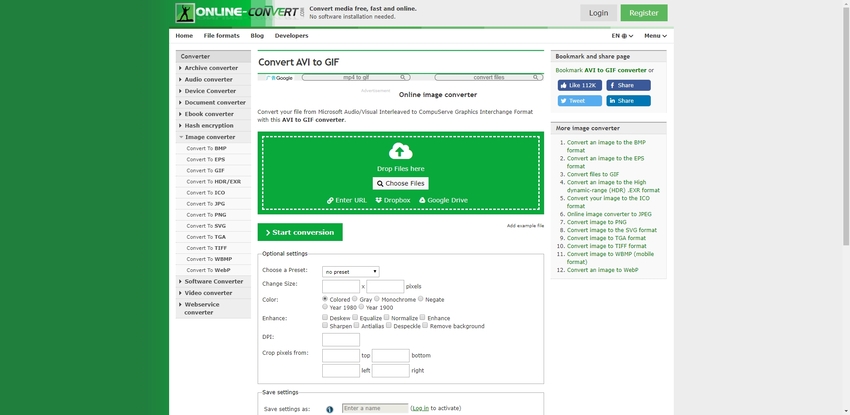 URL: https://www.aconvert.com/video/avi-to-gif/
Key Features:
It supports various file formats such as 3GP, 3G2, AAC, AC3, AVI, FLAC, GIF, iDevices, MP3, MOV, MP4, MPG, OGG, WAV, WebM and WMV.
It supports downloading of the converted GIF file or direct saving to cloud storage.
You can upload the file to be converted straight from your computer, copy and paste its URL link or get it from the cloud storage and carry on with conversion to GIF.
Pros:
The site has an easy to navigate and intuitive, user-friendly platform.
It lets you resize, bitrate, set the frame rate, and the ratio aspect of the GIF animation.
Con:
Requires internet connection to run.
It has limited file size accommodation.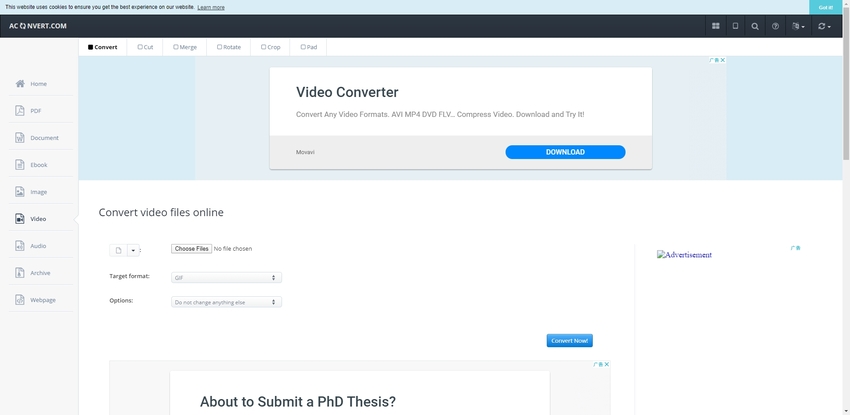 URL: https://onlineconvertfree.com/convert-format/avi-to-gif/
You can access it by typing the above link in your web browser and convert AVI to GIF online for free.
Key Features:
It is easily accessible on Mac and Windows platforms.
It has a drag and drops feature for selecting the AVI files to be changed to GIF files.
It supports at least 200 different file formats.
Pros:
The site has fantastic customer service and experts that are prompt in answering any conversion questions.
You don't have to sign up and create an account to access the file conversion services.
Con:
Cannot convert AVI to GIF unless your device has internet connectivity.
It has limited features.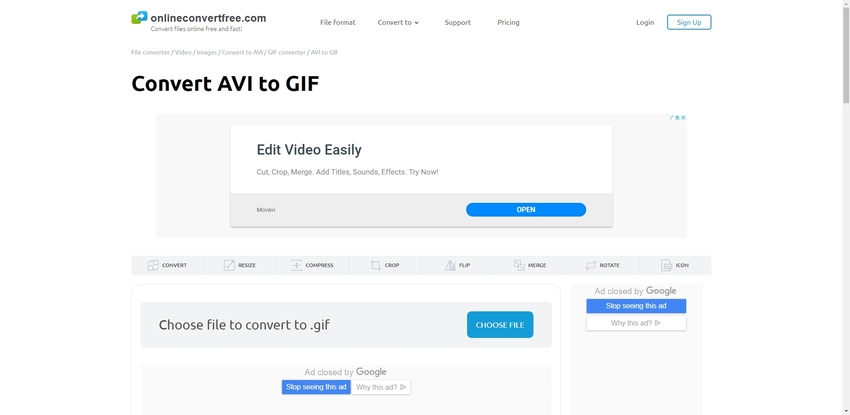 URL: https://cloudconvert.com/avi-to-gif
Key Features:
The software comes with API functionality that makes it possible for its users to access it easily on different devices, like smartphones, desktop, PC, etc.
It offers its users various channels to upload AVI or other video file types for GIF conversion, such as a computer, URL, Google Drive, Dropbox, and many more.
It accommodates up to 200 file formats.
Pros:
This AVI to GIF converter has an intuitive and friendly interface.
The site is SSL protected, thus keeps away viruses and worms when you download your created GIF animation file.
Con:
It has limited capabilities compared to other AVI to GIF converters.
You cannot use it to convert AVI to GIF unless there is reliable internet connectivity.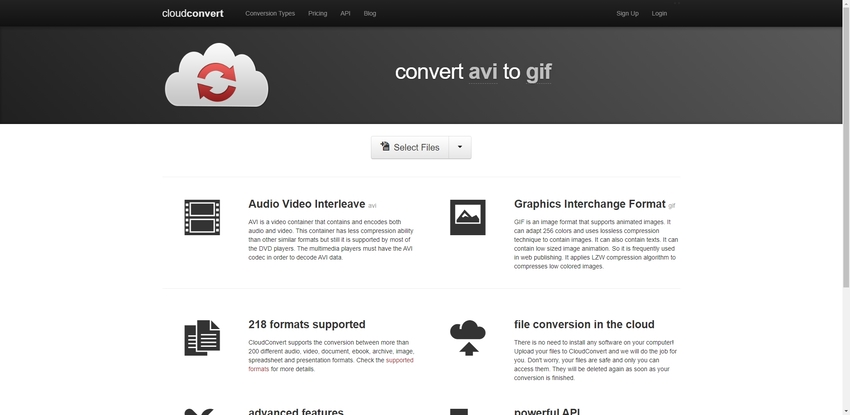 Part 3. What are AVI and GIF?
a. What is AVI?
AVI is an acronym for Audio Video Interleave and is very common among Windows and Mac users. This type of format came in the year 1992 from Microsoft. More often than not, AVI is useful as a video format. However, different from other forms of that time, AVI is capable of containing audio and video data compressed using various combinations of codecs.
In many cases, video codecs like DivX and XDIV are used with .avi files, while for audio playback, codecs such as MP3, AC3, and PCM are useful. You can play this type of data on Windows Media Player and such media players.
2. What is GIF?
GIF is an abbreviation for Graphics Interchange Format designed for the exchange of images. It is a widely known graphics format that can store compressed data while preserving the quality of a file with up to 256 colors.
This file format type was first designed by CompuServe in 1987 (GIF87a) purposefully for transferring raster images over networks. The second designing was in 1989 (GIF89a) when the format was modified and upgraded by adding support transparency and animation.
Summary
Hence, to pen off, we would say that it is smarter and simpler to turn AVI to GIF and share funny moments and your intelligent wit with the whole world. Therefore, sample up the top 10 AVI to GIF converters discussed in this article and get one that meets your needs perfectly.