If you want to post photos, videos, music, or even GIFs on Instagram using a single post, an Instagram slideshow makerwill come in handy. Although Instagram recently introduced its inbuilt slideshow feature, users can only share up to ten multimedia files on a single post. But don't fret just yet because this article will introduce you to multiple ways on how to make a slideshow on Instagramwithout limitations. Let's learn!
How to Create A Slideshow with Music for Instagram
Part 1. 10 Best Apps to make slideshows for Instagram
Flipagram is an Instagram slideshow maker that works on iOS, Android, Mac, and Windows. With this software, you can create music videos, record voiceover videos, create slow-motion videos, and of course, share videos to Instagram, Facebook, Twitter, and more. It also boasts a beginner-friendly editor where users can decorate videos with filters, texts, frames, stickers, and drawings. Even better, you can add local or downloaded music over Instagram videos to make them more entertaining to watch.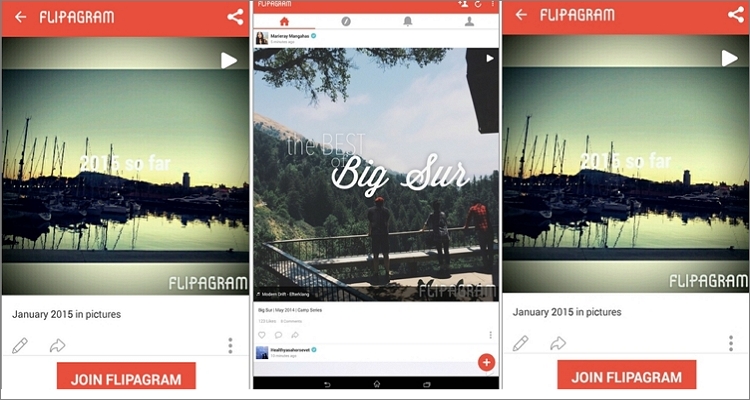 Pros:
Apply multiple filters to videos.
Add unlimited texts, stickers, drawings, and frames to videos.
Excellent video trimmer.
Works on all operating systems.
Cons:
Slideshow transitions can be jumpy at times.
Supports only 30-second music tracks.
PicPlayPost is an all-in-one editor that runs smoothly on Android and iOS. It's easy to use and can create stunning slideshows, live wallpapers, and video collages. Here, users can create photo and video slideshows that run for up to 30 minutes. To make your slideshow video stand out from the crowded Instagram, add animated text, entertaining songs, apply unique transitions, and more. Plus, you can use the intuitive video editor to retouch up to 30-minute videos.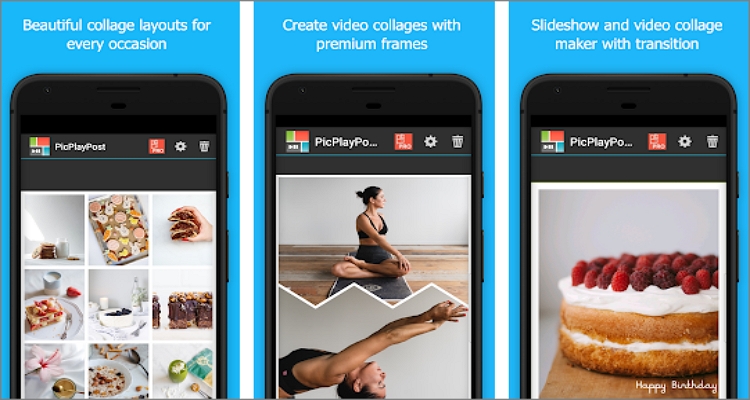 Pros:
Creates 30-minute videos.
Exports 4K and 1080p videos.
It offers full video editing capabilities.
Add texts, image logos, voiceovers, and multiple songs.
Cons:
No iCloud support.
Some features are not available on older iOS versions.
PixGram is another simple way of how to make a slideshow with music on Instagram.;With this app, you can import videos and photos and mix them to produce a killer Instagram slideshow. The editor is simple and powerful enough to help you customize videos and slideshows with filters, texts, and trim videos. Users can also add local and online music over slideshows. And above all, you can directly share slideshows on Twitter, Instagram, Facebook, and more.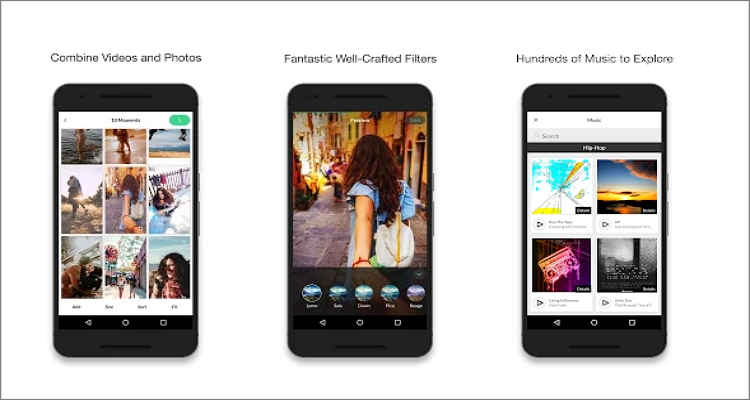 Pros:
Imports local images and videos.
Powerful and straightforward editor.
Supports multiple video sizes.
Directly share slideshows on social media platforms.
Cons:
The output contains a watermark.
Pop-up ads.
If you're a savvy Android user looking for something more advanced, DayFrame is the solution to your problems. This Instagram slideshow maker also doubles up as a video editor for local and online videos on Dropbox, Facebook, Instagram, etc. Interestingly, DayFrame can be used online, giving users the flexibility to create and edit videos almost anywhere.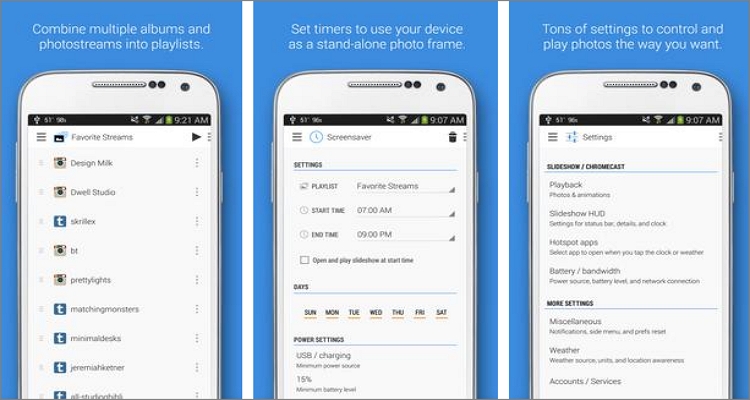 Pros:
It supports offline and online use.
The output quality is good.
Simple to share videos on social medial.
Imports and edits cloud files.
Cons:
Not best for green hands.
Drains battery quickly.
Whether you're after creating videos for TikTok, Facebook, Instagram, or any other social media platform, FilmoraGo packs everything necessary to get the job done. It comes with a free video maker and editor with all essential tools like stickers, texts, sound effects, and more. Also, users can crop and trim videos before exporting them in HD quality. Finally, and most importantly, the video outputs have no watermarks.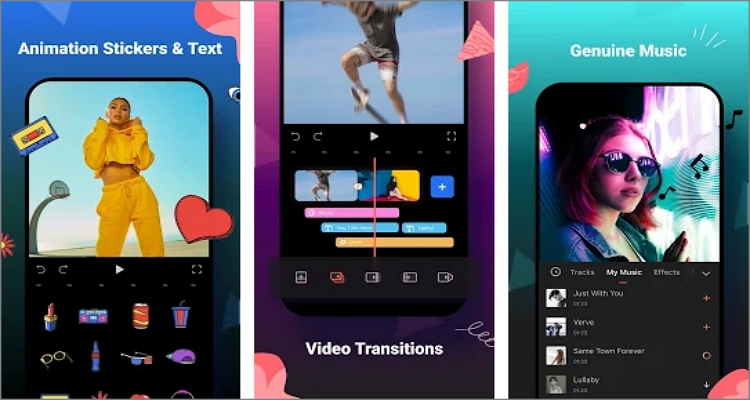 Pros:
Excellent video cropper and cutter.
Customize videos with varying color filters.
No watermarks on video exports.
Directly share slideshows and videos to social media platforms.
Cons:
Contains pop-up ads.
The free version is pretty limited.
When it comes to creating stunning slideshows using videos, music, and images, few on this list can match MoShow. This Android and iOS app can change your photos and videos into attention-grabbing slideshows, thanks to the 40+ beautiful slideshow styles. After uploading your selfie photos and videos, you can customize them with effects, transitions, text overlays, and more. And yes, the app is fast and straightforward to use.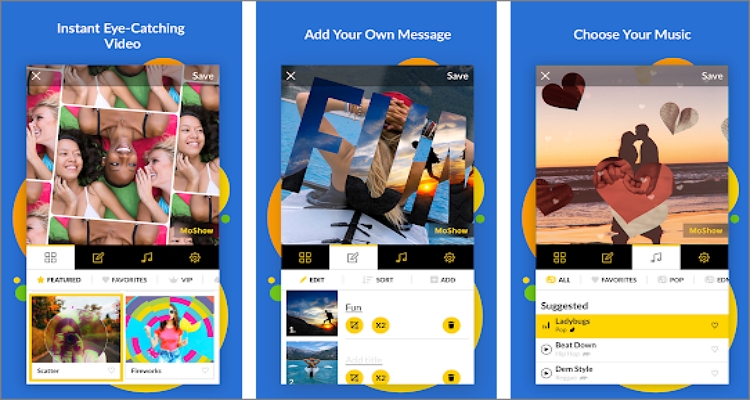 Pros:
Fast slideshow making process.
It offers more than 40 eye-catching slideshow styles.
Create looping videos for Instagram and Facebook.
Easily share videos on social media channels.
Cons:
Users can't change the text color.
You can't save videos without a subscription.
VivaVideo is a beautiful mobile app that blends unique video editing and video-making features into a single lightweight app. Its video editing capabilities allow users to crop, trim, merge, and cut videos. You can also add stickers, texts, and music to videos and slideshows. Meanwhile, users can create award-winning slideshows with fantastic transition effects and even blur the background. And, you can save videos in 4K, 1080p, and 720p resolutions.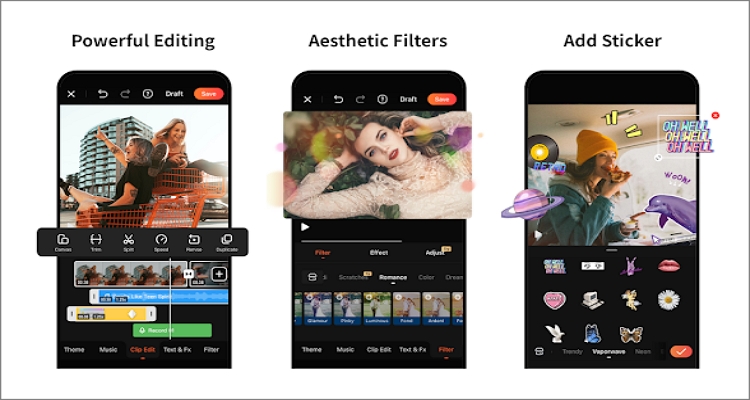 Pros:
It supports video outputs up to 4K resolutions.
Directly share videos to Instagram, YouTube, and TikTok.
It offers a feature to blur the video background.
Apply background music and sound effects to slideshows.
Cons:
The output quality is average.
Exports only 5-minute videos.
For iOS users (and Android, of course), SlideLab should be your one-stop solution to transform videos and photos into cracking slideshows. This app is tailored for square-format images, making it an excellent choice for Instagram slideshows. It boasts an intuitive photo editor with varying transitions, filters, and music tracks. After uploading your local photos, you can rearrange and crop them before uploading your slideshow to Facebook, Instagram, or YouTube. Unfortunately, the outputs have a SlideLab watermark. But you can upgrade to the $1.99/month plan and enjoy watermark-free creations.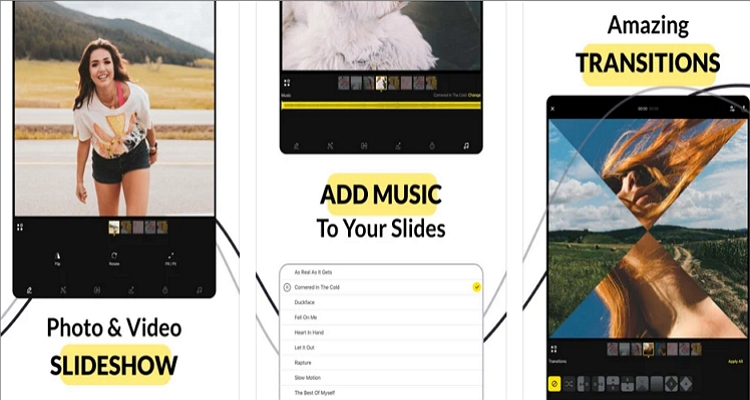 Pros:
Personalize videos and slideshows with filters.
Retouch your slideshows with dynamic animations and transitions.
Extensive collection of music tracks.
Flexible subscription plans.
Cons:
Slideshow outputs have watermarks on the free plan.
It has many features that require a learning curve.
Scoompa Video is an Android app that offers its users a beautiful and simple UI to create and edit videos effortlessly. Although the free version is pretty limited, you can still use it to customize your slideshows with hundreds of stickers and free music tracks. There are also multiple text options, including unique fonts to play with. What's more, you can upgrade your account to remove watermarks and save your creatives.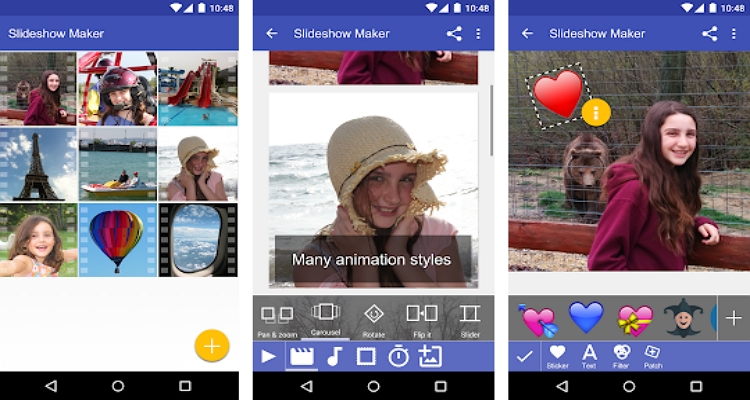 Pros:
Add online and local videos and photos.
It offers more than 100 stickers.
Apply texts using 50+ varying fonts.
Intuitive multimedia player.
Cons:
The free version offers limited customization features.
Can only save up to 1.5-minute long videos.
Last but not least, use the simple SlidePlus to create slideshows and videos using local and online media files. Users don't even need any video editing skills, as you only need to choose a theme and music, and SlidePlus will do the rest for you. It features 100+ beautifully designed slideshow themes that you can customize for occasions like graduation, birthday, wedding, etc. Most importantly, users can directly share their video stories with friends on Facebook and Instagram.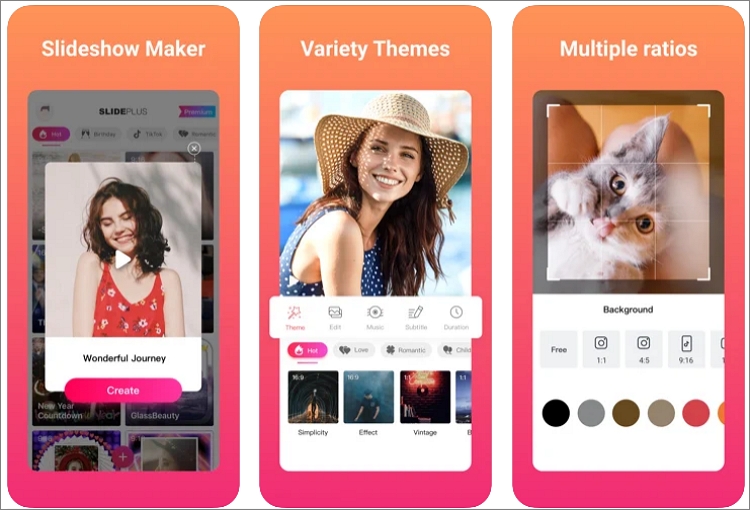 Pros:
It offers 100+ slideshow themes.
Expansive library of music tracks.
It imports videos and photos from Instagram and Facebook albums.
HD video exports.
Cons:
No 4K quality outputs.
The premium plan doesn't offer unlimited video length.
Part 2. Best free slideshow makers for Instagram – Online UniConverter
Many a time, downloading and installing an Instagram slideshow maker on your device can be time-consuming. And to make it worse, some third-party apps might end up infecting your computer with a virus. Luckily, you can use Online UniConverter Slideshow Maker to create a catchy slideshow on your computer or mobile device without installing anything. With this online app, you can create slideshows from local storage, cloud, or directly download videos from YouTube. As expected, the processing speed is super-fast, and the app allows you to customize your slideshow with unique background audio and aspect ratio. Additionally, users can set the slide display time and output the final video to MOV, MP4, MKV, DIVX, and more.
Online UniConverter - key features:
Runs smoothly on any updated web browser.
Supports creating of videos from any image file format.
Exports slideshow videos to MP4, MOV, FLV, WebM, 3GP, MTS, etc.
Apply crossfade transitions and background audio.
It features an excellent video merger and audio trimmer.
Super-fast video and audio converter that works with 1000+ file formats.
24/7 fast customer support.
Below is how to make a slideshow on an Instagram story using Online UniConverter:
Step 1: Launch Online UniConverter and upload photos.
Visit Online UniConverter and then click Online Tools. Now click Slideshow Maker to run the function. After launching the Slideshow Maker, click the Choose Files button to upload your photo files or videos. You'll also see icons for uploading files from Dropbox, Google Drive, and YouTube. Wait for a few seconds for your media files to load up.
Step 2: Personalize your slideshow with background audio.
Do you want to add an audio track to the slideshow background? Click the Add audio button and then upload a music track. After adding your audio track successfully, you can adjust the volume or trim it to remove unwanted parts.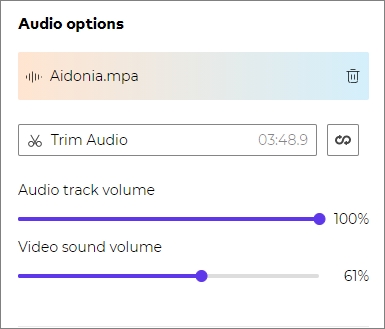 Next, go to the Settings section and choose the playback duration for your photo slides. Now set the aspect ratio and then click the Crossfadecheckbox to apply fade effects during slideshow transitions.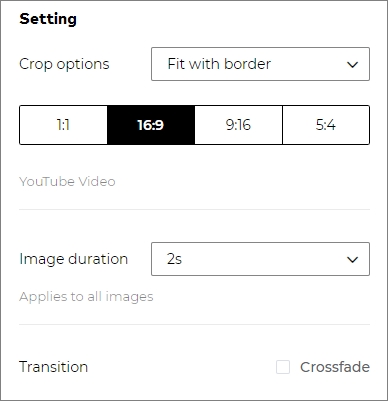 Step 3: Choose a target format and create the video.
Proceed to open the Output format menu and choose MP4 as the target format. To check if everything is okay, click the Play icon on the preview window. Finally, click Merge to start processing your slideshow video.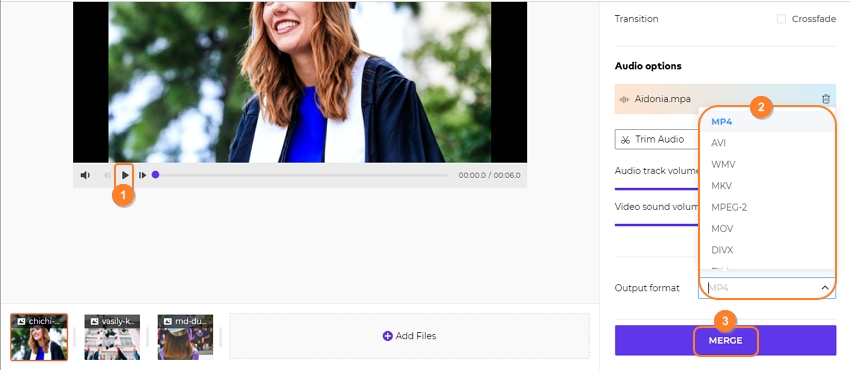 Note: After a successful slideshow-making process, you'll see a link for downloading the video or editing it further by converting, trimming, adjusting speed, etc.
Part 3. FAQs on Instagram slideshow maker
1. What are the Instagram post dimensions?
The original Instagram image dimension was 640 pixels square which was upgraded to 1080p by 566p to 1350p in 2015. It's also important to know that you can add an un-square shape on Instagram ads.
2. How many slides can you have on an Instagram post?
With an Instagram slideshow, you can add up to 10 photos and join them randomly to give you a fun sequence.
3. How to add music to a slideshow on Instagram?
If you want to add background music to your Instagram slideshow on any device, use Online UniConverter. Simply load up your pictures on the slideshow maker, then click the Add audio button on the right pane. Once you add the audio successfully, trim it and adjust the volume level to make it rhyme with the slideshow playback.
4. How do you put multiple pictures in one story on Instagram?
Again, use Online UniConverter to apply multiple photos on a single Instagram story seamlessly. To do that, launch the slideshow maker, then click Choose Files to add your photos. Remember, you can add any image file format. Plus, set the aspect ratio as 1:1 to get the perfect Instagram Story slideshow.
Final Words
These are the best methods for making a slideshow on Instagram without necessarily breaking the bank. But honestly, Online UniConverter stands out from the crowd, thanks to its simplicity, flexibility, and support for any image or video format. You only need to select high-quality pictures and let the tool do the rest for you. Nonetheless, others are also excellent apps for creating a catchy Instagram slideshow. Adios!