The importance of memes can't be ignored anymore. These days, memes have become an integral part of online communication. They allow you to pass a specific message without even uttering a word. Although you can easily create your own fun memes, as you'll learn later on in this listicle, you might also need a meme website to add to your meme collection. That's why I've gone out of my way to prepare this list of 10 meme sites to download hilarious meme templates for free. Remember that most of them double up as meme creators as well.
Part 1. 10 Updated best meme websites to get funniest memes [2022]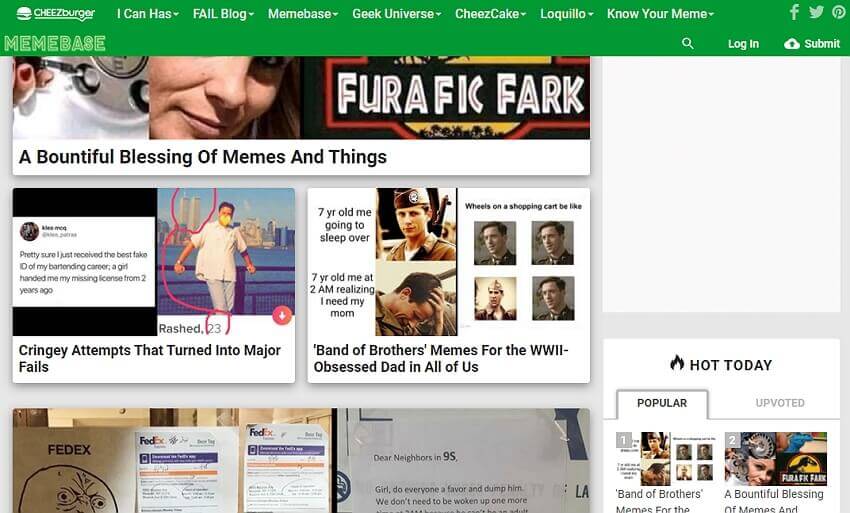 Cheezburger is the ultimate source to get the newest, funniest, and cutest meme templates. All the memes on this website are created and shared by the 7+ billion community members, meaning you can find anything you want. The available memes vary from funny cats and pets to famous celebrities and web comics. Plus, you can download the memes without even creating a CHEEZEburger account.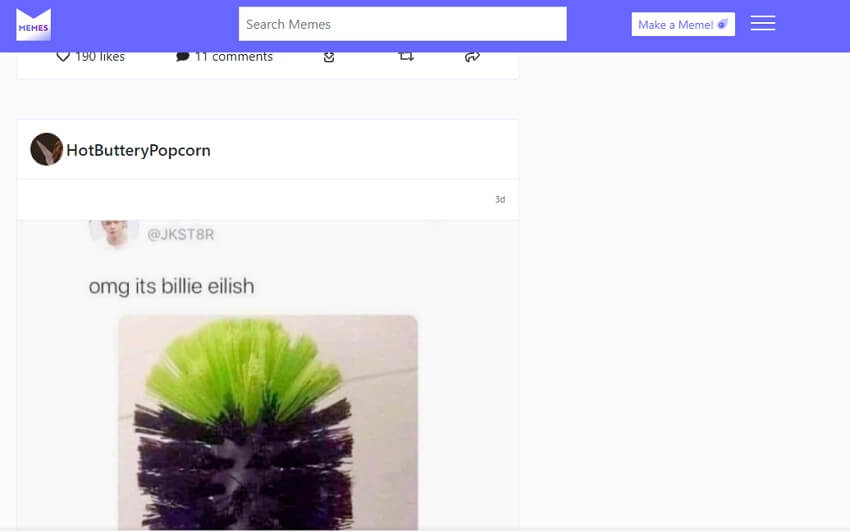 Second on this list is Memes, where you can register and download millions of crazy memes. Here, you can register and search for trending and latest memes. In addition to memes, this website also comes with a meme blog, full of meme ideas to borrow and use to create your own custom memes. And yes, it features a powerful meme creator to use for free.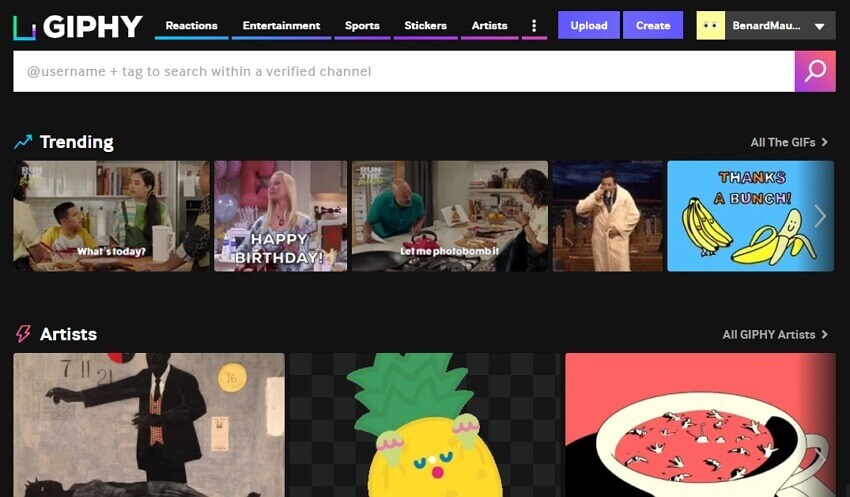 Giphy is arguably the most popular meme library today. On this meme website, you can find millions of best meme GIFs spread across multiple categories. You can download action memes, reaction memes, emotion memes, and more. Besides exploring and downloading the best memes, GIPHY also lets you create memes and GIFs from scratch. To do that, just choose a ready-made template or upload a local photo or video. And there are no pesky adverts here.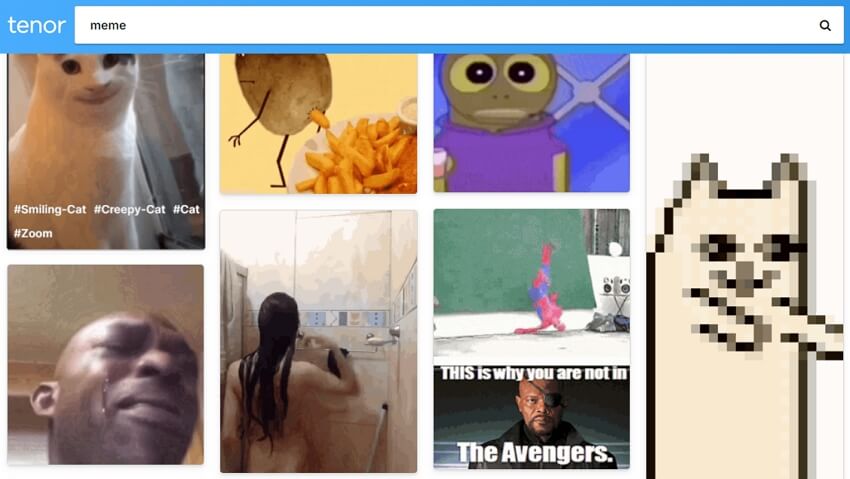 Founded in 2014, Tenor is a one-stop solution for more than 3 billion meme and GIF lovers. Like Giphy users, Tenor users search and discover millions of action memes and GIFs. On this meme website, you can find meme categories like funny, crying, clever, fire, and so on. Even better, there are hundreds of funny stickers to download and use.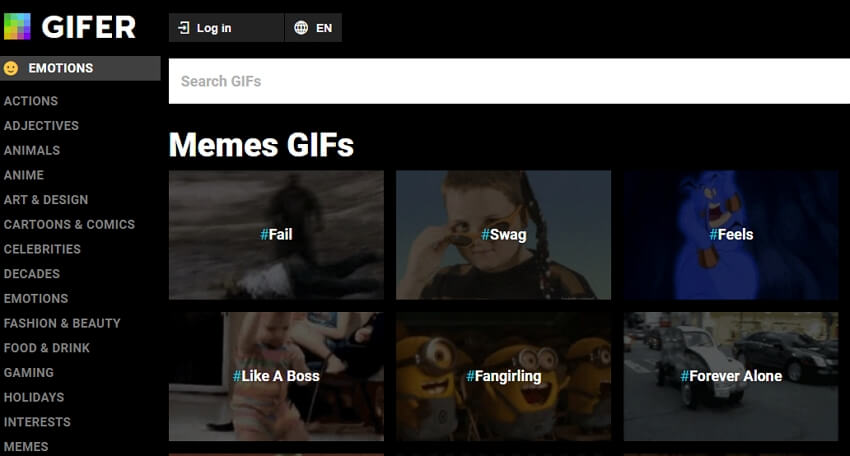 Gifer is an excellent funny memes website to download the latest trending memes. Although the meme library isn't that expansive compared to other websites like Giphy and Tenor, you can still find meme categories like funny, dog, dance, hilarious, and so on. Apart from memes, you can also download GIFs spread across categories like animals, gaming, holidays, movies, etc.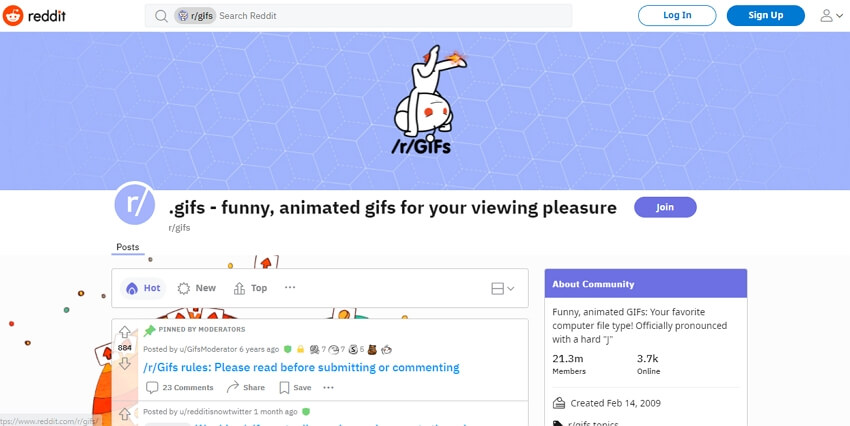 All meme lovers know a thing or four about this meme website. If you don't, Reddit is a popular destination to download the funniest and latest memes in the industry. This website was originally a community platform but has recently gained popularity as a meme and GIF sharing platform. Overall, it's an excellent way to describe cultural information being shared.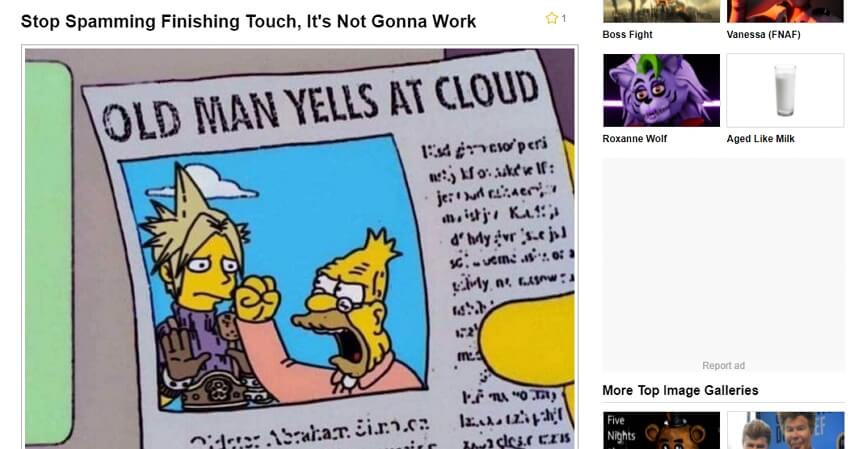 Know Your Meme has been a meme dictionary for over a decade now. On this website, you can find the meaning of most memes. In other words, you'll know the explanation of the best meme GIFs and how to use them. The front page of this website is also home to the latest and funniest memes that you can download at any time.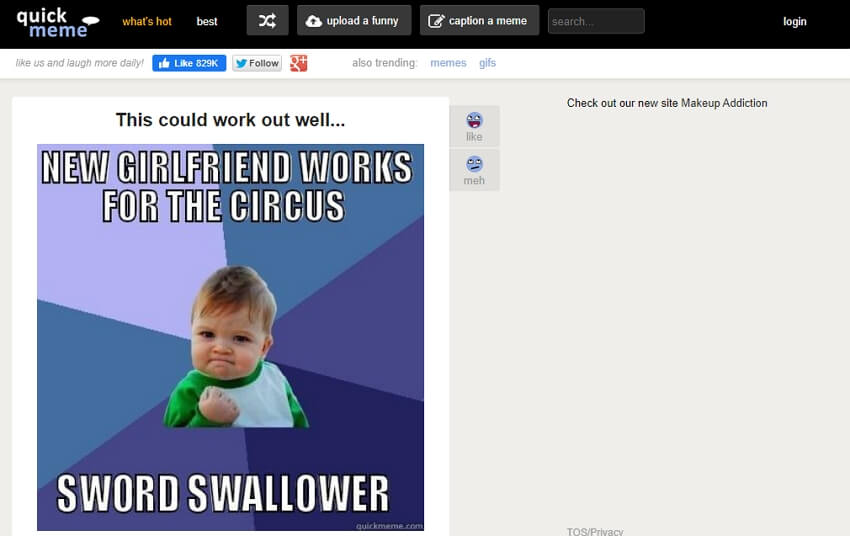 Quick Meme is a straightforward meme website created by a group of Reddit users. For this reason, expect to find the most popular and engaging memes on Reddit here. This website houses hundreds of funny memes that you can download without signing up anywhere. Also, you can upload and share memes with the Quick Meme community.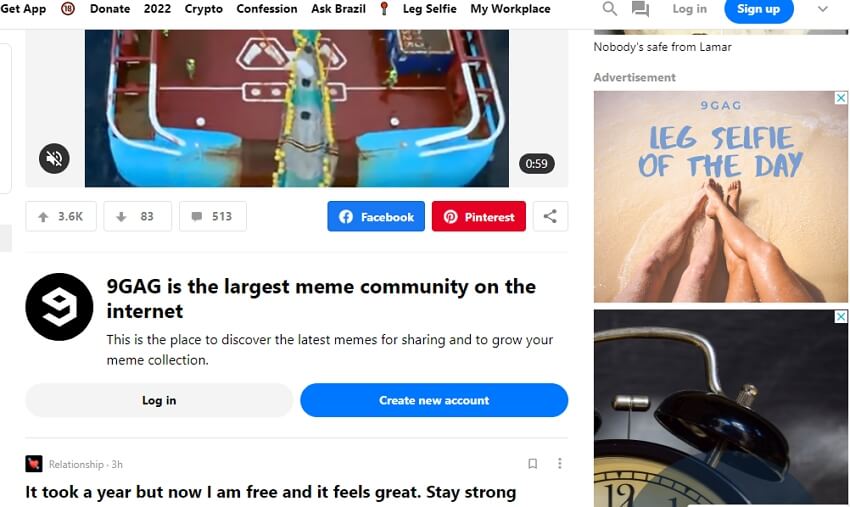 Last but not least, visit this vast meme database and download thousands of user-generated memes for free. The memes on this website are classified into hot, trending, games, lifestyle, and so much more. Besides memes, 9Gag also boasts multiple funny videos and GIFs to download and customize as you like. And best of all, there is a direct download option below each clip.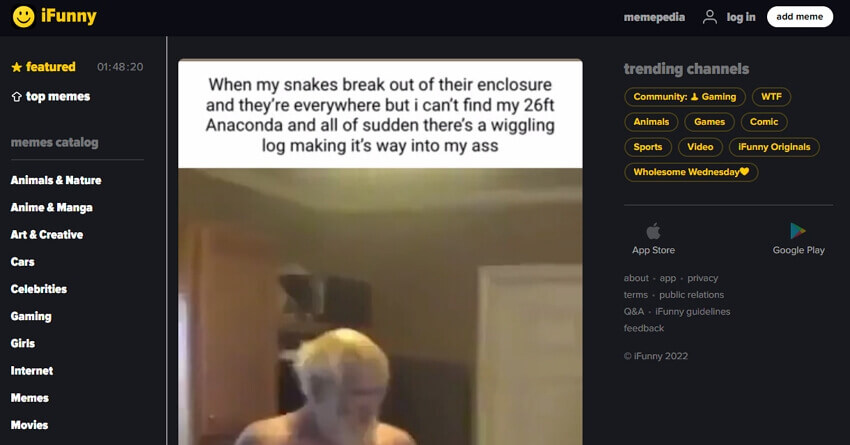 Still can't find what you're looking for? Visit this hub of funny memes, GIFs, and short video clips. You'll discover all types of viral and funny memes distributed into categories like cool, cringe, edgy, popular, relatable, and so on. In addition, downloading a meme from iFunny is relatively simple. Just find the meme you want to share and copy the link. You can also directly share to email, Pinterest, Reddit, Tumblr, etc.
Part 2. How do I make a funny GIF meme?
Now you know where to download a twrek GIF or meme. But the problem is that some websites don't allow direct downloads. What's worse, you may not find a meme that meets your needs. In that case, create your own Oscar-grade memes with Media.io Meme Generator. This straightforward website allows you to generate memes on a phone or computer using popular image formats like JPG, PNG, GIF, and BMP. In addition, you can create memes for social media platforms like Instagram, YouTube, Facebook, Twitter, Pinterest, etc. Just upload the image, choose the aspect ratio, and get going.
Below is how to use this GIF meme creator to generate an award-winning meme in minutes:
Step 1. Launch Media.io and then fire up the Meme Generator function. Then, click Choose Files to upload an image file or merely drag and drop it on the Meme Generator.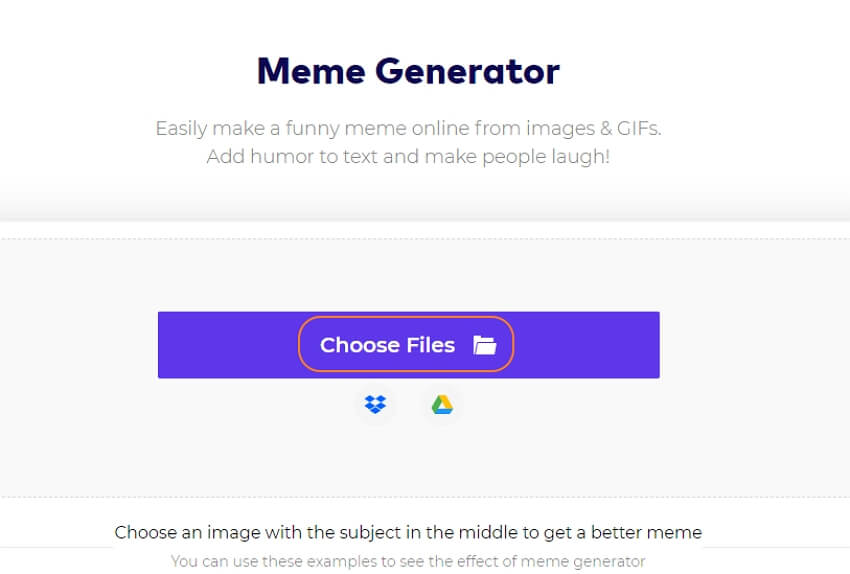 Step 2. After the picture has successfully loaded, choose a meme template on the left pane and enter the meme captions. You can also change the text settings like font style, size, color, etc.
Step 3. If you're satisfied with the captions, choose the aspect ratio for your meme under the Output Settings section. You can directly select Facebook, Instagram, Snapchat, and other social media apps. To wrap it up, click Generate. Media.io Meme Generator will create your custom meme in record seconds. That's it!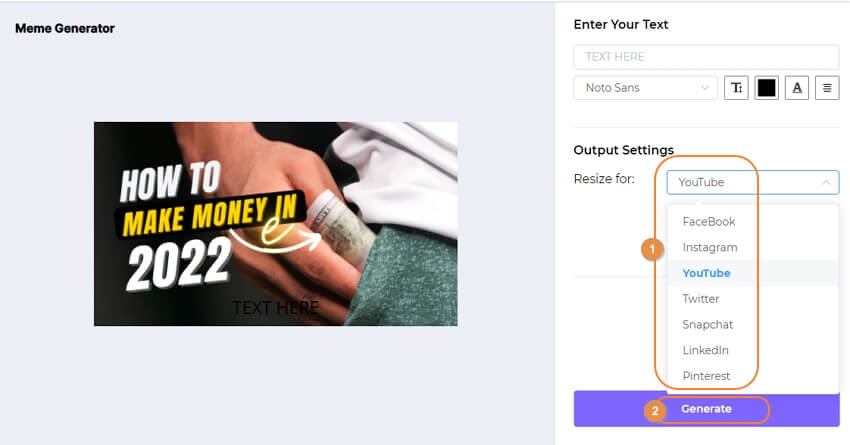 Conclusion
I hope you've learned quite a lot up to this end. With the meme sites above, you can find and download ready-made memes without paying anything. However, a professional way to go about it is to download a meme picture and then use Media.io Meme Generator to personalize your meme. This way, your meme will look original when you share it online. Give it a try!