Memes have become popular in conversations and on social media platforms. They make users laugh, relate to sarcasm, and become viral overnight. Memes are fun to use to tease your friends online or create content that people will relate to. There are different platforms where people can get the best memes and even create viral memes by themselves. As an Android user, you may be looking for the best way to get memes for Android. That is what this blog is about.
This blog will find the 6 best Apps for making memes on Android. We will also show you how to use an online easy meme maker for all types of devices, including Android devices. So keep reading, and you will be glad you came here.
Part 1. How to Make Memes on Android?
Making memes on Android phones is relatively easy if you know what to do. The general way of doing this is by accessing a good meme online or on your phone keyboard. You can use any of the default meme templates on your device while texting on WhatsApp, for instance. Also, you can find any of the several meme generators for Android and discover meme templates from their collection or meme library.
Another way to make memes for Android is by uploading any stock image you may have downloaded on your device to the meme maker, adding any funny or quirky text to the image, and saving it to your device. Then you can share the meme you created across all your social media platforms to go viral.
Part 2. 6 Best Meme Apps for Android [New]
Some of the best meme generator apps you will find for Android are discussed below:
Meme Generator is one of the best apps you can use on your Android device as it makes it easy for you to create hilarious memes in quick steps. The process of making memes on Meme Generator is fun for even beginners. The main key features of this meme app include the following: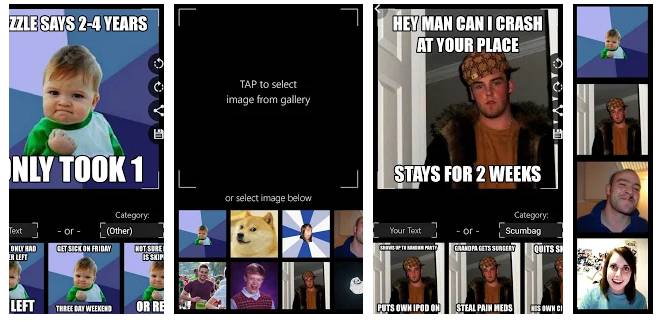 It is easy to use, yet it does not infiltrate the meme creation process with annoying ads, unlike most free apps; thus, the interface is simple.
It allows you to upload any image from your device and customize it to make a meme that you can easily share on Twitter, Facebook, and other social media platforms.
Offline creation of memes is supported on Meme Generator once you have installed the app on your Android phone.
The Smart Text Positioner feature aligns the text you add to your meme image so that it is placed in the perfect position on the meme. That saves you time figuring out the best place to fit the meme text.
Memasik is an Android quality meme maker highly rated on Google PlayStore because of its effectiveness in generating the best memes for Android devices. Apart from generating memes from scratch, you can edit other memes or customize them to make them your own on Memasik.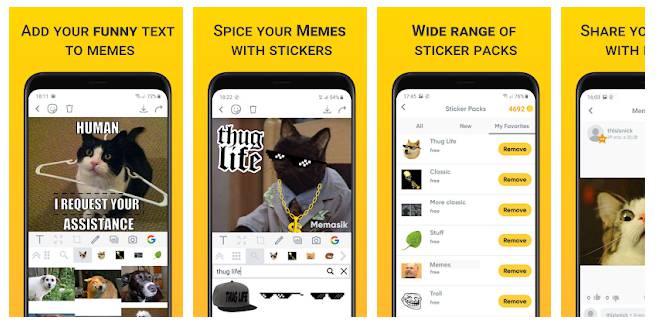 It contains stickers, different text styles, and fonts, as well as emojis that will all help you make the most beautiful memes to share online.
You can use your images, memes, stickers, and photos to create a whole new meme of your choice on Memasik.
The interface is beautiful, and it attracts new users quickly.
It supports handwritten messages on memes.
Meme Creator is another excellent meme app for Android that you should not miss out on. You can easily create memes on this app and use them to tease or taunt your friends on social media. In addition, this excellent meme app has features that you will find interesting: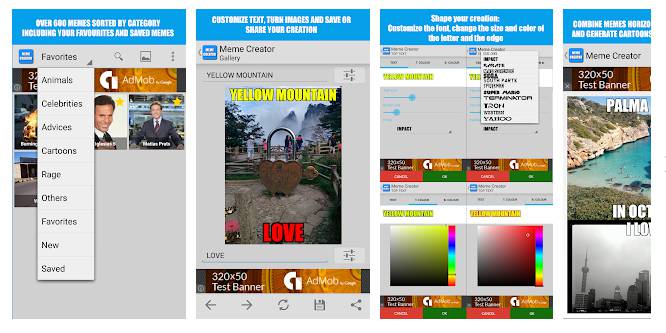 Meme Creator contains over 600 meme templates to get you started on your journey of creating memes in no time.
There are more than twenty font styles to choose from; you will find the style you prefer for your meme text.
It allows you to create a collage of different memes to tell a story or make your comics.
It does not leave any watermark on the memes you create, even as you share them on your social media platforms.
Mematic is one of the best meme maker app for Android you will find available on Google PlayStore. This app lets you easily create memes, customize the meme texts, and make any caption you want. It is free of charge but comes with ads that you can easily ignore while making your funny memes.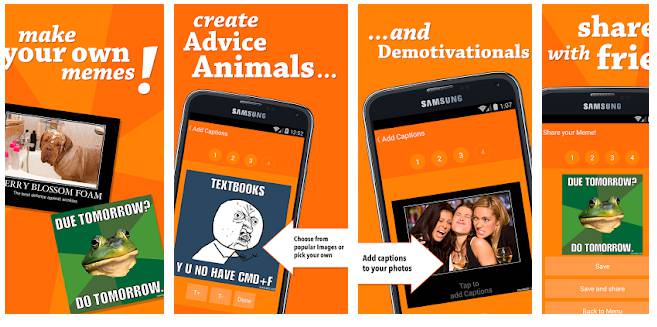 It has very cool-looking text fonts and styles to experiment with.
It lets you download popular images and add captions to them to create new memes.
Mematic has exciting new layout tools to combine different meme frames.
It respects your online privacy by not tracking your traffic; it neither shares third-party ads that can easily track you.
Memedroid is a classic meme generator for Android which has not gone out of style. It provides both old and new latest memes, which you can edit to make your own.
It supports the uploading of personal GIFs or photos with captions that will crack up viewers.
It is free and contains ads; you can also make purchases in the app to upgrade features.
The app is constantly updated with new funny memes you can download and share on all socials.
It lets you connect with thousands of users that post similar memes on the app.
Create cool memes for Android using iFunny free meme app. Our last recommended best meme app for Android that you will find helpful in making the best memes.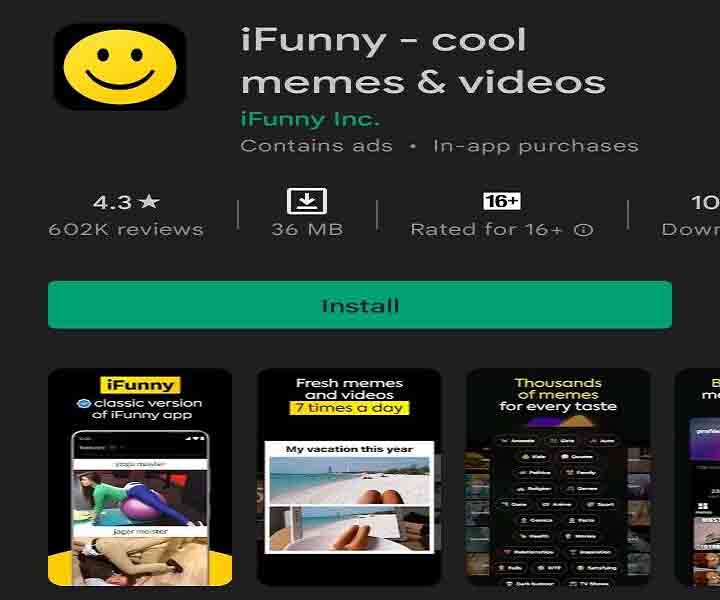 Daily, 150 memes are freshly delivered on the app to give you the latest meme options.
It is a free tool that contains ads and in-app purchases.
You can upload your photos on the app to make comic memes.
Part 3. [BONUS] An Easy Meme Maker for Android & iPhone & PC
In addition to the meme maker apps for Android we mentioned above, you can use a bonus tool to make memes on Android, iPhone, and PC. This meme maker is Media.io meme generator. This tool can easily be used on any default browser such as Chrome, Firefox, Safari, Internet Explorer, etc. It is free, and it is fast. It does not require any downloads or installations to function on any device of your choice.
Here are some key features of the Media.io Meme Generator:
It contains 9 meme templates that you can customize into your meme.
It lets you add text captions to memes using the available fonts, adjusted based on size, style, color, and position.
The user interface is simple as it does not contain pesky ads that disrupt the meme generation process.
Watermarks are not added to the edited memes when you download them.
It supports the multi-platform sharing of memes on social media platforms like Instagram, YouTube, Facebook, WhatsApp, etc.
Step 1: Upload an image you want to use as a meme or select from the list of the 9 meme templates provided by the tool.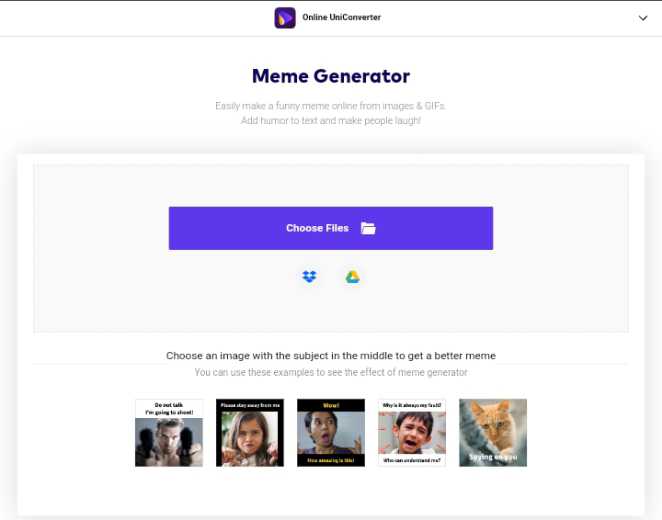 Step 2: Add the meme caption, edit the text style, and click "Generate" to create the meme.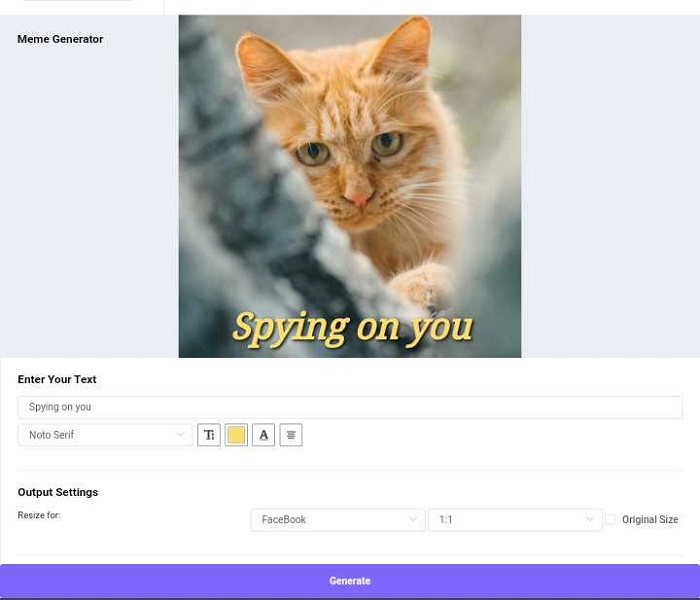 Step 3: After the meme has been generated, click "Download" to save it on your device for later sharing on all social media platforms.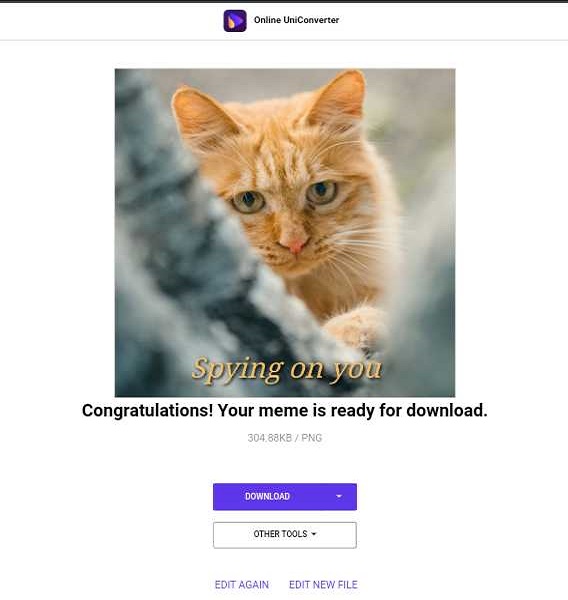 Conclusion
If you are a meme lover, you will find many meme makers available online for you to use. But, also, you will realize that some of these apps are not so great at delivering on what they promise. That is why you need to get good recommendations of the best apps to use. This blog has brought you the 6 best meme generator apps for Android. We have also added a bonus online easy meme maker (Media.io Meme Generator) to use on Android, iPhones, or PC.