Instagram is one of the best social media apps to share your thoughts and comments. You can choose to do that via long posts or simply upload well-thought-out memes. But unfortunately, Instagram has never made it easier for creators to generate captions with line breaks. Many a time, you'll realize that the lines you create to separate paragraphs come together after saving a post on Instagram. But the good news is that an Instagram space generator will sort you out pretty fast. So, in this post, you'll learn the best Instagram caption formatter to generate posts with unique and attractive line breaks. Let's learn!
Part 1. How to Add Spaces in Instagram Captions or Bios? [Common Ways]
As said before, Instagram won't show the spaces you add to your post or bio using the Enter button on your keyboard. This can make your post look unprofessional and unattractive. Luckily, there are several ways to generate spaced paragraphs or lines on Instagram without third-party help. Let's discuss some of them:
1. Insert periods
Using symbols like periods, commas, and spaces is undoubtedly the simplest way to add lines to Instagram posts. This method is quick and easy, as you only need to type directly into the Instagram app. Here, you'll simply use a period or a dash on a section where you want to introduce a line break.
You still don't get it? Well, just type the caption or text you want to share and then press Enter to move to the following line. Now type a period before clicking Enter to move to the next line. The period will appear as a line break in the eventual post. You can repeat this trick as many times as you wish. But there is a problem; using a period or a dash can make your bio or post appear unprofessional. Nonetheless, it's still worth a try.
2. Use a blank picture with texts
Another simple trick is to get a plain picture and customize it with the texts you want to share on Instagram. In this method, you'll need an Instagram space maker like Media.io Meme Generator. Here is the thing; just upload the picture on this meme maker and then customize it with captions or texts to share. Not only that, this online tool comes with multiple meme template designs to customize with stylish and colorful texts. And best of all, you can preset the image aspect ratio for Instagram posts. Here is how to do it!
Step 1. Visit Media.io Meme Generator using your web browser and then click Choose Files to load the blank image. Or, just drag and drop the picture on the Meme Generator window.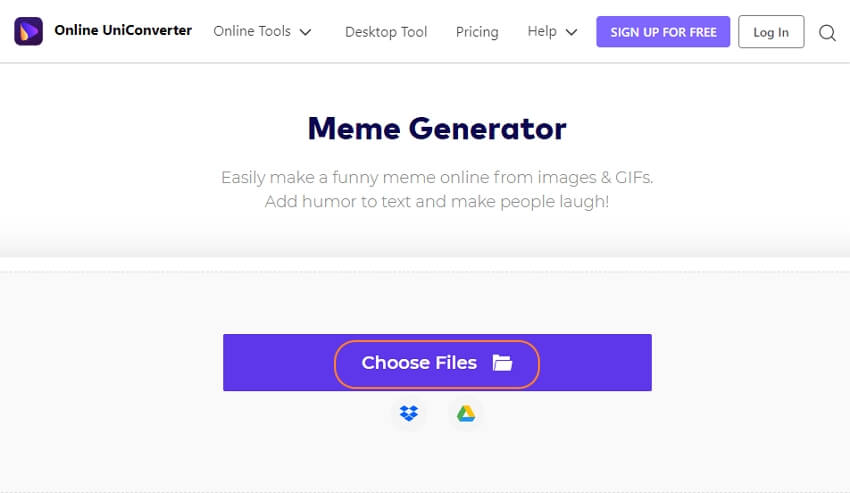 Step 2. After uploading the blank photo successfully, choose a template that allows you to add the top and bottom texts. Then, go to the right pane and add the picture captions in the fields provided. Remember, you can beautify the captions by changing the size, color, font style, etc.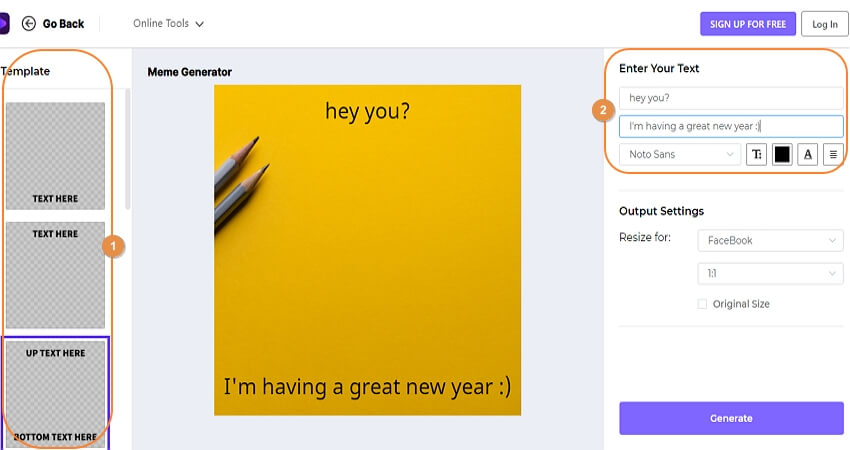 Step 3. Last but not least, set the aspect ratio as 9:16 for Instagram posts. Finally, click Generate to create the Instagram meme and share it with your friends. It's that easy!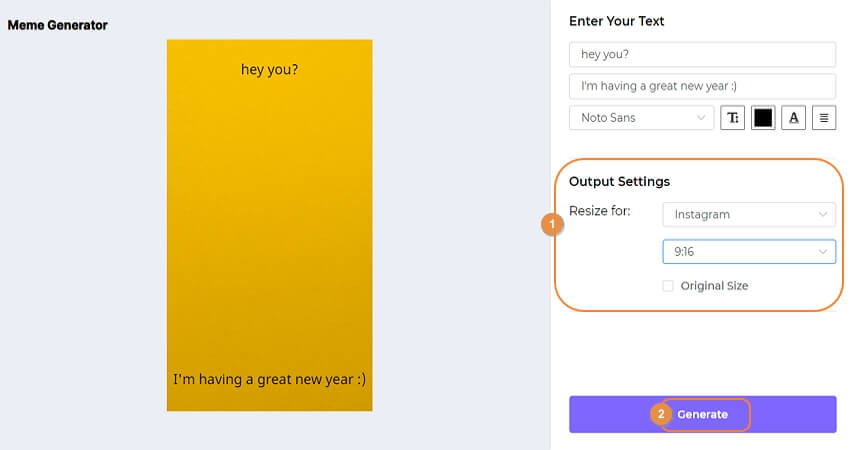 Note: Although using Media.io Meme Generator is a great idea, it couldn't produce great results as you like. In other words, this method doesn't allow you to use the Enter button to space lines. Therefore, you may need to use dots, lines, or emojis to achieve that once again. So, check out the following section to learn better methods to add spaces into Instagram lines and paragraphs without using unwanted characters.
Part 2. Better Ways to Make Spaces in Instagram Captions & Bios
So, without wasting time, let's list 5 excellent tools to create spaces for Instagram posts and bios quickly and easily.

s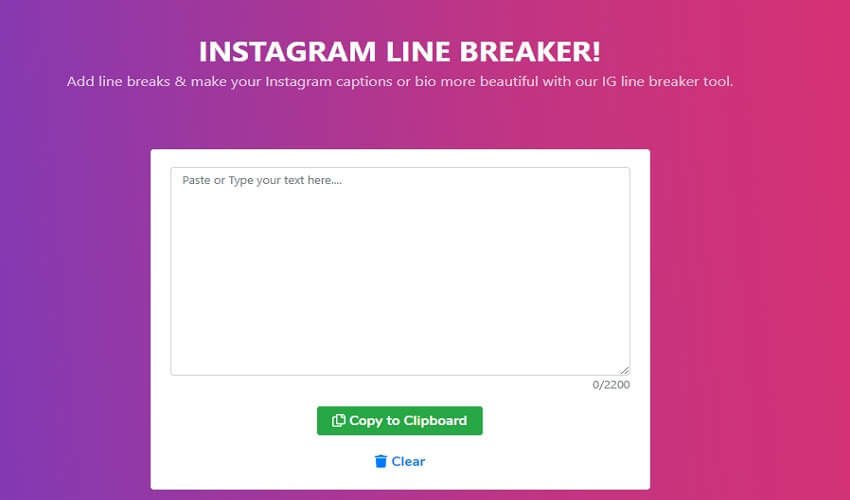 Instagram Line Breaker is simply that – the perfect tool to create line breaks for Instagram posts. With it, you can create professional Instagram posts with a maximum word count of 2,200, including the spaces. Interestingly, you can add as many spaces as you want without those bland characters like dots and dashes. In addition, you can directly share the created post on WhatsApp, Facebook, Twitter, and Telegram.
Step 1. Open Instagram Line Breaker on your browser and then enter the Instagram texts on the text generator.
Step 2. After writing texts, use the Enter button to apply line breaks just like you'd do with text editors like MS Word and Notepad.
Step 3. If satisfied with the captions, click the Copy to Clipboard button and paste the caption directly on your Instagram post or bio. Nothing complicated!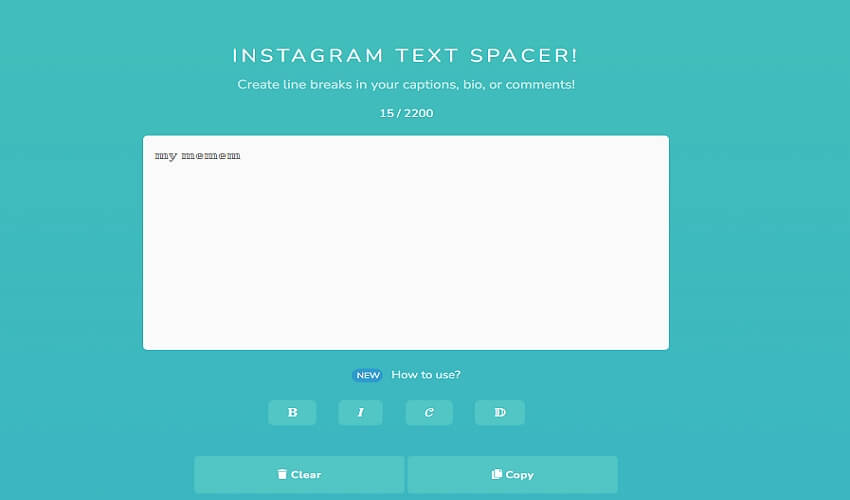 Instagram Text Spacer is another online program for creating Instagram posts and bios with spaces. Like with the first option, this website allows you to make comments, posts, or bios as long as 2,200 words. Now, this should be enough to include everything you want to share with your Instagram following. And yes, this text spacer allows you to change the font style into something more attractive.
Step 1. Open Instagram Text Spacer on your browser and then paste or enter the Instagram text.
Step 2. Next, add spaces between lines using the Enter button. Also, select all your texts and then choose the font type below the text area.
Step 3. If you're happy with your caption, just click Copy and proceed to paste it on Instagram.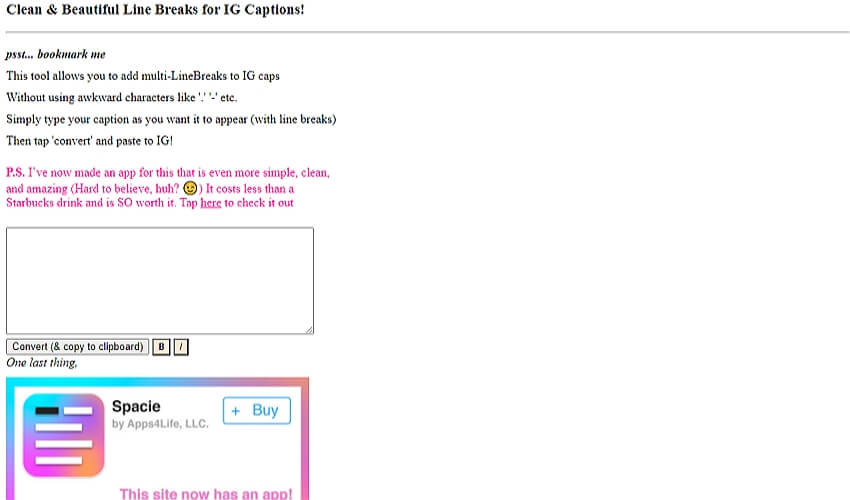 With Instagram Caption Maker, you can generate clean and beautiful captions for your Instagram bios, posts, and comments. Here, you can add multiple line breaks without using those awkward characters that will make your post look amateurish. And to make your posts stand out from the crowded Instagram, you can Bolden or Italicize them.
Step 1. Launch Instagram Caption Maker on your browser and then paste or write the caption on the text maker.
Step 2. Then, space up your caption or bio by pressing the Enter button.
Step 3. Lastly, click the Convert button to copy the formatted text to your clipboard and paste it on Instagram.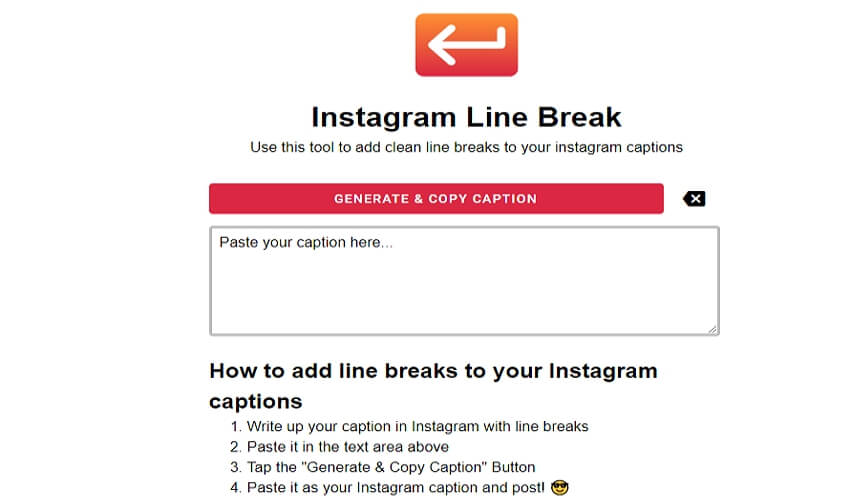 Instagram Line Break is a simple, ad-free website for creating clean and professional Instagram captions devoid of dots, dashes, and other unwanted characters. It's straightforward, as you just need to copy the created caption and paste it on Instagram. Just note that this online tool doesn't allow you to customize the font style. Follow me:
Step 1. Write up your bio or caption on Instagram with relevant line breaks.
Step 2. Launch Instagram Line Break on your browser and paste the captions in the text area. You can add more lines using the Enter button.
Step 3. Click the Generate & Copy Caption button to copy the formatted text and then paste it on Instagram.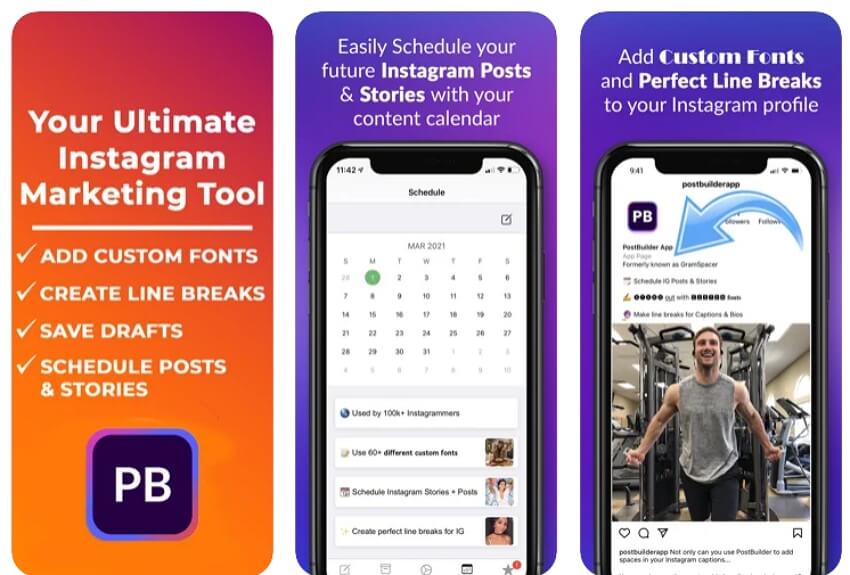 Are you still unimpressed by the Instagram space generator apps above? Try Post Builder! It's an Instagram post generator and scheduler for Mac, iPhone, and iPad. With it, you'll access 60+ stylish fonts to help you make the perfect Instagram bios and posts with line breaks. In addition, it comes with a content calendar to help you schedule Instagram posts like a business pro. Another thing, no Instagram login is required to use this app.
Step 1. Install Post Builder on your iPhone and then create the caption or bio text in the app.
Step 2. Edit the caption with the available free font styles to make it look attractive.
Step 3. Tap the Copy Caption button to copy and paste the perfectly spaced-out caption on Instagram.
Conclusion
Now you can make your Instagram posts and bios stand out with perfectly spaced line breaks. Instead of using unnecessary characters like dashes and periods, simply use an Instagram space generator to create clean and spaced-out Instagram posts. Remember that all of them are free to use. And yes, use Media.io Meme Generator to create Instagram space or rich memes for your Instagram fans. Have fun!