Memes are cool, and Instagramers can't get enough of them. Today, you'll get hundreds of meme accounts on Instagram with millions of followers. The trick is simple; share an image with vaguely-worded texts to leave viewers in stitches. But even as such, you'll still need a reliable Instagram meme maker. The best meme maker should be simple to use, support standard image formats, and most importantly, offer free meme templates to write a black and white caption for Instagram. So, without wasting much time, let's list some ten helpful meme generators for Instagram to set your Instagram handle on fire.
Part 1. 10 Best free Instagram meme makers you should know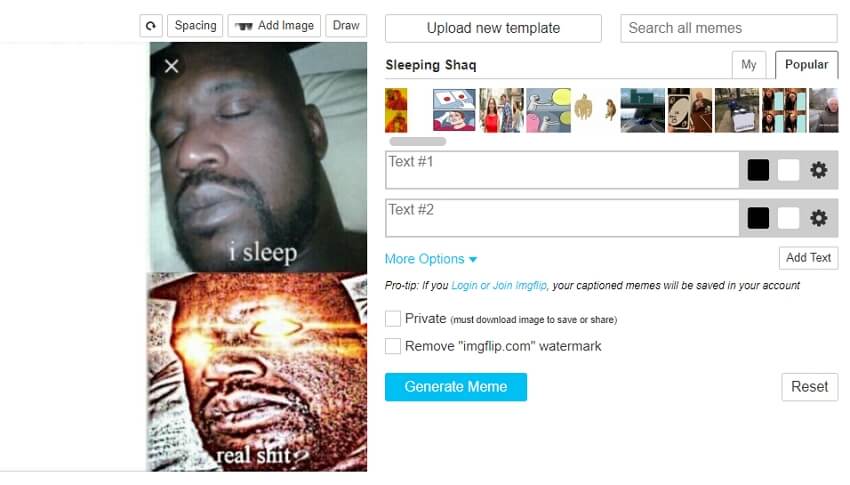 If you want to create cute Instagram GIFs and memes, Imgflip is the place to be. It's an all-in-one function that lets you generate memes from GIF, PNG, JPG, and other standard formats. After uploading a picture on this online meme maker, you can proceed to add resizable top and bottom texts. You can also customize the meme template with funny stickers, colorful fonts, additional texts, and image logos. And if you don't have a suitable image to generate a meme from, Imgflip has tens of free meme templates to edit and download for free. However, creators must upgrade to the Pro version to remove the Imgflip.com watermark from the Instagram meme template.
Pros:
Extensive meme template library.
Create memes from GIFs.
Rotate, flip, and crop memes.
Cons:
Watermarked outputs.
No meme template designs.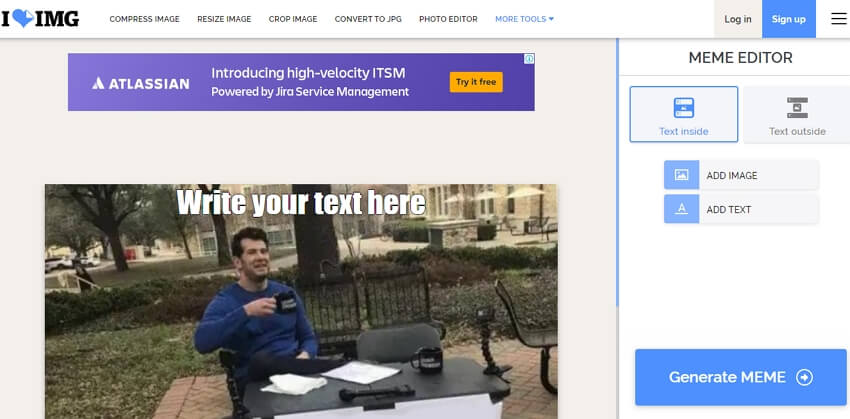 Iloveimg is another helpful online tool to create Instagram meme templates in a flash. With it, you can generate social media memes from GIF, PNG, and JPG. Just load your image and then write the top and bottom texts in the spaces provided. As expected, you can make the texts catchy by changing the outline, background, size, color, etc. You can also write the meme text inside or outside the image. And if the meme template you create still looks unimpressive, Iloveimg comes with hundreds of free meme templates to customize with your own funny captions.
Pros:
Free to use with zero watermarks.
Tens of free meme templates.
Add image logo or text watermark.
Cons:
No template designs.
Pesky ads.
Media.io is also a perfect Instagram meme maker on this list. Why? First, it supports any image format you throw at it, including raw images captured on a digital camera and GIFs. Second, this online meme maker offers users tens of meme template designs to select and customize. In addition, you can customize the font style, text size, text color, and other caption settings. That's not all; you can preset the aspect ratio as Facebook, Instagram, Twitter, Snapchat, and more. But on the downside, Media.io Meme Generator doesn't offer a meme picture library.
Below is how to create an Instagram meme with Media.io:
Step 1. Launch Media.io Meme Generator and then tap Choose Files to load an image file. Or, just drag and drop the picture file on the meme maker.
Step 2. After loading the image successfully, select an Instagram quote template on the left pane and then add the captions. Remember to retouch the captions using the text editor to make them attractive.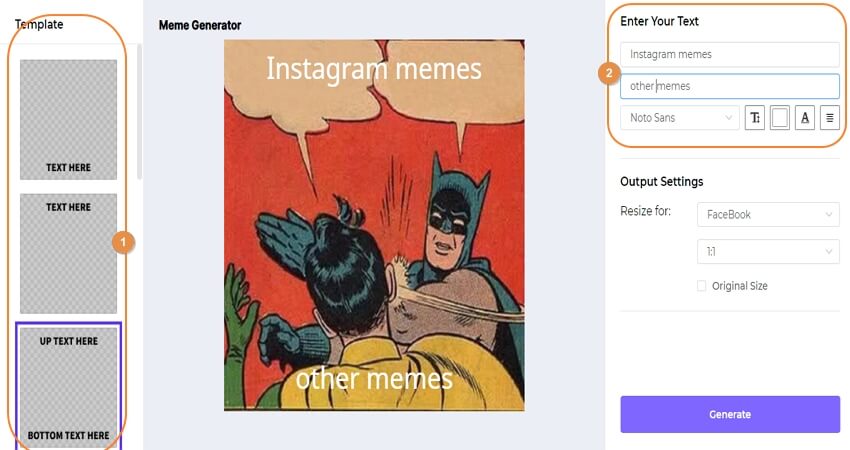 Step 3. Last but not least, go to Output Settings and select Instagram as the destination platform before setting the aspect ratio as 9:16. Finally, press Generate to create the Instagram meme. That's it!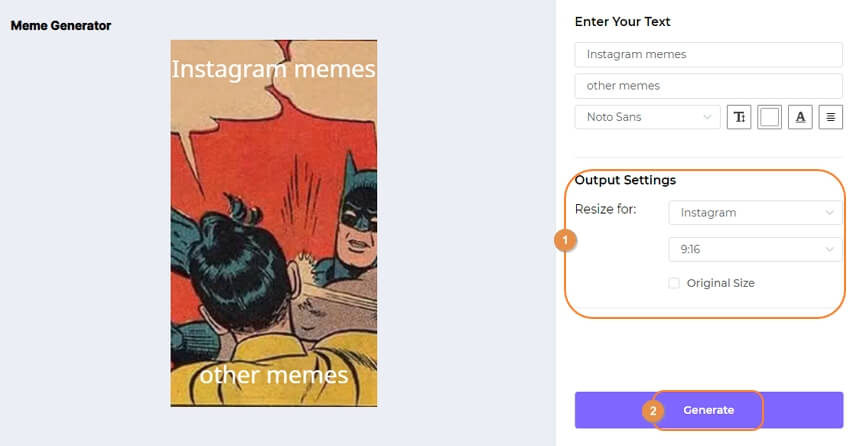 Pros:
Simple to use with no watermarks.
13+ meme template designs.
Preset the meme aspect ratio.
Cons:
No video support.
100MB limit for free users.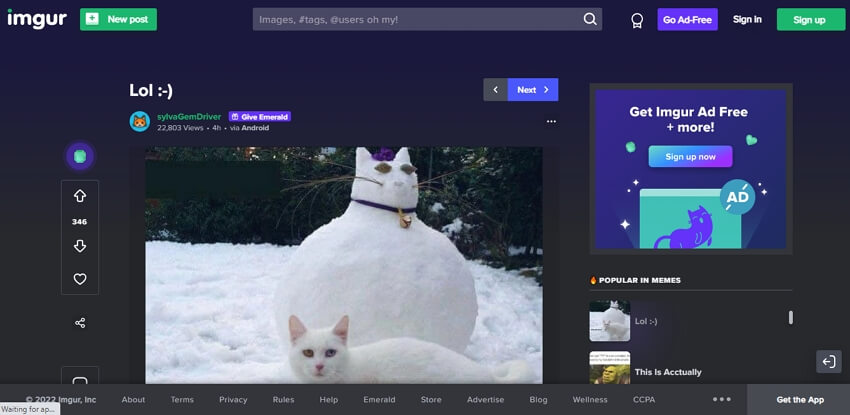 Imgur is a super simple online meme maker that works on any web browser. With it, you can upload an image from local storage and customize it with creative top and bottom texts. But if that doesn't work for you, Imgur offers hundreds of ready-made meme templates to customize with funny captions. However, that's just about it because Imgur is a little bit old-fashioned. In other words, you can't customize the text captions on your Instagram meme template. This can leave your captions looking dull and unattractive. What's worse, free outputs have a made by Imgur watermark. Nonetheless, it's a solid option to have.
Pros:
Simple to use.
Wide variety of meme templates.
Fast rendering.
Cons:
It doesn't edit texts.
Watermarked outputs.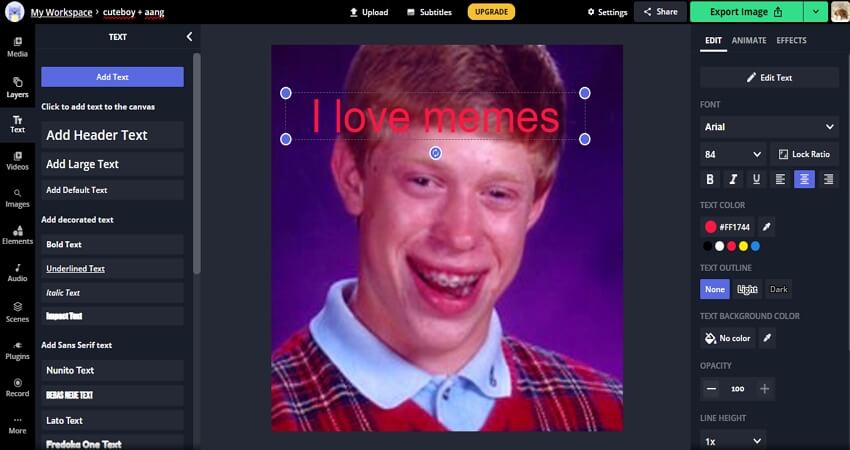 Kapwing is a popular video editing website that also packs a ton of tools, including a Instagram meme maker. Although it needs a bit of a learning curve, this online program is fun to use once you learn the ropes around it. That said, Kapwing comes with hundreds of meme templates spread across categories like Facebook, Instagram, Twitter, Zoom, etc. After adding an image, you can edit it by adding padding, emojis, colorful texts, and the background. In addition, Kapwing lets you customize the aspect ratio to 9:16, which is perfect for Instagram posts. Even better, the outputs are free of any watermarks.
Pros:
Hundreds of meme templates.
Preset the Instagram aspect ratio.
Numerous meme customization tools.
Cons:
Not beginner-friendly.
Slow rendering.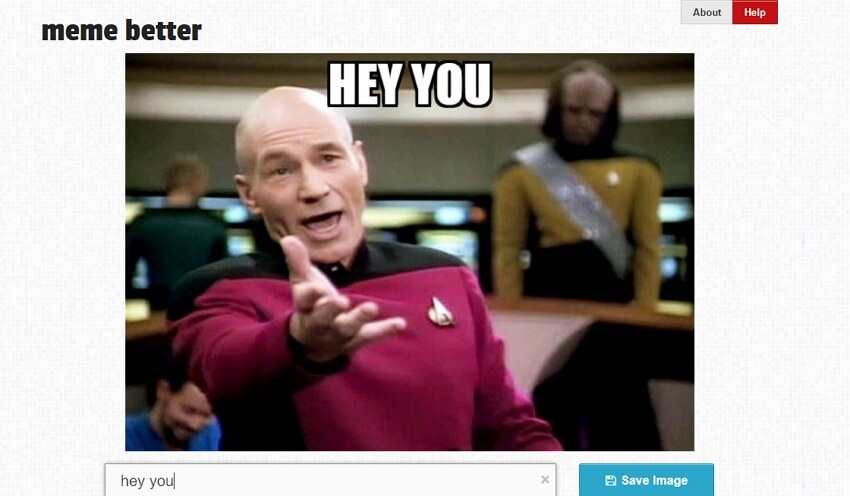 We can't get enough of online meme makers, huh? Well, you can add Meme Better to your collection. This free online meme maker features hundreds of funny images to customize with meme captions. Or, simply upload your own image and personalize it with a meme caption of your choice. Sadly, there is nothing much about this meme maker. That's because it doesn't have a text editor to retouch the meme captions and make them irresistible. But, that notwithstanding, it's perfect for anyone looking to create quick memes online.
Pros:
Fast and easy to use.
Thousands of meme templates.
No watermark on the output.
Cons:
No text editor.
Several adverts.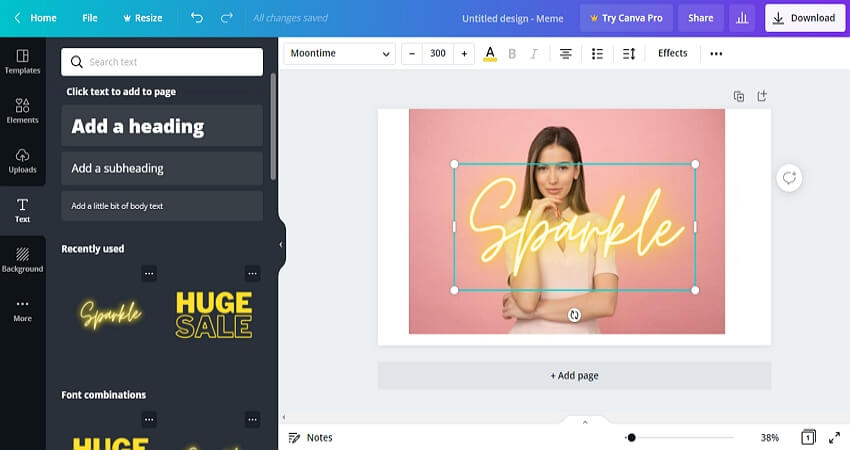 If you want something slightly more advanced than the options listed above, try Canva instead. It's a professional-grade online tool to help you transform your images into award-winning memes. After loading the image on the drag-and-drop editor, you can add texts with creative font styles, color, outline, opacity, background, etc. In addition, Canva comes with 5,000+ Instagram meme templates to download and edit for free. And another thing, the stock library is home to 2+ million royalty-free images. Overall, it's a nice professional meme maker.
Pros:
Lots of stock photos and meme templates.
Directly export to social media.
Multiple image format outputs.
Cons:
Not for beginners.
Canva Free images have watermarks.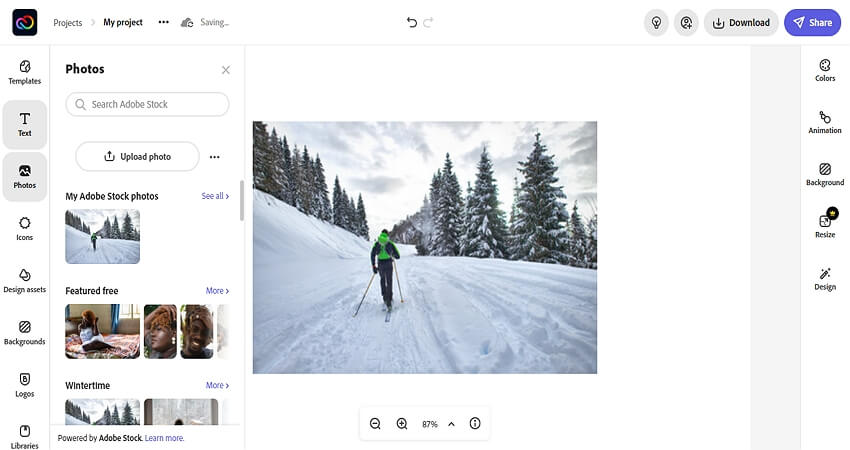 You still can't find what you're looking for in Canva? Try Adobe Spark. It's a professional online program for generating free memes for Instagram in minutes. It's actually simple to use. You start by giving the meme a header and then customize it to make it more attractive. If that's not your style, Adobe Spark boasts thousands of meme templates to edit and download without any give-away watermarks. And if you're satisfied with the created meme, you can share it online or download it to PDF, JPG, or PNG files.
Pros:
Change the meme background.
Share memes directly to social media.
Export memes to PNG or JPG.
Cons:
It can be intimidating to beginners.
Not suited for phone editing.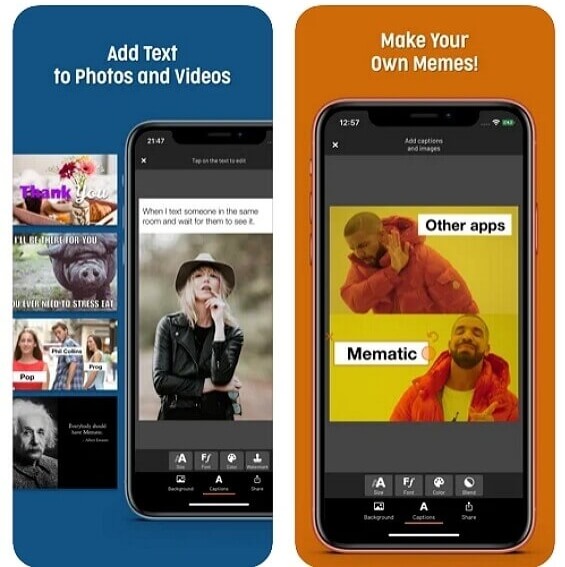 Last but not least, iPhone and iPad users can call on Mematic to create a cute meme on the go. It's a free app that lets Instargamers create cracking memes from local or live photos. After uploading the image or video, you can make the perfect layout for your meme template before arranging texts and stickers. As expected, you won't just use your own images to create memes on this app. That's because Mematic also comes with an extensive gallery of memes, GIFs, and pictures to use for free. And above all, you can directly share Mematic memes on Instagram, Facebook, WhatsApp, Telegram, or Signal.
Pros:
Large image and meme gallery.
No third-party adverts.
It offers a custom color mixer.
Cons:
It freezes sometimes.
It lacks advanced editing.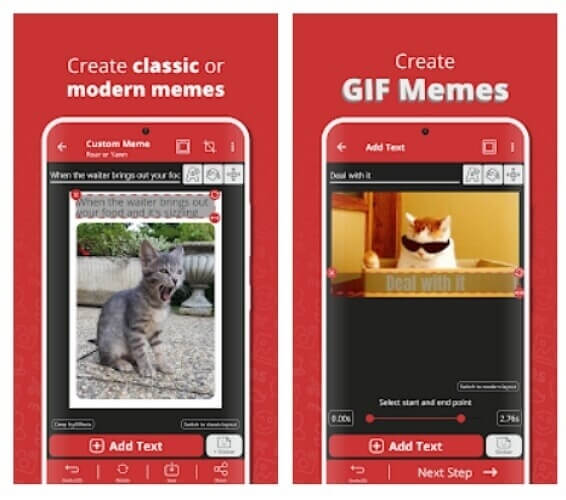 For Android users, install Meme Generator to develop the craziest memes for your social media friends. It supports standard picture formats and customizes memes with 60+ fonts, 100+ stickers, multiple text colors, and beautiful image borders. But if you're still a green hand, this app comes with 1000+ meme templates with hilarious captions. Of course, you can replace the captions with something more personal. Also, the app doesn't add any watermarks to the exported memes. However, the bombarding adverts can be a bit overwhelming.
Pros:
Thousands of free memes.
60+ free fonts.
Add borders around pictures.
Cons:
Overwhelming adverts.
It crashes sometimes.
Part 2. 2 Top tips for making a fantastic meme for Instagram
Now let's learn what it takes to create a re-sharable Instagram meme. Before installing an Instagram meme maker, consider the type of meme you want to make. For example, you can go the traditional way like many other memes you see circulating on social media. In other words, you'll use pretty familiar images of celebrities, movie scenes, pets, etc. Or, you can become a bit wholesome by featuring less humor and more uplifting messages.
But like it or not, humor is the reason why memes trend. For this reason, understand what meme humor is and how to make people react to your memes. The thing is to avoid being absurd and potentially nonsensical. Instead, just be ridiculous and throw your seriousness out of the window. For example, snap a photo pointing at yourself in the mirror and write a caption: When you finally know who's pulling you down. In short, it's all about playing with the right words.
Conclusion
Now you know where to create or find an Instagram meme template. I recommend Media.io Meme Generator for beginners because it comes with several meme template designs to edit and make your picture stand out. Remember also that this online program allows you to create cute Instagram GIFs with the GIF Maker tool. But all said, choose a meme maker that works best for you from the list above. Happy memeing!