A GIF meme maker is almost a must-have for any avid social media user. With GIF memes, you can add some spark into your personal or business social media account with some fun and captivating captions. In fact, research has it that most social media users are more likely to comment on memes than long, boring texts. But to create an award-winning GIF meme, you equally need an excellent GIF meme generator. A good meme maker should be simple to use, support multiple formats, and free, if possible. That's why I've done some deep research to bring you these six effective solutions. Let's learn!
Part 1. Quick navigation of top GIF meme generators
| Program | Supported formats | Maximum file size | Template library | Text editor | Watermark | Ease of use |
| --- | --- | --- | --- | --- | --- | --- |
| GIPHY | JPG, PNG, GIF, MP4, and MOV | 100MB | Yes | Yes | No | For advanced users |
| Kapwing | All common image and video formats | N/A | Yes | Yes | No | For advanced users |
| Media.io Meme Generator | All common image formats | 100MB | 13+ free meme templates | Yes | No | Simple |
| Iloveimg | JPG, PNG, and GIF | 200MB | Yes | Yes | No | Simple |
| Imgflip | All common image formats | 8MB | Yes | Yes | Yes | Simple |
| DrMeme | All common image formats | N/A | Yes | Yes | No | Simple |
Part 2. Detailed intro of the 6 popular GIF meme makers
GIPHY is the most popular GIF caption maker out here. On this website, you'll find thousands of active GIF memes for categories like emotions, greetings, holidays, celebrities, food & drinks, and so on. If you can't find what you're searching for, you can make a meme GIF from scratch using any standard image and video format on GIPHY. Just upload your file and customize it with texts, animations, background color, and so on. Even more convenient, you can directly share to social media.
Pros:
It has millions of GIFs, stickers, and memes to download.
No watermark.
Excellent meme customization capabilities.
Cons:
Not for green hands.
The search bar isn't accurate.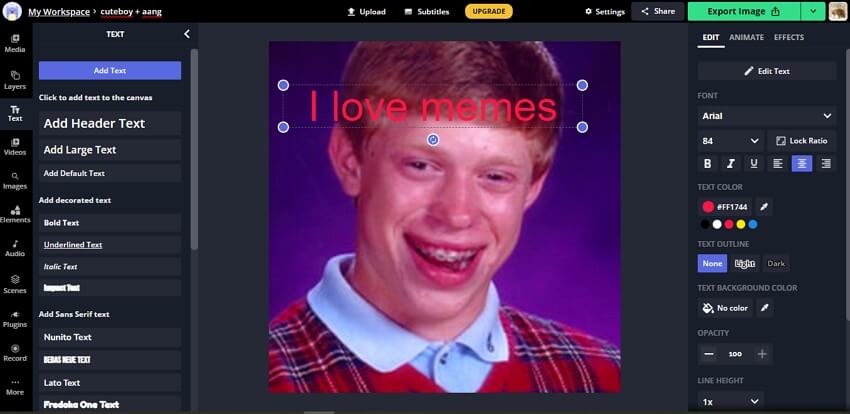 Giving GIPHY a run for its money is Kapwing. Like GIPHY, Kapwing is home to thousands of free ready-made meme templates to download for free and customize with unique texts, background color, aspect ratio, and so on. Just select a blank meme template of your choice and upload it on Kapwing Studio. Then, edit it by cropping, adding stickers, applying shapes, adding texts, and so much more. You can even customize the aspect ratio to suit your favorite social media app. All in all, it's a great all-in-one online tool.
Pros:
Thousands of free GIF memes to customize.
Crop and add stickers to memes.
Excellent Kapwing GIF maker.
Cons:
Not for beginners.
Slow rendering speed.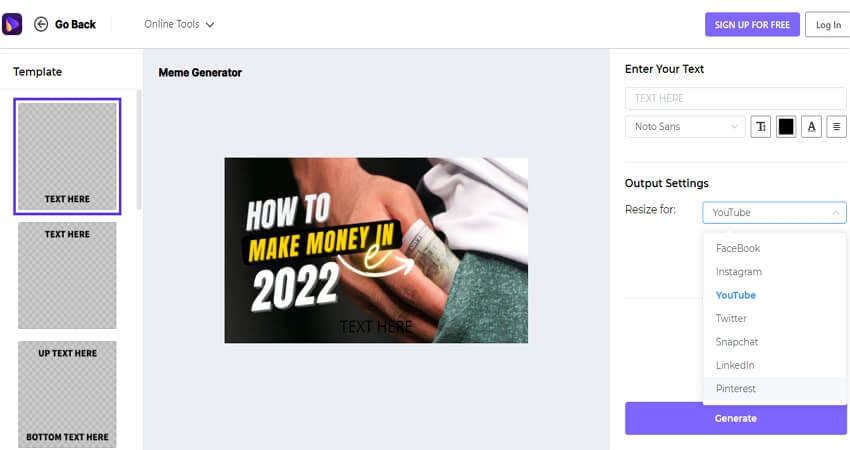 If you're still new to the GIF-making scene, then I recommend something more straightforward like Media.io Meme Generator. It's fast, simple, and works on any updated web browser. That said, Media.io Meme Generator supports all typical image formats, including GIFs. Then, after adding an image, you can select from the 13+ meme template designs and personalize your template with colorful captions. And of course, you can preset the aspect ratio as Facebook, Snapchat, Pinterest, Instagram, etc. It can't be easier, can it?
Pros:
It's super simple to use.
13+ free meme templates to customize.
No sign-up or registration is required.
Cons:
No ready-made memes.
It doesn't support video formats.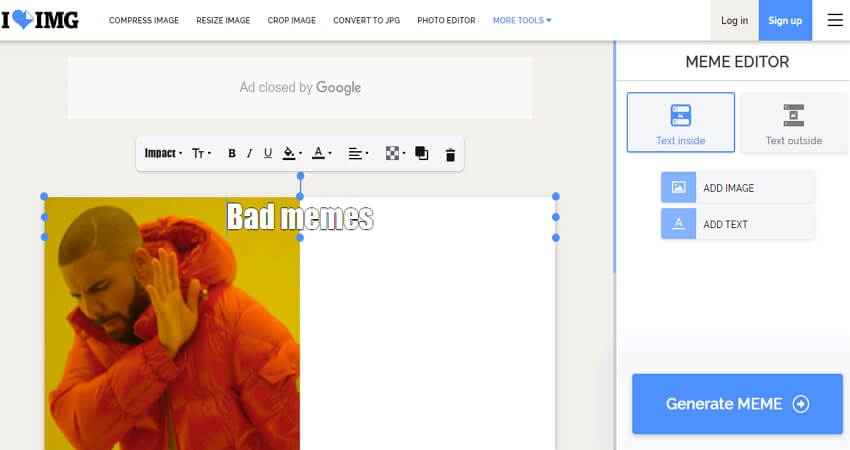 Iloveimg is another straightforward GIF and meme maker for social media buffs. Here, you can generate memes from JPG, PNG, and GIF images or simply select a meme template and edit it on the inbuilt text editor. While editing, you can add an image overlay and change the opacity to make it unobtrusive. Also, you can add colorful texts with beautiful font styles, size, color, etc. What's more, Iloveimg allows you to add texts inside or outside the meme frame.
Pros:
Apply image and text overlays.
Add texts inside or outside the meme frame.
Multiple free meme templates to download.
Cons:
Pesky adverts.
Limited file format support.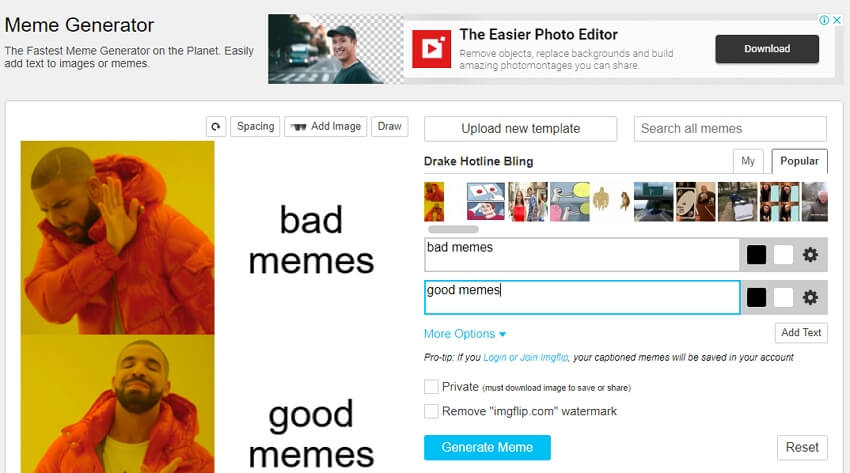 Alternatively, you can use Imgflip to make a GIF meme in seconds. Like most websites on this list, Imgflip supports all standard image formats and comes with multiple meme templates to customize and share. For example, you can simply choose a meme and then caption it as you want. While adding captions, you can change the text type, color, outline color, size, and more. But unfortunately, free outputs have a subtle Imgflip watermark.
Pros:
Easy to use.
Free editable meme templates.
Multiple text editing options.
Cons:
Imgflip watermark.
Cluttered user interface.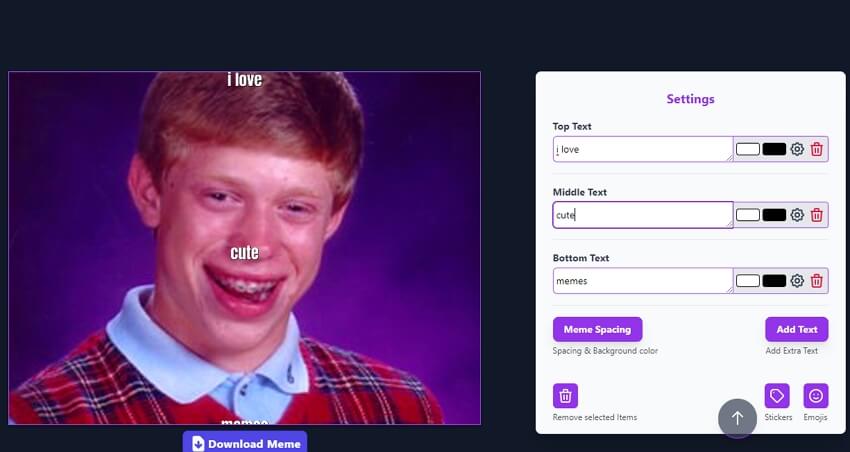 Lastly, use DrMemes to cure your addiction for high-quality and funny memes once and for all. It's a simple website that lets you generate engaging memes from your local image formats or simply choose a meme template and customize it accordingly. Either way, you can customize your meme template with top, middle, and bottom texts. Then, you can edit the text color, background, size, outline color, and other settings to make it stand out. You can even add stickers and emojis if you like. If satisfied, click the download meme button, and you'll have it in seconds.
Pros:
Simple to use and fast.
Customize memes with emojis and stickers.
Hundreds of free editable meme templates.
Cons:
It doesn't support videos.
Limited format support.
Part 3. How to make a GIF meme?
From the options above, it's evident that Media.io Meme Generator stands tall. Although it doesn't feature free memes to download, the multiple meme template designs will come in handy once you've downloaded a meme picture from the other websites. Even most importantly, it's free and straightforward to use.
Now let's find out how to make GIF memes with Media.io Meme Generator. Here are the steps:
Step 1. Open the Meme Generator and upload an image.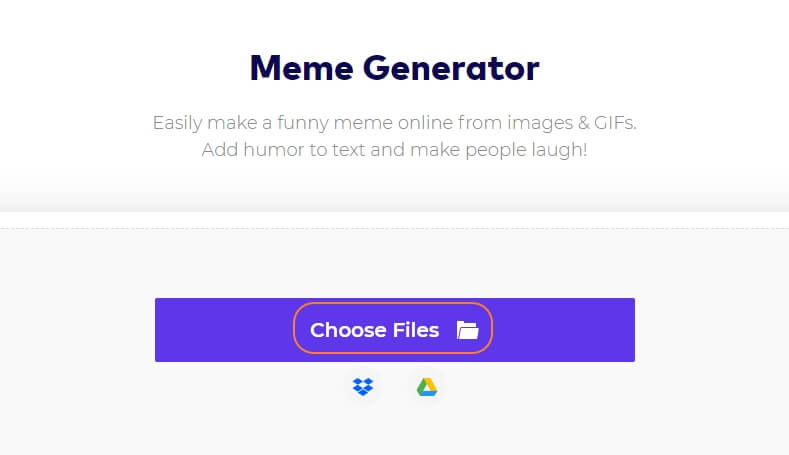 Open Media.io Meme Generator on your mobile or PC browser and then tap Choose Files to upload the image file. Or, you can simply drop the image on the Meme Generator tool.
Step 2. Add and edit meme captions.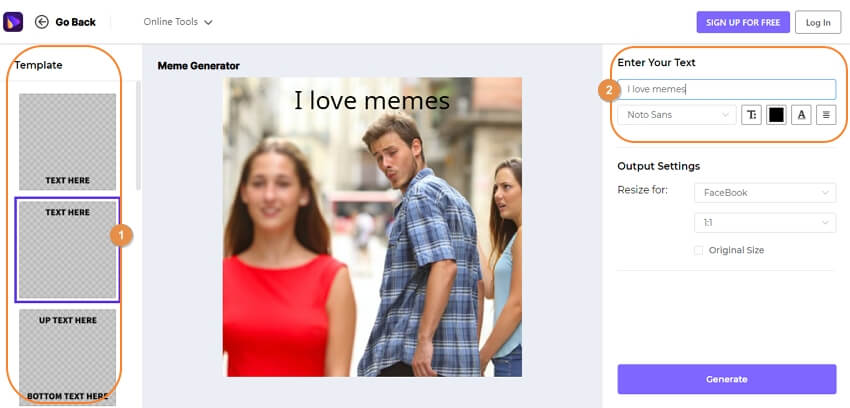 After loading the image successfully, choose a meme template design on the left pane. Then, navigate to the right pane and enter the meme texts, depending on the caption design you select. As expected, you can customize the text color, size, font, etc.
Step 3. Choose the aspect ratio and generate your meme.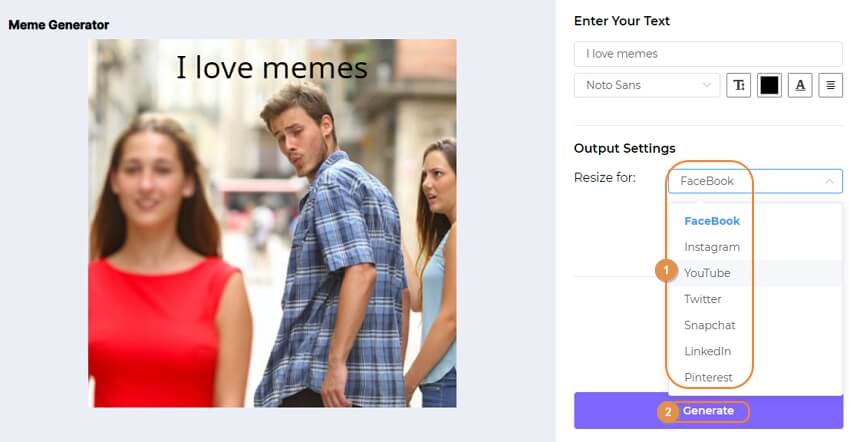 Now set an aspect ratio for your meme or manually select Facebook, Snapchat, Instagram, or any social media channel you intend to share the meme on. Lastly, tap Generate to create your meme. That's it!
Conclusion
These are the best online meme generators to bank your hopes on when looking to create a rib-cracking meme. Although options like GIPHY and Kapwing are excellent, you'll need prior meme generating experience to use them. So, I recommend Media.io Meme Generator if you want to create high-quality memes quickly and easily. Thank me later!