Are you looking for the best YouTube rank trackers for your video SEO? We've selected the best ones on this list. So, read on to choose your choice. There's no doubt YouTube has been standing strong on the top list of best social media platforms to date. Yes, as of when this article was written, statistics show that YouTube has over a 2.6billion active users globally - that's a lot for sure.
Today, a lot of businesses, organizations, and content creators use YouTube as a means of connecting with potential audiences globally. However, it is sad that the majority of videos uploaded on YouTube tend not to do well - this is because of the high competition in the industry. Well, as a business, organization, or content creator that uses YouTube to connect with your audience, you need the right video SEO tool to help you direct the right audience to your video, and a YouTube tracker is one of them. So in this post, we would walk you through the top 10 best YouTube rank trackers that can help you improve your YouTube channel ranking and get your videos to the right audience.
Part 1: Best YouTube View Count Tracker
If you're looking to stay updated with your YouTube channel views, you need a YouTube view count tracked to perform such an operation. Although there are lots of YouTube view count trackers available online, we've reviewed the best two and introduced them below. So, read on and check them out.
1.   Noxinfluencer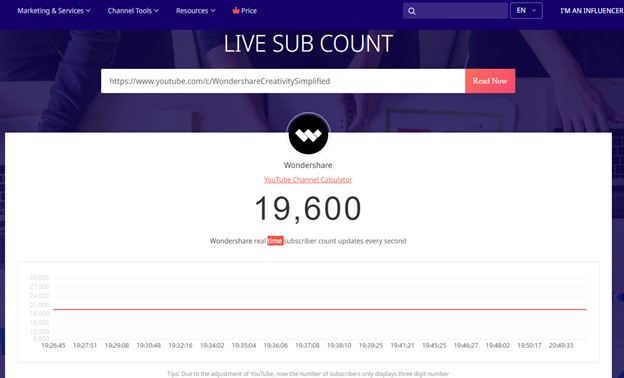 If you're looking for a simple tool to stay on track with your YouTube channel views, Noxinfluencer online YouTube view count tracker can always come in handy to help you perform the task anytime, anyday.
With Noxinfluencer, you can get a detailed number of views you get on your YouTube channel daily, monthly, and yearly. Plus, you'll be able to see your estimated potential earnings per video, CPM, most related tags, and lots more.
Notable Features
It's a 100% free YouTube view count tracker, and it calculates total daily, monthly, and yearly YouTube views efficiently.
Calculate the potential earnings you can get per video.
Videos views graph is very effective to check total views/subscribers, likes/views, comments/views, and dislikes/views of your latest 30 videos.
View data of your audience's gender, age, and estimated geography.
How to use Noxinfluencer
To use Noxinfluencer YouTube view count tracker to access your YouTube channel views realtime data, you need to do the following;
Step 1: Visit https://www.noxinfluencer.com/youtube/realtime-subs-count and type your 'YouTube Channel Name' in the search box.
Step 2: Click the search button to access your YouTube channel's total views and other data.
2.   Influencer MarketingHub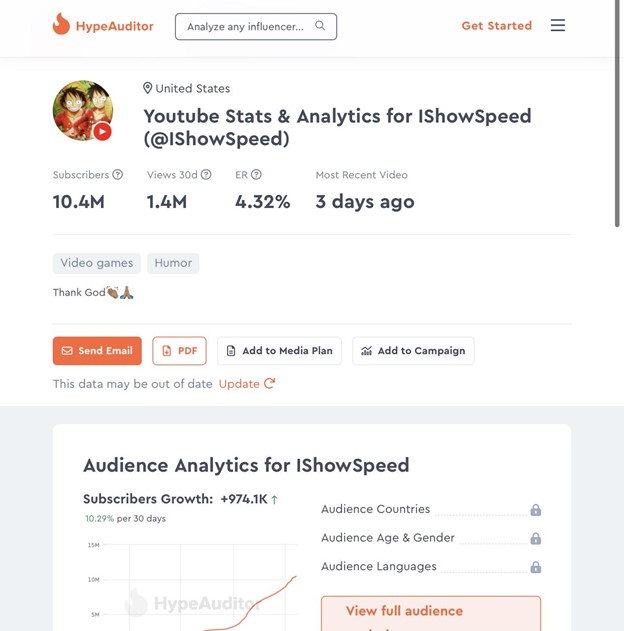 Another helpful tool that is very popular for calculating YouTube channel views is the Influencer Marketing Hub's Live Subscriber Count. This online website features lots of helpful data for users to see trends on how their YouTube channel/videos are ranking. From total real subscribers to total fake subscribers, total views in the past 30 days, audience demographics, subscriber growths, comment rate, and lots more.
Although unlike Noxinfluencer allows you to access your YouTube channel data smoothly, Influencer Marketing Hub requires you to create an account and go through a lengthy registration process to be able to view full data. The free check for this tool is also limited.
Notable Features
The tool is free but you need to pay at some points.
It displays comprehensive data on users' YouTube channel performance.
Calculates YouTube channel/video data based on different factors including Audience, Growth, Engagement, and lots more.
Calculate potential earnings per video uploaded to a YouTube channel.
How to Use Influencer Marketing Hub
Step 1: Open Influencer Marketing Hub official YouTube view counter official page via the link: https://influencermarketinghub.com/live-sub-count/
Step 2: Copy your YouTube channel profile link and paste it into the 'Enter YouTube Channel Link' search box. Then click search to see your YouTube channel's total views data.
Having known the best YouTube views count tracker, let's proceed to see the best YouTube rank trackers that are very effective for optimizing your YouTube channel.
Part 2: Best YouTube Video Rank Trackers
After reviewing lots of YouTube video rank trackers available online, we've curated a list of the best 6 that are not just  reliable for checking YouTube video rank real-time data, but also optimizing your YouTube channel to get more views. Keep scrolling to check them out;
3.   Tuberanker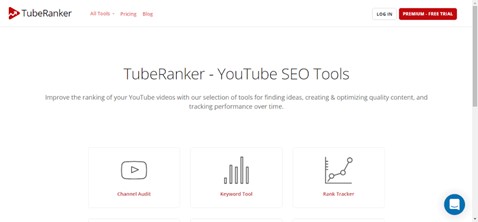 First on our list is the Tuberanker - a professional YouTube video rank tracker for optimizing your YouTube channel.
Tuberanker is a popular YouTube video rank tracker that not only allows users to track how their videos are performing on YouTube, but also allows users to audit the performance of their YouTube channel. Thus, giving them access to track their improvement over time. You can even utilize Tuberanker to track your competitor's YouTube channels and videos to see how they're ranking and what keywords they use.
Notable Features
It facilitates SEO management.
Efficient for generating hashtag, titles, and descriptions for your YouTube channel/video.
Besides YouTube rank tracking, Tuberanker can also be used to perform a full audit on the YouTube channel.
See how your YouTube video is ranking in different locations and its movement.
How to Use Tuberanker to Track YouTube Video Rank?
Step 1; Open the link https://tuberanker.com/youtube-rank-tracker.
Step 2: Copy and paste your YouTube video URL, then click 'Get Ranking' for Tuberanker YouTube video ranker to show how your YouTube video is performing.
4.   Semrush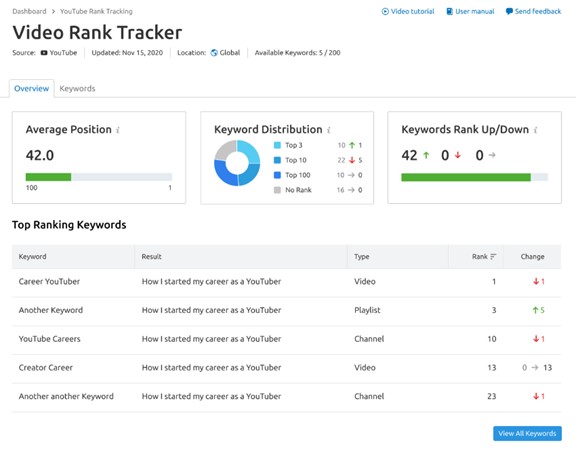 You might have heard of the Semrush SEO tool once if not twice. Although it's popularly known for performing full audits on websites, it can also come in handy for tracking YouTube video rank handily.
The YouTube video ranked tool supported on Semrush is created by Tubic to enable users to monitor their YouTube video or channel performance and get insight into how to optimize their YouTube SEO without requiring the consent of an expert.
Notable Features
It's not 100% free but it helps break down your overall YouTube video keyword ranking.
Easily track your YouTube channel's weekly search ranking.
Track your YouTube video performance based on over 200 keywords.
Semrush video rank tracker doesn't only allow you to track your YouTube channel performance, but also your competitor's.
How to Use Semrush Video Rank Tracker?
Step 1: Visit https://www.semrush.com/apps/video-rank-tracker.
Step 2: You need to purchase a subscription to access the tool. Then enter your YouTube video URL to see its ranking.
5.   SEO Powersuite Rank Tracker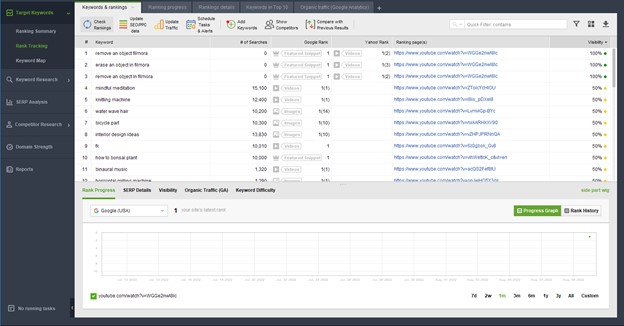 Another effective YouTube video rank tracker that's packed with essential tools for users to monitor their video performance on YouTube is the SEO Powersuite video rank tracker tool.
SEO power suite rank tracker is a great tool for tracking the ranks of your YouTube video or channel seamlessly. The tool can allow you to track unlimited keywords ranking daily, see how your videos ranking are changing, track your competitor's ranking, and do lots more. However, unlike the other YouTube video rank tracker tools mentioned on this page, this tool requires the installation of software to use.
Notable Features
Calculate rank tracking reports of your YouTube video.
View competition ranking reports in visual graphs or tables.
Track individual YouTube videos or YouTube channel ranking.
Allows tracking of YouTube content manually automatically.
How to Use SEO Powersuite Rank Tracker?
Step 1: Download and install the SEO Powersuite Rank Tracker from this link: https://www.link-assistant.com/rank-tracker/.
Step 2: Locate 'Rank Tracking' > copy and paste the YouTube video URL whose rank you want to track. Then view your YouTube video rank.
6.   NightWatch
Next on the list is NightWatch - a YouTube rank tracker allows users to track accurate ranking data and reports of YouTube videos quickly and easily.
With NightWatch, you can monitor your YouTube SEO and get insight on your YouTube video or YouTube channel ranking performance on YouTube search or Google search. From segmenting your YouTube video keywords to uncovering who your real competitors are, and lots more, NightWatch is an ideal tool for you to execute YouTube video rank tracking actions.
Notable Features
Track YouTube video rank across over 100,000 locations globally.
Discover trends for your YouTube videos and optimize them without hassles.
Get a holistic view of how your videos are performing on the web.
Great for tracking YouTube videos on SERP.
How to Use NightWatch YouTube Rank Tracker?
Step 1: Open this link https://nightwatch.io/youtube-rank-tracker and create an account to start your 14-day free trial.
Step 2: Find and click on 'YouTube Rank Tracking'. Then copy your video URL and paste into the relevant box to track YouTube video rank.
7.   TubeBuddy
TubeBuddy is another tool that's worth mentioning when speaking of the best YouTube video rank trackers in the industry. This YouTube video rank tracked is very effective for YouTube SEO and growth, as it offers users a plethora of helpful tools that can always come in handy for such operations.
With TudeBuddy, you can stay updated on your YouTube video or channel performing using in-depth analytic tools, productivity tools, and advanced YouTube SEO tools. However, you need to purchase the paid version to be able to access these tools.
Notable Features
Bulk metadata updates.
Give users insight on the best time to publish videos.
Helpful keyword explorer.
Get in-depth analytics on Retention analyzer, Rank tracking, competitors' score cards, and YouTube channel health reports.
How to use TubeBuddy
Step 1: Install the TubeBuddy chrome extension on your PC from this link: https://www.tubebuddy.com/tools#keywordranktracking
Step 2: Go to YouTube website and click the TubeBuddy icon to select Search Engine Tracking menu. From there, you can specify the keywords that you need to track.
8.   AccuRanker
Source:www.accuranker.com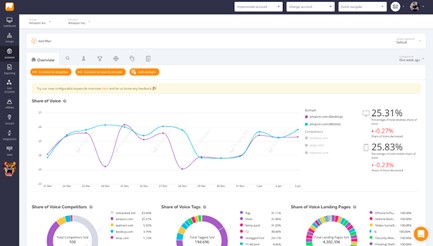 Last but not least on our list is the 'AccuRanker' YouTube video rank tracker. A tool created solely for tracking how YouTube video keywords are ranking.
Over the years, this tool has been helping content creators, digital marketers, and agencies meet their demands for YouTube video keyword rank tracking.
AccuRanker offers users helpful insights on how their YouTube video is performing concerning its keyword. Thus, enabling them to add value to their videos.
Notable Features
Sophisticated tools for tracking YouTube video keyword rank.
Import Google analytics and search console data.
Highly intuitive and clean user interface.
Free Google SERP checker.
How to Use AccuRanker
Step 1: You have to purchase licenses to be able to use AccuRanker YouTube video rank tracker features.
Step 2: Once you're done with 'Step 1'. Open AccuRanker and create a 'New Project'. You'll be asked to add a domain, just copy and paste your YouTube video URL in the relevant box.
Step 3: Now, select YouTube, then choose the location where you want to track your YouTube video performance.
Step 4: Lastly, enter the YouTube video keywords that you want to track. AccuRanker will instantly check the keyword ranking and display them on your screen.
Part 3: Best YouTube Stats Rank Trackers
You can also rely on the best YouTube stats rank tracker to track your YouTube channel or video performance on YouTube search. We've introduced the best two YouTube stats rank trackers below. So keep reading to choose your choice.
9.   YT Tracker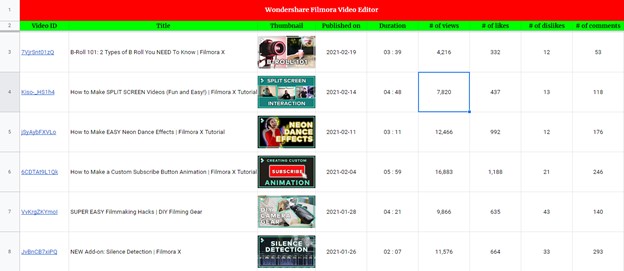 YT Tracker is an amazing app that utilizes YouTube data API to track YouTube video or channel data at a very fast speed. The tool is very efficient for executing both bulk and small-size YouTube video stats ranking on both iOS and desktop devices. From tracking daily snapshots to history, and lots more of your YouTube videos, you're for sure not making any mistake if you intend to utilize YT Tracker to view your YouTube channel/videos STAT.
Notable Features
Check competitors channel analytics.
View all thumbnails of tracked videos easily.
Easily export stats of any YouTube video or channel
Abbreviate counts with configuration.
Automatically updates stats once you analyze a YouTube channel/video
10.  Social Blade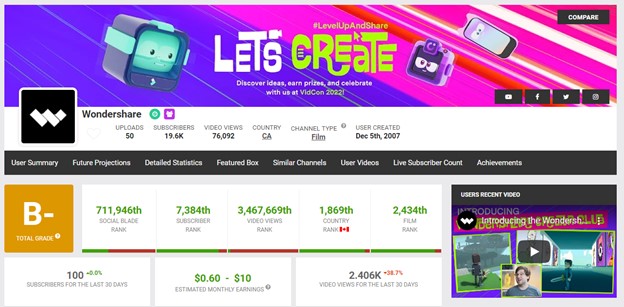 Last but not least on the list is Social Blade - a social media growth management website that specializes in helping YouTube content creators, digital marketers, and business organizations analyze their YouTube channels and videos effortlessly.
Social Blade offers users in-depth analytics on their YouTube stats, ranks such as social blade rank, video views rank, subscribers rank, people's tank,  estimated monthly earnings, etc. 
Notable Features
Get YouTube analytical history graph trend.
Check new daily subscribers, videos views, and estimated earnings per day.
Analyze total weekly subscribers.
Calculate yearly earnings.
Bonus Tips: How to Make Your YouTube Video Rank Higher?
Besides using a YouTube video rank tracker to track and optimize your YouTube video it YouTube channel, there are some helpful tips that you can employ to make your YouTube video rank higher. Keep reading to learn these tips;
1.   Find the right Keyword and place it properly
Keywords play a very vital role in YouTube search appearances. So, when creating a video, the first thing you should do is do research for the right keywords and where to place them properly. To make this process simple, you can first generate a high list of keywords related to the YouTube video you intend to publish, then select the good ones based on the most popular.
2.   Optimize YouTube video description
A good description helps YouTube and other search engines understand what your video is all about. But what is a good video description? In short words, a good video description doesn't just explain what a video is all about but also consists of the right keywords. It is the target keyword mentioned that allows YouTube and other search engines to reevaluate the video and get a better insight of what information it contains.
3.   Use video hashtags
Yes, you don't forget your video hashtags if you want your YouTube video to rank higher.
In case you're unaware, most users across different social media platforms now use YouTube hashtags to find the right content that has a solution to their problem.  So for this reason, it's highly important you use hashtags in your YouTube video description and title to get your video in front of a larger audience when they search certain hashtags.
4.   Customize your thumbnail image
I know you might be asking 'how does a thumbnail image affect YouTube video ranking?' Well, a thumbnail image is the first thing that attracts a viewer's attention to your video. You heard about 'love at first sight?' That's how it works.
An attractive thumbnail image enhances the chances of your audience spending more time on your video. Thus, having a huge influence on how well your YouTube video ranks on YouTube search.
5.   Add subtitles and closed captions
The last by not least tip is adding subtitles and closed captions. Yes, video subtitles are designed to communicate video dialogue to viewers who find it uneasy to understand your video language. While closed captions, on the other hand, are for viewers who can't hear the audio aspect of your video.